while talking to his followers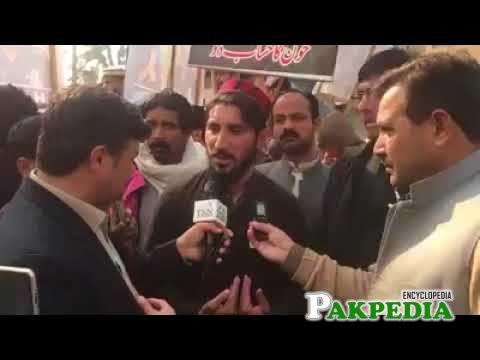 While giving interview after his dharna
Human right activist Manzoor pashteen
At pashtun long march
While giving interview to International media
Biography
Manzoor Pashteen The eldest of seven siblings, the boy grew up in the Sarokai district of South Waziristan. His father was a teacher at a local school. Even from a young age, it seems, Pashteen always had a flair for activism. In 2014, he joined the Tribal Students Society and was made its president for two years. Then two years ago, he began raising awareness about landmines and unexploded ordinances littering their mountainous hometown. He was born in 1992 in Mawla Khan Sarai, a small village near the town of Sarwakai in South Waziristan, Pakistan
[1]
Biography Biography
Education
Pashteen spent his childhood in Waziristan, and received his early education at his village's school. However in 2009, as a result of Operation Rah-e-Nijat, Pashteen and his family were internally displaced from Waziristan to the Internally Displaced Persons camps in Dera Ismail Khan. In 2014, Pashteen founded the "Mehsud Tahafuz Movement", a social movement mainly focused on clearing land mines in Waziristan. After gaining popularity, it was renamed to the Pashtun Tahafuz Movement ("Pashtun Protection Movement"). Pashteen received his doctor of veterinary medicine degree at Gomal University, Dera Ismail Khan. 
[2]
Education Education
Manzoor Pashteen Hat
Manzoor Ahmed Pashteen is usually seen wearing a red-and-black-patterned hat. The story goes that he received the hat from a low-paid labourer in his hometown of Sarwakai district, in Pakistan's northwestern South Waziristan region. The 26-year-old then gave the worker his brand new hat and took the worn red-and-black one in exchange. "I gave him my hat without any hesitation. Why not?" Pashteen told Al Jazeera. The hat has become something of a symbol: the design is now worn by those who support Pashteen's cause, to fight for the rights and protection of Pakistan's ethnic Pashtun citizens. 
[3]
Manzoor pashteen hat
Long March Against Naqeeb Killing
Youth from Federally Administered Tribal Areas (FATA) welcomed participants of a long march from Dera Ismail Khan to Peshawar. The march started on January 26 2018 to protest against the murder of Naqeeb Mehsud, who was killed in fake encounter by Karachi police. Manzoor Pashteen, who led the long march from DI Khan to Peshawar thanked the residents of Peshawar. Manzoor Pashteen had gone missing for few days before Naqeeb Mehsud's killing for raising a voice against land mines and disappearing of Pashtun. "Enough is enough. The state is responsible for killing of Naqeeb Mehsud," he said. "This movement will not stop. The fake encounter specialist should be arrested," he added. Pashteen also raised the issue of land mines in tribal areas. "Every month our kids die or became paralyzed due to the land mines," he said. 
[4]
March against naqeeb killing
Say No To War
Manzoor Pashtun called upon youth at a gathering in University of Peshawar in Deb 2018 to say no to war, disunity and a life of indignity and create a new history that the coming generations could be proud of. "We cannot live and even die with honour in this state. It is time to speak boldly, face all odds and let the world know that we say no to all negativities of the war. We want peace and life," said Manzoor Pashtun, who stood just about five-feet tall but his stature had grown to a leader of the political and apolitical Pakhtuns across the country since he mobilised people all the way from Dera Ismail Khan and many major cities of Khyber Pakhtunkhwa and held a sit-in for 10 days to draw attention of the government to the plight of people of Fata. 
[5]
Say no to war
Sindh bans Manzoor Pashteen for three months
The Sindh government has prohibited Pashtun Tahafuz Movement (PTM) Chairman Manzoor Pashteen from entering any area of the territory for three months. As per a notice issued by Sindh Home Department on Friday, Pashteen "incites the Public through inflammable and detest discourses against the State and Law Enforcement Agencies (LEAs) representing an incredible risk to the harmony inside the territory of District Malir Karachi," the official notice read. The warning states that the PTM administrator has been living in the common capital for as far back a few days.