Malik Nur Khan was a 3-star Air officer, sports administrator, Chief of Air Staff, and a politician, who served under President Ayub from 1965 to 1969. He belonged to a Punjabi Awan family and got commissioned in IAF (Indian Air Force) after completing his graduation from RIMC (Rashtriya Indian Military College) in 1941.
Nur Khan took part in World War-2 on the side of the U.K. He gained public fame after he led and commanded PAF in the 2nd war with Indian forces in 1965 and appraised his aerial capabilities when he took part in 6-day war on the behest of Arab Countries battled against Israel.
After his retirement in 1969, he began his political career and worked as West Pakistan's Governor under President Yahya and served as Cabinet Minister from 1969 to 1970. This article has every detail about him, including Malik Nur Khan Biography.
| Title | Description |
| --- | --- |
| Personal | |
| Name: | Malik Nur Khan |
| In Urdu: | ملک نور خان |
| Famous As: | Three-Star Rank Air Force General |
| Nickname(s) : | Man of Steel |
| Nationality: | British Subject (1923–1947), Pakistani (1947–2011) |
| Education: | Rashtriya Indian Military College |
| Religion: | Islam |
| Profession: | Politician |
| Service/Branch : | Indian Air Force (1941–1947) Pakistan Air Force (1947–1969) |
| Political Party : | Independent Pakistan Peoples Party |
| Years of service : | 1941–1970 |
| Rank: | Air Marshal (Lieutenant-General) |
| Born | |
| Date: | 22 February 1923 |
| Place: | Tamman (Talagang), Attock District, Punjab, British Indian Empire, (now Pakistan) |
| Died | |
| Date: | 15 December 2011 |
| Rest Place: | Rawalpindi Punjab Pakistan |
| Resting Place : | Westridge cemetery |
| In Office | |
| Preceded by: | Air Mrshl Asghar Khan |
| Succeeded by : | Air Mrshl A. R. Khan |
| In Office 2 | |
| Preceded by: | Lt. Gen. Tikka Khan |
| Succeeded by : | Lt. Gen. Attiqur Rahman |

Malik Nur Khan Biography
Khan was a man with vision, ideas, beliefs, and determination. He was a mastermind behind many reforms in Pakistan, not only in political and military fields but also in sports. In his military career, he benefitted Pakistan via his aerial skills.
During the war with Indian forces in 1965, he became the national hero and gained fame despite aerial supremacy's shortcomings against Indian-IAF. His talent and courage earned him recognition and praise from his country fellows after the war.
During his services to Pakistan's sports department, he gave his country many skilled and top-ranking players. He brilliantly introduced incentives to motivate sportspeople for better performance. He is the recipient of Hilal-e-Jurat, Sitara-e-Shujaat, National Order of Cedar, Order of Independence, Order of Orange-Nassau, and Nishan-e-Pakistan.
Nur Date of Birth
He opened his eyes in Tamman, situated near Chakwal, Punjab, on 22nd February 1923.
Education of Nur
He completed his education at renowned 'Aitchison College.' He joined R.I.M.C. (Rashtriya Indian Military College), where Khan completed his graduation and performed brilliantly in R.I.M.C.
After his graduation, he enrolled in a flying-lesson course to get training on how to operate and fly DH.82 Tiger Moth & left as an able pilot from Flying Club in Lahore. He never went to university, nor got an education from university; instead, he gained a commission as P/O in Squadron Number-1 of Indian Air Force on 6th January 1941.
Malik Nur Khan Family
He belonged to a Malik-Awan family, having military tradition which had served in British Indian-Army. His father, Malik Mihr, was a Subedar Major and army captain and served with Fifteenth Lancers, later Twentieth Lancers.
Military Career
Training
In the U.K., he got additional training as an aircraft pilot and gunnery officer with Royal Air Force. Upon returning from 1942 to 1943, he participated in a Burma Movement with Indian Air Force on the U.K. side. He served against the Empire of Japan in 1945.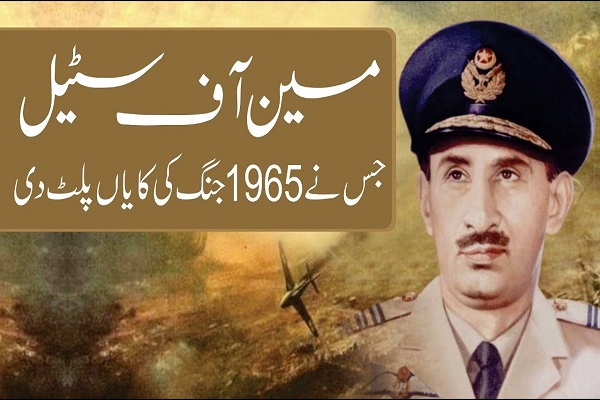 In 1946 he got designated as C.O. (Commanding-Officer) of Squadron Number-4 of R.I.A.F. and commanded it until 1947. When Pakistan was founded, he opted for Pak and entered the newly established P.A.F., where he served as PAF-Base Lahore's base-commander.
C-in-C & Between the Wars
In 1948 Khan got posted as a base-commander of Chaklala airbase but later designated as an 'air attaché' at Pakistani H.C. (High Commission) in the U.K. But this post wasn't for the long term as he had to come back to Pak and was designated as commandant of P.A.F. Academy Risalpur.
Program-Director
His Air-Force career progressed rapidly, as he got appointed at Air Head Quarters in Rawalpindi city as Director of Organizations, where he served until 1951. Khan served as program director of F-86 Sabrejet and looked after the jet fighter induction as he significantly played a part in the resistance against obtaining F-84 Thunder jet.
Appointment as Group Captain
From 1955 to 1956, he was raised to Group Captain rank and worked as base-commander of Peshawar airbase, followed by Mauripur airbase and Chaklala airbase until 1957.
Prior to his posting at Air Head Quarters in Rawalpindi city as 'Deputy Commander-in-Chief' in 1957, Khan's last responsibility was Air-Officer Commanding of Number-one group located in Peshawar airbase as the Air-Commodore.
Nomination for Air-Force Command
A.V.M. Khan was a popular military-personality in Pakistan owing to his sports administration role and civilian P.I.A.'s managing director. He was nominated for the Air-Force command. On the contrary, he never achieved the rank of 4-star A.C.M. but got designated as 'commander-in-chief' and got promoted to Air Marshal's rank.
Role in 1965 War
During the war with Indian forces in 1965, he became the national hero and gained fame despite aerial supremacy's shortcomings against Indian-IAF.
He used C-130 Hercules during the war to lead bombing missions. His efforts and bravery earned him recognition and praise from his country fellows after the war.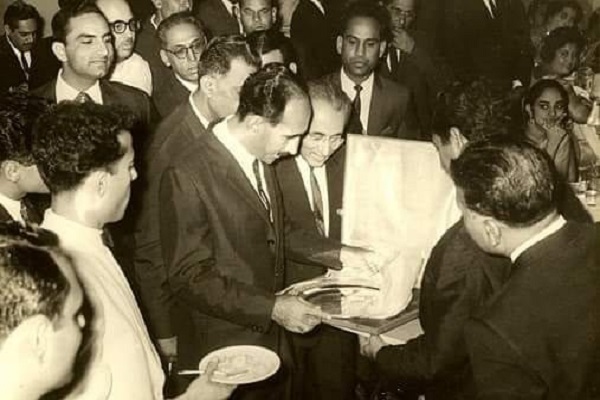 Participation in Arab War Against Israel
In 1967 he voluntarily served in the Air Forces of Arab Countries in the war against Israel during 6-Day War and performed in several aerial operations. He observed the dog fight with the Israeli Air-Force, and pilots of I.A.F. realized his aerial capabilities and talent during the war.
Israeli fighter-pilot Major Gen Ezer, ex-Israeli President, and Defense Minister wrote in the autobiography 'Nur was a skillful person, and I felt happy that Nur belonged to Pakistan and not to Egypt.' After this war, he returned to Pakistan and completed his service as P.A.F. C-in-C in the regime of Ayub Khan until his retirement in 1969.
Sports & Civilian Management
P.I.A.
He is remembered for his role in turning the P.I.A. into a well-recognized and profitable entity. In 1960 1st jetliner Boeing 707-321 of P.I.A. took the gentle turn under Khan's command. He served as chairperson of P.I.A. from 1959 to 1965. Under Khan's visionary leadership, P.I.A. became an elite and standard airline all over the globe.
During his service, P.I.A. turned into 3rd Asian airline to own and fly jet-aircraft after Japan and India. P.I.A. commenced its flights to China and Europe. In 1973 the Pakistani Government specially requested him to retake control of the country's airline.
During his 2nd tenure as head of the airline, Pakistan International Airlines became the operator and owner of 'Boeing-747s' and 'DC-10s.' He kept the airline out of Pakistan's turbulent political situation. On 20th January 1978, PIA-plane carrying twenty-two passengers hijacked by an armed person and demanded to turn to India.
Noor, as then chairman of the airline, boarded this plane for negotiation with the hijacker. In his efforts to disarm the gunman, he got hit by the bullet but overpowered him.
Hockey
He took control of the Pakistan Hockey Federation in 1976 as its President and served from 1967-1969 and then again 1976-1984. During his tenure as President, the federation won two Olympic Gold-Medals, two Hockey World-Cups, and two-Hockey Champions Trophy.
As a sports-enthusiast, he facilitated and improved hockey at the national level and significantly played his international hockey role. On his initiative, International Hockey Federation introduced Champions Trophy-Tournament and World-Cup Tournament that is now included among major tournaments at an International level alongside the Olympics.
During his presidential tenure, the Pakistani hockey squad won Mexico-Olympics, and in his 2nd tenure, the Pakistani squad won the 'Los-Angeles Olympics.'
Cricket
In 1980 Nur got designated as 'Board of Control for Cricket in Pakistan' (B.C.C.P.) President now called P.C.B. (Pakistan Cricket Board), to handle disarrayed cricket affairs.
He worked as President of B.C.C.P. from 1980-1984 and assisted win rights of hosting for World-Cup 1987 with India and was a member of the 1987 World-Cup's organizing committee. Khan brought some World-Cup tournaments to Pakistan.
Squash
In 1973 he held control of P.I.A. for 2nd time and took necessary and revolutionary steps. He launched the Pakistan International Airlines Colts scheme and spotted young talented boys giving them a monthly payment. They got trained and encouraged to perform in International matches, and P.I.A. beard their traveling cost.
Players who performed ably on the International level were offered a permanent job in P.I.A.  Well, performing players were awarded a departmental promotion. These incentives led to the top and leading Pakistani squash players in 70s: Gogi Allauddin, Mo Khan Junior, Qamar Zaman, and others.
In 1975 he requested legendary player Azam Khan, 4-time winner of the British-Open, owner of the squash club in England, trained Mohibullah Junior and Qamar for British-Open. These two trained players earned the title for Pakistan after twelve years.
Political Career
In 1969 he retired from the army, and Khan's reputation directed him to have a designation in Yahya's cabinet. Still, it was for a brief period because he demanded reforms. President Yahya overturned his retirement, renewed his tenure, and designated him Chief Martial Law Administrator (C.M.L.A.). In Yahya's regime, he got inducted as the Cabinet-Minister of labor, health, science, and communications in Aug 1969.
West Pakistan Governor
On 1st September 1969, he was appointed as West Pakistan Governor and made several radical amendments in Pakistan's educational and political structure and initiated a new educational and labor policy to delimit politics in universities.
Khan Joined P.P.P.
In 1985 he entered as a non-partisan in national politics and joined P.P.P. in 1987. He stood from NA-44 Constituency on the ticket of P.P.P. in general elections 1988. In 1988 he retired from politics.
Commemoration
In memory of his efforts and services to P.A.F., Chakala airline's name was changed in 2012 to 'PAF-Base Nur Khan.'
Malik Nur Khan Death
He passed away on 15th December 2011 at the age of eighty-eight after fighting with illness for an extended time at Rawalpindi's combined military hospital. He was embedded in his ancestral-village Tamman.