Air Marshal
Air Force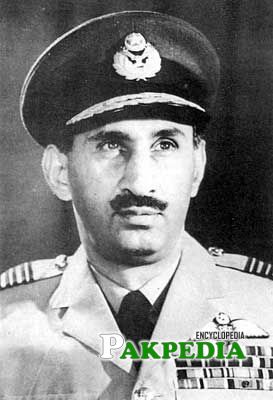 Commander in Chief of Pakistan Air Force
Group Photo
Pakistani Politician
Biography
History is made by the individuals who display extraordinary caliber and talents. Malik Nur Khan is one amongst them who will always be remembered for his good works and contributions. He was born in Tamman District
Attock
. He hails from a family with military traditions, whose elders belonged to the Malik Awan tribe of ancient repute. His father, Malik Mehr Khan was a captain in the Indian Army and served in 20th Lancers. Maternally, the family is related to Malik Ameer Muhammad Khan, the Nawab of Kalabagh.
[1]
Biography
Education
Nur Khan got his primary education from government middle school Tamman. When he was in fifth class, joined Prince of Wales Royal Indian Military College Dehra Dun. Mr. M Hailey, remarked on his forms that it was "An excellent military family from a very military center. The boy has been well educated and is more advanced than many Awans of his age. He is physically fit and should make an officer anyhow, he is the right type".
Career
To satiate his flying urge, Malik Nur Khan learnt flying at
Lahore Flying Club
Walton at the family expense. On successful completion of flying training, he got his pilot's A-license on Tiger Moth biplane. He was inducted as an Indian Air Force volunteer reserve. In December 1940 he went for air crew training. He was commissioned on 6 January, 1941 as a fighter pilot in the Royal Indian Air Force, at the age of seventeen years ten months only. After initial training, he flew with RAF instructors on the more powerful Hawker Hart and Audax biplanes. On completion of the course, he earned the honour to be the only student of his course to have achieved "Above Average" assessments from the RAF in armament, gunnery and bombing".
First Operational Posting
His first operational posting was to No.3 Squadron of the original IAF at
Peshawar
, where he flew Addaxes and Hawker Harts. In 1942, he underwent instructors' course on Harvards at Ambala, where he while converting on Vultee Vengeance dive-bombers, again proved to be the best gunner. During the following years, he served on the Burma front and also rendered services in Japan with the Commonwealth countries occupying forces.
Migrated To Pakistan
On partition in 1947, he and Asghar Khan, both opted for Pakistan. He was given the command of Air Base Chaklala. In January, 1948, he was sent to London to serve as a Liaison Officer in the Pakistan High Commission. After a brief stay there, he returned to Pakistan and was posted as Commandant of PAF College, Risalpur in September, 1948
Commander in Chief of Pakistan
Air Marshal (retd) Malik Nur Khan was the Commander-in-Chief of Pakistan Air Force from 1965 to 1969. He led the Pakistan air force in achieving parity over the three times bigger Indian air force on the first day of the 1965 war.
[2]
Commander in Chief of Pakistan
He later served as the Governor of West Pakistan.
Member of the National Assembly
Nur Khan was also a member of the
National Assembly
from 1985 till 1988. He contested in 1988 election on a
PPP
ticket from NA 44
Chakwal
II but wasn't successful. After defeat in the 1988 elections he decided to retire from politics and his cousin Malik Mumtaz Khan Tamman and Malik Allah Dad Awan began contesting elections from the same constituency.
PAF Academy
Notable amongst his assignments before partition was that of a flight commander in No 4 Squadron. In the RPAF, he commanded the PAF Academy and, as an air commodore, of No. 1 Group at Peshawar. He also had a stint at the Air Headquarters as the Assistant Chief of Staff Air.
[3]
PAF Academy
Six Day War
Nur Khan was also part of the Pakistani contingent that clashed with the Israeli Air Force during the Six Day War. Israel President Ezer Weizman, who was also Commander of the Israeli Air Force and the Minister of Defense of Israel, wrote in his autobiography that: "He was a formidable fellow and I was glad that he was Pakistani and not Egyptian". Nur Khan was the Air Marshal of Pakistan Air Force, Governor of West Pakistan and the Chairman of Pakistan International Airlines.
PIA Managing Director
In 1960, PIA imported its first jetliner (a Boeing 707-321 leased from Pan Am) under Nur Khan. Nur Khan was PIA's Managing Director from 1959 to 1965. He succeeded in making
PIA
profitable basis within six years. Under his charismatic and inspirational leadership PIA became one of the leading and respected airlines of the world. Under his tenure PIA became the first Asian airline to operate jet aircrafts.
Pakistan Cricket Board PCB Chief
The roots of Pakistan's most successful
cricket
era can be traced to Nur Khan's tenure as PCB chief. He took over in February 1980 and remained at the helm for four years. He brought professionalism, accountability, and the cleanest of intentions to Pakistan's cricket administration. He was also a visionary. His far-reaching achievements include making the Asia Cup an enduring reality, and being an important part of the initiative that brought the World Cup to the subcontinent for the first time.
[4]
  Pakistan Cricket Board (PCB) Chief 
Sports Administrator
As a sports administrator, Nur Khan had transformed Pakistan's squash players and field hockey team into world titleholders. His method was to focus intensely on performance, while leaving no stone unturned in arranging the resources required. There was a keen expectation that he would bring some of that Midas touch to cricket. Yet not everyone was enthused. How could a man who had dabbled in hockey and squash handle something as complicated and outsized as cricket?He is by a distance the most beloved PCB chairman, adored by fans, players, journalists, broadcasters and officials alike. Contrasted with some of the other characters who had led the board before and have since, he towers like a giant among pygmies.
Awards
Military awards
Hilal-e-Jurat
Sitar-e-Shujaat
Order of Independence (Jordan)
Order of the Cedar (Lebanon)
Order of Orange-Nassau
Civilian Awards
Hilal-i-Quaid-e-Azam
Sitara-e-Pakistan
Death
Nur Khan was an Air Chief Marshal of Pakistan Air Force, Governor of West Pakistan and the Chairman of Pakistan International Airlines.Air Marshal (retd) Malik Nur Khan, the veteran of the 1965 Pak-India war, who later served as the Governor of West Pakistan died at
Combined Military Hospital
(CMH),
Rawalpindi
after protracted illness.
[5]
Death