Khawaja Nazimuddin was a Bengal-based conservative political figure and was one of the founding fathers of a separate land Pakistan. He is known as the 1st Bengali leader of newly formed Pakistan who governed Pakistan as its Governor-General from 1948 to 1951 then as PM from 1951 to 1953.
From 1943 to 1945 he served as PM of Bengal and after partition got designated as CM of East-Bengal. After the killing of Liaquat Ali, he handed over the Governor-General's post to Sir Malik and held the control of the Federal Government as PM.
After being retired from politics he fought illness for a long time and eventually passed away in 1964 and was embedded at Mausoleum in Dhaka. The article carries all the information about him, including Khawaja Nazimuddin Biography.
| Title | Description |
| --- | --- |
| Personal | |
| Name: | Khawaja Nazimuddin |
| Famous As: | Politician |
| Nationality: | Pakistan |
| Residence: | Dacca, East Pakistan, Pakistan |
| Education: | University of Cambridge, Dunstable Grammar School, Aligarh Muslim University, Trinity Hall, Cambridge |
| Religion: | Islam |
| Profession: | Politician |
| Awards : | Order of the Indian Empire |
| Born | |
| Date: | 19 July 1894 |
| Place: | Dacca, Bengal, British India |
| Family | |
| Spouse: | Sherbano Ashraf |
| Siblings : | Khwaja Shahabuddin |
| Relatives: | Khwaja Shahabuddin (Younger brother) |
| Died | |
| Date: | 22 October 1964 |
| Rest Place: | Dacca, East Pakistan, Pakistan |
| Career | |
| Political Party: | Pakistan Muslim League (1947–64) |
| Serve As: | Prime Minister of Pakistan |
| Proceeded by: | Liaquat Ali Khan |
| Time Period : | 17 October 1951 – 17 April 1953 |
| Old Political Affiliations: | All-India Muslim League |
| 2nd Governor-General of Pakistan: | 14 September 1948 – 17 October 1951 |
| Prime Minister : | Liaquat Ali Khan |
| Preceded by : | Muhammad Ali Jinnah |
| Succeeded by : | Sir Malik Ghulam Muhammad |
| Chief Minister of East Bengal: | 15 August 1947 – 14 September 1948 |
| Governor-General : | Muhammad Ali Jinnah |
| Prime Minister : | Liaquat Ali Khan |
| Preceded by : | Huseyn Suhrawardy |
| Succeeded by : | Nurul Amin |
| Prime Minister of Bengal: | 29 April 1943 – 31 March 1945 |
| Governor: | Richard Casey, Baron Casey |
| Preceded by : | Fazlul Haq |
| Succeeded by : | Huseyn Suhrawardy |
| President of Pakistan Muslim League: | 17 October 1951 – 17 April 1953 |

Khawaja Nazimuddin Biography
Khawaja Nazimuddin belonged to a politically active and wealthy family, in 1934 his family owned two lac acres of land in several districts of Eastern-Bengal along with properties in Kolkata, Assam, and Shillong. By the 1960s the major property was transferred from East-Pakistan to various regions of Pakistan and left very little property in the East.
In 1926 Nazimuddin got appointed CIE (Companion of Order of Indian Empire) and King-Emperor George Fredrick knighted him in 1934 when he was designated a KCIE (Knight Commander of Order of Indian Empire). He was awarded Nishan-e-Pakistan the highest civilian laurel.
Later after his demise, the Pakistani Government kept him honouring from time to time. The residential zones in Karachi North Nazimabad and Nazimabad were named after him.
Khawaja Date of Birth
He opened his eyes on 19th July 1894 in a rich and distinguished family of Nawabs of Dacca.
Education of Khawaja 
He received education at 'Dunstable Grammar School' in England and after matriculation moved back to India and got enrolled at MAO (Muhammadan Anglo-Oriental) college of AMU (Aligarh Muslim University) in Uttar Pradesh. He did graduation in Sociology from Aligarh Muslim University and moved to England for higher education.
Khawaja Nazimuddin was active in sports particularly in tennis during his stay at AMU and used to represent his institute in collegiate matches. After completing his education at AMU, he traveled to England to attend Trinity Hall at the University of Cambridge.
He obtained a Masters's degree in English from the University of Cambridge. He practiced law and became a barrister in England. Vice-Chancellor of the University of Dhaka granted him a Doctor of Laws degree from 1947 to 1949.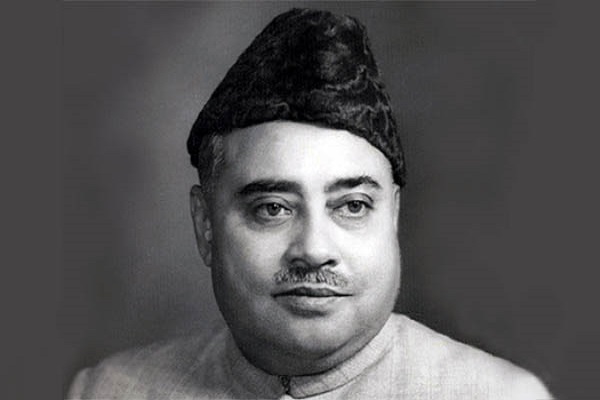 Khawaja Nazimuddin Family
His ancestors belonged to Kashmir and resided for a long time in Dhaka. His maternal grandfather was Nawab Bahadur Khawaja Ahsan-Ullah. Khawaja Nazimuddin's younger brother Khawaja Shahab-ud-Din played a prominent part in national politics. His family used to speak Bengali, Urdu, and Peshawar.
Career
Joined Muslim League
He moved back to India to support his brother Khawaja Shahab-ud-din and started taking interest in public and civil matters that took him to join the politics of Bengal, and both brothers then joined Muslim League.
Designated as Chairperson of League Municipality
Nazimuddin successfully contested for municipality election and got designated as Chairperson of League Municipality from 1992-1929. He was designated as Minister of education and served at this ministry until 1934. Later in 1934, he got appointed to Viceroy's Executive Council.
Appointment as Agricultural Minister
He served as Agricultural Minister in 1935 and piloted the Bengal Rural Development Bill and Agriculture Debtors Bill that freed poor and helpless Muslim agriculturists from the oppression of Hindu moneylenders. He contested in the regional electoral process held in 1937 on the platform of the Muslim League but admitted his defeat in Fazlul Haq's favour who was designated as PM Bengal.
Designation as Home Minister
Upon an alliance between Krishak Praja Party and Muslim League, he was designated as Home Minister. His conservative elite status led him to become a close aide of then-President of the Muslim League Mohammad Ali Jinnah, who designated him as an executive committee member to promote the agenda of the Muslim League.
Left the Alliance
In 1940 he parted ways from the alliance led by Fazlul Haq and became opposition leader and led a campaign against the premiership of Fazlul and mainly concentrated on the issue of Bengali nationalism.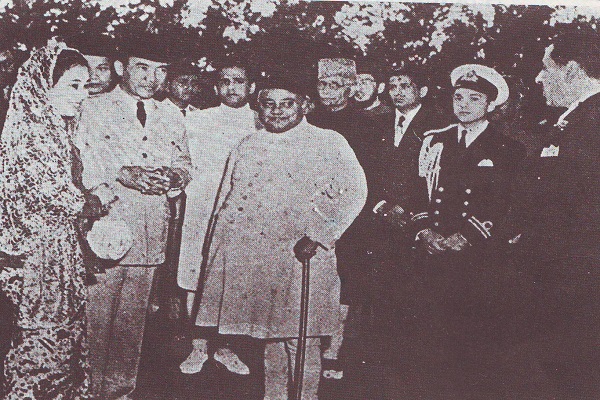 As a Governor
In 1943 governor John Herbert dismissed Haq and Nizamuddin took control of the government. During his tenure as governor, he played a pivotal role in the achievement of Pakistan. His position lasted till 1945 when the no-confidence motion and got defeated in assembly hall by one-hundred and sixty votes to ninety-seven votes that ended his post. He handed over his duties to Indian-Nationalist Muslim Nausher Ali.
Chairperson of Muslim League
From 1945 to 1947 he served as chairperson of the Muslim League and supported the political cause for a separate homeland against congress. He again participated in 1947 in party elections against Hussein's platform and secured his nomination for chairperson of the East Bengal chapter of the Muslim League. His electoral success led him to be appointed as 1st CM of East-Bengal after the Indian partition in 1947.
Took over the Presidency of PML
On 14th Aug 1947 Muhammad Ali Jinnah, Governor-General at that time handed over the presidency of PML to Nazimuddin. On 1st Nov 1947, he got designated as acting Governor-General in place of Governor-General Muhammad Ali Jinnah due to his deteriorating health and after his demise, Nazimuddin was appointed Governor-General.
Founded a Parliamentary Committee
He as a Governor-General remained neutral and didn't interfered in government affairs and politically supported the government of PM Liaquat Ali. In 1949 he founded a parliamentary committee 'Basic Principles Committee' on PM Ali Khan's advice to set-up a basic principled to lay the foundation of Pakistan's Constitution.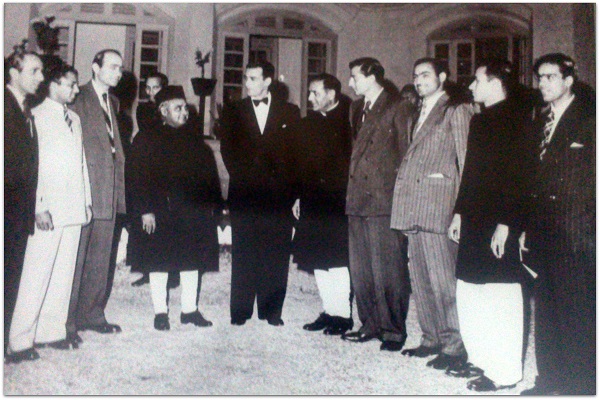 Faced Failure in Controlling Country
After the killing of Liaquat Ali in 1951 leaders of the Muslim League asked Nizamuddin to control the government and also hold the party's presidency as no person was found suitable for these posts. His government concentrated on fostering political strategies directed towards conservative politics.
During his administration, the country was facing issues of the poor economy and rising provincial nationalism in East Bengal and all four provinces that made him ineffectual to run affairs of the country. From 1951 to 1952 the Muslim League divided into two factions governed by the Punjab Sindh chapter and the Bengali chapter.
Conduction of Country's 1st Census
In 1951 the government of PM Nizamuddin conducted 1st census of the country where it was found that fifty-seven percent populace was Indian nationalists mostly living in Karachi that complicated the country's situation. In Jan 1952 he announced in Dhaka's meeting that 'Muhammad Ali Jinnah was right for national unity of Pakistan Urdu must be declared Pakistan's official language.
Riots Faced by Nazimuddin
On 21st Feb 1952, a protest in the 'Bengali Language Movement' asking for official and equal status to the Bengali dialect turned ferocious with many casualties caused by firings of police. This protest took place when he announced Urdu as Pakistan's national language following the statement of Jinnah that one and only Pakistani language should be Urdu.
In 1953 Jamaat-e-Islami led an aggressive religious movement to remove the Ahmadi minority from powerful posts and asked for the declaration of Ahmadis as non-Muslims. He responded to these protests by dismissing CM Punjab, Mumtaz Daultana to Feroz Khan. He announced martial law with the approval of Governor-General Sir Malik Ghulam.
Dismissal of Nazimuddin
The violence and agitations spread via the successful riots and Bengali dialect movement proved the incompetence of the government of Nazimuddin and he was noted as weak in controlling the country and government.
In an attempt to improve internal security, and the economy Governor-General Ghulam asked PM to step down in the country's interest. PM Nazimuddin refused to follow his instructions and Ghulam used his reserve authorities granted in the 1935 Act of Indian Government and dismissed Nazimuddin.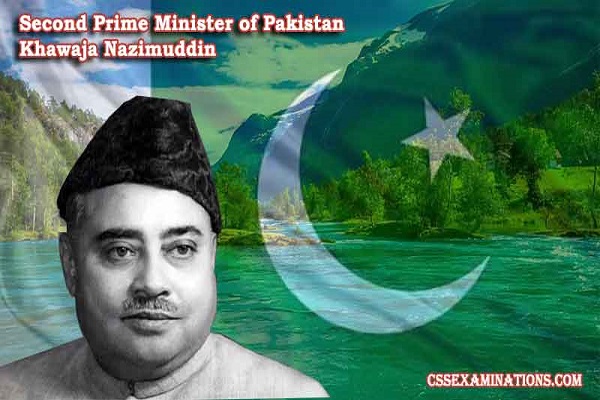 Conduction of New Elections
He requested Federal Court intervention against the action but Chief Justice Muhammad Munir didn't rule on dismissal legality but instead conducted new elections in 1954. Governor-general Sir Malik designated another Bengali political figure Muhammad Ali who was serving as an ambassador of Pakistan to the USA at that time as new PM until the conduction of new elections in 1954. Even after dismissal he remained actively involved in parliamentary politics.
Khawaja Nazimuddin Death
He passed away in 1964 at an age of 70. He got embedded at 'Dhaka Mausoleum' in his hometown Dhaka.