Khan Abdul Wali Khan was a British-Indian, later he migrated to Pakistan and worked as a Pashtun leader and democratic socialist. He served at the presidential post of NAP (National Awami Party). Khan used to write against the British Empire. He remained engaged in the non-violence resistance movement against British Empire run by his father.
During his teenage, he got actively involved in INC (Indian National Congress). In 1947 after the establishment of Pakistan, his political involvement became controversial due to his attachment with Congress that opposed Pakistan's establishment. This article contains all his information including Khan Abdul Wali Khan Biography.
| Title | Description |
| --- | --- |
| Personal | |
| Name: | Khan Abdul Wali Khan |
| In Urdu: | خان عبدالولی خان |
| Famous As: | Abdul Wali Khan |
| Nationality: | Pakistani |
| Residence: | Charsadda – Khyber-Pakhtunkhwa |
| Known As: | Pashtun Leader |
| Education: | He attended the famous Colonel Brown Cambridge School in Dehra Dun. He did not pursue further education because of recurring problems with his eyesight |
| Religion: | Islam |
| Profession: | He was a Politician and an activist |
| Born | |
| Date: | 11th January 1917 |
| Place: | Utmanzai in Charsadda district of the Khyber-Pakhtunkhwa province of undivided India |
| Family | |
| Ethnicity: | Pashtun |
| Spouse: | Taj Bibi was his First wife, after her death In 1954, he married Nasim Wali Khan |
| Children: | 3 Daughters and 2 Sons, Asfandyar wali khan and Sangeen Wali khan |
| Parents: | Father: Khan Abdul Ghaffar Khan (Bacha Khan), Mother: Meharqanda Kinankhel |
| Siblings : | Abdul Ghani Khan, Sardaro, Mehar Taja, Abdul Ali Khan |
| Died | |
| Date: | 26 January 2006 |
| Rest Place: | Uthmanzai, Charsadda |
| Career | |
| Political Party: | Awami National Party |
| Serve As: | Party Leader |
| Old Political Affiliations: | Indian National Congress, National Awami Party, National Awami Party-Wali |
| In-Office | |
| Role: | Opposition Leader |
| Dates: | 14 April 1972 – 17 August 1975 |
| Preceded By: | Nurul Amin |
| Succeeded By: | Sherbaz Khan Mazari |
| Political Party: | National Awami Party |
| In-Office 2 | |
| Role: | Opposition Leader |
| Dates: | 2 December 1988 – 6 August 1990 |
| Prime Minister: | Benazir Bhutto |
| Preceded By: | Fakhar Imam |
| Succeeded By: | Benazir Bhutto |
| Political Party: | Awami National Party |

Khan Abdul Wali Khan Biography
Wali Khan was known as 'Baba' among his followers and supporters, had a hectic and complicated political life. During this period, he escaped four assassination attacks, remained imprisoned several times as a political prisoner, and experienced house arrest on different occasions.
In his forty-eight-year-long fight for Pashtuns' social and political rights, he attracted military and civil regimes' anger by confronting them. He saw the banning of his famous political party NAP (National Awami Party) twice, 1st by Gen Ayub Khan and 2nd time by Mr. Bhutto.
As he was Bacha Khan's son (Abdul Ghaffar Khan) and was closely associated with the All India Congress, the military and civil establishment viewed him with extreme suspicion. His opponents blamed him for the separation of Pashtuns from Pakistan and for advocating anti-Pakistan forces.
The ruling establishment of Pakistan and state-owned media tagged him with the title of traitor. Democrats criticized him for opposing Zia-ul-Haq, who reportedly offered him the post of PM of the country.
Khan Date of Birth
He opened his eyes on 11th Jan 1917 in Utmanzai town in Charsadda district of KPK province of the un-dividend India.
Education of Wali Khan
He completed his early studies at Utmanzai's 'Azad Islamia School.' He went to the renowned Colonel Brown Cambridge School of Dehra Dun but didn't continue his studies because of his eyesight problems that led him to wear glasses throughout his remaining life.
Khan Abdul Wali Khan Family
His father, Bacha Khan, was a renowned Pashtun Nationalist who founded the Khudae Khidmatgaar movement. His mother, Qanda Khan, passed away during the flu pandemic that occurred after the 1st world war. This school became a part of a school network that his father, Bacha Khan, had established.
This school network led to the Khudae Khidmatgaar Movement's development, challenging NWFP's British powers via non-violent demonstration. Wali's son Asfandyar Wali Khan also followed his father's footsteps and served as a political figure in Pakistan and President of ANP.
Political Career 
In 1942 during his teenage, he joined the 'Khudae Khidmatgaar Movement.' Following this, he properly joined politics by becoming associated with INC (Indian National Congress) and served as the party's provincial joint-secretary.
In 1943 he was detained under FCR (Frontier Crimes Regulations) at the crackdown peak against the August Movement. He opposed the Indian sub-division and criticized this decision. Despite his father's struggles against partition and an effort to form a new state called Pakhtunistan on 14th Aug 1947, Pakistan was founded.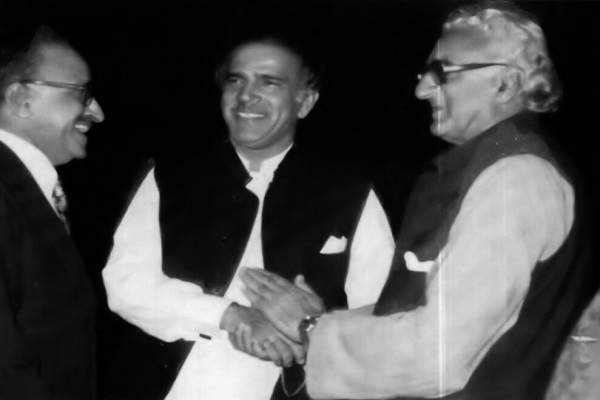 Struggles for Autonomy of Pashtuns
Following his father's footsteps after Pakistan's creation, he strived for the Pashtun people's autonomy within a Federal system that placed him opposite the government. In 1948 he was imprisoned without any charges and got freedom in 1953. After gaining freedom, he immediately began discussions with the country's central government to reduce misunderstandings about Khudae Khidmatgaar.
Efforts for Release of his Fellows
He negotiated with NWFP CM Sardar Abdul Rasheed and PM Muhammad Ali Bogra. He also held meetings with then-Governor General Ghulam Muhammad. Khan Abdul Wali Khan succeeded in conveying his message that led to the freedom of several activists of the Khudae Khidmatgaar movement.
In 1956 he joined NAP (National Awami Party), the new party constituted by Bacha Khan in collaboration with other leftist and progressive leaders belonging to both Pakistani wings.
Disqualified for Elections
The NAP was about to succeed in the 1959 elections when the military ousted President Iskandar Mirza and controlled the country. After holding control of the country, Ayub Khan imprisoned politicians to hinder political activities. Wali got arrested as well as declared ineligible to contest elections.
Worked with Fatima Jinnah
Ayub implemented a new constitution in 1962 and announced his participation in the Presidential electoral process. All opposition parties assembled against Ayub Khan and nominated their joint candidate to compete in Presidential elections against Ayub; Wali supported Jinnah's sister Fatima Jinnah, the consensus candidate, assisted her in election campaigns worked as an election agent of Fatima.
The campaign failed, and Ayub was again elected in 1964 because of differences within the opposition and central government's vote-rigging. The divisions were sharp between NAP President Maulana Bhashani and Wali, as Bhashani was accused of supporting Ayub due to the government's pro-china policy.
Division of NAP
These divisions led to the splitting of NAP into Bhashani and Wali factions. Wali was designated as President of his section in June 1968. That same year increasing inflation and corruption in Ayub's regime led to unrest broke out in Pakistan. Wali, along with opposition parties and future President of Bangladesh Sheikh Mujib-ur-Rehman, formed a 'Democratic Action Committee' to have talks with Ayub for democracy restoration.
Negotiated with Ayub Khan
The negotiations between the opposition and Ayub continued from 9th-10th May 1969 for an honorable exit of Ayub from power. It was found that the military and its political companions didn't want Ayub to succeed. Wali negotiated with Ayub separately on 11th May to persuade him for settlement. He refused, and then military pressure led him to resign.
Elected to Assemblies
Yahya Khan, the new army leader, called for provincial and general elections in 1970, assuring to transfer power and authorities to the majority party. In West Pakistan, Zulfiqar Bhutto secured many national assembly seats, solely from Sindh and Punjab provinces. Wali got elected to both National and Provincial assemblies from the Charsadda constituency.
Protested Against Military Crack-Down
The military government didn't accept the results and rejected the victory of the Awami League. To prevent a showdown between Eats-Pakistan residents and the Military, Khan met Sheikh Mujeeb-ur-Rehman and other Pakistan's political figures on 23rd Mar 1971.
During the military crackdown against East-Pakistan, the NAP under Khan was among those few parties who protested army operation. Once, he assisted the son of a senior East-Pakistani diplomat to run to Afghanistan from being interned in West-Pakistan. In retaliation military government banned the party and started arresting the party activists.
Tripartite Agreement
Zulfiqar Bhutto contacted Wali in 1972, and their meeting led to an agreement with the government named as 'Tripartite Agreement.' This agreement resulted in the uplift of martial law and ban on NAP.
Escaped Attack by FSF
On 23rd Mar 1973, the FSF (Federal Security Force) attacked a public rally at Liaquat Bagh in Rawalpindi and assassinated dozens of people. Khan hardly escaped a fire during these attacks as most NAP members and NWFP residents were killed in this attack, so the public anger ran high among Pashtuns.
The angered party followers and workers wanted to move the dead bodies in Peshawar's streets and other NWFP cities. Khan rejected this plan and controlled his angered party activists, sending dead bodies to Peshawar, burying them quietly.
Despite this massacre, Khan continued his negotiations with Bhutto regarding the new constitution. Shortly after this, he was designated opposition leader by an agreement by all opposition parties.
Ban on NAP
After Zulfikar Bhutto's companion and governor of NWFP Hayyat Sherpao was assassinated in a bomb blast in 1974, Zulfikar was convinced that Wali, Amirzadah Khan, and NAP were responsible. In retaliation, the federal government banned NAP and ordered imprisonment and arrest of its senior leaders, including Khan.
Khan Abdul Wali Khan Books
Wali authored a book on the non-violent movement of his father in the Pashto language. He composed another book entitled 'Facts are Facts.' He wrote this book slowly over several years and contained declassified and critical British Imperial documentation before Pakistan's establishment.
He cited those documents and stated that Pakistan was created according to Jinnah and the British's divide & conquer policy and several feudal landlords and religious leaders.
Founded ANP
Wali, along with members of NAP, established ANP (Awami National Party). Khan was designated its 1st President, and Rasool Baksh, a Sindhi Nationalist, became 1st Secretary-General. The ANP, under the presidency of Wali, participated in national elections in 1988 in alliance with PPP (Pakistan People's Party).
The success of ANP remained limited to KPK (then NWFP). Khan didn't win his provincial seat, losing it to a PPP candidate, indicating a decline in popularity of ANP. In 1989 the PPP-ANP alliance collapsed after a snub by PM Benazir Bhutto and conflicts over NWFP governorship and ministerial positions.
After becoming associated with the opposition, he began negotiations with Islamic Democratic Alliance, and before the general elections in 1990, he joined the alliance.
Khan Abdul Wali Khan Retirement
After getting defeat by an opposition contestant Maulana Hassan in the 1990 elections, Wali got retirement from politics and didn't accept his party's senate ticket. When he was asked about his retirement reason, he stated that he doesn't fit in such politics where ISI and mullahs decide our politics and destiny. He limited his contacts with the public and press after quitting politics.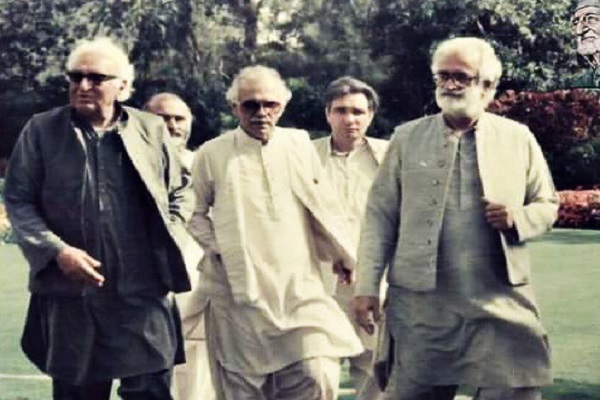 Opposed Construction of Kalabagh Dam
In 1998 PM Nawaz announced Kalabagh Dam's construction. Sindhi and Pashtun nationalists started opposing its construction as they believed this dam would hand over the control of Pakistan's water resources to Punjabis. In response to this announcement, Wali led a grand rally against the dam's construction in Nowshera.
This rally encouraged other political parties, especially PPP, into running a fierce campaign against the dam's construction. This campaign turned successful leading Nawaz to cancel the plan.
Detentions
During his political career spanning over forty-eight years, he remained in prison and escaped assassination attacks several times. His role in the Khudae Khidmatgaar movement led him to detention under FCR by British Empire in 1943. On 15th Jun 1948 new government of Pakistan detained him for the opposition of Khudae Khidmatgaar to Pakistan's creation, and he was imprisoned in Haripur Jail in NWFP.
He remained imprisoned for five years in different jails without any charges, and the central government released him. In Feb 1949, when he was in prison, his 1st wife, Taj Bibi, and 2nd son passed away in Mardan hospital. Khan wasn't permitted to attend their funeral.
He was shifted from Haripur prison to Mach prison in Baluchistan in Feb 1949, in 1951 to Quetta jail, and 1952 to Ismail Khan prison. In 1952 he was re-shifted to Haripur prison and got released on 14th Oct 1953.
Detention by Gen Ayub & Bhutto
General Ayub Khan ousted Iskandar Mirza, and his government decided to hinder political opponents and so disqualified several political figures from politics, including Wali. His final imprisonment occurred under the government of Bhutto. Zulfiqar Bhutto banned his party, and a crackdown was initiated against his friends and family.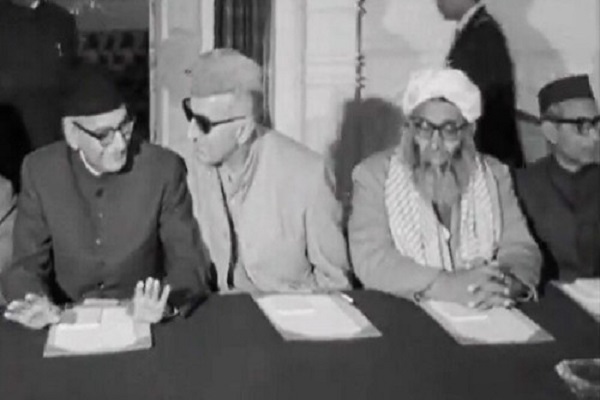 Khan Abdul Wali Khan Death
After fighting illness for a long time, he died of cardiac arrest on 26th Jan 2006 in Peshawar and was embedded in his home village in Uthmanzai Charsadda. Hundreds of senior politicians attended his funeral, and then-President Parvez Musharraf, Afghan President Hamid, and Indian PM Manmohan Singh sent condolences messages.