In his 48-year-long struggle for the political and social rights of the Pukhtoons, Wali Khan attracted the wrath of elected as well as military regimes by challenging them and forging alliances with political forces representing both the left and the right.
Wali Khan faced politically motivated cases such as the Hyderabad conspiracy case instituted against him by  Zulfikar Ali Bhutto  (which was withdrawn by military dictator  Ziaul Haq ). He also saw his popular National Awami Party (NAP) getting banned twice, first by military dictator  Ayub Khan  and then by the elected government of Mr Bhutto in 1975 — the year which also saw dismissal of the NWFP government in which his party was a coalition partner with Maulana Mufti Mehmood's Jamiat Ulema-i-Islam.
| Title | Description |
| --- | --- |
| Personal | |
| Name: | Khan Abdul Wali Khan |
| In Urdu: | خان عبدالولی خان |
| Famous As: | Abdul Wali Khan |
| Nationality: | Pakistani |
| Residence: | Charsadda – Khyber-Pakhtunkhwa |
| Known As: | Pashtun Leader |
| Education: | He attended the famous Colonel Brown Cambridge School in Dehra Dun. He did not pursue further education because of recurring problems with his eyesight |
| Religion: | Islam |
| Profession: | He was a Politician and an activist |
| Born | |
| Date: | 11 January 1917 |
| Place: | Utmanzai in Charsadda district of the Khyber-Pakhtunkhwa province of undivided India |
| Family | |
| Ethnicity: | Pashtun |
| Spouse: | Taj Bibi was his First wife, after her death he In 1954, he married Nasim Wali Khan |
| Children: | 3 Daughters and 2 Sons, Asfandyar wali khan and Sangeen wali khan |
| Parents: | Father: Khan Abdul Ghaffar Khan (Bacha Khan), Mother: Meharqanda Kinankhel |
| Siblings : | Abdul Ghani Khan, Sardaro, Mehar Taja, Abdul Ali Khan |
| Died | |
| Date: | 26 January 2006 |
| Rest Place: | Uthmanzai, Charsadda |
| Career | |
| Political Party: | Awami National Party |
| Serve As: | Party Leader |
| Old Political Affiliations: | Indian National Congress, National Awami Party, National Awami Party-Wali |
| In Office | |
| Role: | Opposition Leader |
| Dates: | 14 April 1972 – 17 August 1975 |
| Preceded By: | Nurul Amin |
| Succeeded By: | Sherbaz Khan Mazari |
| Political Party: | National Awami Party |
| In Office 2 | |
| Role: | Opposition Leader |
| Dates: | 2 December 1988 – 6 August 1990 |
| Prime Minister: | Benazir Bhutto |
| Preceded By: | Fakhar Imam |
| Succeeded By: | Benazir Bhutto |
| Politcal Party: | Awami National Party |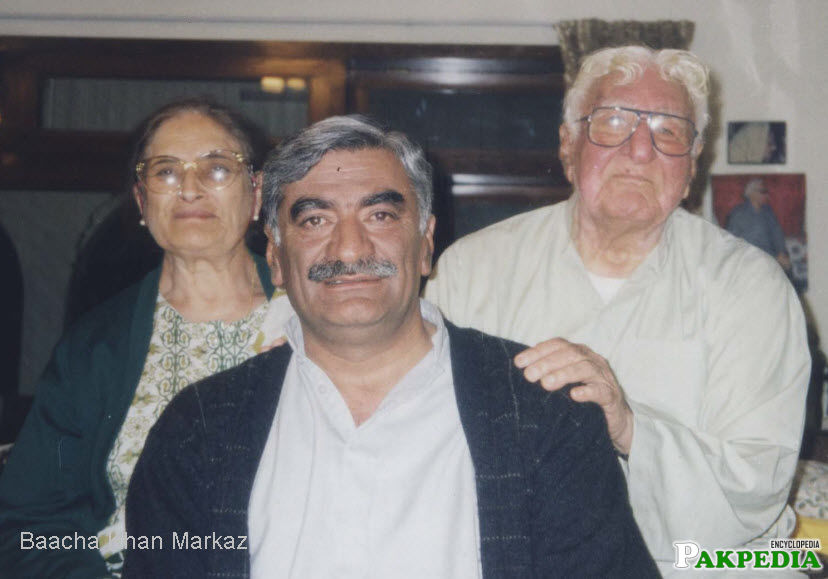 Early life and Education
1915: Wali khan was born in the house of Baacha Khan and Meherqanda, the daughter of Yar Muhammad Khan of Rajar in December 1915. 1918: Wali Khan mother Meherqanda was died.
1919: Wali Khan father Baacha Khan married for the second time.1922: Wali Khan was admitted in to his father own established, Azad Islamia High School. Wali khan was considered among the first student of this school.1922: Wali Kahn father, Baacha Khan was arrested for the first time. Wali khan took active part in his father release campaign.1927: Wali khan act the elder brother role in the stage drama of Abdul Akabar Khan 'Dre Yatemanan'. The drama was staged in the annual convocation of Azad Islamia High School founded by his father Baacha Khan. 
1929: Wali Khan starts taking active part in the Khudai Khidmatgar movement for the first time.1930: In the month of May British army attack on Utmanzai village. A British army soldier try to stab Wali khan from the back with his bayonet but in the meantime a native soldier named Sher Khan came forward and took the bayonet on his own hand. Thus Wali Khan was near to killed but was escaped.1931: Wali was admitted by the British wife of Dr. Khan sahib in Deradoon public school, U.P for higher education. The school was run by the government of Ireland. 1933: Wali Khan completed his senior Cambridge from Deradoon School and didn't start his further education due to eyes problem.
[1] Chronology of Khan Abdul Wali Khan
Life in Prison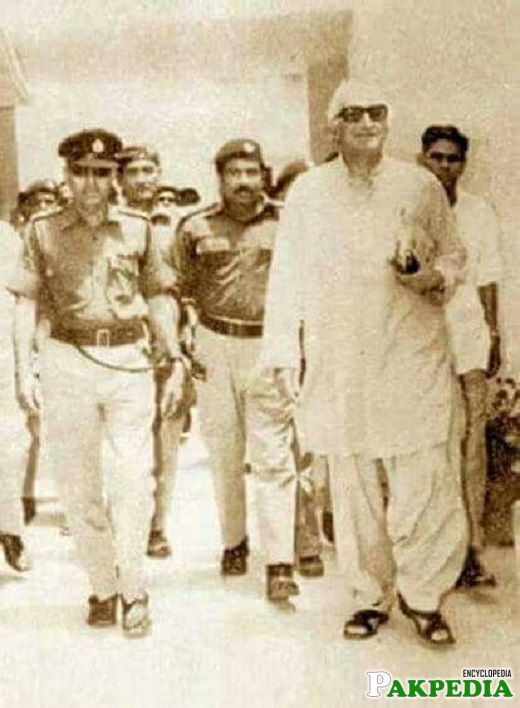 On June 15, 1948, he was put behind bars in Haripur jail in the NWFP, and after serving more than five years in various jails he was released by the then federal government in 1953.In February 1949, Wali Khan was shifted from Haripur jail to Mach jail in Balochistan and in May 1951 to Quetta jail and in 1952 to Dera Ismail Khan jail. He was brought back to Haripur jail in March 1952 from where he was set free on Oct 14, 1953. In this way he remained in jail for five years and five months.
Political Career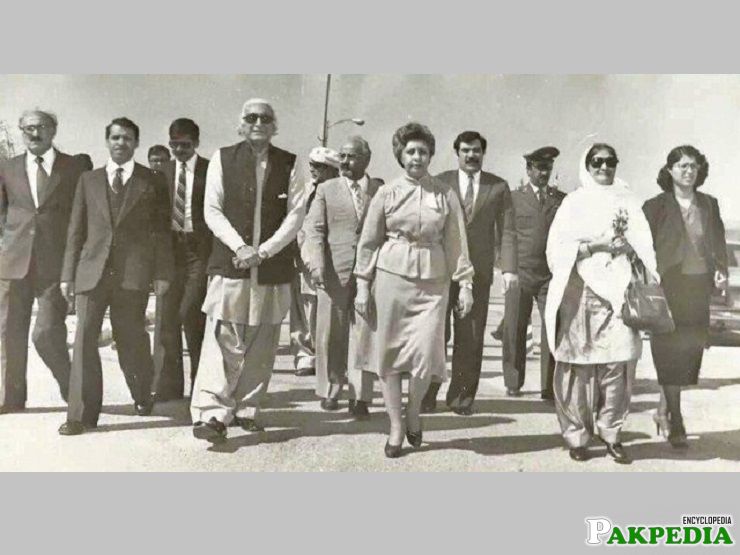 Wali Khan joined the National Awami Party (NAP) in 1956, a new political party formed by his father along with other progressive and leftist leaders from both wings of Pakistan. The National Awami Party seemed to be on its way to victory in the 1959 elections, when the civilian President Iskandar Mirza was ousted in a coup by the military, under Commander-in-Chief Ayub Khan. One of Ayub Khan's first decisions after he came to power was to outlaw political activity and imprison politicians. Khan Abdul Wali Khan, along with many other politicians at the time, was imprisoned and disqualified from contesting elections or participating in politics as part of this purge.
By 1962, Ayub Khan introduced a new constitution and announced he would run in the next Presidential election. The opposition parties got united under the Combined Opposition Party alliance and fielded a joint candidate against Ayub Khan in the Presidential elections. As an opposition leader, Wali Khan supported the consensus candidate Fatima Jinnah, sister of Pakistan's founder Muhammad Ali Jinnah. Wali Khan assisted Fatima Jinnah in her election campaign and served as her election agent.
The opposition's election campaign however proved a failure and Ayub Khan was re-elected in 1964, in part due to alleged vote rigging by the central government, and also because of divisions within the opposition. These divisions came to the surface in 1967, when the National Awami Party formally split into Wali Khan and Bhashani factions. Wali Khan was elected President of his own faction of the National Awami Party in June 1968. In the same year, popular unrest broke out against Ayub Khan's rule in Pakistan, due to increasing corruption and inflation.

[2] Presidential Election 1964

The new military leader, Yahya Khan, called for general and provincial elections in 1970, promising to transfer power to the majority party. Wali Khan was elected to both the provincial Assembly as a member of the Provincial Assembly and the National Assembly from his home constituency of Charsadda.
During the martial law crackdown against East Pakistan, the National Awami Party under Wali Khan was one of a handful of parties that protested the military operation. In one case, Khan helped a senior East Pakistani diplomat's son escape to Afghanistan from possible internment in West Pakistan. The military government, in retaliation against the protests, banned the party and launched mass arrests of party activists.
Tripartite Agreement
In 1972, as the opposition leader, Wali Khan was contacted by Zulfikar Ali Bhutto, who wanted to lift martial law and set up a new constitution. Wali Khan's negotiations with Zulfiqar Ali Bhutto led to the signing of an agreement with the government in 1972, called the Tripartite Agreement. The agreement led to the lifting of martial law and removal of the ban on the National Awami Party. This led to the formation of National Awami Party coalition provincial governments in the NWFP and Baluchistan. Despite the initial positive start, the agreement rapidly began to unravel due to the growing animosity between Khan and Bhutto.
Formation of Awami National Party
In July 1986, Wali Khan and other former National Awami Party members formed the Awami National Party (ANP). Wali Khan was elected its first President and Sindhi Nationalist Rasool Baksh Palijo became the first Secretary General of the party.The ANP, under Wali Khan's presidency, contested the 1988 national elections in alliance with former rivals the Pakistan Peoples' Party of Benazir Bhutto (Zulfiqar Ali Bhutto's daughter). The ANP's success in the elections was limited to the NWFP and even then only certain regions of that province. In addition, Wali Khan lost his provincial seat to a PPP candidate, a sign of the decline in the ANP's popularity. The ANP-PPP alliance collapsed in 1989 after a perceived snub by PPP Prime Minister Benazir Bhutto and a dispute over ministerial posts and the governorship of NWFP. After joining the opposition, Wali Khan started talks with the Army backed IJI (Islamic Democratic Alliance) and joined the alliance before the 1990 general elections.
[3] Wali Khan: A life of struggle
Post-Retirement Politics
After his defeat in the 1990 elections at the hands of opposition candidate Maulana Hassan Jan (a close confidante of the Afghan Pashtun leader Gulbadin Hekmatyar), Wali Khan opted to retire from electoral politics and turned down a senate ticket from his party and the offer from Prime Minister Nawaz Sharif of contesting Lahore. When asked his reason for retirement, he said that
"He had no place in politics when the mullahs and ISI (Inter-Services Intelligence) decide our destiny and politics"
Publication of Books
Although not widely known, Wali Khan had previously written a book in Pashto on his father's non-violent movement, The Khudai Khidmatgar. In 1986, he published another book called Facts Are Facts. This book was written gradually over many years and included critical and declassified British Imperial documents before the creation of Pakistan. Wali Khan, citing those documents, alleged that Pakistan's formation was done as part of a deliberate "divide and rule" policy of the British and that Muhammad Ali Jinnah (Pakistan's founder), along with various religious leaders and feudal landlords, acted on their behalf.
Death
After a long illness, Wali Khan died of a heart attack on 26 January 2006 in Peshawar, Pakistan. He was buried in his ancestral village in Uthmanzai, Charsadda. His funeral was widely attended by members of the public and senior political leaders including Prime Minister Shaukat Aziz; condolence messages were sent from Pakistani President Pervaiz Musharraf, Prime Minister Manmohan Singh and Afghan President Hamid Karzai. He is survived by his wife Nasim Wali Khan, three daughters and two sons. Asfandyar Wali Khan, his eldest son, true to the political traditions of Wali Khan's family, is a politician in Pakistan and the current President of the Awami National Party.