Javed Hashmi is a Pakistan-based political figure, a conservative thinker on the PML-N platform, and a political realist. In the 1990s, he served as a cabinet minister in the administration of Shareef. After that, he aligned himself on realism and was a supporter of the civilian government on the military and the federal government.
In 1999, after the military took control of the country, he exposed Pakistan's misadventure in Kashmir with the Indian army. He demanded to form a commission to investigate events in the case of Infront of then-President Parvez Musharraf in 2003. Over treason allegations, Session Court sentenced him to solitary imprisonment in 2004, but Supreme Court overturned his sentence by declaring hearings of his case as mistrial on 4th Aug 2007.
He initially supported Nawaz to impeach General Pervaiz Musharraf but later parted his ways from PML-N and joined Pakistan Tehreek-e-Insaf in 2011. But left PTI in a conflict regarding protests against the Government of Nawaz Shareef and stated that the military supports PTI to destabilize Sharif's Government in 2014.
After losing by-elections due to a lack of political support, he rejoined PML-N after resolving PML-N leaders' disputes. Besides being a politician, he is a writer on geostrategy and geopolitics and authored 'Yes I am a Rebel.' This article has all the information about him, including Javed Hashmi Biography.
| Title | Description |
| --- | --- |
| Personal | |
| Name: | Makhdoom Muhammad Javed Hashmi |
| Alternate name: | Javed Hashmi |
| In Urdu: | مخدوم محمد جاوید ہاشمی |
| Famous As: | Politician |
| Nationality: | Pakistani |
| Residence: | Multan |
| Education: | LLB, MSC, M.phil |
| Alma Mater: | Punjab University |
| Religion: | Islam |
| Profession: | Agriculturist and politician |
| Height: | 5'8 |
| Weight: | 75 kg |
| Born | |
| Date: | 17 July 1951 |
| Zodiac: | Gemini |
| Place: | Multan |
| Family | |
| Ethnicity: | Makhdoom |
| Children: | Mamoona Hashmi |
| Career | |
| Political Party: | PML(N), PTI |
| Serve As: | Federal Minister of Youth Affairs, Minister of Health |
| Old Political Affiliations: | Part of General Zia's government |
| Member of the National Assembly | |
| Constituency: | NA-149 (Multan-II) |
| Role: | President of Pakistan Tehreek-e-Insaf (PTI) |
| Date: | 19 March 2012 – 23 September 2014 |
| Preceded by: | Position established |
| Succeeded by : | Position Abolished |
| In-Office | |
| Role: | Federal Minister of Health |
| Dates: | 17 February 1997 – 12 October 1999 |
| President: | Rafiq Tarar Farooq Leghari |
| Prime Minister: | Nawaz Sharif |
| Political Party: | PML(N) |
| In-Office 2 | |
| Role: | Federal Minister of Youth Affairs |
| Dates: | 26 May 1993 – 18 July 1993 |
| President: | Ghulam Ishaq Khan |
| Prime Minister: | Nawaz Sharif |

Javed Hashmi
Biography
Makhdoom Javed Hashmi is a veteran and seasoned politician and is a man of principles. He is another name of courage, loyalty, and determination; he started political activities during his student life and has raised his voice against the country's enemies. Hashmi was offered many worthy posts during his political career, but he denied all of these offers.
When these tactics didn't work, he was stopped to stand for justice and truth by detentions. Still, all these hurdles failed to stop him. He remained associated with PML-N for several years but, due to some differences, parted his ways from PML-N and joined Pakistan Tehreek-e-Insaf. Being a man of principles, he objected to Khan's decision to target states' institutes and arrange Dharna against an elected government.
These differences led him to quit PTI. He respects Nawaz as his political leader and rejoined PML-N. During his time in prison, he authored 'Han Mein Baghi Hun,' and he is a Baghi in a true sense. He rejected all the political norms and stood for his country's benefits and progress, denying personal benefits. 
Hashmi Date of Birth
He opened his eyes on 1st Jan 1948 in an agricultural family of Multan, Pakistan. 
Education of Hashmi
He completed his matric in 1968 and attended Multan's Emerson College but moved to the University of Punjab in 1970 and engaged himself in student politics via the Islami Jamiat-e-Talaba platform, Jamat-e-Islami's student wing. Hashmi did graduation in Political Science from the University of Punjab in 1969. He did a Masters in political science in political science in 1971 from the same institute. 
Javed Hashmi Family
His family participated in Tehreek-e-Pakistan and remained associated with Pakistan Muslim League-N since its establishment. Hashmi's elder sister Maimoona is a senior-leader and is serving as a Parliament member on PML-N. His second daughter Bushra isn't active in the country's politics.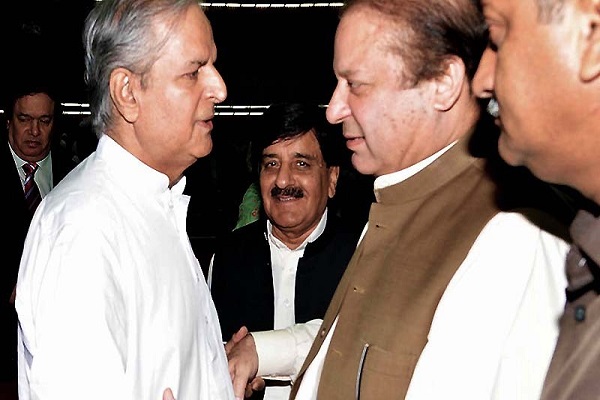 Career
Political Activities During Student Life
He drew public attention when he headed his student-organization 'Islami Jamiat-e-Talaba in a protest against a minister accused of kidnapping two girls at the Governor's house. Punjab Governor Ghulam Mustafa was arranging a state dinner for a British Minister and then-President Zulfiqar Bhutto.
He led rigorous protests in 1974 in Lahore against Bangladesh's International recognition and crossed the security in front of the car of Shah Faisal, the Saudi King. PM Zulfiqar Bhutto offered him a post at the Pakistani High Commission in London, but Hashmi denied this offer.  
In Zia's Government, he was designated State Minister for Youth & Student Affairs in 1978. He had the status to be the youngest minister aged twenty-three. He, however, later revealed his discomfort in working with Pakistan Army and so quit the administration. After that, he started Law practice at LHC (Lahore High Court). 
Contested in 1988 & 1990 elections
During general elections organized in 1985, he contested from the NA-149 constituency on the ticket of PML (Pakistan Muslim League). He got linked with the 'Conservative Division' governed by President Fida Muhammad in opposition to the 'Nationalist Division' headed by then-PM Minister Muhammad Junejo.
During the general elections of 1988 & 1990, he strongly defended his constituency NA-149. In the 1st administration of PM Nawaz Shareef, he was designated as State Minister for Youth Affairs.
Name in Financial Scandal
In 1993 FIA (Federal Investigation Agency) revealed his name in a financial scandal when FIA investigated Younas Habeeb. The accountant with Defense Ministry. Later, he expressed grief and regret when he confessed the acceptance of monetary endowment from Younas Habeeb in 1993. 
Contested in 1997 Elections
He contested in general elections organized in 1997, defended his constituency NA-149, and was designated as Environment Minister and Health Minister in the 2nd administration of PM Nawaz Shareef. In 1999 he paid a state visit to the Kingdom of Morocco. 
Role of a War Hawk
Earlier in 1998, he went to Switzerland (Swiss Confederation) to attend a conference on climate and environmental change but had to immediately return to Pakistan after getting the news of India's atomic testing in Rajasthan. In the NSC meeting with PM Nawaz, he became a hawk and spoke splendidly in favor of the process of decision making to authorize nuclear-testing. In May 1998, Pakistan eventually conducted 6-nuclear weapons testing. 
Abrupt End of Hashmi's Tenure
His term was terminated when Chairperson Joint Chiefs Gen Pervaiz Musharraf imposed martial law in 1999 against PM Nawaz Shareef, and was designated as President of PML-N and served this presidency until 2005. When General Musharraf imposed Martial Law in Pakistan in 1999, he vocally criticized Musharraf and rigorously advocated civilian control.
From 2001 to 2004, he appealed to the European Union and Commonwealth to play their role in restoring civilian control in Pakistan. National Accountability Bureau (NAB) opened an investigation about his hand in the 'Mehran Gate Scandal' but failed to generate many proofs against Hashmi in accountability courts.
Protests Against Musharraf's Geostrategy
He led strong protests against Gen Musharraf's geostrategy in the U.S. War on Terror, resulting in the USA's invasion of Afghanistan. During this situation, PML-Q head Shujaat Hussein tried to recruit Hashmi and Nisar Ali to his division to support Musharraf in 2002 politically but failed.
PML-N was announced in 2002 to contest general elections. Hashmi earned a nomination from 'Alliance of Opposition' in Parliament for PM's post against Zafar-Ullah Jamali of PML-Q. 
Exposed Military Corruption
On 20th Oct 2003, he exposed Pakistan Military's monetary and ethical corruption after reading the letter containing signatures of many on-duty officials of the army in General Head Quarters of Army in Rawalpindi. He demanded an immediate investigation against COAS (Chief of Army Staff) and President Musharraf for his army uniform presidential campaigns. 
Detention 
Lieutenant General Shahid directed NAB on 29th Oct 2003 to arrest Hashmi from the Parliament building, and later Military Policy took him into custody for inciting rebellion/mutiny. His trial hearings were held at Lahore High Court and in Adiala Jail, which created doubts among human-rights activists about the fairness of trials.
On 12th Apr 2004, on charges of triggering mutiny in the army, defamation, and forgery, twenty-three years imprisonment sentence was imposed on him.
Javed Hashmi Book
Pakistanis immensely criticized this verdict and were viewed as a justice miscarriage by the administration of Musharraf. He was moved to Central Jail in Lahore. Makhdoom Hashmi started writing a political book entitled 'Han Main Baaghi Hun' and exposed the army's interference in Pakistani politics and ties with the USA. He also penned 'Takhat-e-Daar Key Save Talley.'
Released from Jail
A 3-member bench of Pakistan Supreme Court under JCP Iftikhar Chaudhary granted him freedom on 3rd Aug 2007 after spending 3.5 years in jail. On 4th Aug 2007, he was released along with other PML-N leaders, but after the declaration of emergency, he was again imprisoned on 3rd Nov 2007. 
Success in 2008 Elections
He successfully defended Constituency NA-55 in the general elections of 2008 and defeated PML-Q candidate Rashid Ahmad but went out against Nawaz's wishes and retained his constituency NA-148.
Reaction on Kerry-Lugar-Berman 2009 Act
 He talked against the Kerry-Lugar-Berman 2009 act and reacted strongly on ISPR (Inter-Services Public Relations) that he termed 'Kerry-Lugar Bill.' He stated that the Pak military shouldn't cross limits, and if any correction is needed, Pak will do this correction itself. Pakistanis would safeguard their army if the army played the roles and duties assigned to it.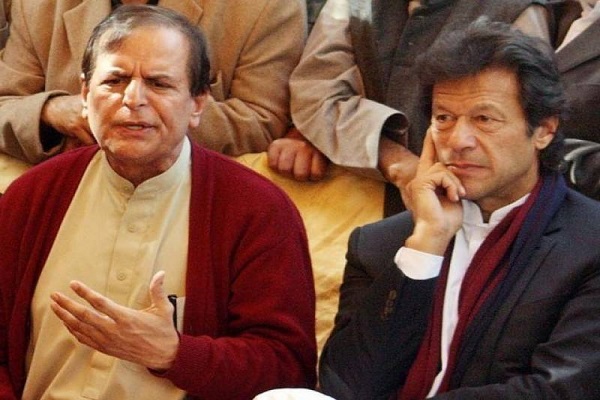 Joined PTI
He parted his ways from PML-N and joined Pakistan Tehreek-e-Insaf on 24th Dec 2011. He also warned Khan that he must deliver his party's manifesto as he promised to his voters. During the 2013 elections, he defended the constituency NA-48 in the capital city Islamabad and NA-149 constituency in Multan. 
Spoke in Nawaz's Favor
When the no-confidence motion took place, he stood against the candidacy of Shareef in the National Assembly. He commented in Nawaz's favor in a televised conference, stating that Nawaz is his political leader and would remain. 
Parted Ways from PTI
On 14th Aug 2014, he voiced irreconcilable and serious concerns when Khan announced great protests against election rigging. Later on 31st Aug 2014, he parted his ways from PTI in anger and is distraught when Imran's march targeted media reporters and violently progressed towards PM Secretariat under his orders.
On 1st Sep 2014, he accused Pak Army of sabotaging the civilian writ of administration of Shareef. Khan didn't receive him well and issued a show-cause notice that resulted in Hashmi quitting PTI. The PTI refused to take his resignation letter; instead, Khan expelled him from his party on 26th Sep 2014.
Re-Joined PML-N
On 12th May 2018, he, along with his daughter, went to meet Nawaz and announced his rejoining to PML-N after settling disputes with the party and Nawaz. At the meeting, he spoke about Nawaz's services to Pakistan and praised his daughter Maimoona and Nawaz's daughter Maryam for supporting the party's political activities. 
Health Condition of Hashmi
On 20th Jul 2010, he was admitted to Nishtar Hospital after suffering a brain hemorrhage, and internal bleeding caused a stroke in his body. Later he was moved to General Hospital for fever. His reports of C.T. angiography came normal.
Javed Hashmi Writings
Han Mein Baghi Hun

Takahata-Daar Ke Saaye Talay
Social Media Handles
His social media account include
https://twitter.com/MkJavedHashmi