Jaun Elia, born as Syed Hussain Jaun Asghar was a notable name in the field of poetry. He had a great command over different languages including Urdu, English, Arabic, Sanskrit, Persian and Hebrew. He was a philosopher, Poet, Scholar and Biographer. Jaun was born in a family of scholars, so it was obvious for him to adapt to this field.
His poetry is still being praised worldwide that has a touch of sorrow and love. He was the one who stands up against Indian partition, but later he chooses to live in Pakistan. He received many awards for his work in Urdu Literature. His death was a big loss in the Literature community. This article contains every detail about him, including Jaun Elia Biography.
| Title | Description |
| --- | --- |
| Personal | |
| Name: | Jaun Elia |
| Name in Urdu : | جون ایلیا |
| Famous As: | Poet, Philosopher |
| Nationality: | Pakistani, Indian |
| Residence: | Karachi, Sindh Pakistan |
| Education: | Philosopher, biographer, and scholar |
| Languages: | Arabic, Persian, Urdu, Sanskrit, English, Hebrew |
| Religion: | Agnostic |
| Profession: | Urdu Poet, Scholar, Philosopher, Biographer |
| Awards : | He received many awards |
| Born | |
| Date: | 14th December 1931 |
| Place: | Amroha, India |
| Family | |
| Spouse: | Zahida Hina |
| Children: | Zaryoon Elia, Fainaana Farnaam, Sohaina Elia |
| Parents: | Shafiq Hasan Elia |
| Siblings : | Rais Amrohvi |
| Relatives: | Saleem Jaffri (Cousin) |
| Died | |
| Date: | 8th November 2002 |
| Rest Place: | Karachi, Pakistan |
| Debut Poem: | Shayaad |

Jaun Elia Biography
Jaun is a name known to people belongs to every age group. His poetry is being praised by every Generation, and despite many years of his death, he is still considered an irreplaceable Urdu Poet who marked a huge name in poetry. Jaun was a poet, Philosopher, Biographer and Scholar who started writing at an early age.
He was from a notable family of Scholars and film Directors. He has inevitably contributed a lot towards Urdu literature because of which he was awarded many times. Jaun did hold different Nationalities including Pakistani, Indian and Colonial Indian. His poetry was all about pain, sorrow and love.
Jaun Date of Birth
He was born on 14th December 1931 in British India as Sibt e Asghar Naqvi. After partition, he moved to Pakistan and started living in Karachi.
Education of Elia
He had a firm grip on different languages including Urdu, English, Arabic, Saraiki etc. Though he belonged to Shia community yet, he studied in a Deoband Dar ul Aloom, Syed-ul-Madaris.
Jaun Elia Family
Jaun was born to a Scholar, Shafiq Elia who also had command over many languages. He was the youngest of all siblings. One of his elder brothers, Rais Amrohvi, was Pakistan Urdu Poet and Scholar. One of his cousins Kamal Amrohi was an Indian film director.
He got married to an Urdu writer and columnist, Zahida Hina, but unfortunately, they both parted their ways after a few years. They both blessed with 3 children.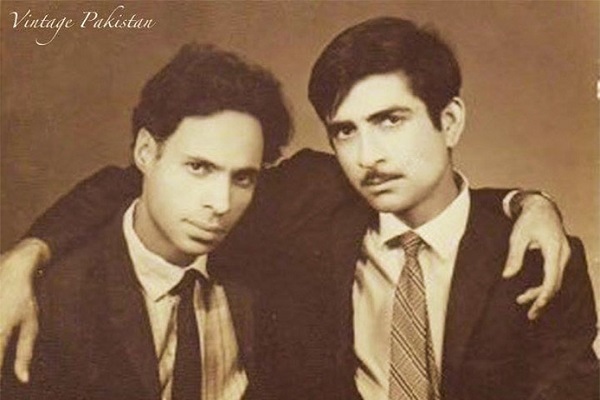 Career
As a Poet
Because of being a poet's son, the germs of poetry started developing in him at an early age. He wrote his first poetry at the age of 8, but it took him several years to make it public. His first book originated at the age of 60 years with the title 'Shayad' that received splendid reviews.
His second book originated with the title 'Yaani' came afterwards. Later his third collection came into being with the title 'Guman.' Besides a poet, he also did different translations and editing. He is the man behind editing an Urdu Magazine, Insha.
Jaun Elia Books
Shayad
Yaari
Guman
Leikin
Goyaa
Ramooz
Zakhm e Umeed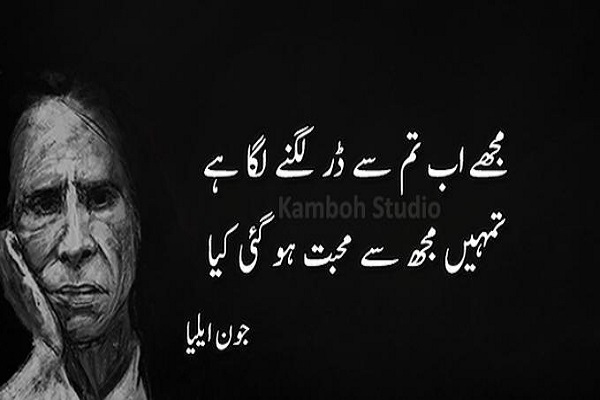 List of Ghazal
Umar Guzrai Gi Imtihan Mein Kia
Be-Qarari Si Be-Qarari Hai
Naya Aik Rishta Paida Kyun Karain Hum
Haalat e Haal Kai Sabab
Kitnai Aish Sai Rehte Hon Gai
List of Nazam
Har Baar Mere Samnai Ati Rahi Ho Tum
Tum Jab Aoo Gi To Khoya Hua Paoo Gi Mujhe
Mein Shayad Tum Ko Yaksar Bhoolnai Wala Hon
Chahta Hon Keh Bhool Jaon Tumhe
Jaun Elia Best Poetry
Qitaat
Zakhm e Umeed
Mubada
Sukhan Meri Udasi Hai
Farnood
Daricha Haye Khyal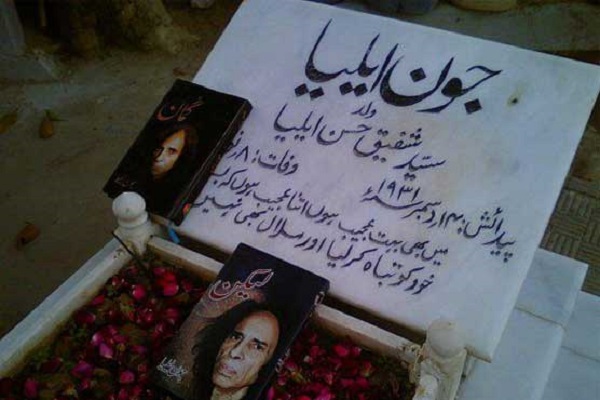 Jaun Elia Death
On 8th November 2002, he died in Karachi after his prolonged illness. He was a TB patient who couldn't escape death and left the world. Though he is not present today but he is alive in everyone's heart through his evergreen poetry.