Islamabad International Airport is the major International airport that is built to serve the metropolitan region of Islamabad and Rawalpindi and its neighborhoods. It is situated near the Motorway Junction and Kashmir Highway, twenty kilometres west of the major twin cities.
The airport began full operational activities on 3rd May 2018 and replaced the late 'Benazir Bhutto International Airport', now part of the Nur Khan PAF Base. It is among Pakistan's largest passenger airports, with the capacity to handle nine million passengers annually in its 1st phase.
Further expansions would enable it to facilitate up to twenty-five million passengers per year. The airport comprises duty-free shops, fifteen gates along with ten remote exits, forty-two counters for immigration and food court. This article has all the information about the Hospital, including Islamabad International Airport History.
| Title | Description |
| --- | --- |
| Details | |
| Type: | Public |
| Name: | Islamabad International Airport |
| In Urdu: | اسلام آباد بین الاقوامی ہوائی اڈا |
| Owner : | Government of Pakistan |
| Operator: | Civil Aviation Authority of Pakistan |
| Serves : | Islamabad-Rawalpindi region |
| Location: | Airport Road، Rawalpindi 46-200 |
| Elevation: | 1,761 ft / 537 m |
| Coordinates: | 33.6074° N, 73.0997° E |
| Website: | https://www.facebook.com/NIIAPakistan/ |
| Direction: | 28L/10R, 28R/10L |
| Surface: | Asphalt |
| Runways: | Two |
| Check-in Counters: | 90 |
| Parking facility: | 2,000 vehicles, car parking for 22,000 vehicles |
| Other facilities: | Covered plaza area for 200 cars, a control tower, maintenance hangar, a 15-gate terminal with ten remote gates, a four star hotel, convention centre, duty-free shops, food court, two-runways, six-taxiways and others |
| Plants: | 10,000 |
| Area : | 3,289 acres |
| Inauguration : | between 15 to 20th April 2018. |
| Inaugurated by: | Prime minister Shahid Khaqan Abbasi |

Islamabad International Airport History
The PCAA announced its plan to build a new airport in January 2005. In November 2005 near Ranjha, Fateh Jang in Attock, a land of three thousand two hundred and forty-two acres of land was purchased at the rate of Rupees 2.5 billion.
Construction of the new airport was scheduled due to higher air traffic and traveler numbers at the present Benazir Bhutto International Airport. The number of travelers at the previous airport was expected to rise by 14 % annually in comparison with the national air passenger increase rate of less than 4%, making it the country's second busiest airport at the time.
Location Selection
A location in the district of Attock was then chosen as the venue for the building of a new airport only a few km from the Islamabad intersection on M1 / M2 motorways.
Foundation Stone
On 7th April 2007 ex-president General Pervaiz Musharraf and PM Shaukat Aziz laid airport's foundation stone. It was an initiative of the PCAA and Singapore-based French firm  ADPi (Aéroports de Paris Ingenierie) and, CPG designed the project. The entire project was funded directly by PCAA.
A freight terminal, air traffic control center, fuel farm and also a fire, accident, and rescue centre are located. The airport site is adjacent to Fateh Jang Attock, about 20 kilometres from Islamabad Zero Point,  and twenty-three kilometres from  Rawalpindi.
The airport has been designed on international standards to function as the main hub for all Pakistani aviation activities. The PCAA  hired a British architecture team to build this airport project.
Provision of Management Services
In collaboration with Pakistani consultancy company GT AASR, PCAA signed an agreement with the United States'  'Louis Berger Group' to provide management services for the project.
Inauguration
PM Shahid Khaqan formally inaugurated the new airport on 1st May 2018. The airport began full commercial flight flights on 3rd May 2018 and thus replaced old airport.
The arrival of First Airbus
The first Airbus A380, reaching from  International Airport of Dubai, arrived in Pakistan at this airport on 8th July 2018. PIA has moved its hub to ISB Intl. Airport for international flights from Jinnah Intl. The airport in Karachi since August 2019.
International PIA traffic originates mostly from country's northern regions, as a result of which the national airline planned to shift much of its operation to Islamabad. Many flights were suspended because of the pandemic COVID-19.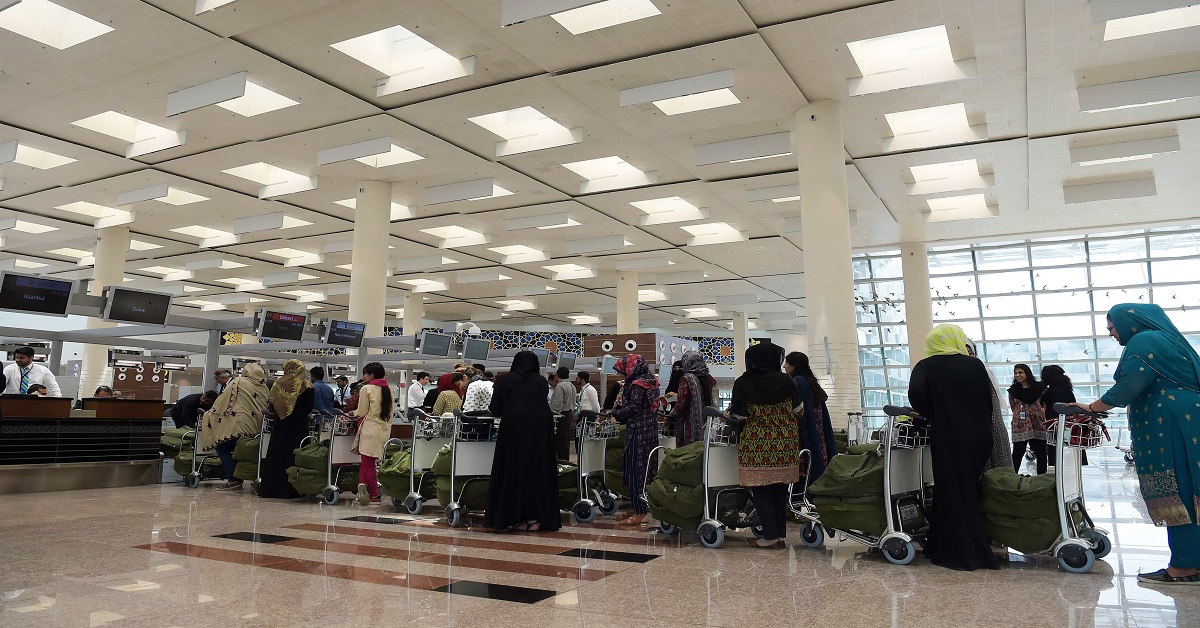 Islamabad International Airport Facilities
ISB Intl Airport has a modern terminal building of 180,000m2 which can manage nine millions of passengers and eighty-thousand metric tons of cargo each year. By 2024, the figure is predicted to surpass twenty-five million passengers.
As a new airport, a large area of the land has been reserved for commercial uses such as duty-free markets, conference centre, a hotel, air shopping malls, food courts, business centres, cinema and, leisure facilities.
Terrain Transport
The airport is linked via the Kashmir Highway to Islamabad, and through the GT Road to Rawalpindi. Now a four-lane highway is under development to handle freight traffic. The ISB Metro bus is extended to link to the airport.
3rd Run Way
The PCAA (Pakistan Civil Aviation Authority) is obtaining  2.833 acres land for the construction of a 3rd runway at this airport. Additionally, it is  Pakistan's 1st and only airport able to handle the 'Airbus A380.'
Construction of Metro Track
A metro route was constructed to link airport to Islamabad for strap hangers, which is scheduled to be functional in the 2nd half of 2020.
Provision of Water Supply
There are also two dams being built to provide water for the airport. Kassana and Ramma dams will provide almost '3.3 million' gallons of water per day. These dams would depend on rainwater, and it will be adequate for two entire years.
Promoting Tourism
With the construction of this new airport, Pakistan is well prepared to welcome visitors and tourists from all over the world mainly to visit the beautiful northern areas or to take part in religious festivities.
The PTDC (Pakistan Tourism Development Corporation) has announced the establishment of an advanced tourist information office at this new airport, stated Abdul Ghafoor, managing director of PTDC.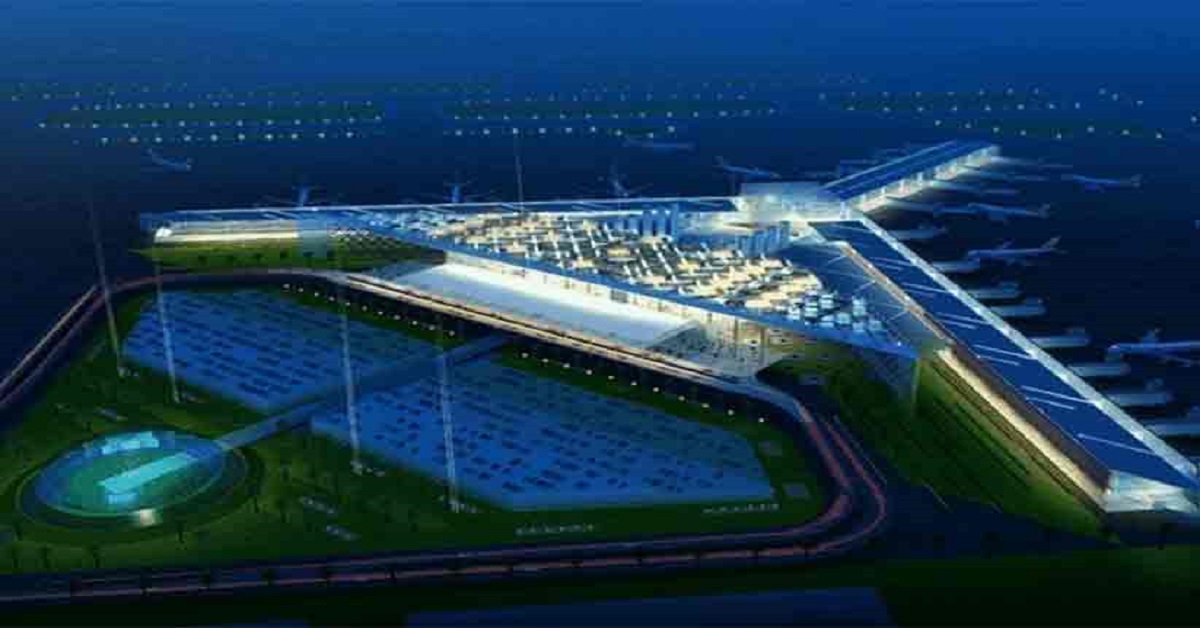 Detection of Anomalies
Provision of Illegal Contracts
On 27 August, the report by the auditor general for 2016 to 2017 found significant anomalies in New ISB Airport's construction, including the illegal awarding of the contract to incompetent contractors in breach of rules resulting in losses to the state treasury amounting to billions.
Pakistan's Auditor General also found violations of the project management standards of the planning board. The investigation report was passed to the parliament.
Delay in Tender Process
The tender process for 'planes stands equipment' was unreasonably deferred, leading to higher prices due to decreased competition and foreign currency rate fluctuations. Work upon that proposal was granted Rs5.99 billion, or 25.3% more than the Rs4.7 billion an estimated amount by the engineer.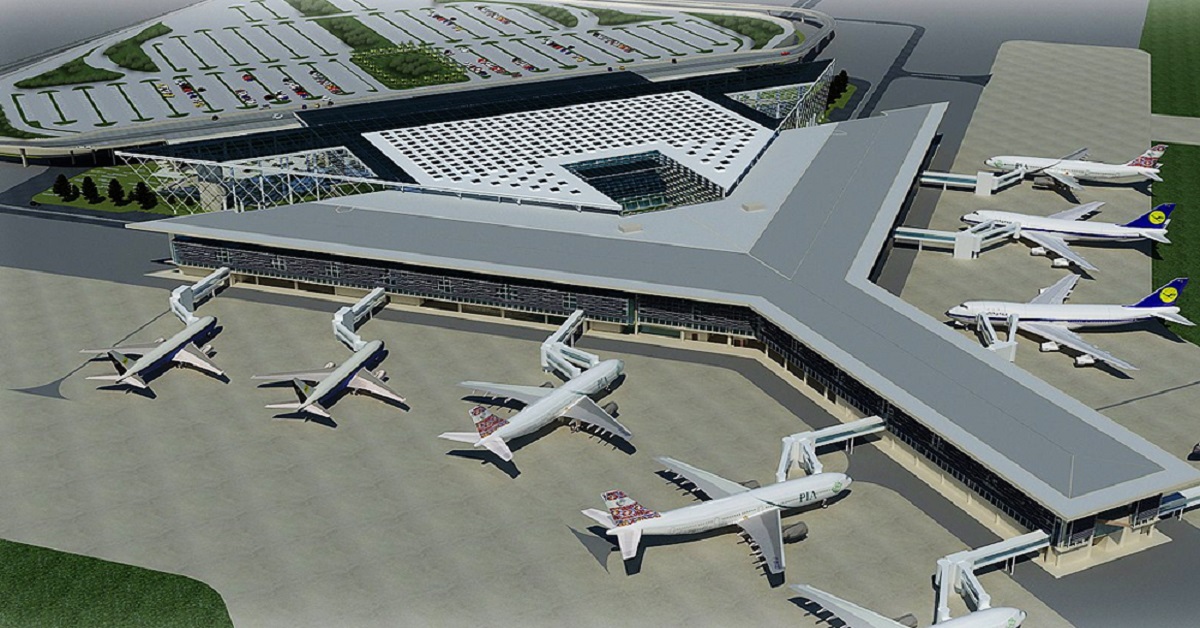 Irregularities in Project
And for project entitled 'special luggage handling system for passenger terminal construction,' the audit noticed that tender advertisement was made in May 2013 but contractors weren't registered with the PEC(Pakistan Engineering Council).
Similarly, extra work of Rupees Five-hundred eighty-seven against the rules of PPRA was awarded during the negotiating period.
Social Media Handles
http://www.islamabadairport.com.pk/