In Assembly
With Imran Khan
talking to media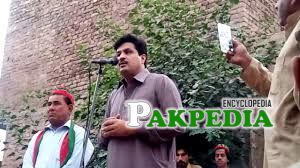 While addressing in Naushera
during election campaign
Profile
Imran Khattak is a Pakistani politician who is currently a member of the National Assembly of Pakistan, belonging to the
Pakistan Tehreek-e-Insaf.
Khattak is son in law and nephew of
Pervez Khattak
. By profession, he is a dentist also and runs his clinic in
Peshawar
His qualification is BDS and he specializes in Dentistry.
Career
Imran Khattak was elected as a member of National Assembly on a ticket of Pakistan Tehreek-e-Insaf from NA-5 (Nowshera) in by-elections held in August 2013 after Pakistani general election, 2013. The seat was fell vacant after his father in law Pervez Khattak chose to retain his Provincial Assembly seat that he won in the 2013 general elections. 
[1]
career
Imran won MNA seat
District Returning Officer Abdur Rauf Khan issued the final and official results of the August 22, 2013 by-election on NA-5, declaring Dr Imran Khattak, a candidate of the Pakistan Tehreek-e-Insaf (PTI) as winner with 48,043 votes. On the occasion, the official said out of the total 3, 23,572 votes, 78,963 were polled and 1392 rejected. It was notified that Dr Imran Khattak bagged 48,043 votes to win the election on NA-5 while Daud Khattak got 27,569 votes, Sajid Gumaryani 2,632, Malik Gulzali 396, Iqbal Hussain 260 and Khan Adil Ghaffar secured 63 votes in the by-election. 
[2]
MNA
Allegation
As Imran Khattak is the nepew and son in law of Pervez Khattak, therefore it was complained that National Assembly (NA) seats vacated by Pakistan Tehreek-e-Insaaf (PTI) leaders Asad Qaiser and Pervez Khattak are being manipulated to the advantage of close relatives of the two, said PTI members. NA-5 Nowshera and NA-13 Swabi were won by
Khyber-Pakhtunkhwa
(K-P) Chief Minister (CM) Pervez Khattak and K-P Assembly Speaker Asad Qaisar in the May 11 elections. As their titles suggest, the two chose to retain their provincial seats. And now cries of foul play are afloat. PTI members wishing to remain anonymous maintain Khattak and Qaiser are working on allocating party tickets for NA-5 and NA-13 to Khattak's son-in-law Dr Imran, and Qaiser's brother Waheed Khan, respectively. "There are more deserving candidates who should get the tickets for the vacated NA seats but nepotism is supreme in the party at the moment," complained a disgruntled party leader. 
[3]
allegation