Hajra Khan is a magnificent Pakistani footballer who has been named in the list of Guinness World Record for 3 times due to her remarkable performances in the past. She is the head of the Pakistan National Football Team and an Ambassador for Goal Five and British Asian Trust. This article contains a blend of information about her including Hajra Khan Biography.
| Title | Description |
| --- | --- |
| Personal | |
| Name: | Hajra Khan |
| In Urdu: | ہاجرہ خان |
| Famous As: | Footballer |
| Nationality: | Pakistani |
| Residence: | Karachi |
| Religion: | Islam |
| Profession: | Sportsman |
| Years Active: | 2007-present |
| Current Team: | Balochistan United |
| Website: | https://twitter.com/hajrakn |
| Awards : | 3x Guiness World Record Holder |
| Born | |
| Date: | 29th December 1993 |
| Place: | Karachi |
| Family | |
| Ethnicity: | Asian |
| Spouse: | Unmarried |
| Parents: | Not known |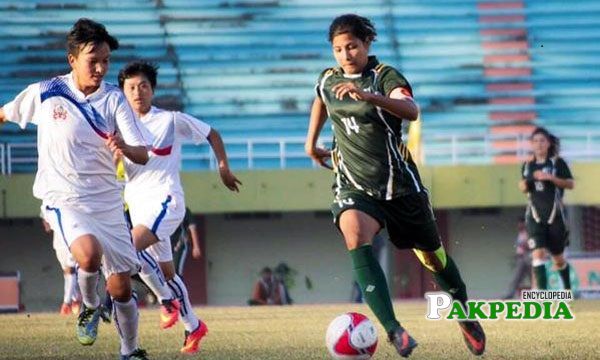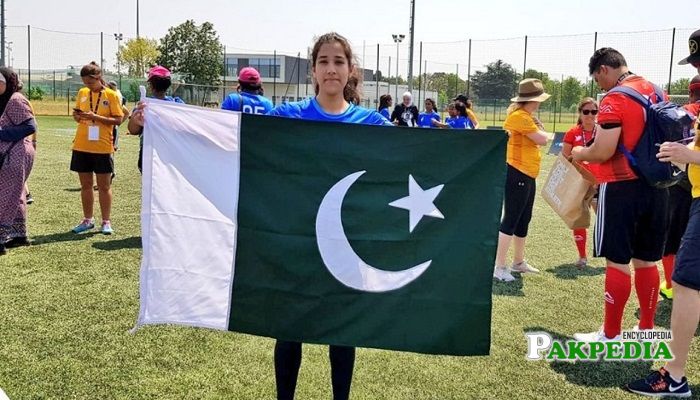 Hajra Khan Biography
Hajra is a wonderful Pakistani Footballer who is hooking the heights of success since 2007 when she was hardly 13 years old. She was passionate about becoming an athlete but turned up becoming a remarkable footballer who made history by getting the invitation to top three German football clubs SGS Essen, FSV Gütersloh 2009 and VfL Sindelfingen to play. Currently, she is the leader of the Pakistan women's national football team.
Hajra date of birth
She was born on 29th December 1993 in Karachi where she grew up. Currently, she resides in the same city with her family.
Sports Career
Initial Career
She was found by Diya W.F.C. mentor Sadia Sheikh when she was in search of the provincial group. She made her debut in sports when she was only 14 and scored nine goals in three games for DWFC, which won her the Top Scorer of the Tournament award. In 2014 she left her mentor and became a part of Baluchistan united. After getting victory in the Pakistani women football championship she was offered to play for Maldivian club Sun Hotels and Resorts FC. She is the only Pakistani player who has achieved 100 goals in her career yet.
International Career
In 2009 she was selected in the Pakistan national group for the 2010 South Asian Games in Dhaka, Bangladesh. After her cooperation on this occasion, the Pakistan Football Federation chose her for a FIFA ladies' football training course in Colombo, Sri Lanka. In December 2010, She played in the debut SAFF Women's Championship, helping Pakistan achieve the semi-last.  Hajra impacted the world forever for Pakistani national ladies football crew when she welcomes to top three German football clubs SGS Essen, FSV Gütersloh 2009 and VfL Sindelfingen to play, she went through three weeks there and played preseason preliminaries. She is the only Pakistani female footballer to sign a global contract in 2014 with Sun Hotels and Resorts Football Club to play in the Maldives National Women's group.
World Record
She has made all the Pakistanis once again proud of her phenomenal performance in the ongoing FIFA Women's World Cup in France by securing 6 goals in 4 hours and once again marked her name in the Guinness World record. The match was played for straight 69 hours which was held by Equal Playing Field which gathered women from all over the world. Other than Hajra the other Pakistani female footballers who took part in the match incorporates Abiha Haider, Khadija Kazmi, and Saba Dawood Lakho. She has achieved 3 Football related Guinness World records.
Social Media Handles
His social media accounts incorporate