Ghulam Ahmad Bilour known as Haji Sahib is a senior politician from Peshawar. He belongs to a rich business family and associated with ANP. His family is known for its sacrifices for the country. He has worked on key posts in the party and at the National level. His family has immense importance in the politics of ANP and widely respected by all in the province. This article has all the information about Bilour, including Ghulam Ahmad Bilour Biography.
| Title | Description |
| --- | --- |
| Personal | |
| Name: | Ghulam Ahmad Bilour |
| In Urdu: | غلام احمد بلور |
| Famous As: | Haji Sahab |
| Nationality: | Pakistani |
| Residence: | Peshawar |
| Education: | Bachelors |
| Alma Mater: | Edwards College Peshawar |
| Religion: | Islam |
| Profession: | Politician and Businessman |
| Website: | https://twitter.com/GhulamABilour |
| Born | |
| Date: | 25th December 1939 |
| Place: | Peshawar,Pakistan |
| Family | |
| Spouse: | Married |
| Children: | Zamrah Shujaat. |
| Siblings : | 3 brothers |
| Relatives: | Bashir Ahmad Bilour |
| Career | |
| Political Party: | Awami National Party |
| Member of the National Assembly | |
| Constituency: | NA-1 (Peshawar-I) |
| Assumed office: | 30th August 2013 – 31st May 201 |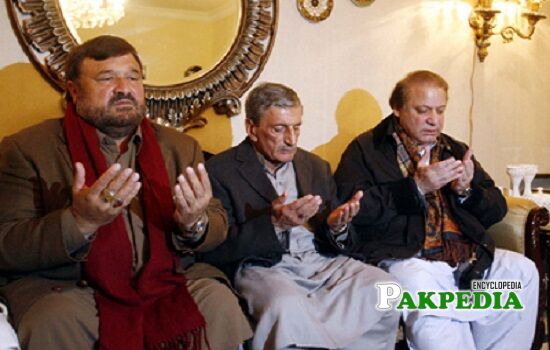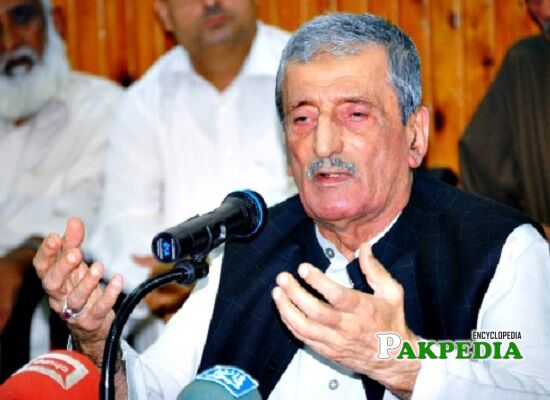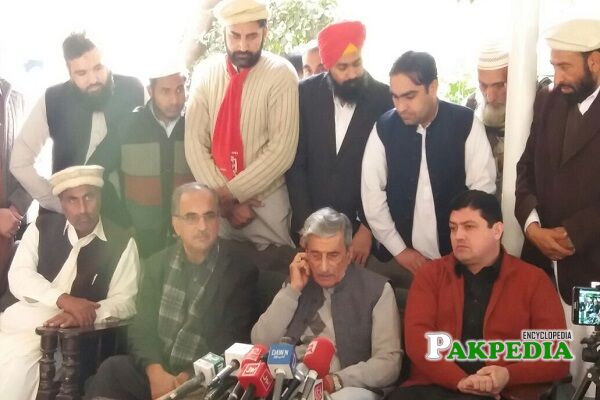 Ghulam Ahmad Bilour Biography
Bilour is probably the most senior politician in the country. He has contested elections from one of the most unpredictable constituencies of Pakistan. He served as a senator and member of the National Assembly for several times. The Bilour family is known for its unending sacrifices in the last two decades. They severely criticized the Taliban attacks in Pakistan, which made them pay in the form of losses of their loved ones in suicide attacks. 
He, along with his brothers, has been imprisoned several times by the government. Ghulam Bilour has served as Minister of Railways twice and once as a Federal Minister of Local Government and Rural Developments.
Bilour date of Birth
He was born on 25th December 1939 in Peshawar
Education of Bilour
He got his early education from Khudad Model School and Islamia School Peshawar. Later he completed his intermediate and Bachelors from Edwards College Peshawar.
Ghulam Ahmad Bilour Family
Ghulam Bilour belongs to a Hindko-speaking family that migrated from Bajour. He was born to Bilour Din Khan. He has three brothers; Bashir Bilour, Aziz Bilour, and Ilyas Bilour. Ghulam Bilour is the eldest of all four brothers. One of his younger brothers, Ilyas Bilour, has served as a senator and President of the Federation of Pakistan Chamber of Commerce and Industry. Aziz Bilour is a civil Servant while his other brother, Bashir Bilour, was a senior politician of ANP who was assassinated by the Taliban in Peshawar in 2012 in a suicide attack.
His nephew, Haroon Bilour was also assassinated in a bomb blast just before the 2018 election. Ghulam was married to Khurshid Begum. They had only one son who was killed in the 1997 election. His wife has also died.
Political Career
Initial Career
The political activities of Ghulam Bilour started in 1965 when he participated in the presidential campaign of Fatima Jinnah against Ayub Khan. Soon after few years, he joined ANP for the first time. In 1975, he was elected as a Senator for the first time that lasted from 1975 to 1977. His first contest happened in 1988 when ANP gave him the ticket. He contested for the first time from NA-1 against Aftab Ahmad Khan Sherpao but could not make it to the National Assembly. The seat had been later secured when he contested in the by-election and won the election for the first time.
1990 General Elections
In 1990, he was re-elected from the same constituency after he defeated Benazir Bhutto in the election. After his election, he was appointed as the Minister of Railways for the first time in his career.
1993 General Elections
In 1993 election, he could not win and lost to Syed Zafar Ali shah from NA-1 Peshawar, but he was re-elected from the same constituency NA-1 in 1997 general election. This tenure lasted only two years.
2007 General Elections
Ghulam Bilour did not contest the 2002 general election but won the 2007 general election. He contested from NA-1 against Ayub Shah of PPP. He received 44210 votes while Ayub got 37682 votes. His party made allied with PPP in the formation of the government and Ghulam was appointed first as Minister of Local Government and Rural Development and then Minister of Railways.
2013 General Elections
The 2013 election was a difficult contest for him as he was facing a much stronger candidate, Chairman of PTI Imran Khan. Ghulam was defeated with a huge margin. His opponent got 90500 votes while Ghulam received only 24468 votes. Once again, he recovered his seat in the by-election after Imran Khan vacated the seat. He contested against Gul Badshah of PTI and won the election.
2018 General Elections
The 2018 elections were contested under newly formed constituencies. NA-1 was renamed as NA-31. Ghulam Bilour contested from NA-31 against Shaukat Ali of PTI but could not win
As Minister of Railways
Bilour was appointed as Minister of Railways in 2008. It turned out to be one of the worst periods for Railways. The institution was steered towards severe financial crises. He was accused in a multi-billion scrap scandal which was investigated by NAB later.
Imprisonment
Bilour has spent many years in jail due to his association with ANP and his struggle for democracy. He was first imprisoned in 1973 by the Bhutto government for three months. After his release from jail, he was put behind bars for another period of four months in 1974. Just after one year, all four brothers were arrested by the government, and their shopping centre was destroyed.
In 1976, he was arrested again by the government in Hyderabad conspiracy case along with other nationalist leaders like Wali Khan, Mir Ghous Bazenjo, Afzal Khan Lala, and Attaullah Mengal. In 1982, he was jailed for three months in Haripur Jail and then imprisoned once more along with his brother Bashir Bilour for one year.
Sacrifices
Bilour family is known for its several sacrifices. Ghulam Bilour lost his only son Shabbir Bilour in the 1997 election when he was killed in the firing incident in polling both in Peshawar. In 2012, his brother and senior politician Bashir Bilour was assassinated in a bomb blast after 5 life attacks. He was one of the popular leaders of ANP. 200000 people attended his funeral despite severe security threats. His nephew, Barrister Haroon Bilour who was the last son of Bashir Bilour was assassinated just before the 2018 general election in a suicide bomb blast.
Bounty Announcement
In 2012, he was the Minister of railways when he offered 100000 US dollars as a reward for killing the makers of the anti-Islam film, Innocence of Muslims. He also asked for the support of the Taliban and Al-Qaida in this regard. Though ANP criticized him but no action was taken against him. Again in 2015, he announced $200000 bounty for the head of the owner of French satirical weekly that published blasphemous cartoons.
Social Media Accounts
His social media accounts include