Fatima Effendi with her husband and Son
A Dinner picture of Fatima Effendi
Fatima Effendi is looking nice in Pink dress
Fatima Effendi in a TV Show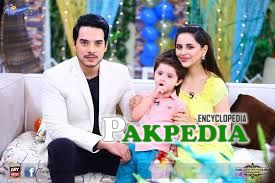 Fatima Effendi in a ARY Show with her family
Details
Mini Bio
Fatima Effendi a young Pakistani actress, model and fashion consultant is from Karachi. She is the daughter of Fouzia Mushtaq who herself is a well-known actress. Fatima is among the few Pakistani actors who have been appearing on the TV screen since their childhood. She appeared in child roles when she was only 10 years old later on she had been shot for some commercials too that also at a very young age.
About Family
Fatima Effendi's Marriage
Fatima Effendi got married to her friend and co-star Kanwar Arsalan on 17 November, 2012.
Fatima Effendi's son's name is Almir. She left showbiz for a little while in order to give Almir more time.
Fatima Effendi's mother Fouzia Mushtaq is also an actress. Fatima Effendi has two brothers and one sister.
[2]
 About Family -  About Family 
Career
Early Career
Fatima started her acting career as a child artist in 2001. She appeared on TV for the first time in TV serial 'Chal Jhooti' of PTV as a kid. In the same year she acted in another TV serial 'Daam-e-Rasai' of PTV. After that Fatima left the showbiz world to focus on her studies. She came back after eight years with the TV serial 'Man-O-Salwa' of Hum TV for which she got huge praise. In the same year she appeared in two other TV serials 'Meri Unsuni Kahani' of Hum TV and 'Sandal' of Geo TV. Fatima has played various roles on screen including positive, romantic, glamorous, negative, comic and serious ones. She has also acted in some telefilms including 'Dulha Bhai', 'Chal Jhooti', 'Pappu Ki Paroson' and 'Raju Chacha Ban Gaey Gentleman' of Hum TV, 'Kattwi Chatt' of ARY Digital, 'Shaadi Ka Ladoo – Mera Teacher Mera Shauhar' of Express Entertainment and many more.
[3]
 Early Career -  Early Career 
Some Successful TV Serials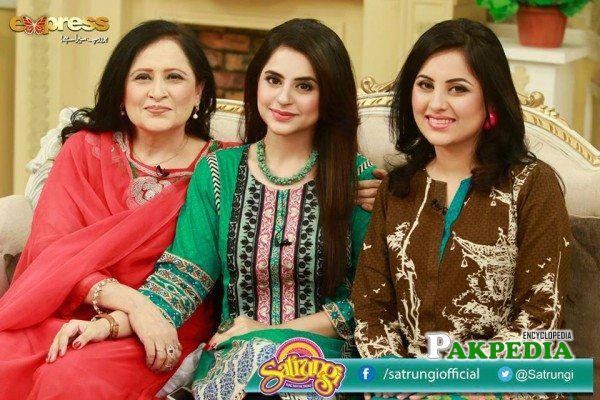 Some successful TV serials of Fatima are 'Meri Zaat Zarra-e-Benishan', 'Massi Aur Malka', 'Manjhdaar' and 'Kash Mai Teri Beti Na Hoti' of Geo TV, 'Larkiyan Muhally Ki', 'Darbadar Tere Liye' and 'Shab-e-Gham' of Hum TV, 'Shehr-e-Dil Ke Darwazey', 'Mera Angan' and 'Socha Na Tha' of ARY Digital, 'Gumshuda', 'Aurat Ka Ghar Konsa' and 'Baji' of PTV and many more. Fatima also participated in the reality show of Pakistan 'Madventures' season 2 aired on ARY Digital.
Worked in Famous Commercials
Fatima has also worked in some famous commercials, commercial for Djuice is one of them the 'Ali Jiger, Haris Jiger' advert which made her famous as Jiger Girl. Other adverts include ads for Washing powder, a tea brand and toothpaste. Fatima is also experienced in hosting she has hosted shows at MTV Pakistan and TVOne.
[4]
 Worked in Famous Commercials 
List of Fatima Effendis Dramas
|  # |  Dramas |  Years |
| --- | --- | --- |
|  1 |  Chal Jhooti  |  2001 |
|  2 |  Daam-e-Rasai  |  2001 |
|  3 |  Man-O-Salwa  |  2009 |
|  4 |  Meri Unsuni Kahani (Hum TV)  |  2009 |
|  5 |  Sandal  |  2009 |
|  6 |  Massi Aur Malka  |  2010 |
|  7 |  Gumshuda  |  2010 |
|  8 |  Aurat ka Ghar Konsa  |  2011 |
|  9 |  Pul Siraat  |  2011 |
|  10 |  Kuch Kami Si Hai  |  2011 |
|  11 |  Shehr-e-Dil Ke Darwazey |  2012 |
|  12 |  Socha Na Tha  |  2014 |
|  13 |  Ishq Ibadat  |  2011 |
|  14 |  Kash Mein Teri Beti Na Hoti  |  2011 |
|  15 |  Kash Mein Teri Beti Na Hoti 2  |  2012 |
|  16 |  Darbadar Tere Liye  |  2014 |
|  17 |  Joru Ka Ghulam  |  2016 |
| 18 |  Manjhdhar  |  2017 |
|  19 |  Mera Aangan |  2017 |
|  20 |  Champa Aur Chambeli  |  2017 |
List of Fatima Effendis Telefilms
| #  | Telefilms  | Years  |
| --- | --- | --- |
|  1 |  Dulha Bhai  |  2008 |
|  2 |  Tum Se Kaise Kahoon  |  2009 |
|  3 |  Raju Chacha Ban Gaye Gentleman |  2010 |
|  4 |  Chal Jhooti  |  2010 |
|  5 |  Achay Ki Larki  |  2010 |
|  6 |  Pappu Ki Parosan |  2011 |
|  7 |  Yeh Kon Sa Dayar Hai |  2011 |
|  8 |  Shaadi Ka Ladoo |  2011 |
|  9 |  Jeevay Jeevay Pakistan  |  2012 |
|  10 |  Baji  |  2013 |
|  11 |  Kattwi Chat  |  2015 |