Faisal Javed Khan is a Pakistani politician.He is associated with Pakistan Tehreek-e-Insaf (PTI), where he is currently serving as the Central Additional Secretary Information and Spokesperson.He also served as Member Core Committee,Additional Secretary Information,Head of Marketing,Spokesperson,Member Since 1996 – PTI.
| Title | Description |
| --- | --- |
| Personal | |
| Name: | Faisal Javed Khan |
| In Urdu: | فیصل جاوید خان |
| Nationality: | Pakistani |
| Religion: | Islam |
| Profession: | Advertising Specialist |
| Began his Political Career: | 1996 |
| FM Radio: | Broadcaster for 9 Consecutive Years on |
| Hails From : | The Pashtun Tribe |
| Hosted Rallies: | More than 300 |
| Directed a Documentary On: | Women's Role in Pakistan |
| Website: | http://www.insaf.pk |
| Career | |
| Political Party: | Pakistan tehreek-e- Insaf |
| Serve As: | Central Deputy Information Secretary |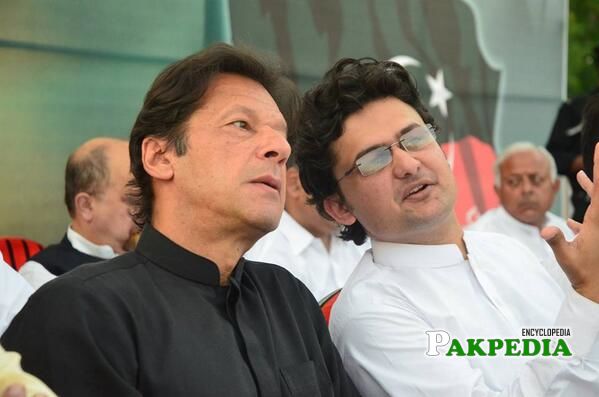 Biography
Faisal Javed hails from the Pashtun tribe "Yousafzai Khankhel" and belongs to Swabi district of Khyber Pakhtunkhwa province.[1] Biography
Political Career
He began his political career in 1996 the same year Imran Khan launched his party Movement for Justice -Pakistan Tehreek-e-Insaf. He has served the party as Deputy Secretary Information, Head of Electronic Media Operations, Head of Marketing and Secretary Social Media previously. Faisal who opens rallies for Khan, is known nationally as "Voice of PTI," introducing Khan to crowds across the country. His easy confidence and broadcaster's voice make him one of the more prominent young faces of Khan's media-savvy corps.
Profession
By profession, Faisal is an advertising specialist currently heading a leading advertising company managing one of the leading cellular brands in Pakistan.Faisal has also been a broadcaster for 9 consecutive years on FM Radio where he used to host and produce political and social issues talk shows. Faisal Javed Khan has hosted more than 300 rallies for Imran Khan from Waziristan to Quetta to Karachi to Lahore and across Pakistan. He also made a world record of hosting public rallies for more than 126 consecutive days as part of the protest against election rigging staged in the capital city of Islamabad.[2] Profession
Awards
Faisal along with his team has received many awards in Advertising including PAS campaign of the year award for Easypaisa – a mobile banking product of Telenor.Faisal has also produced few TV commercials and TV Documentaries. He has also directed a documentary on Women's Role in Pakistan. He produced and directed two documentaries for UNDP and Ministry Of Women Development's project W3P "Badlay Gee Duniya Aurat" & "Women in Governance". Faisal Javed has also hosted a Weekly TV Show on News One and he occasionally hosted programmes for Pakistan Television.
Nominated for Senate Election 2018
The Pakistan Tehreek-e-Insaf (PTI) has approved the names of six candidates from Khyber-Pakhtunkhwa for the Senate election scheduled to be held on March 3.The candidates are Faisal Javed Khan, Major (Retd) Fida Hussain, Azam Khan Swati, Dr Meher Taj Roghanni, Khial Zaman Orakzai, and Ayub Afridi. He took an oath as a Senator on 12th March 2018.