Dr Abdus Salam was a theoretical physicist. He was the primary Pakistani and the second from the Muslim world to receive the Nobel Prize. He also served as the director of the Space and Upper Atmosphere Commission and advisor to the Ministry of Science and Technology from 1960 to 1974. Abdus Salam is the recipient of numerous awards, including Nishan e Imtiaz and Sitar e Imtiaz. This article has all the information about Salam, including Dr. Abdus Salam Biography.
| Title | Description |
| --- | --- |
| Personal | |
| Name: | Dr Abdus Salam |
| In Urdu: | ڈاکٹر عبدالسلام |
| Famous As: | Scientist |
| Nationality: | Pakistani |
| Education: | PhD Physics |
| Alma Mater: | St John's College, Cambridge |
| Religion: | Ahmadi |
| Profession: | Scientist |
| Awards : | He Bagged Various Awards |
| Born | |
| Date: | 29th January 1926 |
| Place: | Jhang, British India |
| Family | |
| Spouse: | Amtul Hafeez Begum and Dame Louise Johnson |
| Children: | 5 Children |
| Parents: | Muhammad Hussain and Hajira Hussain |
| Died | |
| Date: | 21st November 1996 |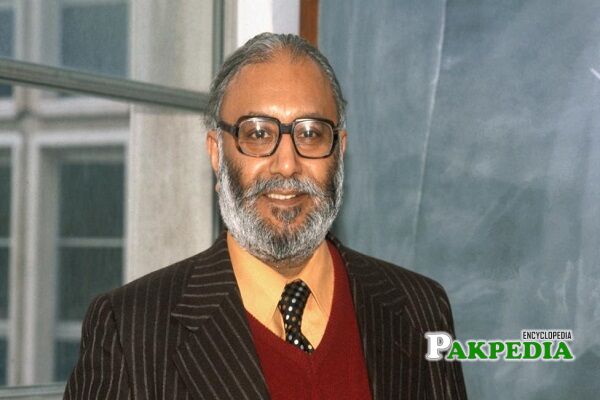 Dr Abdus Salam Biography
Abdus Salam was the primary Pakistani to receive the Nobel Award. He shared it with Sheldon Glashow and Steven Weinberg for his contribution to Electroweak Unification. He is known as the scientific father of the Atomic Bomb program of Pakistan, who majorly contributed to neutron stars and black holes. During his term as a mentor to the ministry of Science and Technology, he introduced mathematical and quantum physics.
During his doctoral studies, he was challenged by his mentor to solve an intricate scientific problem that had remained unsolved for many years. He was given one year for that, but he completed it in 6 months and presented it in the laboratory. He was also the youngest person to be elected as the Fellow of the Royal Society. He has heavily contributed to Pakistan and introduced a scholarship program for his students.
Education of Dr Salam
Salam had a prolific education career. He studied first at home. He was directly given admission in 3rd class. In his matric examination, he took great marks and later received a scholarship from Punjab University. He had an interest in English and Urdu literature, but later, he opted for Mathematics and physics. He received his BA degree from Government College Lahore, and in 1946, he finished his Masters in Maths from Punjab University.
Salam also completed a BA degree in Mathematics and Physics from St John's College Cambridge on a scholarship in 1949. Soon after one year, he awarded Smith's Prize from Cambridge University in 1950 for his pre-doctoral contribution to physics. After completing his studies, he returned to his village and got another scholarship for his doctorate from the UK.
In 1951, he presented his thesis under the title " Development in the quantum theory of fields" and obtained a Ph.D. degree from St.John's College Cambridge. It made him recognize as a physicist worldwide.
Dr Abdus Salam Family
He was born in a Punjabi-Muslim family. He was born to Muhammad Hussain and Hajira Hussain. His father belonged to Sandu cast from Jhang while his mother came from Gurdaspur. It was a very respected and educated family. Even his grandfather was a religious scholar, as well as a physician. His father was an education officer. Salam married twice. First to his cousin and second to Louise Johnson, who was a former professor at Oxford University. He had three daughters and one son from his first wife and a son and a daughter from second.
Salam date of Birth
He was born on 29th January 1926 in Jhang, British India.
Academic Career
Even during his education, he had established himself as a known scholar in Pakistan and abroad. After completing his education, he returned to Pakistan and started his career as a professor of mathematics at Government College, which continued for three years since 1951. During this time, he also served as a professor in Punjab University in the department of mathematics. where he updated the curriculum and introduced Quantum mechanics.
After the 1953 riots in Lahore, Salam went back to England and joined College, St. John's as a mathematics professor. Soon after few years, he was invited to Imperial College London, where he, along with Paul Mathews, decided to organize the theoretical physics department, which became a standard research department. In England, he tried to make opportunities for his Pakistanis students and launched a scholarship program. His Pakistani students were in the majority in the group of theoretical physicists in Imperial College London.
Scientific Career
He is widely known for Quantum Physics and his contribution to quantum electrodynamics and quantum field theory. He worked on the theory of neutrino that was postulated by Wolfgang Pauli in the 1930s. He developed the theory by introducing chiral symmetry and Higgs Basons. It led him to predict proton decay. In 1962, he also published a paper on Vector Meson. He continued his work with other scientists on symmetries and electroweak unification.
In 1966, he worked on hypothetical particles. In 1972, the Indian- American physicist asked him to work together. He soon invited him to the ICTP seminar in Pakistan. They worked together to find out why protons and electrons are different and carry an equal charge. Together, they introduced the Pati-Salam model in particle physics. In 1979, he and Glashow and Weinberg awarded the Nobel Peace Prize for proving the electroweak unification mathematically.
Space and Nuclear Weapon Program
Salam established the space activities in Pakistan. In 1961, Space and Upper Atmosphere Research Commission established, and he was made its first director. He visited the United States and made a co-operation agreement. He also worked for nuclear technology for peaceful purposes. He is also called the father of the Atomic Bomb Project of Pakistan. He has also established the Pakistan Institute of Nuclear Science and Technology.
During the Bhutto government, Pakistan got the information about the Indian Atomic Bomb project. Soon, a Multan meeting held with Bhutto, and he made in charge of the Atomic Bomb Programme. Immediately after the meeting, Salam established the Theoretical Physicists Group. The work on the theoretical design of the nuclear weapon completed in 1977. Though Salam had left the country after the Ahmadi community was declared non-muslim, he continued to work for the Atomic Bomb Project.
Work for Government
Salam also worked as an advisor to the Ministry of Science and technology. He expanded the structure of physics studies in the country and established several institutions. The state had little scientific activities that were developed by Salam after he made his association with the government. He shifted the Pakistan Atomic Energy Commission from a small room and having 10 scientists to large buildings.
The Dream of Symmetry
In 2011, a film presenting Salam "The Dream Symmetry" was released. The film not only introduced him as a scientist but a humanitarian as well.
Abdus Salam Awards
Abdus Salam awarded several times. The list of awards include:
Smith's Prize
Adams Prize
Sitara-e-Pakistan
Hughes Medal
Atoms for Peace Prize
Royal Medal
Nobel Prize
Nishan-e-Imtiaz
Lomonosov Gold Medal and
Copley Medal
Abdus Salam Institues
Abdus Salam Center of Physics Quaid-e-Azam University Islamabad
Abdus Salam National Center for Mathematics, Government College University Lahore
Abdus Salam International Center for Theoretical Physics, Italy
Abdu Salam School of Mathematical Sciences Lahore.
Dr Abdus Salam Death
He died on 21 November 1996 at Oxford. His body brought back to Pakistan. 30000 people attended his funeral. He buried in Bihishti Muqbara, a cemetery established by Ahmadis. "The first Muslim Nobel Laureate" was written on his epitaph. The world Muslim removed because Pakistan declared Ahmadis as non-Muslim.