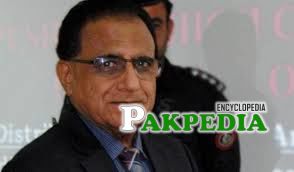 Education
Dost Muhammad Khan was born on 20 March 1953 in Bannu a district of Khyber Pakhtunkhwa, He completed his early education from Government High School No. 1, Bannu. He graduated from the Government Post Graduate College, Bannu in 1974 and obtained the law degree from Government Sindh Muslim Law College, Karachi in 1976. In June 2008, he completed the Course "on Reducing Delay in Justice, Administration of Justice and Court Management" held by RIPA International, London. He also attended Conference at Washington-DC on sharing of Judicial Experience on Intellectual Property Rights & International Commercial Arbitration held in October–November 2010. 
Career
He began his career as a lawyer in 1976 after completing his degree from Sindh Muslim Law College, He served in lower and high courts as well as the Supreme Court of Pakistan. Dost Muhammad Khan remained President of District Bar Association, Bannu from1986 to 1987. He also as President of Peshawar High Court Bar Association in D.I. Khan Bench from 1999-2000.
Judicial Career
Dost Muhammad Khan was appointed as an additional judge on Sept 10, 2002. He was elevated as permanent Judge of the Peshawar High Court on Sept 10, 2003. He took oath as Chief Justice of the Peshawar High Court on Nov 17, 2011. During his tenure as Chief Justice, Peshawar High Court, he delivered he achieved major goals through his judgments, ordering drone strike as a war crime, Which was later raised an issue in UN, He also gives judgment on former president Pervez Musharraf adds sentenced lifelong disqualification from contesting elections. Khan also declares the fuel adjustment charges as "illegal". Suo Motu notice of women being barred from voting also taken by Dost Muhammad Khan. He played a key role in missing person case and in his era many missing persons recovered.
Achievements
Dost Muhammad Khan takes many initiatives, "speedy justice" is one of those provisions. In his era' Mobile courts were established to resolve petty civil disputes and criminal cases at the earliest and at the involved parties' at doorsteps. Alternative dispute resolution (ADR) system was developed and (ADR) center was established in KPK Judicial Academy for criminal and civil cases pending in courts. The E-citizens Grievances Redressal System was introduced at the PHC's Human Rights Directorate on Jan 13, 2014' to enable citizens to file their complaints without having to visit the PHC.
Chief Minister of Khyber Pakhtunkhwa
Dost Muhammad Khan is Chief Minister of KPK by, Selected by ECP (Election Commission of Pakistan). Akhtar Nazeer, who is Additional Secretary of ECP, said the government and the opposition had sent the ECP four names for caretaker CM. The name was finalized for the interim slot, That was forwarded to the electoral watchdog after a six-member parliamentary committee. Dost Muhammad Khan on June 6, 2018.  He took oath as the caretaker Chief Minister of Khyber Pakhtunkhwa by KPK Governer Iqbal Zafar Jhagra in presence of former Chief Minister of KPK Pervaiz Khattak.