Azhar Ali is currently the Pakistan cricket team's Test captain. He made his test debut for Pakistan against Australia at Lord's and was selected as a top-order batsman in the squad, while interestingly, he started his first-class career as a leg spinner. Then he worked hard at his batting skills and proved himself a top-order batsman. His transformation from a bowler into a batsman was remarkable in a way that his stats as a batsman are among the top batsman ever played for Pakistan. Though Azhar has played in all formats for Pakistan yet, he is famous as a test player, and currently, he has resigned from shorter game formats. This article has all the information about Azhar, including Azhar Ali Biography.
| Title | Description |
| --- | --- |
| Personal | |
| Name: | Azhar Ali |
| In Urdu: | اظہر علی |
| Famous As: | Ajju |
| Nationality: | Pakistan |
| Residence: | Lahore |
| Education: | Not Known |
| Religion: | Islam |
| Profession: | Cricketer |
| Height: | 5 ft 11 inch |
| Website: | https://twitter.com/AzharAli_ |
| Born | |
| Date: | 19th February 1985 |
| Place: | Lahore |
| Family | |
| Spouse: | Married |
| Children: | 3 sons |
| Parents: | Muhammad Rafiq |
| Siblings : | Ashraf Ali |
| Career | |
| National Side: | Pakistan |
| Team Role: | Batsman, ODI captain |
| Bowling Style: | Leg-break |
| Batting Style: | Right-hand bat |
| Matches: | 52 in Test & 42 in ODIs |
| Wickets : | 7 in Test & 4 in ODIs |
| Bowling Average: | 51.75 in Test & – in ODIs |
| Batting Average: | 46.79 in Test & 40.20 in ODIs |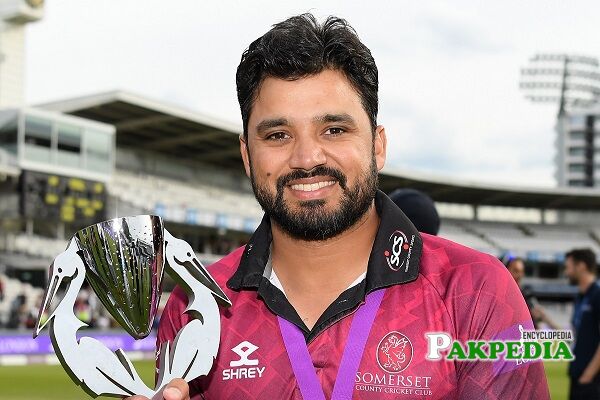 Azhar Ali Biography
Azhar is currently one of the best test Batsmen in the Pakistan cricket team. He has played 78 international tests, and in 147 innings, he has scored 5919 runs at an average of above 42. He has scored 16 test hundreds up till now and 31 fifties as well. Azhar is currently playing just test cricket for his side while he has retired from shorter formats of the game. In 53 ODIs, he appeared for the Pakistan team, scoring 1845 runs with a magnificent average of 36.90 with 3 centuries and 12 half-centuries. While in his T20 career, he played in 49 T20's and scored 985 runs with an average and strike rate of 21.88 and 104.67, respectively.
Azhar date of birth
Azhar was born at Kot Radha Kishan on 19th February 1985. Currently, Azhar is the resident of the same city, Lahore.
Education of Azhar
He was interested in cricket from his childhood and used to play street cricket. It is said that Azhar did not receive any institutional education and was taught and trained by his father Muhammad Rafiq, who was a professor.
Azhar Ali Family
Azhar opened his eyes in an ordinary family. He used to play as a leg-spin bowler during his childhood and interesting he shifted towards batting and became a pure top-order batsman for Pakistan cricket team. He got married on 19th Feb 2007 and has three sons. He is a gentleman on and off the ground; that is why he has rarely got his haters even among his opponent players.
Cricket Career
Initial Career
Azhar started playing domestic cricket in 2006. His safe and sound style of batting made his coach at Khan laboratories realize to bat him up the order. He allowed opening the innings due to his long stay at the crease. He proved his coach's decision right as his batting nature was first to stay solidly behind each bowl he faced and his ability to make the opponent bowlers tired by not scoring many runs and big shots initially. But when bowlers started to get tired and bowl got older, he paced up his innings and scored centuries for any side he played for. His great touch at the domestic season in the 2009-10 season inspired the selectors to give him a chance at the international level.
Domestic career
Ali has played for different sides in his domestic career. He has played for Baluchistan warriors, Khan Research Laboratories (KRL), Central Punjab, Lahore Eagles, Lahore Blues, Lahore Lions, Lahore Region Whites, Lahore Qalandars. Besides this, he has played for Pakistan A. Pakistan Cricket Academy, Pakistan Cricket board blues, Pakistan cricket board patron's XI, Pakistan Greens, Pakistan Under-15s, Pakistan under-19s, Somerset, Somerset second Xi, Sui Gas Corporation of Pakistan and rest.
International career and achievements
Azhar Ali made his test debut in 2010 in the first test on 13th July against Australia at Lords. His defensive technique made him a regular player in the test side. He has achieved many records in his on-going test career. In October 2016, Azhar scored a triple century against west indies in a day-night test match in UAE. He is the 4th Pakistani and 29th international test player to score a triple hundred. While he is the first person to do so in a Day-Night test match.
Later on the boxing day test at MCG in December 2016, he scored an excellent record-breaking double hundred against Australia. He became only second test batsman behind Sir Vivian Richard to score a double century at MCG. Besides this, currently, Azhar holds the record of most centuries as an ODI captain for Pakistan. He has scored 3 centuries as the ODI captain of Pakistan. He has played most test matches in the current test team for Pakistan. He has a lot of responsibility on his shoulders to deliver well as a player and as captain of the team.
Azhar must keep the younger players motivated as a leader of the side. His calm nature makes him an ideal choice as captain of the test side because test cricket requires a longer temperament and patience. Though recently, Azhar is not in the best of his form as he has proved many times that he can play good innings, so is the hope for his career. Azhar played a role in helping Pakistan cricket team reach number 01 in Test ranking. He was also part of the winning squad of champions trophy 2017, where he scored a match-winning fifty in the final against archrival India. 
Social Media Handles
His social media accounts include