Ashraf Khan is a well recognized and skilled showbiz personality of Pakistan. He is mostly known for his comedy role in drama 'Dug Dugi.' He also appeared in many Punjabi films. He is one of Pakistan's prominent actors who has acted in every medium, i.e., stage, television, and film. This article has all the information about Khan, including Ashraf Khan Biography and Ashraf Khan Dramas.
| Title | Description |
| --- | --- |
| Personal | |
| Name: | Ashraf Khan |
| In Urdu : | اشرف خان |
| Famous As: | Comedian |
| Nationality: | Pakistan |
| Residence: | Karachi |
| Religion: | Islam |
| Profession: | Actor |
| Height: | 5 ft 7 in (1.74 m) |
| Website: | https://www.facebook.com/AshrafKhanPage/ |
| Born | |
| Date: | 17 February 1978 |
| Place: | Lahore |
| Family | |
| Ethnicity: | Sindhi |
| Spouse: | Married |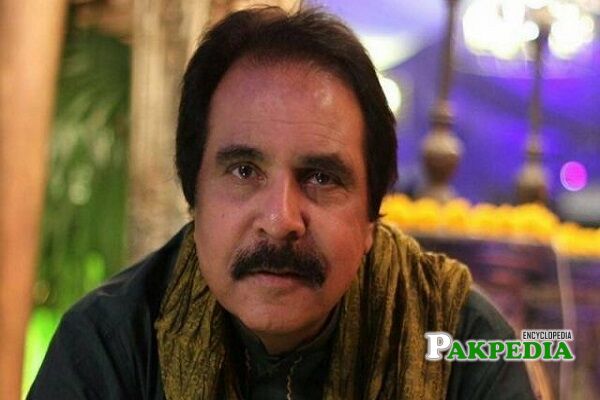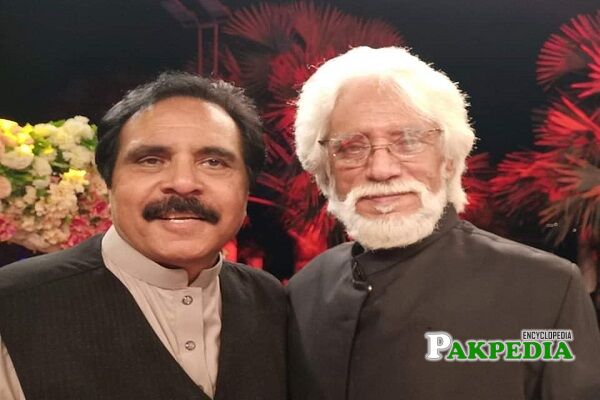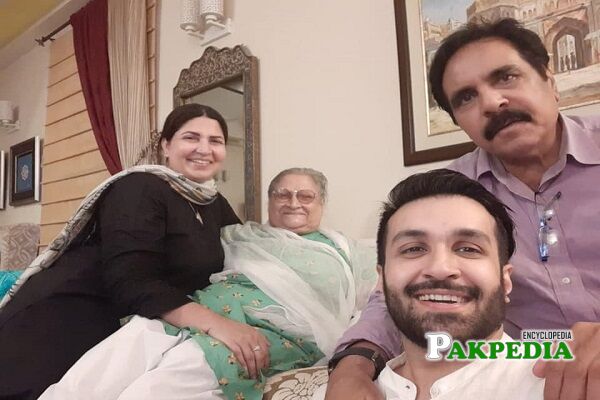 Ashraf Khan Biography
Ashraf is one of the most versatile actors in Pakistan. He played many comedy roles with perfection. The beauty of his acting is that when he played a serious role, people forgot that he is a comedian. He belonged to a business family, and no one in his family belongs to showbiz. He was a born artist and pursued his career in acting.  He is the recipient of Sitara E Imtiaz.
Ashraf date of Birth
He was born on 17th February 1978 in Lahore. Currently, he is living in Karachi.
Education of Ashraf
He completed his school and college education from Lahore.
Showbiz Career
Initial Career
Ashraf has been fond of acting since childhood. When he was about 14 years old, he used to go to Radio Pakistan and participated in a children's program. Seeing his speaking style in that program, the famous broadcaster Nizamuddin of Radio Pakistan introduced him to his program 'Ham Log.' The duration of this program was 25 minutes, and Ashraf used to speak a punch line i.e., a summary of the whole program. He worked in this program for two years.
After the Foundation of PTV
When Pakistan TV was established in Lahore, he was one of the artists who worked on TV at a time when recording the facility was not available on Pakistan Television; instead, all the programs were live. He also performed as a broadcaster in two famous radio programs, including 'hum log,' and 'Nizam Deen Di Baithak.'  
After showing his acting and broadcasting skills on Pakistan TV and Pakistan Radio, he came to Karachi in 1974 and shown his acting skills in Karachi TV drama 'Uncle Urfi' in which he played the role of a police inspector. Actor Shakeel, Jamshaid Ansari (late), and Azra were the main lead of this drama.
Notable Projects
Program Fifty Fifty, directed by Shoaib Mansoor and written by Anwar Maqsood, became the reason for Ashraf's fame and recognition. He worked with Bushra Ansari and Arzoo in this program. The program started in 1970 and broadcasted for seven years. He converted the film Mola Jatt's dialogues into English and presented in front of the audience it was a new experience for the audience, and they immensely praised it. 
Some songs were also featured on him. He used to write sketches along with Shoaib Mansoor and Ismail Tara the whole night. Their state of perfection was such that they used to write 37 sketches out of which 20 sketches used to be selected and only 12 on aired. After the success of Fifty Fifty, he was starred in many TV projects. Viewers much appreciated his performance in PTV drama serial Jangloos. 
When he began his onscreen career as a comedian, producers started casting him in comedian roles. In another PTV drama, Janjal Pura, he shared the screen with senior actor Mehmood Aslam. When private channels were launched, he was starred in many sitcoms, including 'Double Sawaari,' 'Gharor,' 'Sargam,' 'Kalo Kabaabi,' 'Khandaan,' 'Gharana Fasanaa,' and Muhabbat Yun Bh Hoti Hai.'
Ashraf Khan Dramas
Dug Dugi
Gharana Fasanaa
Muhabbat Yun Bh Hoti Hai
Khandaan
Double Sawaari
Gharoor
Sargham
Kalo Kabbabi
Sayebaan
Coffee House
Dil E Naaz
Excuse Me
Naya Qanoon
Jangloos
Ye Laga Sixer
Janjaal Pura
Afsar Be Khaas
List of Movies
Roti
Phool
Baghbaan
Social Media Handles
His social media accounts include