Anzhelika Tahir is an actress and model having Pakistani and Ukrainian nationality. This half-Ukrainian and half-Pakistani enchantress is 1st girl of blended nationality who represented Pakistan at the International level. The meaning of her name is 'Angel' which was named after a movie Mervilluse Angelique's character Angelique. She fetched two crowns for her land together with a Model Award and a Gold Medal. This article has all the information about her, including Anzhelika Tahir Biography.
| Title | Description |
| --- | --- |
| Personal | |
| Name: | Anzhelika Tahir |
| In Urdu: | عنزہیلیکا طاہر |
| Nick Name: | Anzi |
| Famous As: | MPW 2015 |
| Nationality: | Pakistani-Ukrainian |
| Residence: | Canada |
| Education: | Graduation |
| Religion: | Islam |
| Profession: | Actor and Model |
| Height: | 1.73 m (5 ft 8 in) |
| Awards : | Miss Pakistan World 2015 |
| Born | |
| Date: | 5th January 1994 |
| Place: | Kyiv |
| Family | |
| Spouse: | Unmarried |
| Parents: | Tahir |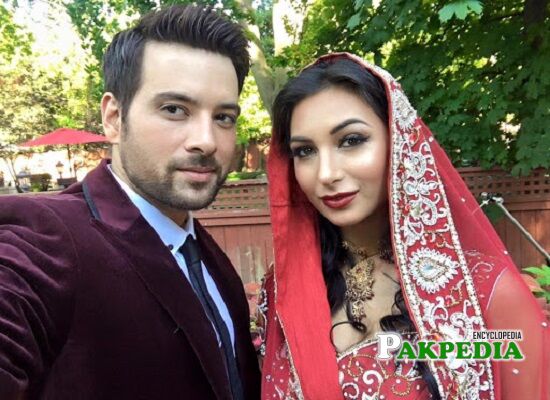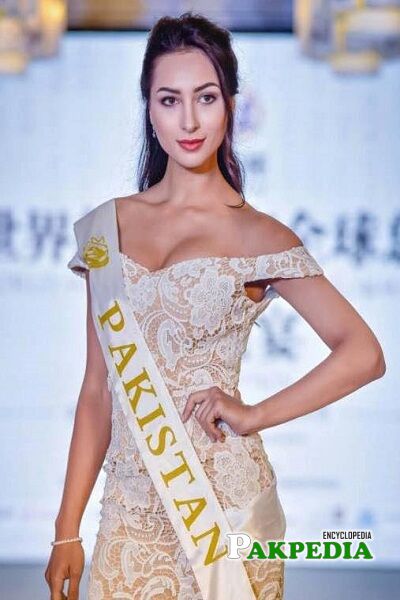 Anzhelika Tahir Biography
This juvenile star has traveled a long journey from earning beauty titles in beauty contests to acting in films. Anzhelika began her career as a journalist and model in Ukraine and then reached the heights of fame by winning 'Miss Pakistan World.' She believes that Pakistan's film industry is improving day by day, and young talent should contribute to its progress and quality. She feels honor in being part of the entertainment industry. By participating in International Beauty Contests, she struggles to show a positive and peaceful image of Pakistan. She is determined to modify people's perception of her land and display the real form of Pakistan.  
Anzhelika date of Birth
She was born on 5th January 1994 in Kyiv.
Education of Anzhelika
She completed her graduation in Arts from Lyceum and started studying Fashion Designing at the KNUTD ( Kyiv National University of Technologies and Design).
Anzhelika Tahir Family
Her father belongs to Sheikhupura, Punjab, and mother is a Ukrainian national.
Career
Early Career
After completing her education, she participated in several beauty contests, and her entrance in 'Pakistan Miss World' competition was a coincidence. She had never thought that she could win a beauty queen title as she was just like an outsider in Kyiv because of her skin color. Because of this difference in skin color, she didn't have any friends during student life.
Participation in Beauty Contests
She participated in a beauty contest named 'Miss Pakistan World' in 2015 held in Toronto and won the title' Miss Pakistan World.' She also secured 'Miss popularity' and 'Miss Perfect.' She then participated in a beauty contest 'World Miss University' and was 2nd runner up. In 2016 she competed in 'Miss Super Talent' held in Korea, and again, she was 2nd runner up. In the same year, she participated in 'Miss Earth' and secured a gold medal. In 2017 she competed in 'Miss Eco International' held in Cairo and was 1st runner up. In 'Face of the Universe' she was 2nd runner up.
Acting Career
She gave other artists a run for the money by her debut film 'Na Band Na Baraati.' Sonia Ahmad, the Pakistani-Canadian moviemaker, made this film. The film stared Mikal Zulfiqar, Nayab Khan, Shayan Khan, Ali Kazmi, Qawi Khan, Komal Farooqi, Atiqa Odho, Azra Mohiuddin, and Saram Jaffrey. The storyline of the movie is about a Pakistani family of Canada. Anzhelika played the role of Ayesha and Ali Kazmi as villain played the role of her lover.
Cannes Film Festival
In 2018 she became the 2nd Pakistani celebrity and beauty queen to walk at Cannes Film Festival's red carpet as Miss Pakistan World's Brand Ambassador. Her splendor on the red carpet was the most unique. She wore a stunning and charming dress and wore her crown, which she won in the beauty contest. She posed brilliantly in front of photographers and became the focus of global media attention. She will represent 'Miss Pakistan World' at the Cannes festival every year.  
List of Movies
Na Band Na Baraat
Social Media Handles
Her social media accounts include