Amjad Islam Amjad is a renowned poet, lyricist, and drama writer. He is the author of forty books, best seller, and his several books have won awards. Some of these have been translated into other countries. He received the award for Best Writer of PTV, and his first drama was a hit. His columns are published in the daily Jang. He became the editor in the ninth grade. He travels abroad to participate in poetry readings and has so far traveled to 17 countries. This article has all the information about Islam, including Amjad Islam Amjad Biography.
| Title | Description |
| --- | --- |
| Personal | |
| Name: | Amjad Islam Amjad |
| In Urdu: | امجد اسلام امجد |
| Famous As: | Urdu Poet |
| Nationality: | Pakistan |
| Residence: | Lahore |
| Education: | Masters |
| Alma Mater: | Punjab University |
| Religion: | Islam |
| Profession: | Urdu poet, Drama writer and Lyricist |
| Website: | http://amjadislamamjad.com/ |
| Awards : | He Bagged Various Awards |
| Born | |
| Date: | 4th August 1944 |
| Place: | Lahore |
| Family | |
| Ethnicity: | Punjabi |
| Spouse: | Firdous Amjad |
| Children: | 3 Children |
| Relatives: | Muhammad Aqib Noor (Son in law) |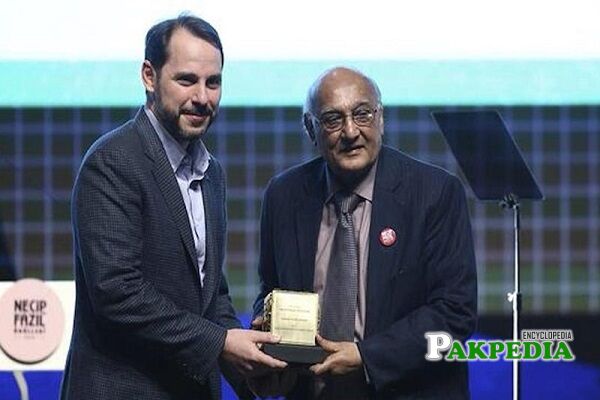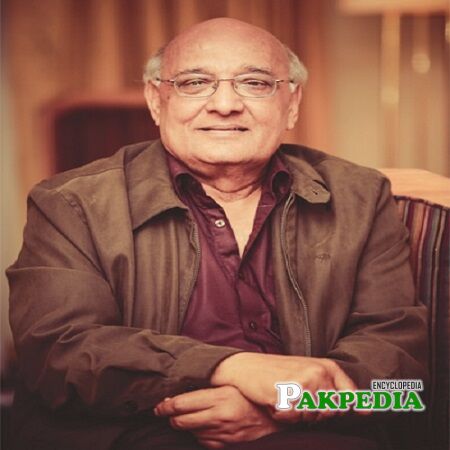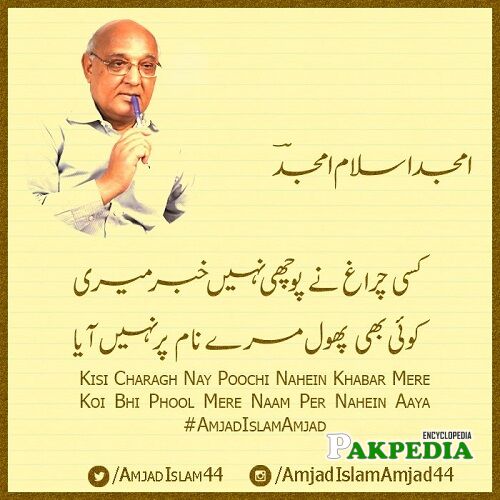 Amjad Islam Amjad Biography
Amjad is an educator and administrator who has held the positions of Director and Director General in various organizations. He is a very successful person. He did what he thought; he is a figure of determination, courage, and action that works so hard and makes the impossible possible. Many of his T.V. dramas have won awards. People have considered drama as Amjad's main field because only one of his dramas, 'Waris,' has been heavy on many dramas, but he does not have a single department, not a single aspect. He is a versatile personality who is the recipient of many prestigious laurels, including Sitara E Imtiaz and Pride of Performance.
Amjad date of Birth
He opened his eyes on August 4, 1944, in Lahore.
Education of Amjad
Amjad completed his early education from Lahore. After graduation from Islamia College, he did Masters in Urdu Literature from P.U. (Punjab University).
Amjad Islam Amjad Family
He married his cousin Firdous and has three children. One daughter is married to comedian Anwar Masood's son Muhammad Aqib Noor, a chartered accountant in Islamabad. His family was a family of artisans, in which there was no tradition of reading and writing. Amjad adopted the habit of reading because of his father, who had the habit of reading detective novels of Ibn E Saffi and books of Shafique Ur Rehman. 
Career
Initial Career
In his student life, he wanted to be a cricketer and played cricket up to the university level. Literature was a sub-trend, and it was his second choice after cricket. He faced a series of failures in the game of cricket and, on the other hand, got a scholarship for getting higher marks in Urdu in graduation, his full attention turned to poetry and literature instead of cricket. When he came to university, he began to pay serious attention to poetry and literature. He mainly read the old classical poets, on whom he later wrote a book called 'Naye Puraanay.'
As a Writer
After being associated with Radio Pakistan for a few years as a playwright, he wrote several serials for PTV, including 'Waris' as well as 'Dahleez,' 'Samandar,' 'Raat,' 'Waqat' and Apne Log' are also included. He got his real fame from the 1979 serial 'Waris.' When he wrote the first play, 'Tooti Kahan Kamand,' the television failed him. For five years, the television faculty kept failing him, saying, 'you don't know how to write dramas do poetry,' but Amjad kept trying to write dramas. He was sure that he would be able to write dramas. 
The script of 'Tooti Kahan Kamand' was lost. Later on its theme, he wrote a stage play 'Ghar Aya Mehmaan,' which was his first stage play. In 1973, it was announced in the newspapers from Rawalpindi T.V. that the new writers should send their first play. He also sent a play 'Akhri Khawab.' Then on March 23, 1975, his first play 'Khawab Jagtaay Hain' started from Lahore for which he received his 1st graduate award. Since then, he has received 15 graduate awards in the last 26 years. In poetry and prose, more than forty of his books have been printed.
Column Writing
He has been doing regular column writing for ten to twelve years. In 'Daily Express,' he writes a column titled 'Chashmay Tamasha.' In 1984, he started writing in the daily Imrooz. When Imrooz closed, he also stopped writing columns. Then in 1990, he began writing in the daily Jang and is still writing.  
Travelogues
He also wrote two travelogues, one of which is the 1984's travelogue of USA, England, and India 'Shehar Say Shehar.' In 1991, when he went to China with a delegation of writers, he wrote the book 'Resham Resham' on it.
Films Writing
He wrote five films, two of which were very hit, but he did not like working for the film. In 1997, one of his movies, 'Jo dar Gia Woh Margya,' was preceded by 'Choron Ki Barat,' which made the Golden Jubilee. He started with the film 'Qurbani' starring Nadeem and Shabnam. He wrote the dialogues of this film. Then there were 'Haq Mehr' and 'Nijat.' He wrote three stage plays, but seeing the condition of the stage, he wrote the last play in 1986.
Educational Services
He worked on the post of  Director of Curriculum Wing in PTB (Punjab Textbook Board) Lahore. In Government Muhammadan Anglo College Lahore, he served as an Assistant Professor. He also gave his services to Urdu Science Board Lhr as Deputy Director and as D.G. in Punjab Arts Council. In the children library complex, he was appointed Project Director.
Amjad Islam Amjad Dramas
List of PTV Dramas
Waris
Dehlez
Samanndar
Waqat
Fishaarr
Eindhen
Raat
Din
Lahuu Mein Phool
Inkar
Daaman Ke Aag
Chacha Abdul Baaqi
List of Private Serials
Giraah
Zamaana
Bandagii
Agar
Sheraaza
Sher Dil
List of PTV Long Plays
Bazdeed
Dukhoon Ke Chaadar
Apny Log
Lekin
Dhund Key Uss Paar
Sham Sey Pehlay
Nizaam Lohar
Ghantii
TV TV
Yeh Kinaara Chalaa Key Naau Chalii
Baazgashtt
Abhe Tu Mein Jawaan Hun
Muthi Sey Phisaltii Raait
Aag Sub Ko Jalaati Haai
Johar
Nazdek
List of PTV Short Plays
Jo Yunn Hotaa Tu Kiya Hota
Ap Kal Aaiyee
Tale Mand Ke Pareshaaniyan
Deewar Key Iss Paar Uss Paar
Makaan Ke Talash Mein
Shoq Bohatt Hai
Sheshaa O Sang
List of PTV General Plays
Akhri Khawaab
Barzakhh
Moum Ke Guriyaa
Khawab Jagtay Hein
Yaa Naseeb Clinic
Balkaani
Saudaa
Ahl E Nazar
Shabzaad
Rubaro
Suraagh E Sahar
Pichlii Raat Kaa Chaand
Sawal
Meray Bh Hein Kuch Khawab
Gardish
Jaraas
Bachon Kaa Baagh
Ehsaas E Ziyaan
Apnaa Ghar
Zindagi Key Mailay Mein
Ulati Churi
Soraj Bh Tamashae
Paaras Pathar
Dosraa Qadam
Apne Hissay Ka Bojh
Tawaan
Isii Kaa Naam Duniyaa Hai
Ghairon Sey Kahaa Tum Ney
Idhar Udhar Sey
Zero Point
Abhe Nahi Kbhi Nahi
Tasalsul
Girtii Hue Deewar
Aakhri Tamaatar
Quttab Sitaara
Qaflaa E Sakht Jaan
Ghar
Pewastaa Reh Shajjar Sey
Phir Yuun Huwaa
Apne Khudi Pehchan
Merey Khawaab Rezaa Rezaa
Bakray Ke Shadi
Bashaarat
Zero Point 2
Baraa Andheraa Hai
Eesaar
Eid Kaa Tohfaa
List of Adapted Plays
Kaan Russ
Bandagii Becharii
Buraa Admi
Aks Aor Aaineey
Dehaktay Khawab
Waaris
Manzil Hei Kahaan
Garrd Bad E Hayaat
Rifi Ke Duniyaa
Ehsan
Sannaata
Betay Betiyan
Amar Bail
Hisab
Summandar Key Nechey
Do Gazz Zameen
Namak Haraam
Ghantii
Baraa Andheraa Hai
Barf Main Lagii Aag
Chacha Abdul Baaqi
Lahuu Mein Phool
List of Punjabi Plays
Bhukh
Nehlaay Tay Dehlaa
Khotaa Sikka
List of Childrens Plays
Jaadu Ke Sheeshii
Bahaadur Shehzaada
Daal Mein Kaala
List of Stage Plays
Dastak
Kis Koo Keh Rae Ho
Ghar Ayaa Mehmaan
List of Short Films
Beneath The Sea
Dosari Taraf
Telefim
Ainaa
Stage Shows
Dhanak
Waaris
TV Shows
Gustaakhi Maaf
Ghazal Saraye
Audio Albums
Ham Uske Hain
Rat Sumandar Mein
Meray Bh Hain Kuch Khawaab
Mohabbat Aisaa Daryaa Hai
List of Publications
Akss
Barzakhh
Satwaan Dar
Kalay Logonn Ke Roshan Nazmain
Waaris
Fishaar
Dehleez
Shehar Dar Shehar
Zara Phr Sey Kehna
Ankhon Mein Teray Sapnaay
Lahoo Mein Phool
Chashm E Tamashaa
Apny Log
Naye Puranay
Khizaan Kay Akhri Din
Keakshaan
Yeh Afsaanay
Us Paar
Waqat
Resham Resham
Itnay Khawaab Kahan Rakhon Gaa
Khatayy Methay
Ya Nasib Clinic
Samandar
Din
Rat
Dekhte Chalay Gaye
Baarish Ke Awaaz
Sahar Aasaar
Naye Ankhain Puraanay Khuwab
Sapnay Kese Baat Karain
Jahanam Ke Dasween Gehraae
Meray Bh Hein Kuch Khawaab
Ham Uske Hein
Saahilon Ke Hawaa
Chaon
Bandagii
Phr Yun Hwa
Autograph
Sat Din
Muhabbat Aisa Daryaa Hai
Teray Dhayyan Ke Taiz Hawa
Love Encompasses All
Yaheen Kaheen
Desperate In Love
Khawaab Jaagtay Hein
Teesray Pehar Ke Dhoop
Asbaab
Sapnon Say Bhari Ankhaain
Nazdik
Yeh Mera Shehar E Sukhaan
Dhundd Kay Us Paar
Rat Sumanadar Mein
Koii Din Aur
Sham Saraay
Shifting Sands
Geet Hamare
Giraah
Chiragh E Reh Guzar
Safar Paray
Zindagi Kay Melay Mein
Sach Ke Talaash Mein
Al Hub O Nahar
Social Media Accounts
His social media account include