Abad Ali is a well-known classical and folk singer. His fans aren't limited to Pakistan only but have a fan following in India too. He performed in almost 40 musical concerts in India. He draws his musical inspiration from well-acclaimed and talented singers such as Nusrat Fateh, Lata, and Noor Jehan.
After a lot of struggle and sincerity, he has now successfully established his musical career. This article has all the details about him, including Abad Ali Biography.
| Title | Description |
| --- | --- |
| Personal | |
| Name: | Abad Ali |
| Native Name: | Abad Ali |
| Famous As: | Singer, Composer,Lyrics Writer |
| Nationality: | Pakistani |
| Residence: | Faislabad Pakistan |
| Education: | Graduate from GC College Faisalabd |
| Religion: | Islam |
| Profession: | Singer and Composer |
| Height: | 5.5 |
| Instrument: | Harmonium |
| Awards : | Radio Faisalabad Pakistan, Nusrat Fateh Ali Khan Award from India |
| Languages: | Urdu,, English, Punjabi, Hindi |
| Father Occupation : | Buisness Man |
| Chilhood Song: | Khillary Moti PTV PRograme |
| Concerts: | 40 in India |
| Hobbies: | Old Songs Listening, Cricket, Watching Movies |
| Type: | Folk,Filmy,Semi Classical, Sufi |
| Born | |
| Date: | 7th August 1978 |
| Place: | Faisalabad |
| Family | |
| Ethnicity: | Punjabi |
| Children: | Seven (2 Sons and 5 Daughter) |
| Parents: | Father Rahmet Ali & Mother Ramazan Bibi |
| Siblings : | 8 Brothers |
| Career | |
| Occupation(s): | Singer and Composer |
| Year Active: | 1995 –Present |

Abad Ali Biography
Abad's musical career is a symbol of good fortune, consistency, and hard work. He has a God-gifted beautiful voice, and fortunately, a well-acclaimed singer Gohar recognized his flawless voice and advised him to make his musical career bright. He not only advised him but also stood by him at every phase of life.
In this way, Abad got a teacher and sincere friend. He made Nusrat Fateh Ali his inspiration and gained fame by singing his Punjabi song. Though his family didn't support him in his musical passion, he still succeeded and popularized. His success led to the acceptance of his musical passion by all family members.
Education of Abad
He is a graduate of Faisalabad GC College.
Abad Ali Family
He hails from Faisalabad and his father, Rehmat Ali, is a businessman. Out of eight sons, he is the only son of his parents who has established his music career. He is living a happily married life with Sajida Abad, and the couple is parents to five daughters and two sons.
Musical Career
He began his musical career at the age of seven and got recognition as a singer. His 1st song was 'Teno Pul Gae Yaar Puraanay Navyaan Dey Lar Lag Key' in Punjabi.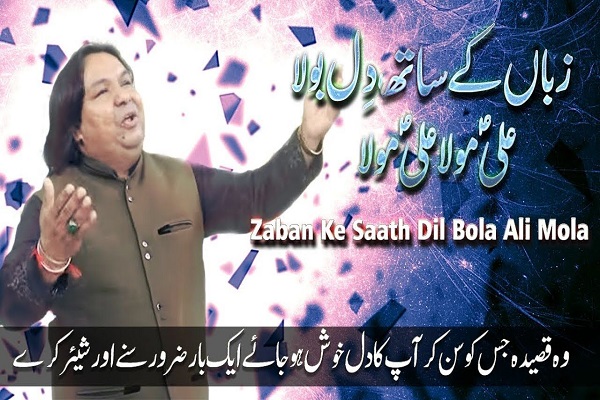 Recognition of Singing Talent
Once Ali passed by a well-acclaimed singer Azam Gohar who was playing the flute, Abad sang in low volume. After hearing him singing, Gohar asked about him and was informed that he is Agha Namat's brother. Gohar then called him through someone and requested him to sing the song 'Ankhein Wey Ratan Son Na Dandiyaan' of melody queen Noor Jehan.
After listening to that song, he told him that he has a flawless and beautiful voice and advised him to step into the musical field and brighten his career. After that day, Gohar supported Abad in every phase of his life. Abad considers him a best friend and 1st teacher who played a significant role in making his career success in the musical field.
Struggles for Making Musical Career
At the start of his career, he continued rehearsing even during traveling by bus or rickshaw. His family members didn't allow him to bring his harmonium at home. But after establishing himself in the musical field, he started bought his harmonium at home, and family members then accepted.
Source of Recognition
He sang a Punjabi song, 'Wigger Gae A Thoray Dina Tun,' a legendary singer Nusrat Fateh. This song brought good fortune to him, and people started liking his singing. In Pakistan, people from other parts of the world also liked this song in his voice, which led him to earn popularity.
Inspiration of Abad
He draws his inspiration for music from veteran singers such as Ghulam Ali, Latta, Noor Jehan, Nusrat Fateh Ali Khan, and Hassan.
Abad Ali Qasida
Mela Laal Da Lajpaal Da-Qasida
Jhoola-e-Mola Ali Asghar-Qasida
Allah Hoo Allah Hoo
Mola Ali (A.S)-Qasida
Lajpaal Lajpaali Syed Da Di-Dhamal
Yeh Jo Halka Halka Saroor Hei-Song
Social Media Handles
His social media account include
https://www.facebook.com/abad.ali