Muhammad Zafarullah Khan was a Pakistan based diplomat and jurist who served as Pakistan's 1st Foreign Minister. After performing at the post of Foreign Ministry, it became only Pakistani and 1st Asian to head World Court, also called 'International Court of Justice.'
Khan also worked for UN General Assembly as its President. He has the honour of only Pakistani national who served at Presidential post of both World Court & UN General Assembly. He was one of the most enthusiastic and vigorous proponents of a separate homeland for Muslims and directed the case for a separate nation in 'Radcliffe Commission.'
In 1947 he moved to Pakistan and became a member of Pakistan's 1st cabinet as 1st foreign minister of Pakistan under Liaquat Ali's administration. The article contains every detail about him, including Muhammad Zafarullah Khan Biography.
| Title | Description |
| --- | --- |
| Personal | |
| Name: | Muhammad Zafarullah Khan |
| In Urdu: | محمد ظفر اللہ خان |
| Famous As: | Pakistani Jurist and Diplomat |
| Nationality: | Pakistani |
| Education: | LL.B. from King's College London, in 1914 |
| Religion: | Islam |
| Profession: | Politician |
| Alma Mater : | Government College University, Lahore King's College London |
| Born | |
| Date: | 6th February 1893 |
| Place: | Sialkot, Punjab, British Raj (now Pakistan) |
| Died | |
| Date: | 1st September 1985 |
| Rest Place: | Lahore Punjab Pakistan |
| Career | |
| Political Party: | All-India Muslim League (Before 1947), Muslim League (1947–1958) |
| In-Office | |
| Role: | President of the International Court of Justice |
| Deputy: | Fouad Ammoun |
| Preceded By: | Jose Bustamante y Rivero |
| Succeeded By: | Manfred Lachs |
| In-Office 2 | |
| Role: | Minister of Foreign Affairs of Pakistan |
| Dates: | 27 December 1947 – 24 October 1954 |
| Prime Minister: | Liaquat Ali Khan, Khawaja Nazimuddin, Muhammad Ali Bogra |
| Preceded By: | Liaquat Ali Khan |
| Succeeded By: | Muhammad Ali Bogra |

Muhammad Zafarullah Khan Biography
Zafarullah Khan was among the most passionate, skilled, and influential diplomats of his era. He was an advocate of Arab cause & and his untiring struggles whether among non-aligned and Muslim states or at ICJ will serve as an ideal example of a legendary man sincerely dedicated to faith and civilization.
It wasn't practicable for any Arab individual; however, he was competent and capable that he handled Palestine issue in a worth appreciating way. Ignoring the UN's debate results, it must be recognized that he occupied a leading position in advocating people of Palestine in this dispute.
After Palestine, Khan's efforts for freedom of Libya is also worth remembering. He gained admiration and respect for all Muslim and Arab nations as advocates and supporter of their rights and interests. 
Khan Date of Birth
He opened his eyes on 6th Feb 1893 in Sialkot, British Raj. Later he moved to Pakistan.
Education of Zafarullah
He attended Govt College Lahore and secured his Law degree from King's College in London, in 1914. He practised his legal practice in Lahore and Sialkot, and in 1926 became a member of the 'Punjab Legislative-Council.'
Muhammad Zafarullah Khan Family
He belonged to a Zamindar family of Sahi Jat based around city Daska and headed for their village. This family suffered a downfall during the Government of Sikh due to their favouritism towards their Sikh community. The demise of his Great-Grandfather resulted in bestowing village headship to his grandfather Chowdhury Sikandar Khan in his adolescence.
Chaudhry Sikandar however, regained much of his family's status and gained a reputation around Daska. Son of Sikandar Khan and father of Zafarullah Khan became a part of Sialkot's 1st Landed Gentry to get a Western education and became a prominent and renowned advocate of Sialkot.
His parents were strictly religious Muslims and Mirza Ghulam's followers, the founder of 'Ahmadiyya Movement in Islam.'
Mother of Khan
Khan's father married her maternal 1st cousin Hussein Bibi who belonged to a wealthy Zamindar family belonging to the Bajwa tribe. Hussein Bibi was extraordinarily religious and was famous for her strong faith in God. She lost her 2-kids in their babyhood.
Her relatives believed it happened because she refused to fulfil the demands of a village witch Jai Devi. Villagers forced her to please Devi, but she refused even after immense pressure from her family members after her 2nd infant's death.
She argued that she would happily offer Devi charity, but as Devi stated that she could control her infants' life or death, it would be a Shirk to offer.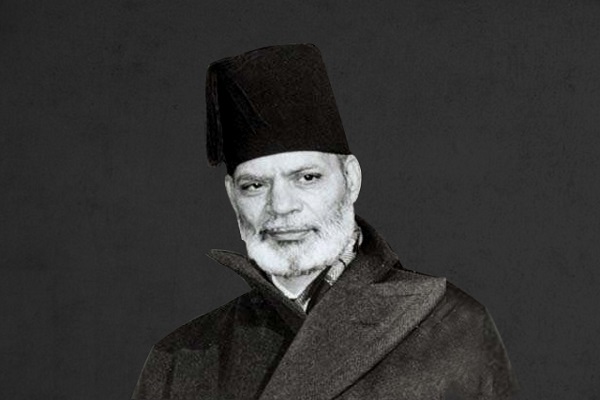 Muhammad Zafarullah Khan Failed Marriages
Initially, he tied the knot with his cousin Iqbal Begum who passed away soon after that. Then he married Rashida Begum, sister of his 1st wife, and unfortunately, she also passed away after a few years of marriage. After both wives' death, he married Baddar Begum of Behar Colony and had a daughter Amtul Haye.
Soon after the birth of daughter Baddar asked for a divorce from Khan. In 1956 he married for 4th time with Bushra Rabani, a Syrian resident. Syrian Muslims declared this marriage as illegal, and Bushra divorced Khan after some years.
Career
Initial Career
In 1926 he got elected as Punjab Legislative Council's member and presided a meeting of Muslim League at Delhi in 1931, and supported the cause of Indian Muslims via his presidential speech. He participated at 'Round-Table Conferences' organized from 1930-1932 and became Railway Minister in May 1935.
He acted as representative of India at LON (League of Nations) in 1939. In 1942 he was designated Agent Gen of India in China. As a nominee of Indian Government, he represented India at Commonwealth Relations-Conference in 1945 and spoke on the cause of India for freedom. 
Preparation of a Plan
He served as a member of Executive-Council of Governor-General of India from 1935-1941. He noted India's dominion status analyzing future perspectives of 'Dominion-Status.' A plan was proposed for the sub-continent division, and this note was conveyed to Indian Secretary Lord Zetland.
A duplicate of this note was conveyed to Jinnah also. Muslim League adopted the proposal of 2-state solution for Federation of India by Khan to publicize it in a forthcoming session at 22nd to 24th March at Lahore.
Services as Judge and Muslim's Representative
He was designated as Judge of Indian Federal Court in 1941 and served at this post until 1947. Upon the request of Jinnah, he became a representative of Muslim-League in 1947 before the Radcliffe Commission and the brilliantly presented case of Muslims. He advised Nawab of Junagarh that if he joins his territory with Pakistan, it would be legal and moral. 
As a Foreign Minister
He represented Pakistan at UN General Assembly in Oct 1947 as Pakistani Delegation's head and defended Muslims' position on Palestine. That year he got designated as 1st Foreign Minister of Pakistan and served at this post for seven years. As Pakistan's Foreign Minister he represented his country at Manila Treaty Conference in Sep 1954. 
Appointment as IC Judge
He was appointed as Judge at IC (International Court of Justice) in The Hague in 1954 and remained until 1961. He served as Vice-President of ICJ from 1958-1961.
Zafarullah served at UN General Assembly as its President from 1962-1964; he joined ICJ again as judge from 1964-1973 and as President from 1970-1973.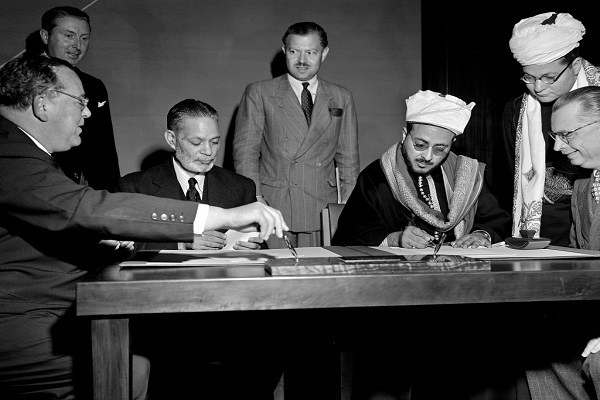 Religious Services
As an Ahmadi, he held Ameer of Lahore's post, Pakistan community chapter from 1919-1935. He worked as Secretary to 'Khalifatul Maseeh 2 the 2nd successor of Mirza Ghulam Ahmed at Consultative Council for 1st time in 1924. 
Efforts for Objectives Resolution
As of 1st Foreign Minister of Pakistan, he addressed Pakistan's Constituent Assembly leading to the passing of Objectives Resolution. This Resolution that combined constituents of both Islamic democracy and Western Pakistan is among the most important documents in Pakistan's constitutional history. It was prepared to give all Pakistani citizens equal rights irrespective of their background, religion, race, or creed. 
Performed Religious Obligations
He performed Umrah in march 1958 and visited the shrine of Holy Prophet (P.B.U.H) in Median. In 1967 he completed Hajj.
Recognized for Efforts for Pakistan
His efforts for Pakistan have been recognized and valued in Pakistani history. The title 'Sir' is conferred to him that openly shows that he is from the Ahmadiyya Community. He got selected as Pakistan's 1st Foreign Minister by the founder of Pakistan Jinnah. 
Muhammad Zafarullah Khan Books
Some of his books are:
1.   My Mother
2.   Islam & Modern Family
3.   Wisdom of the Holy Prophet (P.B.U.H)
4.   Islam & Human Rights
5.   The Message of Islam
6.   Letter to Dear One
Speech
The Contribution of Islam to the solution of world-Problems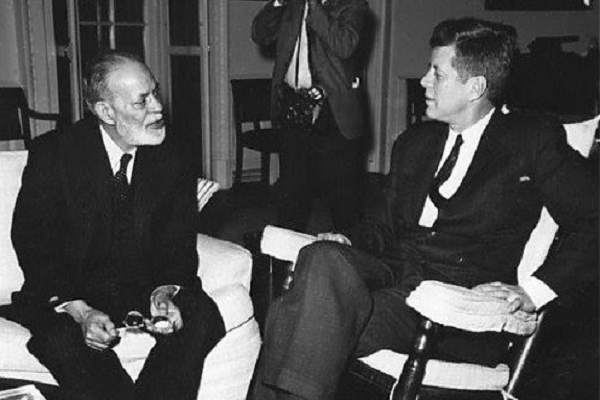 Muhammad Zafarullah Khan Death 
He passed away on 1st Sep 1985 and was embedded in Rabwah.