During a press conference with other members
With Iranian President Hassan Rouhani
Hasil Bizenjo speech on victory of PPP
Federal Minister for Ports & Shipping Mir Hasil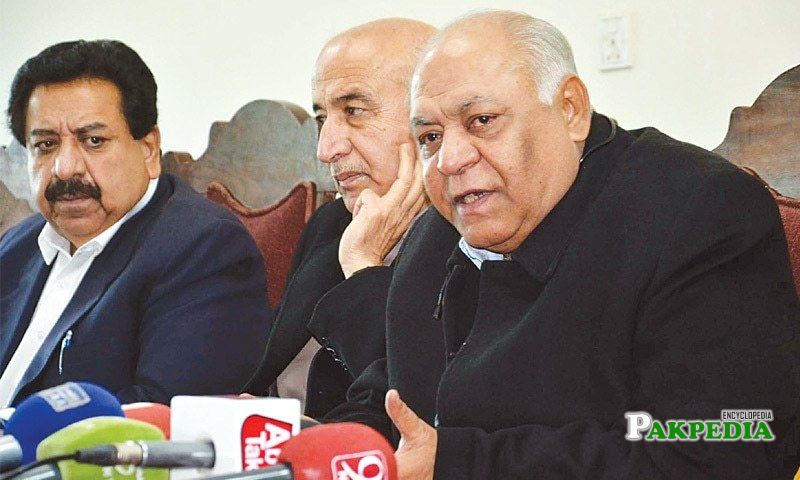 While speaking to reporters
Biography
Mir Hasil Bizinjo Born on February 3, 1958 into a family that has played a significant role in Balochistan's politics. His father, Mir Ghous Baksh Bizenjo, was a Nationalist leader known for his peaceful struggle to attain Baloch people's rights within the framework of Pakistan. Hailing from backward Nal Valley of
Khuzdar
, central
Balochistan
, Hasil started his political career from Pakistan National Party (PNP) – then headed by his brother Mir Bizen Bizenjo – and was elected MNA in the 1990 elections from his home constituency. Hasil was once again elected from the same constituency as MNA in 1997 polls; this time on the ticket of Sardar Attaullah Mengal-led Balochistan National Party. However, he later joined one of the BNP splinter groups, Balochistan National Democratic Party. The party had boycotted the general elections of 2008 in protest against the Balochistan situation. Yet, in 2009, he was elected as a senator – which reflects his stature as a respected Nationalist politician. In the March 5 Senate elections, Bizenjo was reelected as senator after securing 10 votes. 
[1]
Biography Biography
Ghaus Baksh Bizenjo
Mir Ghaus Bakhsh Bizenjo was a prominent Baloch politician of Balochistan.He was born in Nal in December 1917 His father's name was Safar Khan. One of the founding members of the
National Awami Party
, He served as the Governor of Balochistan from 1972 to 1973 and was a key signatory to Pakistan's Third constitution. He was the 12th Governor of Balochistan. Mir Ghaus Bakhsh was a good
football
player and throughout his student career he had the reputation of being good at sports. 
[2]
Ghaus baksh bizenjo
Career
Mir Hasil Khan Bizenjo remained the MNA of Member Parliament from 1990 to 1992 and from 1997 to 1999. Than he became the senior Vice president of National party from 2007 to present. After the senior vice president he became General Secretary of National party from 2005 to 2008. He also became BNDP President from 1998 to 2005. Senator Mir Hasil Khan Bizenjo has traveled extensively in politically, economically and strategic important countries throughout the world, in particular, the brotherly Islamic countries for strengthening religion and socio-economic ties among the Muslim countries. He often participates in conferences and seminars related to politics and politico-economic reforms at national and international levels and shares his views with other participants. 
[3]
Career Career
Political Position
Hasil Khan was elected as a member of senate during the senate elections of 2015. His tenure ends in March 2021. He founded Balochistan National Democratic Party, which later in 2003 merged with Baloch National Movement and as the result of this merger National Party was founded; he went onto becoming the president of National Party. Currently he is associated with a number of committees of Senate, namely; Business Advisory Committee, Bipartisan Special Oversight Committee, Delegated Legislation, Gas Infra Structure Development Cess Bill, 2015, Federal Education and Professional Training, Ethics, Parliamentary Affairs, Planning Development and Reforms, Government Assurances, Senate Finance Committee and Issue of Lapse of Various Foreign Scholarships. He has also been a Member of Parliament from 1990-1993 and then 1997-1999. He currently serves as the Federal Minister for Ports and Shipping. 
[4]
political position
Views on Victory of PPP
Following the victory of Sadiq Sanjrani as the Senate chairman on Monday, National Party (NP) chief Mir Hasil Khan Bizenjo said the victory of Pakistan People's Party (PPP) led alliance proved that some forces are "more supreme" than parliament. Despite having a majority in the upper house, the Pakistan Muslim League-Nawaz (
PML-N
) failed to secure either of the top slots due to alleged political engineering by the PPP co-chairman,
Asif Ali Zardari
. Addressing the house following the election of the chairman and deputy chairman, the NP leader lambasted the
PPP
, saying: "It is not the party of
Benazir Bhutto
or
Zulfikar Ali Bhutto
that won today." "The parliament has been completely defeated. Those supreme forces have won and have shown that they can make the Parliament a market," he said, adding: "Today I am ashamed to sit here." 
[5]
Views on victory of PPP