Fatima Surayya Bajia is a bright chapter in the literary world, and her services to Urdu literature cannot be forgotten. She became very popular in the literary world as a playwright, novelist, and writer. The script of Fatima, who wrote her first novel in 14 years, was enough to make any drama a super hit. She showcased her talents in children's programs, drama, and novel writing. She is an elder sister of Anwar Maqsood and Zubaida Tariq. This article has all the information about Bajia, including Fatima Surayya Bajia Biography.
| Title | Description |
| --- | --- |
| Personal | |
| Name: | Fatima Surayya Bajia |
| In Urdu: | فاطمہ ثریا بجیا |
| Famous As: | Writer |
| Nationality: | Pakistan |
| Residence: | Karachi |
| Education: | She never attended School |
| Religion: | Islam |
| Profession: | Urdu Novelist, Playwright and Drama writer |
| Years Active: | 1960-2016 |
| Awards : | She bagged various awards |
| Born | |
| Date: | 1st September 1930 |
| Place: | Hyderabad, India |
| Family | |
| Spouse: | Married |
| Siblings : | Anwar Maqsood, Zehra Nigah, Zubaida Tariq (10 Siblings) |
| Relatives: | Saba Tariq |
| Died | |
| Date: | 10th February 2016 |
| Rest Place: | Karachi |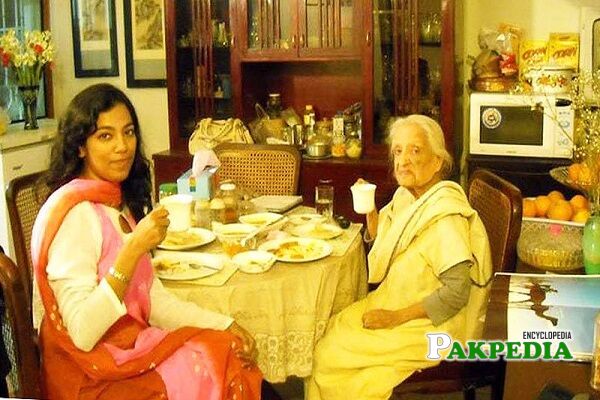 Fatima Surayya Bajia Biography
In Bajia's plays, the ups and downs of relationships and attitudes towards blood relationships described in such a beautiful way that the viewers compelled to applaud. Her ideas in drama writing centered on social issues, which is why the plays she wrote are still present in the minds of the people. In recognition of her services, she was awarded countless national awards by the Government of Pakistan, including 'Hilal Imtiaz,' and 'Pride of Performance.' Also, she was awarded the country's highest civilian honor by the Emperor of Japan for translating Japanese poetry into Pakistani languages.
Bajia date of Birth
Fatima was born on September 1, 1930, in a literary family in the Karnatak district of Hyderabad, India. After the establishment of Pakistan in 1947, her family migrated to Pakistan and settled in Karachi.
Education of Fatima
She never went to school and received her education at home, but despite this, her name included in the list of Pakistan's respected intellectuals and writers.
Fatima Surayya Bajia Family
She had ten siblings, of which she was the eldest. Death of her father and grandfather shifted the responsibility of the younger siblings on her shoulders. Her brother Anwar Maqsood is counted among the famous and talented artists of the country. Her Sister Zahra Naqvi is counted among the well known and famous poets while another sister Zubeida Tariq alias Zubeida Apa (deceased) counts among the cooking experts. Contrary to her literary career, her married life did not prove to be beautiful and golden.
Literary Career
Early Career
Bajia's arrival in the world of television was just a coincidence. When her flight to Karachi was interrupted in 1966, she went to the Islamabad PTV Center for some work there, station director Agha Nasir got her first job through acting, after which she strengthened her relationship with the company through drama.
As a Writer
Although she was unfamiliar with formal education, due to the power of the pen, her name will always be mentioned among the well-known literary figures. She chose the field of drama composition instead of any other field. The number of her novels ranged from eight to ten, but only one was published. At the age of 14, she wrote a complete 250-page novel, of which 1,000 copies were published. The rest of the novels are still unpublished today.
Also, she wrote many TV serials for Pakistan Television, the dramas of which became more popular. Her top serials are 'Aroosa,' 'Shama,' 'Anaa,' 'Zeenat,' 'Tehqeeq O Tamseel,' 'Anarkali,' 'Babar,' 'Afshan,' 'Tasveer,' 'Sasi Panun,' 'Ghar Ek Nagar,' and 'Arzoo.' Another service she did for Urdu was to introduce Japanese-style poetry in Pakistani languages, for which she chose Japanese-style poetry, Haiku, and Wakala.
As a Host
She has also hosted several programs on Radio Pakistan and Pakistan Television. These programs became very popular.
List of Programs
She presented the literary program 'Oraaq' on Pakistan Television, which played an important role in influencing the readers' concept about the meaning of life and raising positive awareness about living issues. Keeping in view the interests of the children, she presented several useful programs in the light of child psychology. Women, in general, have a keen interest in adorning themselves. To satisfy their tastes, she organized a program called 'Araish Khum O Kakal,' which was very popular among women.
Fatima Surayya Bajia Death
Bajia passed away on February 10, 2016, in Karachi due to throat cancer. Her demise is a significant national loss that will not be compensated for centuries.
Fatima Surayya Dramas
Shamaa
Afshan
Aroosaa
Tasveer
Zenat
Anaa
Aagahii
Aabgeenaay
Babar
Tareekh O Tamsel
Ghar Aik Nagarr
Faraz Aik Qarz
Phool Raahi Sarson
Tasveer E Kainat
Asavaari
Arzo
Sassi Panno
Anaarkali
Oraaq
Jissay Piyaa Chahay
Social Media Handles
Her social media account includes