MMA Bashir
Win Gold Medal
During Boxing
at Leisure Club
Samchoi
Early Life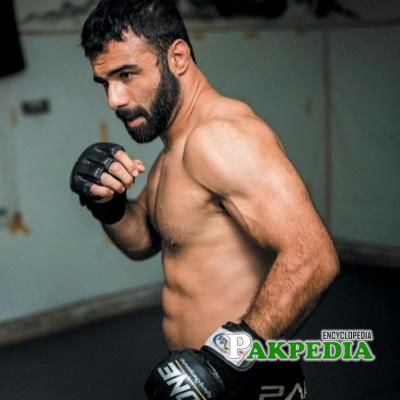 Bashir Ahmad was born in the city of
Faisalabad
in Punjab, Pakistan, but moved to Great Falls, Virginia, United States, with his parents when he was three years old. In 2002, he pursued a career in the U.S. military, joining the Virginia National Guard. In 2004, he was deployed to Iraq when the war broke out. He was stationed in Mosul, working as a U.S. Army medic in a team that disarmed explosives. Ahmad started training in Brazilian jiu-jitsu around 2005, when the boom of MMA was taking place in North America. He came to Lahore, Pakistan in 2007 with the aim of promoting MMA in his native country. After training local kids jiu jitsu for some time, he went to Thailand for a year to train in Muay Thai. On his return to
Pakistan
in 2009, he set up a small MMA training gym in his own apartment. The apartment was so filthy that he named it 'The Slaughterhouse'. In 2012, Ahmad opened a proper gym named "Synergy MMA Academy" in Lahore which has grown to become one of the biggest gyms in the country. 
[1]
Early Life
Background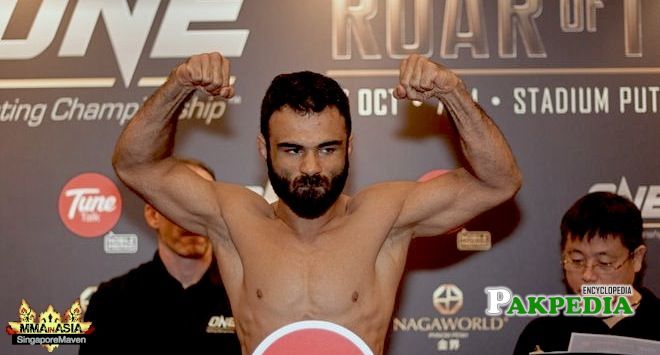 Pakistan-born Muslim Bashir Ahmad moved to the U.S. at the age of two, Ahmad served in the American forces during the Iraq war in 2004 .The scene which would witness the birth of his Mixed Martial Arts career.Ahmad joined the National Guard in 2002 after listening to a recruitment talk at his college. He decided to live by his mantra that he did not want to wake up one day and wonder.
[2]
Background of Bashir
he always had an inclination towards the rough, tough, stuff. As a child, his family would find him outside with an air-gun hoping to shoot birds. "I signed up for the army because I was one of those boys who romanticised the idea of soldiers and war." He was stationed in Iraq from 2004 to 2005 as a firefighter and says he is thankful of the experience. "It shaped me as a man. I learned so much about the nature of humanity, the good and the bad, the beautiful and the extremely ugly. In war, kindness and cruelty become amplified." In emotional terms, Ahmad admits that his year-long experience serving against the War on Terror was more difficult. "It made me realise my true separateness from American society," he says. It was during this time that Ahmad discovered boxing. "Muhammad Ali was my hero," he says. "And then I read a lot about hand-to-hand combat, self-defence and that led to martial arts. The 'way of the warrior' philosophy fit in really well with my circumstances." 
[3]
Interests in Army
MMA Academy
The Synergy MMA Academy in
Lahore
came into being in 2009. Ahmad planned on going back to the United States after setting the gym in motion, but the weeks quickly turned into four years and he has plenty of activities to keep him there for the foreseeable future. Apart from training students at his gym, Ahmad also heads an organisation that promotes MMA in Pakistan. Founded in 2007, Mixed Martial Arts Pakistan (also known as Pak MMA) has brought MMA to the forefront thanks to its popular Facebook page and regular events in association with ONE FC. So far they have hosted Pakistan's first Brazilian ju-jitsu seminar in 2010 and the country's first MMA event, Pakistan Warrior Challenge. They've also helped organise South Asia's first MMA event in Pakistan in 2012, at the 10,000-seat Punjab Stadium in Lahore. 
[4]
MMA's Dream 
Sting Challenge
In a response to former world champion
Amir Khan
's ongoing call to action for anyone to take him on, top Pakistani Mixed Martial Arts star Bashir Ahmad has  publicly challenged Amir Khan to a fight.Amir, who has invited anyone to take him on with the Sting Challenge, is yet to accept or deny the challenge. Amir Iqbal Khan is a professional Boxer. 
[5]
Amir vs MMA
Bashir Ahmad vs Amir Khan
In February 2017, Pakistan-American Mixed Martial Artist (MMA) Bashir Ahmad, also called the "God-father of Mixed Martial Arts in Pakistan" has challenged Amir for a duel in the Octagon.  
Bashir in a post on Facebook said to Amir , 
"I have a #StingChallenge for Amir Khan I know he wants to fight in #MMA and take on @thenotoriousmma Conor McGregor! Why not have match with me first? It can be the Pakistani version of Mayweather vs McGregor. Let's challenge you with something that the Pakistani fans will be crazy to see ". 
[6]
Challenge to Amir
Championship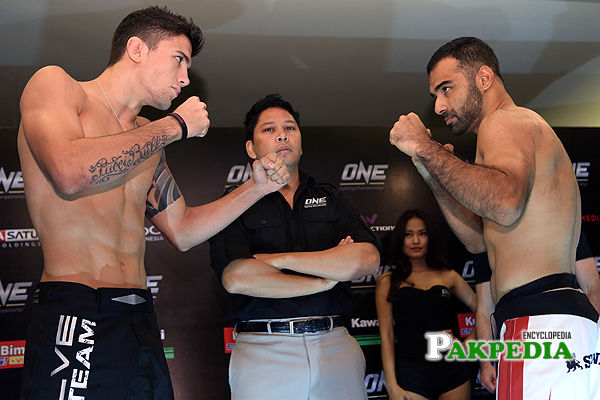 Bashir Ahmad competed in the 85 kg weight class of the expert division at the Bangkok Jiu-Jitsu Championships and emerged victorious winning a gold medal for Pakistan. Speaking to his fans through his Facebook page, Ahmad jokingly said that he now deserves a plot of land from the government of Pakistan and a direct meeting with the Prime Minister of Pakistan. All I ask for is for some government support! A plot of land, a meeting with the Prime Minister and my own TV show where I talk about that time I won a gold medal for 3 seasons! If there is any money left over from the education or welfare budget, you should give it to me too! Extensive media coverage is expected of course. Bashir Ahmad said that he loves his country and wants to put it in the right direction and honor the sacrifices of the real heroes of Pakistan such as the martyred soldiers who died 3 years ago defending the people.  Bashir Ahmad has won gold for Pakistan for the third time in 3 consecutive seasons. His dream has always been to make MMA a mainstream sport in Pakistan. Since 2009, he moved from the U.S to Pakistan to make his dream a reality. He has already opened a club where he teaches MMA to the youth of Pakistan. 
[7]
Third Medal
Records
Professional Record BreakDown
Res.
Record
Opponent
Method
Event
Date
Round
Time
Location
Notes
Win
4-3
Mahmoud Mohamed
Submission (heel hook)
ONE Fighting Championship: State of Warriors
October 7, 2016
1
1:23
Yangon, Myanmar
Loss
3-3
Jimmy Yabo
KO (Punch)
ONE Fighting Championship: Tribe of Warriors
February 20, 2016
1
0:21
Jakarta, Indonesia
Loss
3-2
Amir Khan Ansari
TKO (Doctor's Stoppage)
ONE Fighting Championship: Valor of Champions
April 24, 2015
3
3:20
Pasay, Philippines
Win
3-1
Tanaphong Khunhankaew
Submission (rear-naked choke)
ONE Fighting Championship: Roar of Tigers
October 17, 2014
1
4:38
Kuala Lumpur, Malaysia
Loss
2-1
Bruno Pucci
Submission (rear-naked choke)
ONE Fighting Championship: Champions & Warriors
September 13, 2013
1
3:13
Jakarta, Indonesia
Win
2-0
Shannon Wiratchai
Decision (Unanimous)
ONE Fighting Championship: Kings and Champions
April 5, 2013
3
5:00
Kallang, Singapore
Win
1-0
Mohammad Arshad
Submission (rear-naked choke)
Pak Fight Club - PFC 2
April 14, 2012
1
0:26
Lahore , Pakistan