Asif Iqbal Razvi is Pakistan's cricket team's former captain who had a very successful and renowned cricket career. Asif was good at all three departments of cricket. His vital skills were his batting, but he would also bowl during matches and was an excellent fielder. He led the national team in the first two world cups and got them through to the semi-final in the second World Cup. He also remained the captain of his county team Kent. After the retirement from cricket, Asif worked as a cricket match referee. This article has all the information about him, including Asif Iqbal Razvi Biography.
| Title | Description |
| --- | --- |
| Personal | |
| Name: | Asif Iqbal Razvi |
| In Urdu: | عاصف اقبال رضوی |
| Famous As: | Jimmy |
| Nationality: | Pakistan |
| Residence: | Hyderabad, British India |
| Education: | Graduation |
| Alma Mater: | S.M College Karachi |
| Religion: | Islam |
| Profession: | Cricketer |
| Height: | 1.75 m (5 ft 9 in) |
| Born | |
| Date: | 6th June 1943 |
| Place: | Hyderabad, British India |
| Family | |
| Spouse: | Married |
| Children: | Shammi Iqbal |
| Parents: | Majeed Rizvi |
| Career | |
| National Side: | Pakistan |
| Team Role: | All-rounder |
| Bowling Style: | Right arm medium |
| Batting Style: | Right-handed |
| Matches: | 58 in Tests, 10 in ODI |
| Wickets : | 53 in Tests, 16 in ODI |
| Bowling Average: | 28.33 in Tests, 23.62 in ODI |
| Batting Average: | 38.85 in Tests, 55.00 in ODI |
| 5 wickets in Innings : | 2 in Tests, 0 in ODI |
| Best Bowling: | 5/48 in Tests, 4/56 in ODI |
| Test Debut: | 24 October 1964 v Australia |
| Test Last: | 29 January 1980 v India |
| ODI Debut: | 11 February 1973 v New Zealand |
| ODI Last: | 20 June 1979 v West Indies |
| Top Score: | 175 in Tests, 62 in ODI |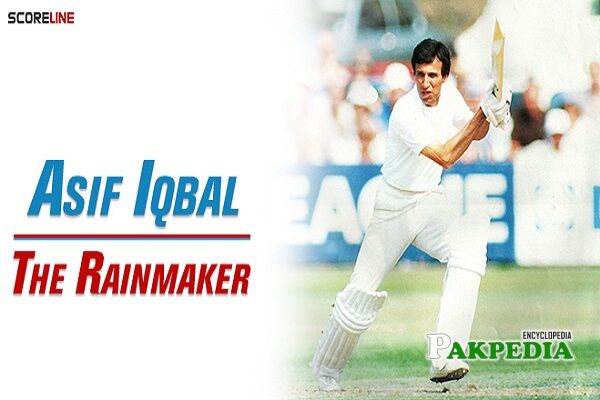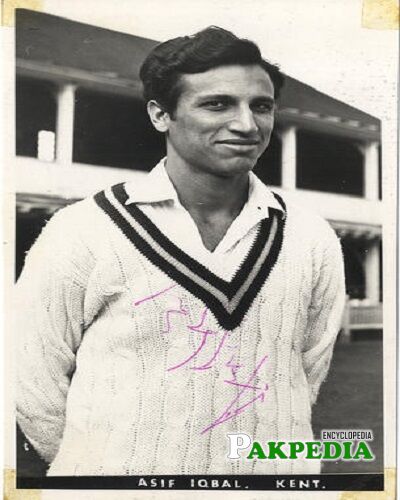 Asif Iqbal Razvi Biography
Asif represented the Pakistan cricket team in 58 test matches as well as in 10 One Day Internationals. He finished his career with remarkable stats and bright colors. In his 99 Test innings, he made an impressive total of 3575 runs at an excellent average of 38.85. It included 11 centuries and 12 half-centuries with a best of 175 runs in an innings. While with the ball, he managed to take 53 test wickets at an average of 28.33, including a couple of fifers. His best bowling figures in the most extended form of cricket are 5/48.
He had a short ODI career, but his stats are very impressive, as he made 330 runs in the limited-overs format at a batting average of 55. He registered five fifties with the highest score of 62 in this form of cricket. With his swinging medium pace bowling, Asif claimed 16 wickets, averaging at 23.62. His best ODI bowling figures are 4/56.
Asif date of Birth
He was born on 6th June 1943 at Hyderabad, India.
Education of Asif
Asif got his early education from Madrasah e Aaliyah School, Hyderabad (India), and then studied at Osmania University Hyderabad. Afterward, he came to Pakistan and graduated at S.M college Karachi, Sindh. He is a graduate in History and Economics.
Asif Iqbal Razvi Family
Asif had a cricketing background as many of his family members had played professional cricket. His father, Majeed Rizvi, played for the Indian team. He was only about six months old when he lost his father. One of his uncle Ghulam Ahmed who was a former Indian cricket team captain and Off-Spinner, made Asif take an interest in cricket. He used to say to his mother that he would earn his livings from cricket, and he did not only earned a living but a lot of respect and fame too.
Cricket Career
Initial Career
Asif Iqbal used to play cricket from his childhood as he belonged to a cricketing family. In 1959-60 he made his first-class debut, and after playing first-class cricket for many years, he made his first List-A appearance in 1968.
Domestic Career
Asif had a long-lasting domestic cricket career to his name, which made him make many records and achievements. He played domestic cricket from 1959-1982. Besides playing for India and Pakistan, he also appeared in many English county matches. The teams for which Asif played domestic cricket include Hyderabad (India, Pakistan International Airlines, Karachi, National Bank of Pakistan, and Kent.
He featured in a total of 440 first-class games and scored a massive sum of 23329 runs at an impressive average of 37.26. While he also registered 45 hundred in 701 first-class innings. In that span of his career, he also took 291 wickets with a bowling average of 30.15, including five fifers. With the field, he took 303 catches. Asif also appeared in 259 List-A matches where he made 5989 runs and received a total of 126 wickets at an average of 27.98 and 25.96 with bat and ball, respectively.
His English county stats for Kent are also worth mentioning. He played for Kent till 1982, helping them win the champions league after 57 years of wait and also captained the side.
International Career and Achievements
His international career has many good memories. He made his test debut against Australia at Karachi on 24th October 1964. He came to bat at number 10 in the first innings and made 41 runs, then he was promoted to number 3 in the second innings and scored 36 runs. After a few matches, he scored his first test century in 1967 playing against England. Then in the third match of the series, Pakistan was 65/8, then Asif stood firm and made superb innings of 146 runs to avoid his team an innings defeat at the hands of England.
In 1976-77 series against Australia Asif played outstanding innings of 152 runs, taking his team from 298/6 to 466 runs total. In that innings, he made a partnership of 81 runs with number 11 Iqbal Qasim, who just scored four runs, this saved the match for Pakistan. In the same series, Asif scored an innings of 120 runs, and Pakistan came as glorious in the game. In 1968 he, along with late Hanif Muhammad, named "Wisden Cricketer of the year''.
Asif Iqbal Razvi led the side in Pakistan's first "Away" series from home in 1972-73. In that series, he made a fantastic 175 runs innings and formed a partnership of 360 runs alongside Mushtaq Muhammad for the 4th Wicket to seal the glory against New-Zealand's team. During the last days of international cricket, he made two beautiful hundreds against Australia. In his last test, he scored a magnificent Century to leave cricket at a brighter note.