Aqeel khan after winning champion trophy
Aisam ul haq while embracing aqeel khan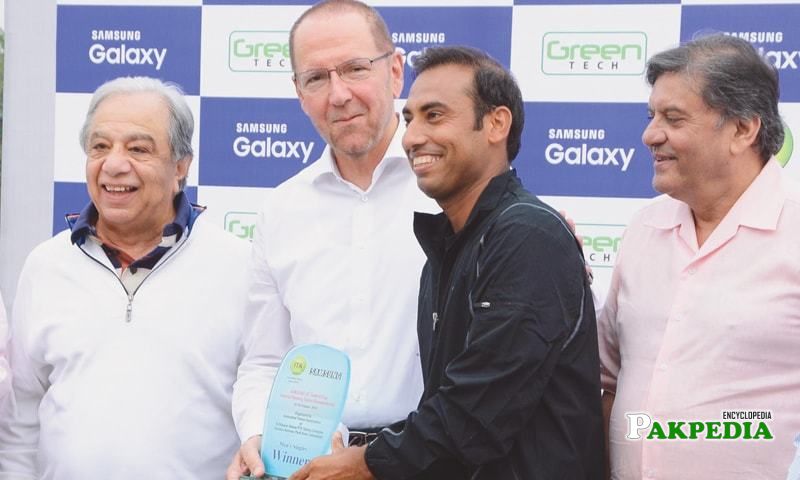 While awarding aqeel khan winning shield
No 1 tennis champian aqeel khan
Aqeel khan while rehearsing for his match
Biography
Whenever we talk about  tennis in Pakistan, the first name that comes in our mind is Aisam-ul-Haq Qureshi as people had seen him playing the final of US Open five years back and he gets all the media attention. But not many people know that there is some individual named Aqeel Khan too, who has contributed equally for Pakistan Tennis. He was born on 30th January 1980 in Karachi Pakistan to a Pakistani coach Jamil Khan having 2 siblings who are also in sports field name Jalil khan and Yasir khan. Aqeel is around 36 years old now and most of the Tennis players take retirement at this age, but he still beats all the youngsters easily.
Education
He did his matriculation in 1997 and than he did his inter in commerce in 2000. Having worked as part of a team on several occasions, works well under pressure and against deadlines. Considers himself to be a good listener and communicate well with other people. In 2012 he did ITF Level 1 Coaching Course and in 2013 he did GPTCA B-Level International Coach. 
[1]
Education Education
Career
Aqeel Khan has contributed equally for Pakistan Tennis Tennis, in fact he has played more Davis Cup ties for Pakistan than any other player. Aqeel has played 45 ties and has represented Pakistan every year since 1998. In 2003 and 2004 his performance remained consistent.Plus his  contribution was very handy along with Aisam as Pakistan reached the World Group Playoffs in 2005 after beating Thailand and Chinese Taipei. He almost caused the big upset against India in the decider in 2006. It would be unfair with Aqeel if it is not mentioned that he has been the King of Pakistan Tennis in national tournaments as he has lost less than 10 matches in last 15 years in national tournaments of Pakistan. Many players have come and gone but could not challenge his dominance. 
[2]
Career Career
Career Highlights
2011 - 2012
Sri Lankan Davis Cup Team – Coach & Hitting Partner
Hitting Partner to the players on the team
Provided the relevant levels of coaching and exercise drills to the players
Helped the Head coach to make the selections for the players for the relevant matches
Provided the analysis after the matches helping the coach to make the appropriate changes
April 2012 - November 2012
Pakistan Davis Cup Team – Temporary Head Coach/Senior Player
Provided training to the junior and newly selected players on the Team
Constructed the appropriate training schedules and implemented them with help from my assistant
Selected the Players for each match on the tie
Constructed the analysis and provided to the higher authorities of the Pakistan Tennis Federation after the tie
August 2007 - July 2011
Modern Club Tennis Academy,
Karachi
, Pakistan – Head Coach
Coached all kinds of players
Organized camps 
Helped the Administrators of the academy, coordinating with potential sponsors to set up tournaments at the Academy
Conducted practice tournaments
Travelled with the team abroad
Coaching Career 2011
The Davis Cup team was promoted to Group 2 from Group 3, under his coaching Coached Yasir Khan, current Pakistan #2 player and Davis Cup team member, and Jaleel Khan, former Pakistan #2 and Davis Cup team member.
1998 - 2014
Part of the Pakistan Davis Cup Team for the last 16 years
Won deciding 5th rubbers to promote Pakistan Davis Cup from group 2 to group 1 
Won deciding 5th matches against New Zealand (2004, 2005), to promote Pakistan from Group 1 to World Group play off matches for the first time in history of Pakistani tennis.
1999 - 2013
Longest ever Pakistani #1 in Singles & Doubles.
1998 - 2010
Represented Pakistan in 4 Asian Games.
2004 - 2009
Reached Career high ATP ranking (singles) of #349 Represented the country at international competitions, winning 3 ITF Futures and 2 ITF Satellite tournaments.
2005
Represented Pakistan in the Islamic Solidarity Games. The team won the gold medal (Individual Doubles Gold Medal & Individual Singles Bronze Medal). 
[3]
Career highlight
Titles
| | |
| --- | --- |
|  Single Titles |   |
|  2007 |   |
|  2004 |  India F8 Futures (H); Pakistan F2 Futures (G) |
|  Double Titles |   |
|  2017 |  Pakistan F1 Futures (CL) - w/S. KHAN; Pakistan F2 Futures (CL) - w/S. KHAN |
[4]
Titles Titles
Honda Cup Tennis
Pakistan number one tennis player Aqeel Khan won the All Pakistan Honda Cup Tennis Championship in 2016 at the K21 Model Town Club. Aqeel beat his younger brother Jalil khan and Davis Cup team-mate Jalil Khan 6-2, 4-6, 6-3. After winning the toss, Aqeel who is very well known for his excellent first serve with above 60 per cent showed his skill in the entire match, especially in the inaugural set. Aqeel was awarded Honda Motor Bike as a winning prize while Jaleel received Rs 30,000 cash price for runner up position. Sayed Dilawar Abbas, Senator and president Pakistan Tennis Federation was the chief guest. Naseer Bhutta MNA, Wadood Butt Marketing Head Atlas Honda , Sidiqui Manager Director MAKRO, Rao Akbar Latif President K-21 Club and M. Mujahid Qureshi Patron K21 club were also present at this occasion. 
[5]
Honda cup tennis