Nida Yasir wedding pic
Nida Yasir with family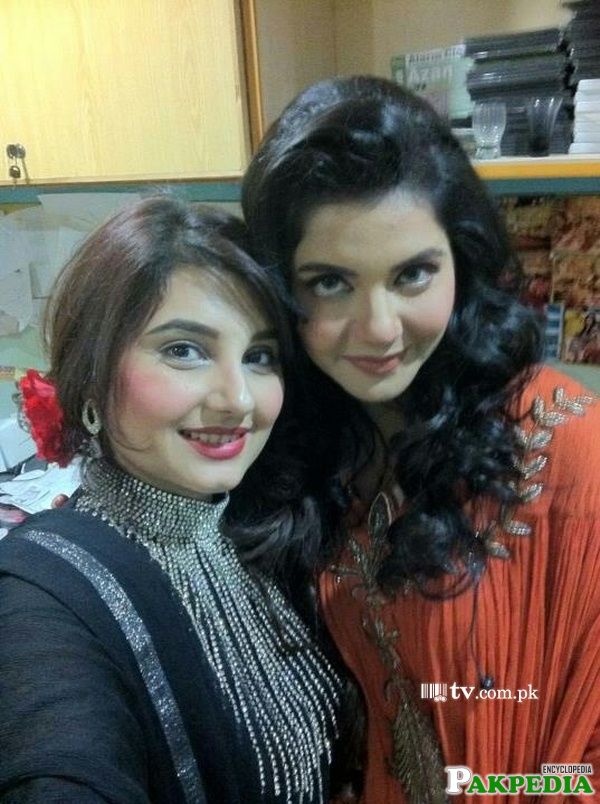 Javeria saud with nida yasir
Fatima Effendi and Kanwar Arsalan at Nida Yasir Programme
chai wala in Nida yasir show
Early Life
Nida has spent her early childhood in Karachi. She has seen acting, hosting all these things from very near as her father is one of the famous directors of our media industry. She has much respect in media industry. She has got all the support from her parents throughout her life. Once in an interview she reveals that my parents have never asked me to do what they want. They have always advised me to work hard and give my 100 percent, whatever work I do. She also told that most of her childhood has spent in studios as she used to visit   drama sets with her. She has also learnt many things from there.
[2]
Earlly life timepass.com
Nida Yasirs Personal life parents and siblings
In real life nida is patriotic Pakistani and always want to work on projects that highlight the positive name of Pakistan in the world. She is daughter of famous and legendary Pakistani actor and director Kazim Pasha. Nida yasir has only one sister and one borther in siblings i.e. Sawera Pasha and Talha pasha respectively. Swera pasha is also ex actress of Pakistan television industry but said good bye to this glamorous world after her marriage.
[3]
Nida yasir parents and siblings style.pk
Nida Yasir Marriage children
At the very starting of her acting career, Nida yasir got proposed by famous Pakistan actor and director "Yasir Nawaz". Nida took some time in thinking about the proposal and later in nodded for it.  In 2002, Nida yasir got married to Yasir nawaz in a lavish wedding ceremony. Even after 12 years of her marriage she is living very happily with her husband and now blessed with 3 children. She has got one daughter and two sons.
[4]
Nida Yasir marriage style.pk
Career in Dramas
Nida has worked in all fields of showbiz. Her work in dramas is admired by people very much. She has worked in limited dramas. Details of her acting in dramas are as follow
Hum Tum as Saima
Jannat
Nadaaniyan
Ahista Ahista
Career as Model
She has done modeling too. She has started her career back in 2000. But she has made herself super fit and healthy. She has the best figure in showbiz industry even at this age. She has privilege to walk on ramp for all the leading brands of Pakistan and earned huge praise. She wore clothes of all famous designers such as Deepak Parwani, Hasan Shehryar Yasin, Freiha Altaf, Imran Qureshi etc.
[5]
Career as model timepass.com
Career as Producer
After some time of her marriage, she has decided to make her name in production. She has produced many hit drama serials including comedy plays as well. She once reveals in an interview that she has taken this step to help industry as it is going through revival. In 2015 the most awaited movie was Wrong Number and very less people are known of fact that Nida was producer of movie along her husband Yasir. Film was a good hit. Nida has produced following projects
Wrong Number (Movie)
Hum Tum (Drama)
Baal Baal Bach Gaey (Drama)
Nadaaniyaan (Drama)
Awards
Nida is an exceptional host for that she has won award as well: 2012 Pakistan Media Award Best Morning Show Host Good Morning Pakistan Nida Yasir is doing so much in showbiz right now .
[6]
Awards Stylee.pk