With Zulfiqar Ali bhutto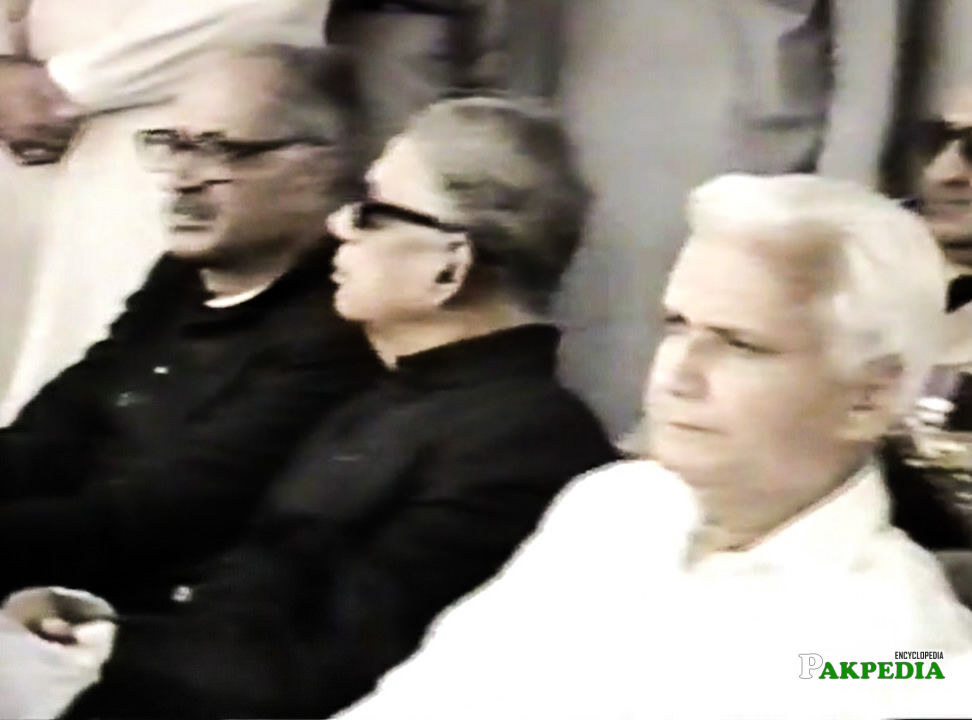 Chief Justice Haleem and Air Chief Marshal Zulfiqar Ali Khan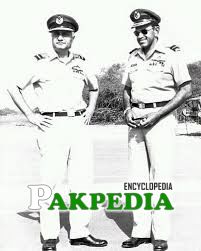 Air Chief Marshal Zulfiqar Ali Khan with Air Marshal Azim Daudpota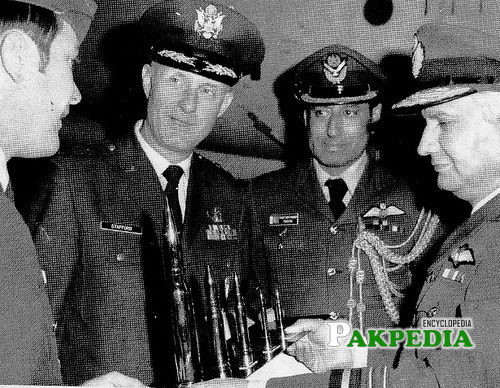 Air Chief Marshal Zulfiqar Ali Khan and General Stafford at the Edwards Base
Zulfiqar Ali Khan
Biography
Zulfiqar Ali khan was a four-star air officer who commanded the Pakistan Air Force as its Chief of Air Staff from April 1974 to July 1978. Z. A. Khan was the first four-star rank air officer of the Air Force, and as well as first Chief of Air Staff. He later served as Pakistan's ambassador to the United States during the first Benazir Bhutto government from July 1989 to September 1990. born in Lahore, was educated at Military College Jhelum (College No.1371) where he received his Sc.B. in Military science. He was then commissioned in the 7th GD(P) Course on 21 December 1950. He was the first graduate of Pakistan Air Force Academy, Risalpur, to have reached the highest appointment in the PAF.
[1]
Biography Biography
Chief Of Air Staff
In 1974, Air-Cdre. (Brig.) Zulfiqar Ali Khan was promoted as Air Vice Marshal (Major-General) in the Air Force, and was appointed as Deputy Chief of Air Staff of Aerial Planning (DCAS(P)) at the Air AHQ in
Islamabad
but was later posted as Director-General of Air Operations (DGAO). On 14 April 1974, AVM (Maj-Gen.) Zulfiqar Ali Khan was surprisingly appointed second Chief of Air Staff to take over the command of the Air Force as an Air-Marshal (Lieutenant-General). In 1975, he helped established the Northern Air Command based in PAF Base Kalabagh, oversaw the induction of MiG-15 as jet trainer, establishment of the Air Defence Command, and provided his support to rebuilt Mirage III aircraft at the Pakistan Aeronautical Complex. On 1 January 1976, Air-Mshl. Lt-Gen.) Khan was elevated and promoted to four-star rank, Air Chief Marshal (General), becoming the first four-star rank air force general in the Pakistan Air Force. ACM (Gen.) Zulfiqar Ali Khan was then made senior member of the Joint Chiefs of Staff Committee, and honored with the MI(M) for meritorious services. During this same time, ACM (Gen.). 
[2]
Chief of Air staff
Staff Appointments
At the Air Headquarters, Zulfiqar Ali Khan stayed as Director of Operations and Director of Plans before being nominated as Chief of Air Staff of Pakistan Air Force. He then served as Deputy Chief of Air Staff in 1974. He was promoted to four-star general officer, and was made Air Chief Marshal in 1974. He was promoted quickly as when the previous chief Air Marshal Zafar Chaudhry was forced to resign by then Prime Minister
Zulfikar Ali Bhutto
. Zulfiqar Ali Khan, then an Air Marshal was promoted to Air Chief Marshal in March 1976, when Joint Chiefs of Staff Committee was newly created and defence ministry was reorganized. He was awarded Nishan-e-Imtiaz (Military) for his meritorious services. 
1974 April 16 - Air Marshal Zulfiqar Ali Khan becomes the first graduate of PAF Academy, Risalpur to take over as Chief of the Air Staff.
1975 March 31 - PAF Base Kalabagh established.
1975 April 28 - Chinese FT-5 (modified Mig-15) trainer aircraft inducted.
1975 July 15 - Air Defence Command (ADC) established.
1975 November 10 - Aircraft Manufacturing Factory (AMF) inaugurated at Kamra.
1976 May 5 - Combat Commanders' School (CCS) established at Sargodha.
1977 September 19 - Shaheen Foundation established.
Death
Former Chief of the Air Staff Zulfiqar Ali Khan was laid to rest at H-8 graveyard on 8th March with full military honors. Besides his family members, the funeral was attended by Chairman Senate, Mohammed mian
Soomro
, Vice Chief of Army Staff, General Ahsan Saleem Hayat, Acting Chief of Air Staff, Air Marshal, Tanveer Mehmood Ahmed along with a large number of civil and military high officials. Air Chief Marshal (late) suffered a heart attack at his residence and was taken to the PAF hospital, but the doctor pronounced him dead at about 8:30 pm. 
[3]
Death Death