Ziarat (Urdu: زیارت ) the capital of Ziarat District,  Balochistan  Province,  Pakistan . It is a holiday resort, is about 130 km from the capital city of  Balochistan province  Quetta . The famous Quaid-e-Azam Residency is also there in the valley, where our Quaid spent few of his most memorable days. Tourists from all over  Balochistan  and also from  Sindh  province vists the valley in the harsh summers. It's overall cold weather, fascinating sceneries, lush green forests and mighty mountains attracts tourists of all kinds .[1] About Ziarat – History The hill station is easily accessible from Quetta through a Highway. While accessing it from Loralai is little difficult due to bad road conditions. The third way of accessing the valley is through Harnai District although it is pretty dangerous near Dumiara waterfall.
Frontier Corps Resthouse
Governor House
Panther Lodge (Army)
Juniper Lodge (Army)
Quaid-e-Azam Residency
Commissioner House
| Title | Description |
| --- | --- |
| Information | |
| Location: | Pakistan |
| Type: | Capital of Ziarat District, Balochistan Province, Pakistan |
| Local Language Name: | زیارت |
| Province: | Balochistan |
| Coordinates : | 30.3810°N 67.7270°E |
| District: | Ziarat District |
| Website: | http://web.archive.org/web/20060508191252/http://www.bdd.sdnpk.org:80/ziarat.html |
| Region: | Balochistan |
| First settled: | July 1986 |
| Elevation: | 2,543 m (8,343 ft) |
| Language | |
| Official Language: | Urdu |
| Native Language: | Balochi |
| Other Languages: | Urdu,Balochi,English |
| Government | |
| Government Type: | Govt of Pakistan |
| Area | |
| Total Area: | 926 km2 (358 sq mi) |
| Population | |
| Total Population: | 10,000 |
| Time zone | |
| Time zone: | PST (UTC+5) |
| Codes | |
| Postal code: | 96000 |
| Dialing code: | 0833 |
| Vehicle registration: | Three letters beginning with Z and random four numbers |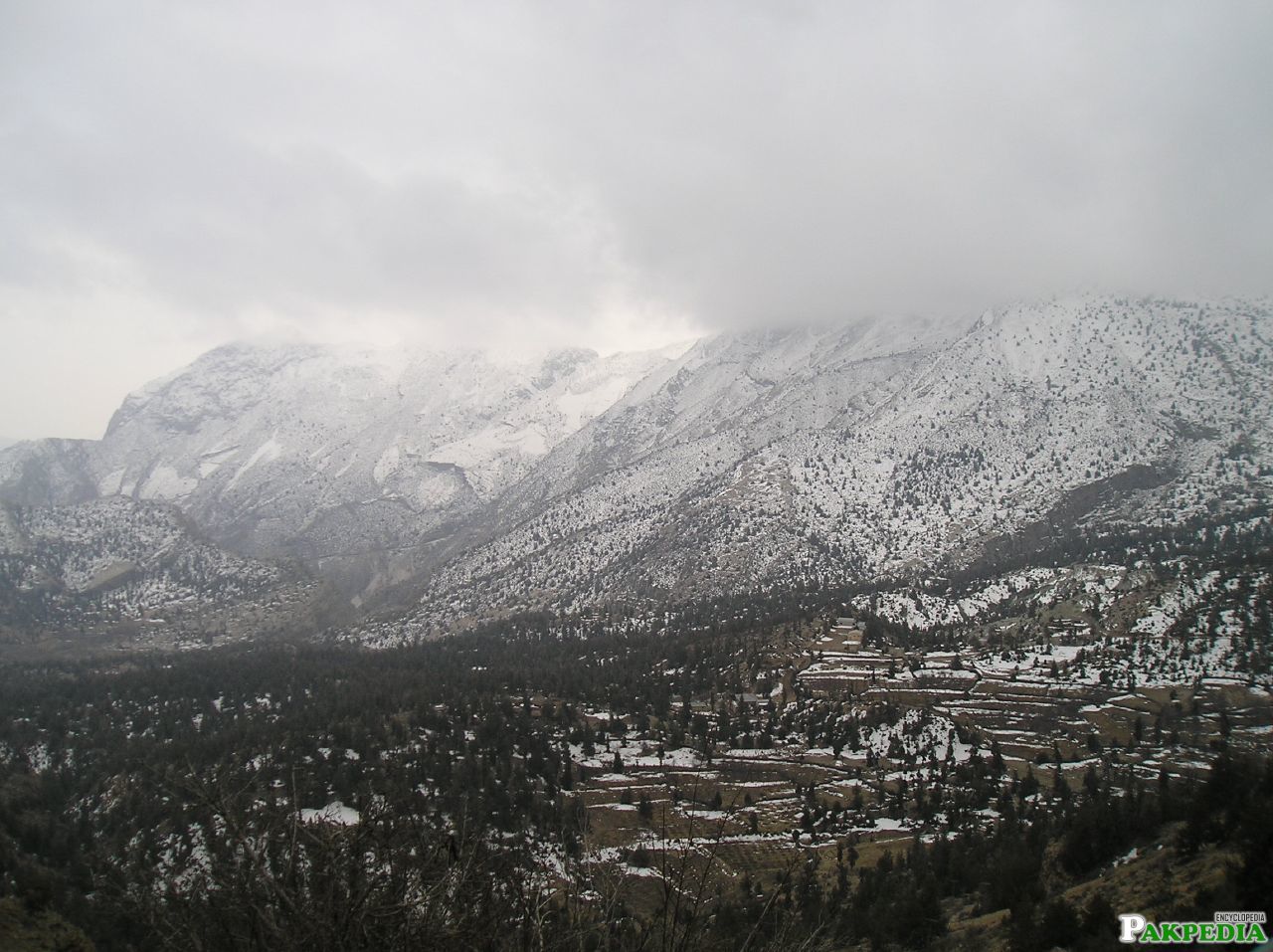 About
History
Pakistans largest juniper forest is located in this reserve. The ecosystem is of inestimable value for biodiversity conservation. It is also of great ecological significance, providing local, regional, and global benefits.The biosphere reserve is home to the largest area of juniper forest (Juniperus excelsa) in  Pakistan , covering about 110,000 hectares. It is believed that the forest is the second largest of its kind in the world[2] Ziarat Juniper – Forest The juniper species found there are of global significance because of their advanced age and slow growth rate. In fact, the junipers of Ziarat are among the oldest living trees in the world. Although no dendrological study has yet been conducted, according to one estimate, the age of a mature tree in Ziarat can exceed 5,000 years. Local people refer to the trees as "living fossils". Their remarkable longevity allows research on past weather conditions in the region, making the species of particular significance for studies on climate change and ecology.The juniper forest ecosystem of Ziarat provides a habitat for endangered wildlife species and supports a rich variety of plant species. Because of the ecosystem's biodiversity, various parts of it have been designated protected areas, including wildlife sanctuaries and game reserves. The mountain ranges, including the Khilafat Hills, consist of a core habitat that reportedly[3] WWF. Retrieved – 26 hosts several globally important wild species, among them markhors, urials, black bears and wolves. The forest also serves as a habitat for a number of other animals: Afghan pikas, foxes, jackals and several species of migratory birds. However, anthropological factors such as illegal hunting, human habitations and livestock grazing have encroached on the wildlife habitats, leading to their fragmentation. The human population, distributed across various sub-tribes and clans, is concentrated in valleys, although small settlements are visible on mountain slopes. There are over 100,000 people living within or in close proximity to the biosphere reserve, most of whom are agropastoralists. Almost 40 percent of the population migrates for three to four months during the winter to abodes in Harnai.
Tourist Points
Ziarat and the surrounding juniper valleys offer good opportunities for hiking and trekking, as well as various gorges. The city is also becoming popular for a taste of snowfall during the winter.Ziarat is the location of the Ziarat residency where Jinnah spent the last days of his life. The residency, constructed in 1892, is a wooden structure with great architectural importance. It was originally meant to be a sanatorium, but was converted into the summer residence of the Agent of the Governor General. It is now a national monument. The residency catches tourists' attention because of its location and hilly surroundings.There is a small dam, and the valley is full of fruits: cherry in summer and apple in winter. Between the hills and the deep ravine, there is a mile-long stretch of flat land ideal for walking. This is the Chashma Walk, which leads to the spring, or chashma", that provides water for the town.Sandman Tangi, 4 km from Ziarat, features a dramatic waterfall, and about 13 km from the city is Dumiara, another waterfall. The Chutair Valley is about a 30-minute drive from Ziarat. Inhabitants of the valley live in huts made from juniper bark, distinct from the homes in other villages.[4] Tourist points – ziarat
Shrines
The shrine of Nau Gaza Baba, surrounded by large graveyards, is 1 km from the town of Ziarat. Nau Gaza Baba, whose real name was Kareemdad Khan, was the chief of the Essakhail Sanerzai tribe. Legend holds that when he died, his body grew by nine (nau) yards (gaz), so people started to call him Nau Gaza Baba. Many miracles are attributed to him. He had disciples from the Tareen, Pechi, Syed, and Wanechi tribes, and many people visit the shrine to pray.The shrine of Baba Kharwari, a member of the Sarangzai tribe named Tahir, is 8 km from the town. He was a disciple of Nana Sahib, and a number of miracles are attributed to him. Many people visit . Baba Khrwari from Prospect Point his shrine and offer sacrifices in his memory. During the Eid festival, tribesmen gather around the shrine and hold wrestling and marksmanship competitions.
Others
Hotels
Hotels in Ziarat include the PTDC Motel, Shalimar Hotel, Green Juniper Hotel, Paradise Hotel, and Classic Hotel. The PTDC Motel is situated in the heart of the town. Shalimar Hotel is the major commercial accommodation in Ziarat, and the only place that remains open year-round, even in the harsh winters. Shalimar and PTDC are both on the main road, but in opposite corners of the city; the Shalimar Hotel is at the entrance to the city when coming from  Quetta . The Green Juniper Hotel has a restaurant on the mountain, on the side of the valley road, from which the whole city can be seen.[5] tourist points – hotels
Earthquake
On 29 October 2008, at around 4 am, Ziarat and surrounding areas were struck by an earthquake doublet. The first tremor, 6.2 magnitude, lasted a couple of seconds, and was followed by a magnitude-6.4 tremor that lasted almost 30 seconds, destroying many mud houses and several government buildings.
Neighbouring villages were also badly affected by the earthquake. More than 200 people were killed, and over 50,000 were left homeless. Landslides cut off many roads, making the area less accessible to emergency responders. Pakistani military helicopters were used to reach mountainous and remote locations. Aftershocks were felt in the city of Quetta, causing widespread alarm. The rescue and relief squad of the Chiltan Adventurers Association Balochistan, sponsored by  Pakistan  Customs  Quetta , distributed relief goods to remote areas; the same squad had worked with a Chinese search and rescue team after the 2005 Kashmir earthquake, which killed over 75,000 people.[6] Earthquake – ziarat