Zia-Ul-Haq in Conferece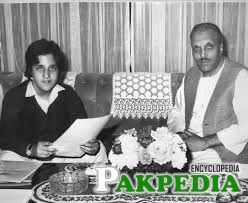 General with his Son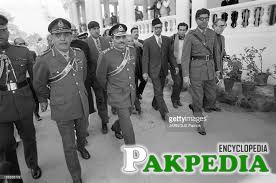 General with Soldiers
General in price distribution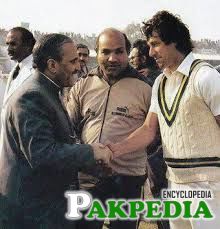 General with Pakisatn  Cricket player
Education
After receiving his early education from Government High School Simla, he did his B. A. Honors from St. Stephen College, Delhi. He was commissioned in the British Army in 1943 and served in Burma, Malaya and Indonesia during World War II. When the war was over, he decided to join the armored corps. At the time of Independence, like most of the Muslim officers in the British Army, Zia-ul-Haq opted to join the Pakistan Army. As a Major he got an opportunity to do a training course in the Commander and Staff College of United States of America in 1963-64. During the 1965 War, he acted as the Assistant Quarter Master of 101 Infantry Division, which was posted at the Kiran Sector. He remained posted in Jordan from 1967 till 1970, where he was involved in training Jordon military. He was appointed as Corps Commander of Multan in 1975.
[3]
Higher Education of General
Duration of Zia-ul-Haqs Career
He had also served as country's 10th President from June 2001 to August 2008. He got commission in Kakul on April 19, 1964, which thereby means that
Musharraf
had a military career of 43 years, 7 months and 9 days. The sitting Army Chief General Ashfaq Parvez Kayani's military career would span a period of 42 years and exactly three months on November 29, 2013, when he has announced to step down as Pakistan's 14th Army Chief after 42 days from now.
[4]
career duration defence 
Career Of Zia-ul-Haq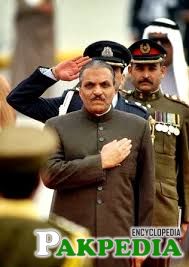 Zia was also the sixth President of Pakistan from September 16, 1978 until his accidental death on August 17, 1988.He was Pakistan's longest-serving head of state. He had declared the third martial law in the country's history in 1977 after deposing an elected Premier Zulfikar Ali Bhutto. Zia was commissioned in the British Indian Army in a cavalry regiment on May 12, 1943 and had served against Nazi Germany and its allies in World War II. So overall, his military career had spanned 45 years and 3 months.General Mirza Aslam Beg (born 1931) was made the ninth Chief of Army Staff on August 17, 1988 and had remained in the office till August 1, 1992. His tenure had lasted just 16 days less than 4 years.He got commission in Pakistan Army on August 23, 1952, which means his military career was spread over a period of nearly 40 years. Beg was denied an extension from President Ghulam Ishaq Khan in 1991.
[5]
Career summery defence 
After assuming power as Chief Martial Law Administrator, Zia-ul-Haq promised to hold National and Provincial Assembly elections in the next 90 days and to hand over power to the representatives of the Nation. However, in October 1977, he announced the postponement of the electoral plan and decided to start an accountability process of the politicians. In a statement, he said that he changed his decision due to the strong public demand for the scrutiny of political leaders who had indulged in malpractice in the past. The Disqualification Tribunal was formulated and many former Members of Parliament were disqualified from participating in politics at any level for the next seven years. A white paper was also issued which criticized the activities of Pakistan People Party government under Zulfiqar Ali Bhutto.
[6]
 promised to hold Assembly Storyofpakistan
Domestically Zia initiated the consolidation of nuclear development earlier initiated by
Zulfiqar Ali Bhutto
. He is also remembered for denationalization and deregulation and the stateIslamization. During his tenure the Baloch insurgency was disbanded. He is most remembered for his foreign policy; the subsidizing of the Mujahideen movement during the 1979 Soviet invasion of Afghanistan which led to the Soviet-Russian withdrawal from Afghanistan Socialist Republic. Zia entered into an undeclared secret war with Soviet Afghanistan and its ally Soviet Union. Zia authorized secret funding and expansion of intelligence operations in Pakistan and abroad, initially focusing on anti-communist operations. He was described by some as a fundamentalist Sunni dictator. Zia was commissioned in the British Indian Army in a cavalry regiment on May 12, 1943 and served against Nazi Germany and its allies in World War II. After Pakistan gained its independence, Zia joined the newly formed Pakistan Army as a Major. His regiment was now the Guides Cavalry Frontier Force Regiment. He was trained in the United States in 1962-1964 at the US Army Command and General Staff College Fort Leavenworth, Kansas. After that, he returned to take over as Directing Staff (DS) at Command and Staff College, Quetta. During the Indo-Pakistani War of 1965, Zia was a tank commander.
[7]
Military Career historypak 
Domination of Zia-ul-Haq In Military Career
In announcing his takeover of the government, Zia stated that he had taken action only in order to hold new elections for national and provincial assemblies within ninety days. Political parties were not banned, and nominations were filed for seats. The country expected that a new free and fair poll would take place. It did not. Zia cancelled the elections because, he said, it was his responsibility first to carry out a program of accountability; he had unexpectedly found irregularities in the previous regime. As a result, a number of white papers on topics ranging from fraud in the 1977 elections, to abuses by the Federal Security Force, and to Bhutto's manipulation of the press were generated. The attacks on the Bhutto administration increased as time passed and culminated in the trial and the hanging in April 1979 of Bhutto for complicity in the murder of a political opponent.
[8]
Domination of Zia-ul-Haq  defencejournal
In February 1982, in an unsatisfactory response to the demand for elections, Zia created an appointed Majlis-i-Shoora (Council of Advisers), claiming that this was the pattern of Islamic law. The body was clearly unrepresentative and had no powers of legislation. It served merely as a tame debating body. The Islamization of Pakistan was another of Zia's goals. In 1978 he announced that Pakistani law would be based on Nizam-i-Mustafa, one of the demands of the PNA in the 1977 election. This requirement meant that any laws passed by legislative bodies had to conform to Islamic law and any passed previously would be nullified if they were repugnant to Islamic law. Nizam-Mustafa raised several problems. Most Pakistanis are Sunni, but there is a substantial minority of Shia whose interpretation of Islamic law differs in some important aspects from that of the Sunnis. Zia's introduction of state collection of zakat was strongly protested by the Shia, and after they demonstrated in Islamabad, the rules were modified in 1981 for Shia adherents. There were also major differences in the views held by the ulama in the interpretation of what constituted nonconformity and repugnance in Islam.
[9]
Islamization of Pakistan
Zia declares martial law
In a lightning operation led by Army Chief General Mohammad Zia-ul-Haq, the armed forces of Pakistan have taken over the country's administration, Mr Zulfikar Ali Bhutto, former Prime Minister, his Cabinet colleagues and top PNA leaders, except Begum Nasim Wali Khan, have been placed under protective custody temporarily.The National and Provincial Assemblies have been dissolved and the provincial Governments have been removed. All political activities have been banned till further orders. The Army operations, conducted with swiftness late last night, followed an unending political crisis which began in March when the Opposition resorted to country-wide agitation alleging that the March elections were massively rigged. Over 300 persons were killed and Martial Law was imposed in four cities of Pakistan before the two sides were persuaded through the good officers of King Khalid to resolve the crisis through negotiations.For the interim period he has form a caretaker Government with himself as Chief Martial Law Administrator. President
Fazal Elahi Chaudhry
will continue in office. He will be assisted by a four member Military Council comprising the Chairman of the Joint Chiefs of Staff, Gen. Shariff, Air Chief Martial Zulfiqar Ali Khan, Navy Chief Admiral Shariff and Gen. Zia himself.
[10]
Zia declares martial law Dawn 
What he has done according to his thought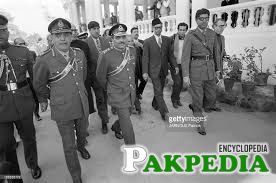 During his rule, Zia-ul-Haq tried his utmost to maintain close ties with the Muslim World. He made vigorous efforts along with other Muslim States to bring an end to the war between Iran and Iraq. Pakistan joined the Non-Aligned Movement in 1979 during Zia-ul-Haq term. He also fought a war by proxy in Afghanistan and saved Pakistan from a direct war with Soviet Union.
[11]
 During his rule  storyofpakistan