Zahid BAloch is a Pakistani activist and Baloch nationalist, a student and ex-BSO-A chair. He was abducted by Pakistan's security agency from Quetta in Balochistan on March 18, 2014. Since he was abducted and his whereabouts are still unknown.
    
| Title | Description |
| --- | --- |
| Personal | |
| Name: | Zahid Baloch |
| In Urdu: | زاہد بلوچ |
| Famous As: | Baloch activist |
| Nationality: | Pakistani |
| Residence: | Nall in Khuzdar district |
| Education: | Political science student at the University of Karachi |
| Religion: | Islam |
| Profession: | Activist |
| Abducted : | He was abducted by Pakistan's security agency from Quetta in Balochistan on March 18, 2014. |
| Eye witnesses: | BSO-A chair Karima Baloch, along with three other BSO-A leaders, are eye witnesses of Zahid's abduction. |
| Family | |
| Ethnicity: | Balochi |
| Spouse: | Zarjan |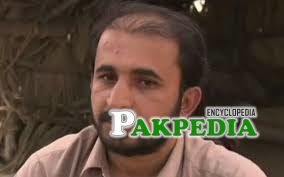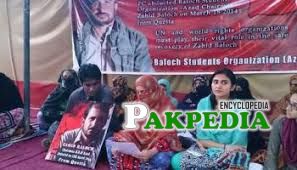 Profile
Zahid is a resident of Nall in Khuzdar district. He was a political science student at the University of Karachi, but he left his studies when Pakistan started its "kill and dump" policy against Baloch activists. He is married and his wife's name is Zarjan.
Activities
In 2003, Zahid Baloch joined the Baloch Student Organization (BSO). After years of working within the organization he became the chairman of BSO-Azad in 2012. Throughout his career with BSO-Azad, Zahid Baloch has been an active member of the organization, conducting protests and delivering speeches.
Interview to BBC
Six months before his abduction,  Zahid Baloch at a remote unknown location in District Awaran, Balochistan gave an interview to a BBc's journalist Shahzaib Jillani. At the time, he introduced himself as Baloch Khan. He told them that he was forced to live in hiding because of Pakistan's alleged "kill and dump" policy targeting Baloch separatists. "If they find me, they'll kill me," said Zahid.  Zahid Baloch insisted his was a political struggle for self-determination. "Whether you are a writer or a fighter, in Balochistan if you talk about freedom, they come after you," he had said. "Pakistan, and even Iran, have subjugated the Baloch people. They want to erase our language, culture and heritage. The only way we can win freedom is through a national struggle." But Pakistani officials accuse people like you of getting support from India, joutnalist asked him to which he smiled and replied: "They said that about Bengalis as well. They went on a killing spree to suppress their freedom struggle in 1971. And look what happened? It created Bangladesh."
Eye witnesses
March 18th 2014 multiple eyewitnesses witnessed Zahid Baloch's abduction by Pakistani agents in Quetta. In 2013, Pakistan imposed a ban on Baloch nationalist groups. On April 22nd, BSO-Azad representatives held a press conference to announce a hunger strike by Latif Johar at the Karachi Press Club. Since then, several activists have been demonstrating for his release. During the press conference, Banuk Karima Baloch urged the UN to ensure the protection of the BSO-Azad protesters currently engaged in peaceful demonstrations.
Protests
BSO-Azad a announced a nation-wide strike from April 25th to the 27th, 2014. The strike call was supported by all the Baloch nationalist parties. Many Balochistan towns have shut down as a result of the strike. On April 27th, Baloch activists in the UK also held a demonstration to protest the abduction of Zahid Baloch outside the prime minister's office at 10 Downing Street. An online petition was created at Change.org by Tarek Fatah urging Navi Pillay, the UN High Commissioner for Human Rights, to "Intervene with the Pakistan Government and the Pakistan Army to secure the release of Zahid Baloch." Various Baloch pro-independent parties have voiced their concern of the abduction of Zahid Baloch and continue to urge various human rights groups to play a role in his release.
On International scale
The Baloch Human Rights Council of Canada attended a briefing in Toronto on gross human rights violations in Turkmenistan, South Azerbaijan and Balochistan. During the April 24th conference, BHRC-Canada informed Bob Dechert about the recent abduction of Zahid Baloch. BHRC representatives urged Mr. Dechert to secure the release of Zahid Baloch. Protests and demonstrations took place in Balochistan and worldwide for Zahid's recovery. Amnesty International, Asian Human Rights Commission, Human Rights Watch, International Court of Jurists, Human Rights Council of Pakistan, Baloch Human Rights Organization and many other international human rights groups condemned Zahid's abduction and appealed to Pakistan to seek his safe recovery.
FIR
Zar Jan, Zahid's wife, tried to lodge a First Information Report (FIR) with police in Quetta, but police refused to file any report. After a court petition was submitted to the High Court Balochistan, police eventually filed an FIR on the court's order.
Hunger Strike
A BSO-A leader Karima Baloch and Johar Latif launched a hunger strike to demand the safe recovery of Zahid Baloch. On a visit to meet a protesting Balochistan Student Organisation-Azad (BSO-A) activist, Lateef Johar, who has been on hunger strike outside the Karachi Press Club for the past 37 days, Dr Malik said: "The case of missing persons is the top priority of the government." Sitting beside him inside the camp, crowded with reporters, Dr Malik said: "I'm not asking you to end your struggle, but requesting you to call off the hunger strike. To us, you are like other Baloch students." 
Lateef Johar
Lateef Johar went on hunger strike on April 22 after BSO-A chairman Zahid Baloch was taken away from Satellite Town in Quetta. The student body alleges that intelligence agencies are behind the abduction and demands his release by continuing a hunger strike. Johar's doctor, who was also present at the camp, informed the chief minister that the student had lost 20 kilograms in the past few weeks.
Other missing persons
Since Zahid's disappearance, other BSO-A activists and leaders have been forcibly abducted. Shabir Baloch, the BSO-A's information secretary, was abducted from Gwarkup on October 4 last year and is still missing. Zakir Majeed was abducted in 2009 and remains missing. Other activists have been killed. 
Abduction or self disapearance
Officials accuse Azad of spreading anti-Pakistan literature on college and university campuses. "The group serves as a nursery for recruiting fighters for separatist Baloch militants," says Sarfaraz Bugti, Balochistan's home minister. He denies any knowledge of Mr Baloch's whereabouts. "I have never heard of him. I am not even sure if a person by that name exists," he told the BBC. But Mr Bugti rejects widespread allegations of torture and abductions. Instead, he likes to talk about "self-disappearances" to explain what is going on in his province. "Sometimes, these activists 'self-disappear'. They go away to militant training camps in Afghanistan and India, while their groups stage campaigns to wrongly accuse Pakistani forces of abductions." The Pakistani government outlawed Mr Baloch's Azad group in March 2013 along with a dozen other militant and radical factions.
Appeal
Rights activists say Zahid Baloch's case is the latest example of years of ongoing "enforced disappearances" in Balochistan. For more than a decade, the accusations have continued to grow. And so have the protests by desperate families. We appeal to the civilised world to end their silence and help us in the recovery of thousands of abducted Baloch people, including Zahid Baloch.