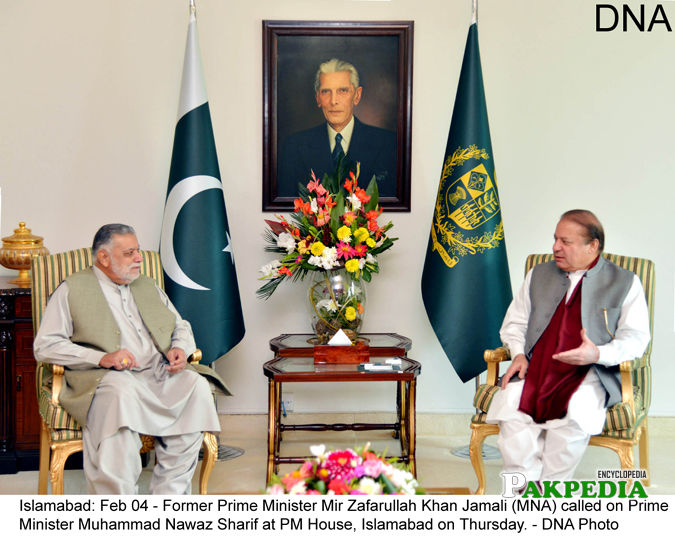 With Prime Minister Nawaz Shareef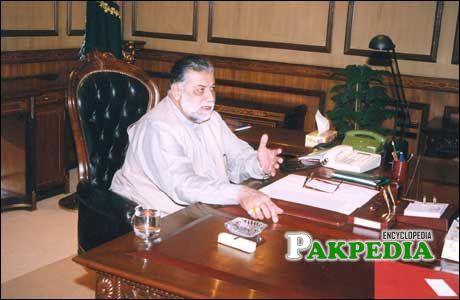 While sitting in his office
During Meeting with Iranian President
While shaking hands with Afghan president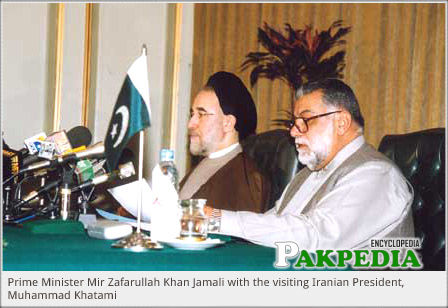 With President Mohammad Khatami
Early Life
Zafarullah khan jamali Known as Jabal Khan to his family, 58-year-old Mir Zafarullah Jamali is the son of a tribal landlord Mir Shahnawaz Khan, who hails from a family of Muslim Leaguers. Jamali was born in 1944 in Naseerabad (Balochistan). He is a brother of A.R Jamali known as Abdul Rehman Jamali who  is a former Member of the National Assembly of Pakistan. He was also a keen sportsman and was on his school and university's hockey teams. 
[1]
Early life
Education
Mir Zafrullah Khan Jamali completed his high school education from Saint Francis Grammar School in Quetta. Then studied at the Lawrence College at Murree where he did O-level and later proceeded to Aitchison College in Lahore where finally completed the A-levels. Jamali applied in the Government College University where he got Bachelor's degree (with honors) in Business Administration in 1963, followed by MA in British history from the Punjab University in 1965. He was also a "Blue" holder of Punjab University in university's hockey in 1961-65 and also headed its team. In 1965, Jamali joined the national hockey team of Pakistan symbolized Pakistan as a hockey player at international level. 
[2]
Education Education
Political Career
Member of Pakistan Peoples Party
In the 1970s he was a minister for the Pakistan Peoples Party, serving as an important minister in his home province. In the 1980s he worked in the government of General Muhammad Zia-ul-Haq as a minister of various departments. He was almost appointed to the position of Prime Minister at numerous times in the 1980s, but never succeeded. However, he was the chief minister of Baluchistan in long-time provincial ruler General Rahimuddin Khan's cabinet at various times.
Member of Pakistan Muslim League
In the 1990s he was an important member of the Pakistan Muslim League (N). However, after the removal of Nawaz Sharif, Jamali joined the new faction of that party that was formed to support General Pervez Musharraf called the PML-Q. in 1988 he became caretaker chief minister of Baluchistan. He also won the general election and elected chief minister Baluchistan with the alliance of Jui (F) before confidence vote he dissolve assembly once again in 1996 he became caretaker chief minister.
Prime Minister
He was elected as Prime Minister by the Parliament of Pakistan on November 21, 2002 after the general elections of October 2002. This was the first general election to take place in Pakistan following the 1999 coup by General Pervez Musharraf. His election as Prime Minister came after weeks of political negotiations due to no party winning a majority. Jamali won the position after members of the Pakistan Peoples Party defected to the Pakistan Muslim League (Q) to support him. 
[3]
Political career
Crucial Period of His Life
One of the most crucial period's of Jamali's life, which resulted in serious disputes within the family, involved his decision to dispose off the family's ancestral property in order to treat his ailing elder son who needed a liver transplant. Jamali has four sons, among whom two are captains in the army, and a daughter who is married to Humayun Wardag, the son of one of his closest friends,the late Sardar Ayub Wardag, a former mayor of Quetta.
Resignation
On 26 June 2004 Mir Zafarullah Khan Jamali  stepped down as prime minister of Pakistan, dissolved his cabinet and nominated the ruling Pakistan Muslim League president Chaudhry Shujaat Hussain as his interim successor. Mr Jamali made this announcement at a crowded news conference at the party headquarters (PML House). While announcing his resignation, Mr Jamali said he had taken the step to "save the system and make way for a person capable of strengthening the party and running the government effectively." "I hereby resign from the office of prime minister of Pakistan in order to ensure continuity of the system and to make way for some better person who can run the country in a better way". Mr Jamali added: "We cannot leave any vacuum and for the time being and for the sake of continuity I recommend Chaudhry Shujaat to be my substitute who will be given a vote of confidence by coalition MNAs in the National Assembly. 
[4]
Resignation Resignation