Yousaf Hussein
While distributing cash prizes
On a visit to NIC
CEO of Ignite
On entrepreneurial Pakistan
Biography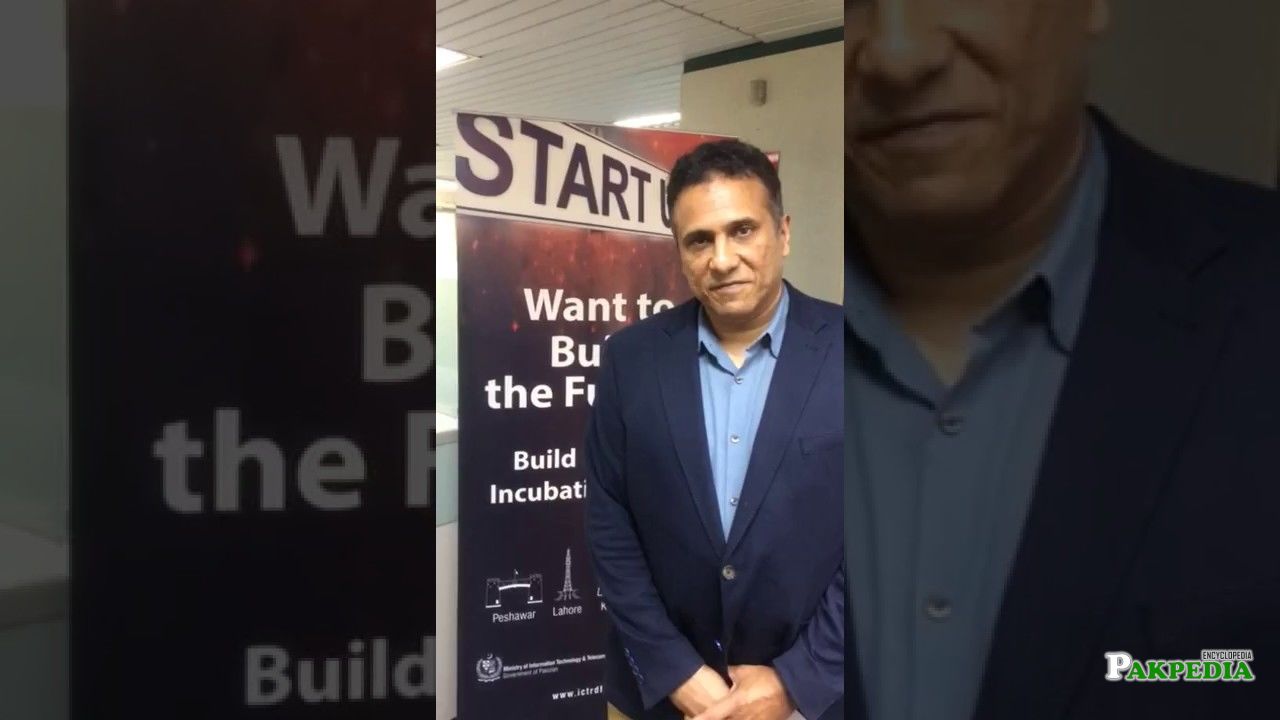 Education
Mr Yousuf Hussain obtained his Master of Science degree in Engineering with a minor in Business from the University of Texas at Austin, a Master of Arts degree in International Relations-Futuristics from American University of London-Pakistan Futuristics Institute, a Bachelor of Science Degree from Rice University in Houston, Texas. 
Career
Mr Yousuf Hussain possesses a career experience which is larger than life. Yusuf Hussain has served in senior business and technology management positions in start-ups, GLOBAL 2000 corporations, and public sector organizations. 
[1]
Career
as MD
As Managing Director of the Pakistan Software Export Board (PSEB), the apex Government organization mandated to promote the IT industry of Pakistan, he introduced and executed a strategic vision incorporating IT Park development, Venture Capital promotion, country branding, and human capital development, which assisted the industry in achieving a historic annual growth rate of over 50%.
Co-founder
He is co-Founder and former CEO of CresSoft, Inc, at that time Pakistan's largest offshore outsourcing company which excelled at providing eCommerce and Convergent Telecommunications solutions to GLOBAL 2000 and FORTUNE 500 in the USA. As Development Manager at Time Warner and MCI Worldcom he led the development of industry-leading convergent telecom customer care solutions.
As Consultant
Yusuf has also served as consultant to the World Bank, the WTO and the United Nations. Earlier in his career, as Technology Advisor to
Government of Pakistan
he helped formulate a National Technology Policy. He has also taught courses in "Strategic Management" and "Corporate Ethics" to MBA students at Air Force University.
About Ignite
Pakistan has witnessed a phenomenal growth in its telecom industry. The government of Pakistan has mandated that a certain percentage of gross revenue generated by all telecom service providers be allocated to development and research of information and communication technologies with the vision to transform Pakistan's economy into a knowledge based economy by promoting efficient, sustainable and effective ICT initiatives through synergic development of industrial and academic resources. To achieve this vision Ignite (Formerly National ICT R&D Fund) has been created. This vision will be realized by pursuing the following goals: 
[2]
ignite
Cultivate industry-academia partnership by funding concrete development and research initiatives.
Enhance the national ICT related human resource development capacity manifolds by facilitating industrial demand focused human resource capacity building and R&D capabilities in the country and promoting ICT related educational programs and activities.
Make Pakistan an attractive destination for service oriented and research and development related outsourced jobs.
Use ICT as a tool for wealth creation and upward mobility for economically challenged groups of citizens.
Spread the ICT activities on a true national level. 
Award
Yusuf Hussain has been elected a Fellow of the Royal Society of Arts (RSA) 
Awarded a National Leadership Award by the USA National Republican Congressional Committee, and nominated Good Will Ambassador of the City of Houston