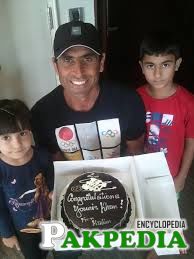 International career
Younus Khan made his international debut in an ODI against Sri Lanka at
Karachi
in February 2000, and has since played over 150 ODIs for Pakistan. He has also played in over 50 Test matches. Younus was one of the few batsmen who retained his place in the team after Pakistan's disastrous World Cup campaign in 2003, but lost it soon after due to a string of poor scores in the home series against Bangladesh and South Africa. He came back for the one-day series against India, but failed to cement a place in the Test side.
[3]
Younis khan make history
It was his return to the side in October 2004, at the pivotal one-down, against Sri Lanka in Karachi that laid the groundwork for his emergence as a force in Pakistan cricket. He was the top run-getter in the disastrous 3-0 whitewash in Australia immediately after and on the tour of India, for which Younus was elevated to vice-captain, he blossomed. After a horror start to the series he came back strongly, capping things off with 267 in the final Test. It was his highest Test score and came off 504 balls in the first innings, to set up a series levelling victory in Bangalore.As well as being an accomplished batsman, Younus is also a skilled slip fielder and a very occasional leg-spin bowler. He has performed particularly well outside  Pakistan , including on tours of Australia, India, England and Sri Lanka. In the six Tests he has played against India, Younus averages an exceptional 106, the highest average against India by a Pakistani. Apart from his 267 at Bangalore, Younus also made 147 at Kolkata in 2005 and a pair of centuries during India's trip to Pakistan  in 2006. More importantly, the tour to India also showcased his potential as a future captain of Pakistan and his energetic and astute leadership has impressed many people. Also in 2006, Younus made a century in the third Test against England at Headingley. On 22 January 2007, he scored a matchwinning 67 not out in the 4th innings to guide  Pakistan  to victory over South Africa in Port Elizabeth. The five wicket win levelled the series at 1-1.In 2005, he was one of the 15 nominees for the ICC Test Player of the Year. He is the second fastest Pakistani in terms of innings to reach 4000 Test runs, behind
Javed Miandad
. Younus reached the milestone in 87 innings, just one more than Sachin Tendulkar took.Younus Khan topped the ICC's Test Batting Rankings in February 2009 after an acclaimed innings of 313 in his first test as captain, in the process of helping save the match for Pakistan. His ranking score of 880 is the third highest achieved by a Pakistani batsmen after Mohammad Yousuf (933), Javed Miandad (885) and just ahead of Inzamam-ul-Haq (870).
Captaincy situation
He first led Pakistan  against the West Indies in 2005. In September 2006, he was offered the position of captain for the course of the 2006 ICC Champions Trophy, following the suspension of  Inzamam ul Haq . He turned down the offer, stating he did not want to be a "dummy captain". However, on the morning of October 7, 2006 the Pakistan  Cricket Board announced that Khan would lead his team in the tournament. Following the resignation of Inzamam after the side's exit from the 2007 Cricket World Cup, Khan was offered the captaincy on a permanent basis, but turned it down. He blamed the angry reaction by the Pakistani public to side's early exit from the tournament.
[4]
Captanicy situation Younis khan
After Pakistan's 2009 2 matches to 1 defeat to Sri Lanka, PCB chairman Ijaz Butt  appointed Younus Khan as the permanent captain of both the Test and ODI teams. The appointment became effective as of January 27, 2009. Shortly after accepting the post Younus was quoted as saying, "I will try and fix things that aren't right at the moment...I want our team to be consistent above all, in everything we do and that will require everyone to put their hands up." Younus went on to say that he expects full support from former captain Shoaib Malik  whom he called a senior player in the side.
Twenty20 Cricket 2007 - present
Pakistan captain Younis Khan announced his retirement from Twenty20 cricket after leading his team to the ICC World Twenty20 title by beating Sri Lanka at Lord's Sri Lanka suffered an 8 wicket thrashing."This is my last Twenty20 game , so I am retiring from T20 internationals," Younis said "I am now 31, I am old for this kind of cricket." No immediate announcement was made as to the identity of his successor as 20-over captain, it was confirmed on July 29, 2009 that 
Shahid Afridi
 would succeed him as the Twenty20 Captain. However after Younus returned to the national setup he announced that he was willing to play Twenty20 cricket for Pakistan as a senior batsman Younus then confirmed that he was available to play in all three-formats of the game. He also announced that he was no longer in the race for the captaincy After announcing his comeback to Twenty20 cricket Younus was selected for the three match Twenty20 series against New Zealand in December 2010. Younus played in all three-matches but struggled for form
Domestic career
In 2008–09, Younus is playing for the Southern Redbacks in Australia's domestic circuit on a short-term basis. He scored a century against Queensland Bulls in the first innings of a Sheffield shield match in Brisbane, which helped the Redbacks to win their first Shield match for a year.
[5]
Younis khan Domestic Career
Playing style
Younus is regarded as one of the best players of spin bowling in the world, being particularly strong on the leg side. His favourite and trademark shot is the flick, but it has also been his shortcoming, with him being particularly prone to falling lbw during the early stages of his innings. He is also prone to getting down on one knee and driving extravagantly. But this flamboyance is coupled with grit. One of his main weaknesses is playing away from the body, he also has a tendency to leave straight balls, a trait that has been exploited by bowlers in the past, particularly by the Australian attack. Along with  Mohammad Yousuf and the now retired 
Inzamam-ul-Haq
 , he formed a formidable middle order batting line up for Pakistan. Younus is a skillful infielder, with a report prepared by Cricinfo in late 2005 showing that since the 1999 Cricket World Cup, he had effected the third highest number of run-outs in ODI cricket (joint with Andrew Symonds), with the highest success rate.
Personal life
He married his wife Amna on 30 March 2007, and their son Owais was born on 26 December 2007.Younus had to deal with a number of deaths in his family during 2005 and 2006. Earlier in 2005 he had to fly back from a tour to Australia after his father had died. Later in the year during the England tour to Pakistan , Younus' eldest brother, Mohammed Sharif Khan, aged 41, died in a car accident in Ukraine, who in Youins's words taught him to play cricket. Another older brother, Farman Ali Khan was only 39, when he was killed in a car accident in Germany, in December 2006.Younus was batting in the second ODI against West Indies in Faisalabad when the news of his brother's death reached the team management. Younus only came to know about the situation after he returned to the pavilion at the end of his innings. Younus, immediately, left for his home town Mardan and did not participate in any of the remaining matches. Younus also mentioned his grief at the death of Bob Woolmer in March 2007 after Pakistan's exit from the World Cup. He stated that he saw Bob as a father figure after the loss of his own father and that he was able to share many personal thoughts with the cricket coach.During a tour of the West Indies in May 2011, Younus was given permission to return home early due to the death of his elder brother Shamshad Khan in Germany.He is known to enjoy fishing, when not playing cricket.
[6]
Personal life Younis khan
Younis khans Achievements and Records
He topped the ICC ranking and became #1 Batsman in 2009 after his blusterous 313 runs in his first test as Caption.
[7]
Younis khan achievements and records
                        "Pride of Performance Award Recipient"
In 2010  Younis khan  was awarded by PRIDE OF PERFORMANCE by the President of  Pakistan 
In 2015 Younis khan was one of the 15 nominees for ICC Test Players of thwe year.
He  is first Pakistani to score 9,000+ runs in Test cricket, Younis Khan's 32 centuries are the highest number of Test centuries by a Pakistani batsman.
In the third Test against Sri Lanka on July 6, Younis Khan became the first Test batsman in history to score five centuries in the fourth innings.
Younis Khan and Muhammad Yousuf hold the record of most runs as partners in Test cricket for Pakistan.
Younis Khan has 6 double centuries in Test matches.
Younis Khan is the only Pakistani to score a Test hundred against every other 9 Test playing nations and 12th International player to achieve this milestone.
Younis  Khan became the third Pakistani to reach 8500 runs in Test cricket on 6 May 2015. He was the 28th batsman overall in the cricket history.
Younis Khan was the 5th fastest batsman to reach 7500 runs, achieving the feat in just 90 matches.
Younis Khan holds the record of most away centuries for a Pakistani (23), this is the second highest overall.
Younis Khan is the first (and the only) Pakistani cricketer (19th overall) to take 100 catches in Test matches.
Younis Khan has now scored 4000+ runs at number 3 in Test which is most by any Pakistan Cricketer with average in excess of 50's.
Younis Khan has most number of centuries (6) after the age of 35 among Pakistani cricketers.
Younis Khan has scored three consecutive Test hundreds against Australia, a milestone, only shared by Herbert Sutcliffe, back in 1924–25.
Younis Khan is the only batsman to have 60+ average in all the four innings of Tests.
Younis Khan has Most Hundreds (31) among active Test cricketers.
This is all about the marvelous life history , achievements & records of legendary Pakistani cricketer Younis khan.
Sitara-e-Imtiaz
President of Pakistan Mamnoon Hussain presented the Pakistan Civil Awards at the President's House in Islamabad whereas governors of the provinces gave away the awards at the Governor Houses at respective Provincial capitals on the eve of Pakistan Day on Friday 23rd March 2018. Former captain Younis Khan was also awarded the Sitara-e-Imtiaz earlier today as nation celebrated Pakistan Day. He earned Pakistan the Twenty20 World Cup in 2009 while Shahid Afridi has been popular all over the world for his aggressive allround performances. 
[8]
Sitara-e- Imtiaz
Awarded Tamgha-e-Imtiaz
The federal 
government
 has decided to award Tamgha-e-Imtiaz to three former and one existing captains of Pakistan cricket team for their services for Pakistan's 
cricket
.On 23 March (
Pakistan Day
) every year, Tamgha-e-Imtiaz is awarded to people who show exceptional devotion and commitment in their respective fields. This year, Pakistan cricket team captain 
Sarfraz Ahmed
 and former captains 
Misbahul Haq
, 
Shahid Khan Afridi
 and Younis Khan will also get this prestigious award.Younis Khan is the only batsman from 
Pakistan
 who has scored 10,000 runs in Test cricket. Pakistan also won T20 World Cup in 2009 under the captaincy of 
Younis Khan
.Misbahul Haq is the most successful Test captain of Pakistan. Under his captaincy, Pakistan gained top spot in Test Rankings.Shahid Khan Afridi's record of fastest ODI century was broken after 16 years. He played a crucial role in the victory of Pakistan team in the semi-final and final of the 2009 T20 World Cup.Sarfaraz Ahmed led Pakistan to victory in the Champions Trophy and also made Pakistan the top T20 team of the world.
[9]
Awarded Tamgha-e-Imtiaz