The attack began in the morning hours, with about half a dozen gunmen entering the school – and shooting at random, said police officer Javed Khan. Army commandos quickly arrived at the scene and started exchanging fire with the gunmen, he said. Students wearing their green school uniforms could be seen on Pakistani television, fleeing the area.[1]  attack began 
| Title | Description |
| --- | --- |
| Details | |
| Type: | Suicide bombing,spree killing, hostage-taking, school shooting |
| Date: | 16 December 2014 |
| Time: | 10:30 PST – 19:56 PST |
| Location: | The Army Public School, Warsak Road, Peshawar, Khyber Pakhtunkhwa, Pakistan |
| Defenders : | Special Services Group |
| Perpetrators : | Tehrik-i-Taliban Pakistan |
| Non-Fatal Injuries: | 114 |
| Death: | 148 (including 7 attackers) |
| School Children Martyrs: | 132 |
| Motive: | Retaliation Against Operation Zarb-e-Azb |
| Target : | Students and school staff |
| Attentively Listening: | Lecture |
| Gathered in the Large Auditorium: | 18-Year-Old Yasir Iqbal |
| Entered: | Half a Dozen Gunmen |
| Attack Began: | In The Morning |
| Khaula as a : | Flower |
| Youngest Student Name:: | Khaula Bibi |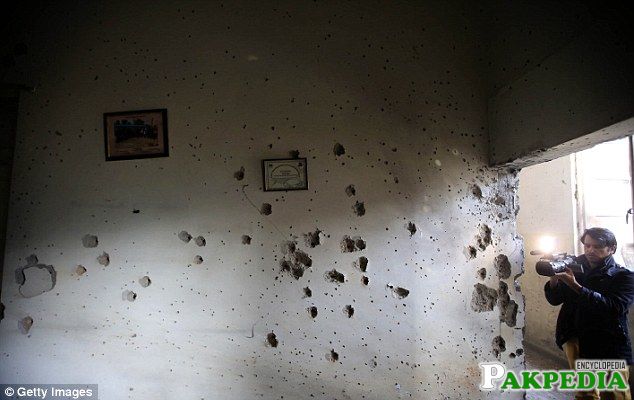 16 December 2014
When the nightmare unfolded, teachers and students of the Army Public School Peshawar had just returned to their classes after recess. Some students, including 18-year-old Yasir Iqbal, gathered in the large auditorium and were attentively listening to a lecture.
Others sat at their desks, eyes on the clock instead of the blackboard, silently urging for the hands to move faster for the day to end so they could go home. In grade one, it was six-year-old Khaula's first day of school. She was overjoyed that she had finally joined her siblings instead of staying home. It would be her only day at school.
Khaulas First Day of School
Khaula's would become one of the 144 names—most of them children's—on a long list created by a group of murderers that day at the school. The incomprehensibly high body count combined with the vulnerability of the victims make it the most horrific attack in Pakistan's history.
And while this number, 144, is a story unto itself, the 144 stories within it have to be told.
Eighth-Grader Uzair Ali
Eighth-grader Uzair Ali saw the attackers and leapt to shield his friends by lying on top of them. He was killed; shot 13 times, but he managed to save his companions. Fourteen-year-old Fahad Hussain opened a door so his friends could run out. He stayed by the door making sure everyone was evacuated. He was gunned down while doing so.
Below are 144 accounts, of courage and sadness of children, women and men whose absence will be forever painful, always remembered.[2] Khaula's First Day of School 
Under the Age of 13
Under 13 Young Martyrs of APSACS Peshawar
Khaula Bibi 
Shahzad Ijaz
Shahzeb 
Ziaullah Islam 
Age of 13
Age of 13 Young Martyrs of APSACS Peshawar
Ahmed Ali Shah
Azaan Toraylay 
Fahid Hussain 
Gul Sher 
Hamid Ali Khan 
Hammad Malik 
Muhammad Azhar Naseer 
Rizwan Sareer 
Wahab ud Din 
Wasif Ali Khattak 
Yasirullah 
Age of 14
Age of 14 Young Martyrs of APSACS Peshawar
Abdullah Ghani Awan 
Adil Shahzad 
Ailian Fozan 
Ammar Iqbal 
Arham Khan
Atif ur Rehman
Awais Ahmed 
Awais Nasir 
Baqir Ali 
Fahad Hussain 
Fazal Raheem 
Muhammad Furqan Haider
Hamayun Iqbal 
Hamid Saif 
Hamza Kamran 
Haris Nawaz 
Hasnain Sharif 
Khushnood Zeb 
Muhammad Abdullah Zafar 
Muhammad Ghasaan Khan 
Muhammad Haris Khan
Muhammad Salman 
Muhammad Tayyab Fawad 
Nangyal Tariq 
Muhammad Shaheer Khan
Sahibzada Omer Khan 
Saif Ullah Durrani
Shahood Alam 
Sher Nawaz 
Syed Mujahid Hussain Shah 
Ali Abbas 
Sohail Aslam 
Syed Husnain Shah 
Tanveer Hussain 
Uzair Ahmad 
Mohammad Uzair Ali  
Umair Arshad 
Age of 15
Age of 15 Young Martyrs of APSACS Peshawar
Abrar HussainAhmad Elahi 
Ahmad Mujtaba 
Asad Aziz 
Asfand Khan 
Bahram Ahmad Khan 
Basit Ali Sardar 
Farhan Jalal 
Muhammad Waqar 
Haider Amin 
Hayatullah Sikandar 
Mohammad Ali Rehman 
Mohammad Ammar Khan 
Muhammad Mohsin Murtaza 
Muhammad Shafqat 
Muhammad Tahir 
Muhammad Uzair Khan 
Mouzzam Zulfiqar 
Mohammad Yaseen 
Noor Ullah Durrani 
Osama Zafar 
Rafique Raza Bangash 
Saad Ur Rehman 
Shahbaz Ali 
Shamowail Tariq 
Shayan Nasir 
Syed Afaq Ahmed 
Maheer Rizwan 
Mobeen Aslam 
Mohammad Ali 
Usama Bin Tariq 
Zeeshan Ali 
Zeeshan Shafique 
Age of 16
Age of 16 Young Martyrs of APSACS Peshawar
Adnan Hussain 
Hassan Zeb 
Huzaifa Aftab 
Malik Taimoor
Malik Usama Tahir Awan 
Mubeen Afridi 
Muzamil Umer Sadiq 
Muhammad Umar Hayat 
Nadeem Hussain 
Shah Fahad 
Sher Shah 
Sohail Sadar 
Syed Abdullah Shah 
Syed Zulqarnain 
Usman Sadiq 
Zargham Mazhar
Zeeshan Ahmed 
Age of 17 to 20
Age of 17 to 20 Young Martyrs of APSACS Peshawar
Bilal Arshad 
Muhammad Sahiban Durrani 
Aimal Khan 
Ibrar Zahid 
Imran Ali 
Ishaq Amin 
Muhammad Imran 
Muhammad Zeeshan Afridi 
Shafique ur Rehman 
Yasir Iqbal
Maher Ali Azam 
Muhammad Daud 
Saqib Ghani 
Zain Iqbal
Abdul Azam Afridi 
Waseem Iqbal 
Age of Over 20
Age of Over 20 Young Martyrs of APSACS Peshawar
Muhammad Sami (peon)
Ehsanullah (driver)
Hafsa Khush (teacher)
Muhammad Hussain (gardener)
Sadia Gul Khattak (teacher)
Mudassar Khan (lab assistant)
Hajra Sharif (teacher)
Benish Umer (teacher)
Muhammad Bilal (guard)
Sahar Afshan (teacher)
Farhat Bibi (teacher)
Saima Zareen (teacher)
Akbar Zaman (head clerk)
Zahir Shah (gardener)
Mohammad Shafiq (clerk)
Nawab Ali (teacher)
Sajjad Ali (superintendent)
Shahnaz Naeem (teacher)
Sofia Hijab (teacher)
Pervaiz Akhter (lab assistant)
Muhammad Saeed (teacher)
Tahira Qazi (principal)
Survivors
Survivors of APSACS Peshawar
Altaf Hussain 
Ahmed Jan 
Amir Amin 
Kashan Zaheer 
Maaz Irfan 
Malik Hassan Awan 
Murtajiz Raza Bangash 
Obaid Sajjid  
Syed Ahsan Ali