Warid Telecom is now Pakistan Mobile Communications Limited (PMCL), which operates in Pakistan as a business unit of VimpelCom Group. With this merger PMCL shall now be serving over 51 million subscribers, whose communication and financial needs will be catered to through innovative product offerings. The combined entity will work towards its objective of bringing in a digital revolution by offering new digital products and services powered through a 3G and LTE network, while staying true to its commitment of being Truthful, Customer Oriented, Collaborative, Entrepreneurial & Innovative.[1] Warid About us
| Title | Description |
| --- | --- |
| Details | |
| Founded: | 2004 |
| Products : | Telephony, LTE, WiMAX, EDGE, GPRS, GSM, UMTS |
| Key people : | Sheikh Nahayan Mabarak Al Nahayan, Chairman Bashir Tahir, founding CEO (retired) |
| Headquarters : | 301, Dhabi Tower, Hamdan Street, Post Box 44222, Abu Dhabi, United Arab Emirates |
| Type : | Private |
| Industry : | Telecommunication |
| Products Warid Pakistan: | Mobile services Data services Mobile banking Blackberry solution |
| Key people Warid Pakistan: | Aamir Ibrahim (CEO) Muneer Farooqui (Former CEO) |
| Phone: | 0092-322-4257777 |
| Website: | Official Pakistan ,Official Congo, Official Uganda |
| Fax: | 111-111-322. |
| Email: | pr@waridtel.com |
| Contact us: | customerservice@waridtel.com. |
| Join us on Linkedin: | https://www.linkedin.com/start/join?session_redirect=https%3A%2F%2Fwww.linkedin.com%2Fcompany%2F166868%3Ftrk%3Dtyah&source=gf&trk=login_reg_redirect |
| Join us on Twitter: | https://twitter.com/officialwarid |
| Join us on Facebook: | https://www.facebook.com/OfficialWarid |
| VAS: | Entertainment Music Balance Transfer Utilities |
| PostPaid: | New Postpaid Plans Old Postpaid Plans Offers Mobile Internet |
| PrePaid: | Packages Offers SMS Packages Mobile Internet |
| Headquarters: | Karachi, Pakistan |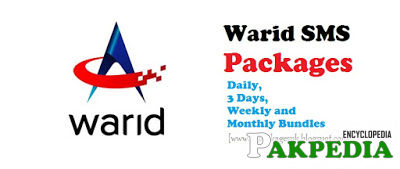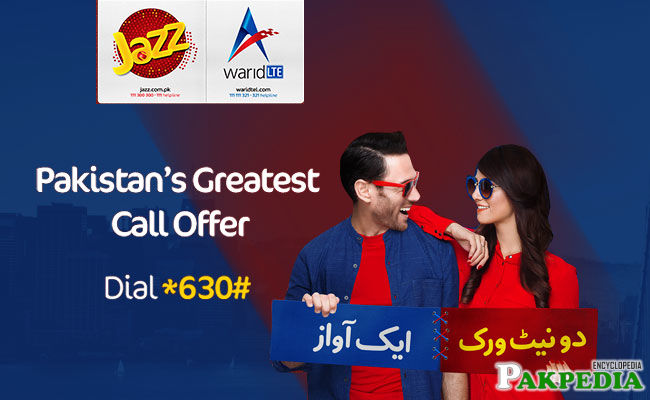 Warid Pakistan
In 2004, Warid Telecom International LLC, purchased a license for operating a nationwide mobile telephony network, (WLL)[2]Wireless local loop and long distance international (LDI) for $291 million US dollars and was the first venture of Warid Telecom International LLC. The licence was bid for and acquired by a team led by Bashir Tahir[3] Warid Bashir tahir the former CEO of the Abu Dhabi Group [4] Abu Dhabi group which is the parent company of all Warid operations.
Warid Pakistan launched its services in May 2005. Within 80 days of launch Warid Pakistan claims to have attracted more than 1 million. users.
On June 30, 2007, Singapore Telecommunications Limited (SingTel)[5] Singtel and Warid Telecom announced that they have entered into a definitive agreement subsequent to which SingTel will acquire a 30 percent equity stake in Warid Telecom for an estimated $758 million, valuing the company at an enterprise value of $2.9 billion.SingTel sold back that stake in January 2013 for $150 million and a right to receive 7.5 per cent of the net proceeds from any future sale, public offering, or merger of Warid.
On November 26, 2015 VimpelCom and Dhabi Group 4g agreed to merge Mobilink and Warid[6] Warid   Pakistan  into a single company
History
Pakistan Telecommunication Authority awarded two mobile telephony licenses to Telenor Pakistan and Space Telecom on April 24, 2004. The license for Space Telecom was cancelled after it missed a dead line to make a 50% down payment of the offered price. Thereafter PTA offered next highest bid winner company, Warid.
The license was bid and acquired through parent company of Warid, Abu Dhabi Group led by the then CEO Mr Bashir Tahir for US $291 million.
On May 23, 2005 Warid commercially started operating. Mr Hamid Farooq is appointed as the CEO of the company. Initially it covered 28 major cities of the country, which is so far the largest coverage in the first phase of roll-out by the first investment of US $150 million. Within 80 days, Warid secured 1 million customers with 7% market share.
In second phase of investment of US $1 billion, Warid launched operations in other cities of Pakistan. It secured another 3.4 million subscribers with 10% market share. First anniversary of Warid marked 9.7 million subscribers.
In 2007, Singapore Telcommunications bought a 30-per cent stake in Warid for about $758 million. That stake purchase gave Warid an enterprise value of about $2.5 billion.
Warid's first CEO Hamid Farooq resigned in November 2007. Mr. Marwan Zawaydeh joined the company as the second CEO. Warid further invested US $1 billion in network expansion by the end of 2009.
Warid got a new CEO Mr. Muneer Farooqi in October 2012.
SingTel sold back that stake in January 2013 for $150 million and a right to receive 7.5 per cent of the net proceeds from any future sale, public offering, or merger of Warid.
Network

 
Warid has invested more than US $2.5 billion to build up network infrastructure in Pakistan. It has set-up more than 5000 base stations.
Warid is the sole operator in Pakistan deploying Ericsson [7] Ericsson as vendor for its network base stations, microwave links, IT support and transmission towers.
Emitac Mobile Solutions under the terms of a distribution agreement with BlackBerry leverages its global integration services and local presence in the region to provide Warid with end-to-end implementation, launch, delivery and support services for the BlackBerry [8] Blackberry Limited solution in the Pakistani market.
Mobile industry body GSMA said Warid Telecom Pakistan achieved energy savings of between 30 and 60 percent during the second Mobile Energy Efficiency (MEE) Optimization project. After rolling out the energy-saving technology across Warid network in Pakistan, the annual savings are expected to be more than $6 million and 19,700 tons of carbon dioxide emissions.[9]Warid Pakistan except to more than US$6 million per year after trialling energy efficiency solutions
Next Generation Mobile Services NGMS
Warid refrained from participating in next generation spectrum auction in April 2014. Warid launched 4G LTE services in Pakistan by the end of 2014. The Abu Dhabi Group had been in talks with the Pakistan Telecommunication Authority, the telecom sector regulatory body, for launching LTE service on its existing technology neutral license.
Warid Packages
When you are looking for the widest range of packages combined with affordable rates, Warid is just what you are looking for! Offering its services in up to 7000 destinations in Pakistan, Warid is solely owned by the Abu Dhabi Group and is began its operations in 2005. The company has not disappointed its customers one bit and is continuing its successful journey since then. When you need to keep in touch with your family, friends and loved ones, Warid helps you do that just right! The network carrier is famous all across the country among young and old alike.Warid is offering number of services but Warid primary packages are Warid Postpaid, Prepaid and Glow. In addition to the connections, it also offers products such as handsets which can be had from the company at cheaper rates than those prevailing in the market. Prepaid services are generally best for those who do not have excessive communication patterns and are happy with packages which are based upon certain intervals. Whether you want SMS, calls or internet packages, you can avail all of these and more only with Warid.
With Warid, your savings are certainly kept intact so now spend less and get more on a network that has the best packages in town. The service provider has introduced a number of packages recently and you can avail them just right. Simply head to the website and see for yourself a range of packages that will leave you in love with Warid.[10] Warid Packages
Number schemeing
Warid uses the following numbering scheme:
+92 3 2 N1N2N3N4N5N6N7N8
Where 92 is the ISD code for Pakistan and is required when dialling outside the country, 3 is the mobile access code, and 2 is the prefix for Warid allocated by Pakistan Telecommunication Authority. Omitting +92 would require 0 instead to represent local call, hence 032 is the general prefix and N1N2N3N4N5N6N7N8 is the subscriber number.
Slogans
Warid has previously used these slogans 'be heard', 'we care', 'zem it!' and 'Life Ka Network' in Pakistan between 2005 and 2008 but has now switched tomeaning talk lasts togetherness and  meaning colours of friendship.
Awards
On March 14, 2014 Warid received Corporate Social Responsibility Award.
Corporate social responsibility
Warid has been recognised for corporate social responsibility projects. Some of these include
In August 2010, Warid donated PKR 800,000 in University Endowment Fund Trust of Government College University Lahore.
Warid has collaborated with Sundas foundation and Pakwheels for blood donation compaign.
Warid supports National Polio Immunization drive.
In May 2013, Warid donated PKR 1 million to GCU Lahore Endowment Fund Trust.
Mobile banking
On January 1, 2014 Warid in collaboration with Bank Alfalah launched mobile banking service namely 'mobile paisa'. Mobile paisa allows its users to pay utility bills, transfer money to specified recipients anywhere in the country, deposit and withdraw cash and carry out account transfers.
Merger with Mobilink
Warid previously announced its merger with Mobilink in November 2015. The case was under review at Pakistan telecommunication authority. After scrutiny PTA finally approved the merger in July 2016. The companies plan for integration and becoming a single brand in the coming months.This merger also resulted in the sharing of network resources, Warid customers can now connect to Mobilink's 3G network and Mobilink customers to Warid's 4G (LTE) network, this network roaming between both the operators was enabled in November 2016. In January 2017, Mobilink's CEO, Aamir Ibrahim announced that Warid's journey would come to an end, and that both companies would be launched under a new brand name, called Jazz.[11] Warid telecom