Introduction
Pakistani actress Veena Malik is a television host and model who worked in number of movies of Lollywood and Bollywood. She has given a number of hit movies and was also a contestant on Big Boss 4 in 2010. Born to parents Mohammad Ali and Zeenat Malik, Veena has been working in the field of acting since 2000 .she has featured in Akbar Khan's Yeh Dil Aap Ka Huwa and Sassi Punno and later played roles in female-centric films such as Koi Tujh Sa Kahan, Mohabbatan Sachiyan, Ishq Be Parwah and Kabhi Pyar Na Karna.
[1]
Veena Malik introduction
Early Life
Veena was born to a Punjabi family in
Rawalpindi
,
Punjab
, Pakistan. She was born on February 26, 1984. Her father Mohammad Ali is an army officer and mother Zeenat Malik is a homemaker. She completed her education in Pakistan. She has a Bachelor degree in Sociology, Psychology, and Persian.
Biography
Veena Malik was born as Zahida Malik on February 26, 1984 in Rawalpindi, Pakistan. She has completed her BA graduation in Sociology, Psychology and Persian. She is not only a film actress but also a social worker. In 2008-09, she has worked with WHO on their polio vaccination campaign. She has travelled across many villages with the World Health Organization as their representative and ambassador spreading awareness among rural women about the importance of their children's health and education
Career
Veena Malik has been a television host as well as an actor. In 2002 she was called by prime TV to host a show and that is how her career in the entertainment industry started. She improvised on and hour long show and also did the mimicry. She also hosted Geo TV show hum "Hum Sab Omeed Se Hain." She made her first film debut in 2002. In 2010 she invited in the show "Big Boss." Then in 2011 she became part of Cricket World Cup reality show. She has been for a long time criticized by the people of Pakistan for being immoral in the show "big boss." Even her parents were not happy with her. She blamed Pakistani media on being too biased for the woman working in the media and judging their work.  Then a show "Veena Ka Vivva" was supposed to be aired where she had to search for her soul mate and she had 71000 applicants from the whole world but the show was canceled by the channel as it was announced to shut down. Then she diverted herself towards Islam and later got married to a business man. 
[2]
Career Career
Personal Life
Veena Malik is married to Asad Bashier Khan Khattak, a businessman based in Dubai. They got married on 25th December 2013 in Dubai. She has two children with her husband; the eldest is son Abram Khan Khattak, born on September 23, 201, and a daughter Amal Asad Khan, born on September 23, 2015.  Veena Malik was rumored to be dating with supermodel Ashmit Patel. The rumor aroused when they were seen bonded well and seen together at various events even after the show, Big Boss. Both Veena and Ashmit did not give the clear picture about their relationship. Veena was pulled in controversy in 2001 for her nude pictures on the internet which she denied and in 2011 she again pulled in controversy for posing nude for FHM magazine.
[3]
Veena Malik Personal Life
In the Media
Malik broke the Guinness World Records for getting maximum kisses on her birthday in a span of one minute beating Salman Khan who held the record achieved on the reality show Guinness World Records – Ab India Todega.In 2012 she was ranked at No. 26 on FHM India's "100 sexiest women list" which included Angelina Jolie, Megan Fox, Paris Hilton, Kim Kardashian, Shilpa Shetty and Sonam Kapoor.
Bollywood Career
Veena Malik, before started her career as an actress, has worked as a comedian for many televisions shows and series. She has started her acting career in 2000 with a urdu movie Tere Pyar Mein. Veena Malik stepped in Bollywood industry with item song Channo in movie Gali Gali Mein Chor Hai and Fann Ban Gayi in Tere Naal Love Ho Gaya. In 2010, she worked in Rafique's Main Jeena Tere Naal and Beyg's debut comedy film Miss Duniya. 
Television
Other than film industry, Pakistani actress Veena Malik is also popular in television industry. Hum Sub Umeed Se Hain was her first TV show. Later, she appeared in Pakistani reality show Miss Duniya. Then she moved to Hindi television industry. In October 2010, she appeared in the Indian television reality show Bigg Boss Season 4. In February 2011, Veena Malik became part of the Cricket World Cup reality show in Delhi, India, called "Big Toss".
Year
Show
Role
Channel
2008
Hum Sub Umeed Se Hain
Herself
Urdu
Geo TV
2010
Miss Duniya
Dunya News
2012
Astaghfaar
Hero TV
Filmography
| Year | Title | Role | Notes |
| --- | --- | --- | --- |
| 2000 | Tere Pyar Mein | Amina | Debut Film |
| 2002 | Yeh Dil Aap Ka Huwa | Sana | Nigar Award for Best Supporting Actress |
| 2003 | Pind Di Kudi | Saba | - |
| 2004 | Sassi Punno | Zarina | - |
| 2005 | Koi Tujh Sa Kahan | Aimen | Lux Style Award for Best Actress |
| 2005 | Kyun Tum Se Itna Pyar Hai | Aamina | - |
| 2007 | Mohabbatan Sachiyan | Nagma | Lux Style Award for Best Actress |
| 2008 | Kabhi Pyar Na Karna | Nafisa | - |
| 2008 | Ishq Beparwaah | Ayesha | - |
| 2012 | Gali Gali Mein Chor Hai | Herself | Special appearance in song "Chhanno" |
| 2012 | Tere Naal Love Ho Gaya | Herself | Special appearance in a song "Fann Ban Gayi" |
| 2012 | Daal Mein Kuch Kaala Hai | Malai | Lead Role in Bollywood Film |
| 2013 | Jatts in Golmaal | Sujata | Special appearance in a song "Shaboo" |
| 2013 | Zindagi 50-50 | Madhuri | - |
| 2013 | Dirty Picture: Silk Sakkath Maga | Silk Smitha / Vijaylakshmi | - |
| 2013 | Super Model | Rupali "Roops" | - |
| 2014 | Mumbai 125 KM 3D | Poonam/ Ghost | - |
| 2013 | Nagna Satyam | Dirtygirl / Vijaylakshmi | Telugu film |
Philanthropy
Veena Malik was a representative of World Health Organization (WHO) for two years. n She also has adopted two children Zain and Zafar, who were the victims of 2005 earthquake living in an SOS village. She was associated with PETA 2011-2012 and support the animal rights.
[4]
Veena Malik Philanthropy
Offered to Donate her KIdney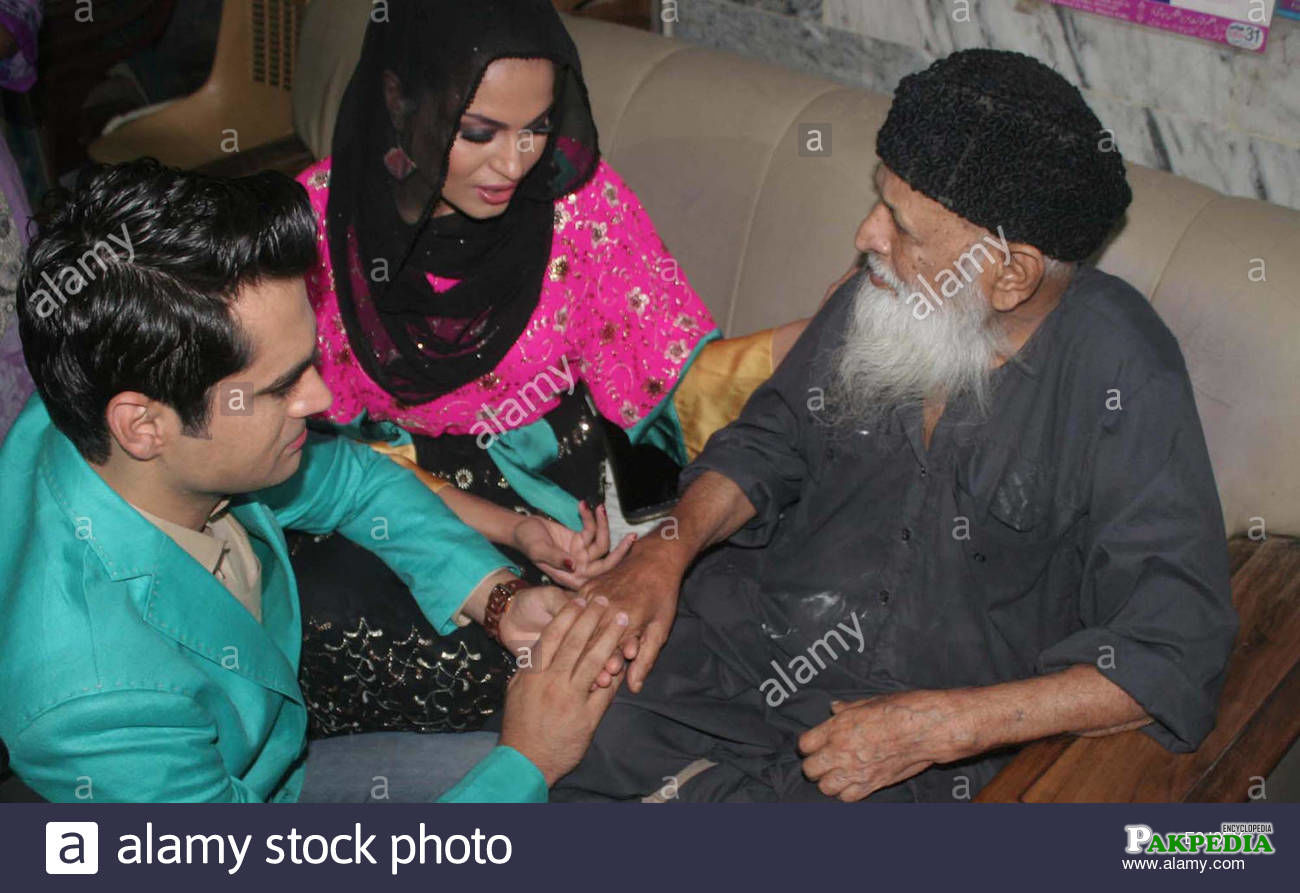 Pakistan's controversial actor Veena Malik in 2014 offered to donate her kidney to the ailing prominent social worker and philanthropist
Abdul Sattar Edhi
. Malik, 30, made the offer during her visit to Edhi's residence with her husband Asad Khattak. Edhi, who  won numerous accolades and recognition for his work through his Sattar Edhi Welfare Trust, was ill for sometime  with a serious kidney ailment. "I offered to donate my kidney to him because I feel Pakistan needs more people and leaders like him to show us the way. He is a beacon of light for all of us," Malik told reporters after she also visited the Edhi Child Centre. But Edhi politely refused her offer. She claims to have reformed herself and recently performed Umrah with her husband. "I found spiritual peace after meeting with Sattar Edhi and would like to serve people like him," she said. 
[5]
Offered her kidney