The province of Balochistan (or Baluchistan) in Pakistan contains most of historical Balochistan and is named after the Baloch. Neighbouring regions are Iranian Balochistan to the west, Afghanistan and the Federally Administered Tribal Areas to the north and Punjab and Sindh to the east. To the south is the Arabian Sea. The principal languages in the province are Baluchi, Pashto, Brahui, and Persian. The capital and largest city is Quetta.Balochistan is located at the eastern edge of the Iranian plateau and in the difficult to define border region between Southwest, Central, and South Asia. It is geographically the largest of the four provinces at 347,190 km² and composes 42% of the total land area of Pakistan. The population density is very low due to the mountainous terrain and scarcity of water. The southern region is known as Makran. A region in the centre of the province is known as Kalat.
| Title | Description |
| --- | --- |
| Information | |
| Location: | Pakistan |
| Details | |
| Location: | Balochistan Pakistan |
| Name: | Tourist place in Balochistan |
| In Urdu: | بلوچستان میں بہترین جگے |
| Climate of Balochistan: | Upper highlands is characterized by very cold winters and warm summers |
| Plain areas : | Very hot in Summer with temperatures rising as high as 120 degrees F (50 degrees C) |
| Desert climate : | Characterized by hot and very arid conditions |
| Tourist Places: | Hanna Lake ,Gadani Beach ,Churna Island , Hinglaj Mata , Quaid-e-Azam Residency , Bolan Pass , Hub Dam , Princess of Hope , Askari Park Quetta , Qila Miri (Quetta Fort) , Chandragup , Cliff , Pinjra Bridge NH-65 , Koh-i-Chiltan , Great Sphinx , Gwadar West Bay Beach , Mari Chak , Spin Karez , Ahsan Beach , Makran Coastal Range , Surbandar Beachside , Gwadar Beach , Zarghun Ghar , Meeri Kalaat |
| Important rivers in Balochistan: | Zhob, Nari, Bolan, Pishin, Mula, Hub, Porali, Hingol, Rakshan and Dasht. |
| Makran Coastal Highway Length: | 653 km (406 mi) |
| Hanna Lake Location: | Zarghoon Range, Urak Valley Quetta, Pakistan. |
| Mehrgarh Alternate name: | Mehrgahr, Merhgarh, Merhgahr |
| Bolan Pass Elevation: | 1,793.4 m (5,884 ft) |
| Balochistan: | Largest province of Pakistan, comprising 44% of the country's land mass |
| Capital city of Balochistan: | Quetta |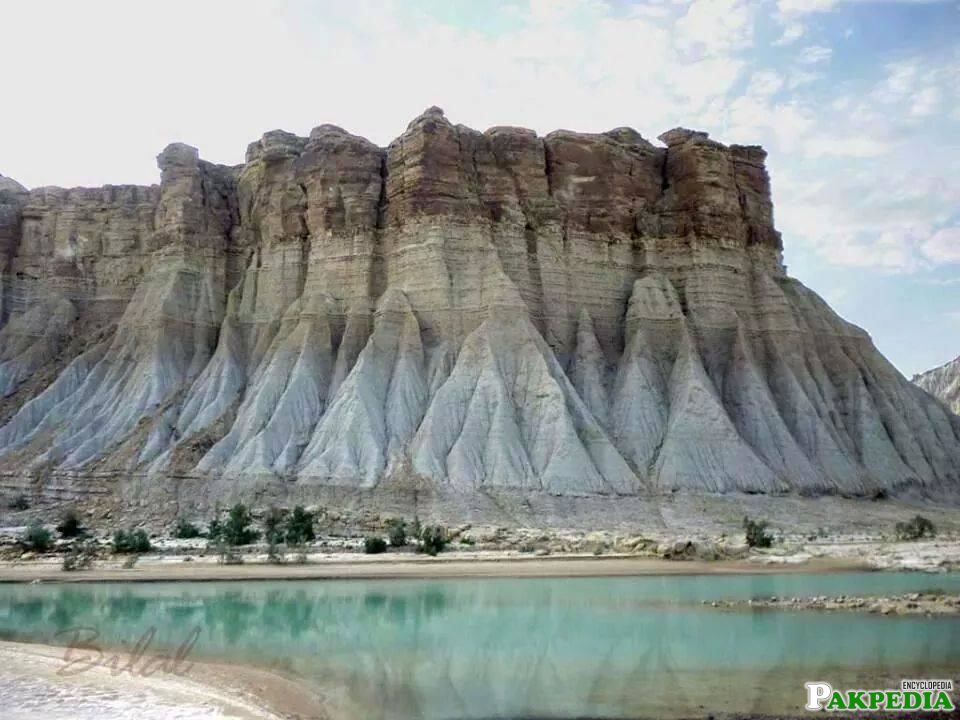 Sulaiman Mountains
The Sulaiman Mountains dominate the northeast corner and the Bolan Pass is a natural route into Afghanistan towards Kandahar. Much of the province south of the Quetta region is sparse desert terrain with pockets of inhabitable towns mostly near rivers and streams.
The capital city is Quetta, located in the most densely populated district in the northeast of the province. Quetta is situated in a river valley near the border with Afghanistan, with a road to Kandahar in the northwest.
At Gwadar on the coast the Pakistani government is currently undertaking a large project with Chinese help to build a large port. This is being done partially to provide the Pakistan Navy with another base, and to reduce Pakistan's reliance on Karachi and Port Qasim, which are currently the only major ports.[1] About Balochistan
Places in Balochistan
Hanna Lake
Gadani Beach
 Hinglaj Mata
 Quaid-e-Azam Residency
 Bolan Pass
 Hub Dam
 Princess of Hope
 Askari Park Quetta
Qila Miri (Quetta Fort) 
Chandragup 
Cliff
Pinjra Bridge NH-65
 Koh-i-Chiltan
 Great Sphinx
Gwadar West Bay Beach 
 Mari Chak
 Spin Karez
 Ahsan Beach
 Makran Coastal Range
 Surbandar Beachside 
 Zarghun Ghar 
 Meeri Kalaat
Ziarat
Ziarat is a district and a famous hill station located in the north of province of Balochistan. It is a famous holiday resort of Balochistan. Nearly every trip from Karachi to Quetta stops at Ziarat. Khalifat Hills are the highest peak with an altitude of 11,400 feet in Ziarat district. Ziarat has the highest 'Human Development Index' of all districts of Balochistan.
The name Ziarat means 'Shrine'. There is a shrine of Baba Kharwari 8 km from Ziarat town. His name was Tahir. He became a disciple of Nana Sahib. A number of miracles are attributed to him. A huge number of devotees come here and offer sacrifices. The tribesmen, during the Eid festival gather around the shrine and hold marksmanship and wrestling competitions.
About 1 km from Ziarat is the shrine of Baba Nau Gaza. It is surrounded by big graveyards. The real name of Nau Gaza Baba was Kareemdad. It is said that when he died his body became large by nine yards therefore people started to call him Nau(nine) Gaza(yards) Baba. People come to the shrine to pray.
Ziarat is a famous tourist site. Mohammad Ali Jinnah, the founder of Pakistan spent his last days of life in 'Ziarat Residency' in Ziarat. It is an important building. The whole building has a wooden structure designed beautifully and has great architectural importance. It was originally meant to be a sanatorium and was converted into the summer residence of the Agent of the Governor General. Now this building is a national monument. The residency catches tourists' attention due to its unique location.
Ziarat is very famous for its Juniper forest. Zarghoon mount range with a few other mountain ranges of Balochistan is known as the second largest juniper forest in the world. These juniper forests are real wealth of Ziarat. It covers a large area of about 247,000 acres. There are several valuable species of animals, birds and plants are discovered in this ecosystem. There are some very old trees in the valley which are more than 5000 to 7000 years old. In winter, when snow falls in Ziarat, the juniper valley becomes the most beautiful place in the world.
Pishin Valley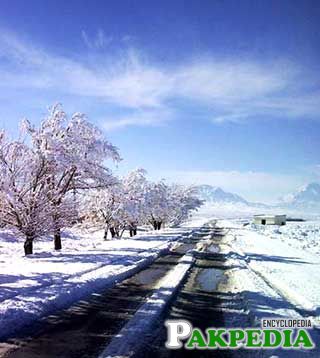 Pishin Valley is about 50 kilometers from Quetta city in District Pishin in the northwest of Balochistan province of Pakistan. It consists of thousands of acres of fruit orchards. The valley is a fertile land where several crops and fruits are grown. Pishin Valley is renowned for the greenery and is also the primary place for crop production. Besides the crops it is also famous for the growth of vegetables and fodder. Today Pishin Valley is famous for horticulture and agriculture in Pakistan.
Apart from the fruit, there is a quaint little market town which is famous for eating joints and other traditional foods. There is a man made spring 'Karez'. This artificial spring is made in order to use the subterranean water for irrigation purposes.
The Pishin Valley is a center of festivity and colorful harvest programs and other cultural fetes. Folk dances are very popular. In spring when most of the plants are in bloom, it gives a splash of colour to Pishin Valley. Migrant tribesmen travel across the valley in autumn and spring with their herds of sheep and camels and their assorted wares for sale. This seasonal movement adds colour and beauty to the life of Pishin Valley.
In recent years Pishin Valley has become one of the important tourist attractions in Balochistan. There lies Bund Khushdil Khan. Bund Khushdil Khan is a 5km long and 2km wide tank and is one of the wonderful sights. It is entirely dependent on rainfall and snow. Today it has become a spot of duck shooting.
In Pishin Valley tourists can participate in activities like horse jumping, trick horse riding, trick motor cycle riding and dare-devil motor car driving .There is also a dog and hare race which is an important event especially during the harvesting festival. There is a fortress nearby and when sun sets the fortress looks splendid. In short Pishin is a full of life and beautiful place to be visited.
Gwadar
Gwadar city, famous for the warm water deep sea port of Gwadar, is located on the south-western Arabian Sea shore in coastal area of Balochistan, Pakistan. It is situated about 460 kilometers (286 miles) from the city of Karachi and 75 kilometers from Iranian border. It is the capital of Gwadar District. It also works as winter capital for the province of Balochistan. Population of Gwadar, according to estimates of 2006 was 53,080.
For hundreds of years, Gwadar remained under the rule of several colonial and regional states, one after another. It came under the administrative control of government of Pakistan in 1958.
The port of Gwadar was finished in year 2007. It is located at the mouth of Gulf of Oman and at the apex of the Arabian Sea, which provide it a great strategic importance. The depth of port is 47 feet (14.3 meters). It is used to handle large cargo ships to Pakistan. The harbor is growing as main center of trade and a way for Oil imports of China.
Astola Island
Astola Island also called Astole is situated is Balochistan Province of Pakistan. It is also known as 'Jezira Haft Talar' or 'Island of the seven Hills. It is an uninhabited island in the Arabian Sea. The Island is a part of Pasni sub-district of Gwadar District.
The island is 6.7 kilometres in length and a maximum width of 2.3 kilometres. The highest point of the island is 246 feet above sea level. Astola Island maintains endemic life because of its isolated location. It is a very important area for endemic life. It is also support a large number of breeding water birds and many other creatures. There is no source of fresh water on the island. That is the reason that there are no trees on the island. The vegetation depends on the occasional rainfall and soil moisture for survival.
In the Astola Island there is a small mosque associated with Khawaja Khizr and there are ruins of an ancient Hindi temple of Hindu goddess 'Kali'. The island was called Satadip among Hindus.
Astola is a popular but hard destination for tourism due to the lack of lodging facilities. Tourists who are willing to stay overnight must bring their own provisions and camp on the island. Scuba diving, fishing and camping expeditions are popular.
Mehrgarh
Mehrgarh is a Neolithic site (7000 BCE to c. 2500 BCE) located 30 kilometers (18.64 miles) west of the town of Sibi and 120 kilometers (74.57 miles) south-east of Quetta on the Kachi plain of Balochistan, Pakistan. It is one of the oldest sites with evidence of agricultural activities in Asia. Evidence of farming (wheat and barley) and herding (sheep, goats and cattle) have been discovered in the area. The discovery of Mehrgarh was made in 1974 by and archaeological team supervised by French archaeologist named Jean-François Jarrige. The place was continuously excavated between 1974 and 1986, and again from 1997 to 2000.
The earliest settlement in Mehrgarh is found at north-east corner, is dated between 7000 BCE to 5500 BCE. It was small agricultural village of 495 acre (2 square kilometers). The entire area covers several subsequent settlements. Archaeological materials have been found in six mounds. About 32000 art crafts have been discovered in this area. Mehrgarh is now conceived as forerunner to Civilization of Indus Valley. [4] Mehrgarh  Mehrgarh 
Punnu Fort
The ruins of Punnu Fort (also called Punnu's Fort) are sited about 15km from Turbat, a city in southern part of Balochistan. According to archaeologists Punnu Fort could date back to 6000-8000 BC.
Punnu was a local prince of this area who was port of the "Sassi Punnu" romance which is famous in Makran and Sindh yet, even; thousands of years have been passed. Sassi Punnu (or Sassui Punnhun) love is one the seven popular tragic romances from Sindh and Balochistan.
The fort looks like it would have been small and possibly made of mud and stones. There are vantage points where one could see quite distance accross Turbats plains to the Makran mountain ranges. The remains of Punnu Fort, surrounded by date trees on a high ground can be a good picnic point in a nice weather. [5] Punnu Fort