The province of Sindh has two gigantic seaports and both are located in Karachi. The biggest international airport of Pakistan is also situated in Karachi and is widely known as Qaid-e-Azam International airport.
The Province of Sindh forms the lower Indus basin and lies between 23 to 35 Degree and 28-30, north latitude and 66-42 and 71-1-degree east longitude. It is about 579 kms in length from north to south and nearly 442 kms in its extreme breadth (281 kms average). It covers 1,40,915 square kms and is about as large as England.
Sindh is also proud of having acquired fame as Bab-ul-Islam (Gateway to Islam in the Indo-Pakistan subcontinent). At the time of the independence from the British occupation in August 1947, the population of Sindh was estimated at 5.5 million. Today, after the passage of fifty years the population of the province stands around 40 million souls, a half of whom now live in the urban centres like Hyderabad, Sukkur, Mirpurkhas, Tando Adam, Nawabshah, Larkana, Shikarpur, Khairpur, Badin and other smaller towns. It is basically an agrarian province. The Indus is by far the most important river of the province.[1] About sindh
| Title | Description |
| --- | --- |
| Information | |
| Location: | Sindh |
| Name: | Tourism in Sindh |
| In Urdu: | سندھ میں سیاحت |
| Details | |
| Location: | Sindh Pakistan |
| Sindh: | Province in Pakistan |
| Centred in the Sindh.: | Indus Valley Civilization (IVC) was a Bronze Age civilization |
| Sindh: | Numerous tourist sites |
| Places: | Gorakh Hill Station , Ranikot , Bhambore , Chaukundi Tombs , Thatta , Keenjhar Lake , Makli Hill or Makli Tombs , Kirthar National Park ,Hyderabad , Mir Shahdad jo Qubo , Hala , Bhit shah , Sehwan Sharif , Manchar Lake , Daraza Sharif , Kot Deji , Mohen-jo-Daro |
| Gorakh Hill: | Highest Plateaus of Sindh |
| Ranikot: | situated in the Kirthar Range about 30 km southwest of Sann, Jamshoro district of Sindh |
| Ranikot Walls : | Made of gypsum and lime cut sandstone |
| Bhambore: | About 64 km east of Karachi |
| Chaukundi Tombs: | Built between 15th and 18th centuries |
| Thatta: | Situated 98 km east of Karachi |
| Keenjhar Lake: | Facilities for angling and boating |
| Hyderabad: | Situated at about 164 km northeast of Karachi |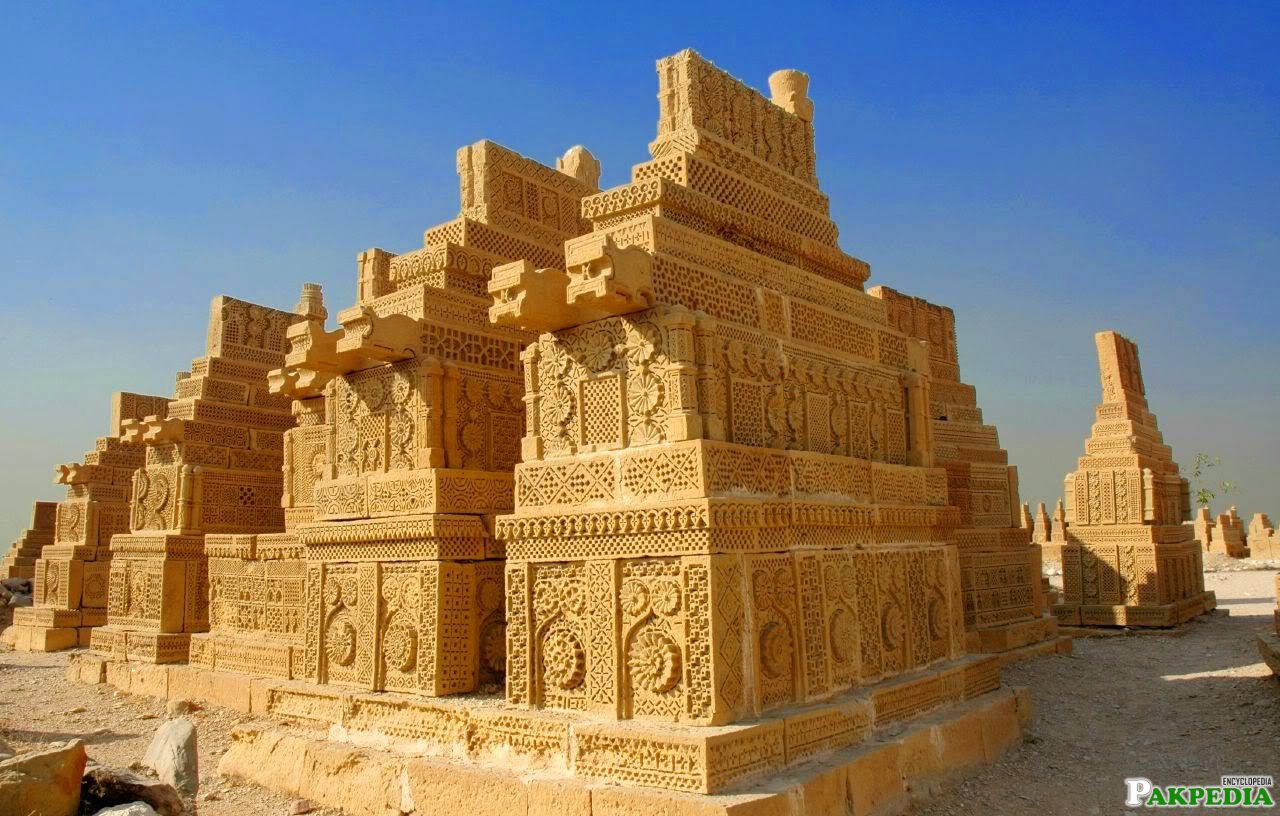 Tourism
Economies of many countries thrive on Tourism. It is the 3rd largest industry in the world after oil and automobiles. Sindh's remarkable tourism potential has largely remained unexplored. Gorakh hill station, Keenjhar lake, pre-historic site of Moen jo Daro, Makli necropolis, various forts & palaces spread throughout sindh, beautiful beaches on the shore of Arabian Sea make Sindh truly an ideal destination for tourism: The Government of Sindh has identified the following areas for profitable investment:
Beach Resorts
Water Sports
Entertainment & Theme Parks
Multiplexes
Desert Safari
Eco Tourism
Places
Karachi
Thatta
Larkana
Rohri
Makli
Lake Manchar
Mithi
Nooriabad
Moenjodaro
Shahdadpur
Keti Bunder South Wildlife Sanctuary
Ranipur, Sindh
Hyderabad
Clifton Beach, Karachi
Kirthar National Park
Khairpur
Kot Diji
Jacobabad
Shikarpur, Sindh
Tando Allahyar
Gharo
Pano Akil
Khipro
Hawke's Bay
Marho Kotri Wildlife Sanctuary
Sukkur
Mirpur Khas
Keenjhar Lake
Sehwan Sharif
Jamshoro
Gorakh Hill Station
Tando Adam Khan
Bhit
Hub Dam Wildlife Sanctuary
Garhi Khuda Bakhsh
Karachi

Karachi  is the capital of the province of Sindh, and the most populated city in Pakistan, sometimes known as the "City of Baba Quaid-e-Azam", after Muhammad Ali Jinnah the founder of Pakistan. It is located on the coast of the Arabian Sea in southeastern Pakistan, northwest of the Indus Delta. The city is the financial and commercial centre as well as the largest port of Pakistan.
The site of an ancient community of fishing villages, the modern port-city of Karachi was developed by authorities of the British Raj in the 19th century. Upon the creation of Pakistan in 1947, the city was selected to become the national capital, and was exposed to a massive influx of immigrants from India, which radically expanded the city's population and transformed the demographics and economy. Karachi has faced major infrastructural and socio-economic challenges, but modern industries and businesses have developed in the city, and the population expanded even after the capital was moved to Islamabad in August 1960. With a population of thirteen million.[3] Tourism in sindh   Karachi
Thatta

Thatta District is situated in the southern most part of Sindh Province, surrounded in the west by Malir, in northwest and North by Jamshoro District, in the east by Hyderabad & Badin Districts and in the south by Arabian Sea.
The District has a very rich Cultural heritage ranging from Mohan- jo- Darro to the entry of Muhammad Bin Qasim and Following Muslim as well as non-Muslim rulers and invaders, famous love stories of Sasui Punhoon at Bhanbhore & Noori Jam Tamachi at Keenjher Lake. The World's largest Graveyard situated at Makli. Where various ancient empires buried and Historical Badshahi Masjid made by Mughal Shahnshah is one of the Identity of Thatta.
River Indus flows almost exactly from the middle of the District forming a delta in the Arabian Sea. This District has unique properties because it has a hilly portion, Plane Agriculture Land, river, Seacoast and Indus Delta. District Thatta have been facing so many socio- economic issues form long time. Total Population of This District is 1,301,734, annual growth rate is 2.5%, Total fertility rate is 4.1% and Crude Birth rate is 2.6%.
There is 1-Health Facility for 14942 people, 1 Doctor for 5726 People, 1 female paramedic for 29545 people. Infant mortality rate (IMR) is 30/1000 and Maternal Mortality Rate is 600/100,000; reported by District Health department Thatta.
Overall literacy rate of District is 25.17%, in which Male literacy rate is 34.5% and Female literacy rate is 14.5%.
Only 16% Population living in Packa Houses, 07% population has facility of flush latrine and 09% population have available water supply facility. [4] Tourism in sindh Thatta
Larkana

Larkana, the fourth largest city of the province, Sindh, is known as "Eden of Sindh". The city has a great historical significance and is closely associated with some of the famous political personalities of Pakistan. Surrounding areas of Larkana include Shikarpur town, Sukkur, Ghar canal and many archeological sites such as Mohenjo-Daro.[5]Tourism in sindh Larkana
Rohri

Rohri is a town of Sukkur District, Sindh province, Pakistan. It is located at 27°40'60N 68°54'0E , on the east bank of the Indus River. Rohri town is the administrative headquarters of Rohri Taluka, a tehsil of Sukkur district with which it forms a metropolitan area. Rohri, Sindh was one of the worst affected provinces in the pakistan floods in 2010 that displaced more than 20 million from the Sindh and Punjab regions.
Alor was the ancient capital of Sindh, now modern Rohri adjacent to Sukkur, Sindh, Pakistan. In 711 AD, Alor was captured by the army of Muslim general Muhammad bin Qasim. In 962 it was hit by a massive earthquake that changed the course of the Indus River.
It is also claimed as their original homeland or originating place by the Arora community. After the earthquake, the Arora community claims to have left Aror and spread to other parts of the Punjab and Sindh.[6]Tourism in Sindh Rohri
Makli Hill

One of the largest necropolises in the world, with a diameter of approximately 8 kilometers, Makli Hill is supposed to be the burial place of some 125,000 Sufi saints. It is located on the outskirts of Thatta, the capital of lower Sind until the seventeenth century, in what is the southeastern province of present-day Pakistan.
Legends abound about its inception, but it is generally believed that the cemetery grew around the shrine of the fourteenth-century Sufi, Hamad Jamali. The tombs and gravestones spread over the cemetery are material documents marking the social and political history of Sind.
Imperial mausoleums are divided into two major groups, those from the Samma (1352–1520) and Tarkhan (1556–1592) periods. The tomb of the Samma king, Jam Nizam al-Din (reigned 1461–1509), is an impressive square structure built of sandstone and decorated with floral and geometric medallions. Similar to this is the mausoleum of Isa Khan Tarkhan II (d. 1651), a two-story stone building with majestic cupolas and balconies. In contrast to the syncretic architecture of these two monuments, which integrate Hindu and Islamic motifs, are mausoleums that clearly show the Central Asian roots of the later dynasty. An example is the tomb of Jan Beg Tarkhan (d. 1600), a typical octagonal brick structure whose dome is covered in blue and turquoise glazed tiles. Today, Makli Hill is a United Nations World Heritage Site that is visited by both pilgrims and tourists.[7] Tourism in Sindh Makli hill
Umerkot Fort
The ancient Umerkot Fort might had been founded with the town itself. However, the present fort is not that old and was constructed on the site of the ancient Fort by Mian Noor Muhammad Kalhora in 1746. The cultural material found buried within the fort also verifies this fact.
The fort is roughly rectangular in plan measuring 292m x 228m. The fortification wall, 3m in width, gives a tapered look both on the exterior and interior. It has four semi-circular bastions at the corners. At present one of the bastions has completely vanished while still another reduced to shambles. The walls and bastions have burnt-brick facing with the filling of sun-dried bricks or simple mud and earth.
There are some other buildings, though not of any historical or architectural consequence, in the fort. Near to the northwestern gate are some residential quarters for the staff of the Umerkot Museum. In the southeastern portion are the buildings housing provincial government offices while on the other side in the northeastern corner is the newly built, 'gymkhana'. On the western side of this building is the new museum building. The old museum, lying immediately west of it, is set in a single hall of considerable dimensions. It was inaugurated in 1968. Still serving well the scholars and general visitors alike it was conceived keeping in view the importance of Umerkot as birth-place of Emperor Akbar the Great. On display are some of the rare manuscripts, framin, specimens of calligraphy, miniature paintings, coins and armory. Some cannon balls and stone carvings retrieved from random excavations in the fort are displayed in the open outside the museum.[8] Tourism in sindh Umerkot Fort
Lake Manchar
Lake Manchar is situated at the distance of 18 km from Sehwan Sharif on the western side of Indus River in district Dadu, Sindh. It is the greatest shallow and fresh clear water lake in Pakistan and is also included in one of the largest lake of Asia. The Lake gathers water from the small streams located in Kirthar Mountains and drains into Indus River. The complete area alters between 350 sq. km to 520 sq. km according to the changes in seasonal weather.
The lake was established in 1930 when Sukkur Barrage was developed on Indus River. The flood bunds were established on its northern and north-eastern borderlines in 1932. Basically, this kind of natural source of clear water is a primary resource in such a dry hot region. This entire place is not less than a paradise for Sindhi people.
Lake Manchar and its locality is a striking holiday destination spot for families and friends. Individuals from far and nearby areas often visit this splendid place. This place has gained much popularity due to boating and fishing.[9] Tourism in sindh Lake Manchar
Mithi
Mithi is the best place to stay for any ventures into the Thar desert. There are some hotels here but all basic. One can carry on to the town of Tharparkar bu there are no hotels there at the time of writing. Mithi is 4 hours away from Hyderabad and 6 from Karachi. It is a realtively easy journey from either city.
Mithi is the capital of Tharparkar District in the Sindh province of Pakistan. The town is located at 24°20'0N 69°1'0E with an altitude of 2 metres (9 feet), lying 300 kilometres from Karachi and is located in a beautiful desert area. Mithi District has now seen a tremendous development and is considered one of the most developed cities of District Tharparkar. Its population now exceeds 500,000. A large number of people from all over the district Tharparkar have now moved to the city resulting in high development rate. It is now considered heart of Tharparkar District with tremendous level of economic and social activity.[10] Tourism in sindh Mithi
Nooriabad
Nooriabad, Hyderabad, Sindh – North is located in Pakistan. Its zip code is 73090.
Moenjodaro
Mohenjo-Daro was a city located in the south of Modern Pakistan in the Sindh Province, on the right bank of the Indus River. It was built between four and five thousand years ago, and lasted until 3,700 BP. It was part of the Harrapan Civilization, and at its peak, the city had at least 35,000 residents.
This was a sophisticated society with a wide-ranging diet that consisted of meat from both wild and domesticated animals and a variety of cultivated wheat, barley, peas and lentils – a huge step forward in human progression from the nomadic hunter-gatherers.
Mohenjo Daro was one of the largest centres of the Indus Valley Civilisation, experiencing the transition from Stone-age to Bronze-age[11] Tourism in sindh Moenjodaro
Shahdadpur
Shahdadpur  is a impressive city in Sindh, Pakistan. It is situated at 27°51'N and 67°64'E. The ancient city of al-Mansura is located over 19 kilometer south-east of Shahdadpur. The tombs of Sohni and Mahiwal, from the Sohni Mahiwal story, are situated in and near to the city; the tomb of Sohni is near to the proposed city whilst that of Mehinwal is in the centre point of this city. Shahdadpur has 4 union councils. It is believed to be one of the big cities of district Sanghar. Shah Abdul Latif Bhittai (whose tomb is over 10 kilometer from Shahdadpur in Bhit Shah) immortalized their love through his influential poetry specifically in the context of passion and love. Shahdadpur is also popular for the Police Training Centre PTC.[12] Tourism in sindh Shahdapur
Keti Bunder South Wildlife Sanctuary
Keti Bandar (Urdu: کیٹی بندر) is a port on the Arabian Sea, in the Thatta District, Sindh, Pakistan. The port was built on the remains of the older seaport of Debal where Muhammad bin Qasim and his army arrived from Iraq. From Karachi, Keti Bandar is approximately 150 KM and takes around 3.5 to 4 Hrs by road. Some big towns/cities that you cross on the way to KT Bandar are Gharo and Mirpur Sakro[13] Tourism in sindh  Keti Bunder South Wildlife Sanctuary 
Ranipur
Ranipur is a small town in the district of Khairpur,  Sindh province, Pakistan.
It was developed before the Kalhora rule of Sindh (1701 to 1783 AD). A distinctive City between 2 canals Rohri Canal on the side of East and Abul Canal on the side of West. Rani means QUEEN it is stated that Name of city is deployed on one of Princess of Darya Khan who rules the city of Thatta. It become popular first time in British Raj when an anti Khilafat' movement was operated from the city of Ranipur by the Pir's of the City to secure the interest of British Raj occupation in the province of Sindh. Ranipur is a significant Town and Union Council of the Khairpur District of Sindh province, Pakistan. Educational Institutes Government Primary Boys School Ranipur was developed in the year of 1892 AD. Government High School Ranipur was established in the year of 1939. Government Girls Primary School, Sachal Sarmast Degree College and Government Girls Degree College Ranipur are Prime Institute of Ranipur. Other institutes of the city involves Private sector, Ever Shine College, Mazhar Muslim Model School College, Bahria Foundation College.[14] Tourism in sindh Ranipur
Hyderabad
Hyderabad is one of those cities where the magnetic pull of nostalgia can be felt to a maximum, owing to the ever glorious landmarks of a bygone era. It is one of those cities where the past silently trudges along with a noisy and loud present. Apart from its new face where it is adorned with high rise buildings, bustling, busy markets thronged with heavy locomotive traffic; there is another face where the past lurks behind colonial buildings, hiding under electrical wires and large hoardings. The same old face can be seen written over the aged, gnarled and wrinkled face of an elderly person who has witnessed it, in all of its glory, and sailed through some of its sadness.[15] Tourism in sindh Hyderabad
Clifton Beach
Clifton Beach or Sea view is a beach in Karachi, Pakistan established on the Arabian Sea. It is one of the surroundings of Clifton, Saddar Town. It was the world's most well renowned silver-sand beach and health resort throughout 20th century but in 2003 it was influenced by an oil spill. The beach has enticements for families and visitors, encompassing beachfront horse and camel travels, amusement parks, bistros, and swimming in the Arabian Sea.[16] Tourism in sindh Clifton Beach  
Kirthar National Park
The Kirthar National Park is situated in the Kirthar range mountains in Karachi and Jamshoro District in Sindh, Pakistan. It was founded in 1974 and stretches over 3087 km², being the second largest National Park of Pakistan after Hingol National Park. The fauna comprises leopards, striped hyenas, wolves, ratels, urials, chinkara gazelles and rare Sind wild goats. Blackbuck antelopes are kept in enclosures for a reintroduction project at Kirthar National Park. However, most large predators have been extirpated. The last leopard was shot in 1977. Khirthar National Park qualifies strict criteria of IUCN (International Union for Conservation of Nature and Natural Resources) and is the largest (308733 hectares) and first of Pakistan's national parks to be included in the 1975 United Nation's list of National Parks and Equivalent Reserves. It has amazing secrets and surprises in store for scientists and naturalists, who shall find here an exciting field of study and research.[17] Tourism in sindh   Kirthar National Park 
Khairpur
Khairpur is a small city in the north of Sindh the south eastern province of Pakistan. Khairpur is known for the dates grown in this region, the fort of Kot DG, archeological site of Kot DG which in itself is a chapter of the pre-history of Indian subcontinent, and the shrine of Sufi poet Sachal Sarmast at Darazan Sharief. Khairpur although considered small, is 15th largest city of the contry. There is a university in the city as well.
Khairpur is known as Khairpur Mirs (The Kharpur of the kings) It was a semi autonomous kingdom before the partition and was ruled by Talpur family known as Mirs. Mir Sohrab established himself as the Rais-ul-ummarrah (Paramount Ruler) of Upper Sindh, maintained independent Sovereignty and his own currency separate from Lower Sindh (Hyderabad). At its greatest extent, Khairpur ranged from Gandava (now in Balochistan) to Shahgarh (now in India).[18] Tourism in sindh Kharipur
Kot Diji
The Kot Diji Fort, formally known as Fort Ahmadabad, dominates the town of Kot Diji in Khairpur District, Pakistan about 25 miles east of the Indus River at the edge of the Nara-Rajisthan Desert. The fort was built between 1785 to 1795 by Mir Sohrab Khan Talpur, founder of the Kingdom of Upper Sindh in 1783. In addition to the fort, a 5 kilometer, 12 feet wide mud wall was built around the city. This defensive wall had bastions throughout its length and a huge iron gate served as the city's only entrance.
The fort was considered invincible and served as the residence of the Emirs of Khairpur in times of peace. It is, therefore, the ancestral home of royal house. During war time thezenana (female members of the royal family), would be shifted to Shahgarh Fort, formerly within the realm but since 1843, after the conquest of the rest of Sindh, it is in the Tharand Jaisalmer desert, now in India. When the Zenana moved into the comfort of palaces, it stood mainly as a decorated reminder of more violent times. Throughout its whole history, however, Fort Kot Diji was never attacked.
Kot Diji was located at the edge of the desert; this provided an advantage over enemies marching from the east, because an exhausted army could be met before it could take supplies and water from the irrigated lands. In fact, the Mirwah canal was built in 1790 specifically to irrigate the lands west of the fort and bring water to the military base.[19] Tourism in sindh Kot Diji
Jacobabad
Jacobabad  is a city in the Jacobabad District, Sindh, Pakistan. Jacobabad located at 28°16′37.32″N, 68°27′05.04″E. The city is crossed by the Pakistan Railways and many main roads of the province.
During British India, the town was the administrative headquarters of the Upper Sind frontier district in Bombay; with a station on the Quetta branch of the North-Western railway, 37 m. from the junction at Ruk, on the main line. It is famous as having consistently the highest temperature in India. During the month of June the thermometer ranges between 120° and 127° F. The town was founded on the site of the village of Khangarh in 1847 by General John Jacob, for many years commandant of the Sind Horse, who died here in 1858. It has cantonments for a cavalry regiment, with accommodation for caravans from Central Asia. It is watered by two canals. An annual horse show is held in January. The town was founded near the village of Khangarh in 1847 by Brigadier General John Jacob, for many years Commandant of the Sindh Horse. Jacob who died and was buried there in 1858, and left a marvellous Victoria Tower in his remembrance in the heart of the city.
An annual horse and cattle show is held in January. Jacobadad is highly multicultural, with ethnic and tribal groups including Pechuho,BANGLANI Bijarani, Sunderani, Unar, Abro, Soomro, LASHARI, Khoso,Bhayo,Mangrio,Surhio Jakhrani, Gabol and Muhajirs. The area is predominantly Muslim with Hindu and Christian minorities. People are highly educated and participating in their role in the mainstream politics development of the Jacobabad, Sindh, Pakistan. Jacobabad has produced many poets,writters,teachers and social workers.Abdul karim gadai was a famous poet.FAIZ BUKHSHAPURI,Bhayo and many other famous poets that belong to district Jacobabad .[20] Tourism in sindh Jacobabad
Shikarpur Sindh
Shikarpur, the city once known as the Paris of Sindh is a district present in the Upper Sindh. Shikarpur district, in Larkana Division consists of Shikarpur, Khanpur, Lakhi and Garhi Yasin. Shikarpur shares the name with a town/village in Uttar Pradesh in India as well.
Shikarpur is spread over 3000 Square kilometers and hosts a population of 1,000,000 people . It has a literacy rate of 33% only. Languages spoken in Shikarpur include Sindhi, Balochi, Brahvi, Saraiki and Urdu. Being a tropical area, extreme winters and summers are experienced here as the weather is hot and humid with rainfall about 100 millimeters only. The economy of Shikarpur consists of industries, trade, commerce, fishing and agriculture. Shikarpur consists of seven gates (dars in Sindhi) including Lakhi gate, Hathi gate, Karan gate, Hazari Gate, Wagoono gate, Siwi gate and Khan Puri Gate and, a window known as Siddiq Marri.[21] Tourism in sindh Shikarpur
Tando Allahyar
The town was established by Mir Allahyar Khan Talpur Qila was constructed in (1804). Tando Allahyar Old name is (qunday je wasi). 4 kilometer away from Tando Allahyar there is found old monuments which are known as ((Abul Jo Daro)) Abul was a ruler of old age.
The town was established by Mir Allahyar Khan Talpur Qila was constructed in (1804). Tando Allahyar Old name is (qunday je wasi). 4 kilometer away from Tando Allahyar there is found old monuments which are known as ((Abul Jo Daro)) Abul was a ruler of old age.
Tando Allahyar has diverse Sindhi culture. Males clad themselves with national design of dress known as Shalwar Kameez having broader bottoms and traditional cap. Females clad with 'Gharara' or 'Parro' with bangles all the way up till to the shoulders.
Clogging Road side tea stalls with coworkers and friends is favorite spare-time for males.[22]Tourism in SIndh Tando Allahyar  
Gharo
Gharo  is a city in Thatta District, Sindh, Pakistan. The Gharo Wind Power Plant is being built in Gharo. It has large bazar for shopping of local communities, sits on the delta of the Indus River, its economy is based on fishing and agriculture.
Pano Akil
Pano Akil  is a tehsil of Sukkur District in the Sindh province of Pakistan. It is located approximately 40 kilometres (25 mi) north of the Sukkur. It consists of 12 union councils  and 516 villages.
Khipro
Khipro is a taluka, an administrative subdivision, of the District Sanghar, province Sindh, Pakistan. It is greatest taluka in the state Pakistan by area. From 2 sides it is linked to the big cities of Sanghar and Mirpurkhas, and left over 2 sides are linking with the border of India. There is also a Government Degree College where the graduate and post-graduate classes are arranged under an affiliation of University of Sindh. Khipro involves a well-designed school "Pakistan Rangers Public School" which is run under the imposition of" Pakistan Rangers". There are numerous private schools. Shah Latif children academy hathungo is believed to be one of the popular of these which is developed by Mohammad ibrahim Hingorjo in the year 2000.[23] Tourism in sindh  Khipro
Hawkes Bay
Hawke's Bay Or Hawkes bay is a famous beach in the city of Karachi, Sindh, Pakistan. It is located over 20 kilometers south west of the city Karachi. It is approachable through Mauripur Road (previously known as Hawkes Bay Road) or the Mubarak Goth Road from the city of Karachi. The name of the beach is derived from Bladen Wilmer Hawke, later ninth Baron Hawke of Towton, who had a beach house there in the year of 1930s. He utilized it for the weekends and other of his contemporaries joined him making the houses.
It is a very popular tourist resort. It is a spectacular sandy beach with clear blue water. Every day hundreds of people from the city of Karachi visit there and amuse picnicking, fishing, swimming, and camel and horse riding. Huts are also present for the rental there.
Hawksbay is believed to be one of the beaches in the world where the unique green sea turtles come to lay eggs.  It hosts one of the unique reptile species.[24] Tourism in sindh Hawke's Bay 
Marho Kotri Wildlife Sanctuary
Marho Kotri Wildlife Sanctuary is located on Arabian Sea coast along Indus River Delta in Thatta District, Sindh, Pakistan.[25] Tourism in Sindh  Marho Kotri Wildlife Sanctuary 
Sukkur
Sukkur is Sindh`s third largest city spread over an area of about 5165 square kilometer. According to the 2007 census the total population of Sukkur adds up to 18, 08,740 people. Sukkur is situated 220 feet above sea level. The weather is extremely hot during the summer while it becomes cold and dry during the winter. Sukkur is based upon 4 towns and a single union council. In the north, this city meets with the borders of Shikarpur and Kashmor. Ghotki is in the north-eastern side while in the south it`s border touches with that of Khairpur. Sukkur also border`s with India.
Sukkur has great historical significance as well as has some good trading significance as well. Though 96% of Sukkur`s population is based on Muslims but there are Hindus as well including other minorities too. Sukkur is Sindh`s third largest city spread over an area of about 5165 square kilometer. Majority of Sukkur`s population is engaged with trading and fishing. Sukkur`s majority population are Muslims but they also include Balochis and non-Balochis as well in which Rand, Chandio, Khoso and Alghari include in the Balochi population while Samah, Dahir, Mehr, Bhutto, Bheyo, Syed, Memon, Qureishi and Hindus include in the non-Balochi community that also reside in the area. There are many industries on big as well as small scale here in Sukkur. The main industries include cotton, textile, cement, leather, tobacco, paint and varnishes, medicine and sugar are the most remarkable ones to consider. While small scale industries include hosiery, boating, fishing nets, cutlery and tile making.
The main and important places n Sukkur include Arorh, Shah Kheruddin`s shrine, Island of Bakhar, Minaret of Masoom Shah and Saad Belo. The elite educational institutes of IBA (Sukkur), Virtual University and SISTECH are highly regarded of them all.[26] Tourism in sindh sukkur
Visit Places of Sukkur
Ghanta Ghar (Clock Tower) Bazaar should be your starting point where the best part of bazaar is. Later you can visit Masoom Shah Jo Munaro (Menarat of Masoom Shah) which is at a walking distance and if you have energy to climb 84 narrow steps there is a spectacular view of the River Indus and its two bridges. Minaret was built by Historian and knight Masoom Shah in 18th century Later drive to The Lloyd Barrage and Lansdowne bridge . At Lloyd barrage there is also a small barrage Museum which explains the barrage system and some interesting facts of the river Indus irrigation system. Near Lansdowne Bridge also visit the "Sat Bahan Astan" A small graveyard from 15th to 17th century has beautifully decorated tombs with blue Glazed tiles.
At a short distance from Sukkur There are few temples of Hindus which are of the Kali Mata & Durga. It is said that Kali when traveling to Hinglag (Baluchistan ) stayed here. Many Hindus come for a pilgrimage (Teerath ) and go through a dark cave to perform their ritual The people here are very friendly and it can be really interesting to see how rituals are performed here. On the way to the caves you can also stop at Ganjo Takar a small temple on top of a gigantic bolder if you want to test your rock climbing skills this is perfect When I went there I saw there .[27] Visit Places Sukkur
Mirpur Khas
Mirpur Khas is a famous city in the province of Sindh in the country of Pakistan. It is the capital city of Mirpur Khas District. It is the 4th greatest city in Sindh with an estimated population of 488,590. Its soil is very rich and fertile. The city is famous known for its horticultural produce and farming, as well as mango cultivation, with various varieties of mangoes produced every year. Mirpurkhas is also developing in I.T Software Education and Business.[28] Tourism in sindh Mirpur Khas
Keenjher Lake

Keenjher Lake or Kalri Lake is located 22 kilometers away from Thatta and about 122 kilometers from Karachi and 80 Kilometers from Hyderabad. It is one of the largest man made lake in Pakistan.
Keenjher lake was build possibly in the 12th century by the local rulers as a watr reservoir for the then capital of Sindh Thatta.
Today Keenjher lake is an extremely beautiful blue water lake which It plays an important ecological role in the functioning of the Indus River basin. It is extremely important for a wide variety of breeding, passage and wintering waterbirds. The mid-winter waterbird counts of the late 1980s averaged 140,000 birds per winter.[29] Tourism in sindh Keenjher Lake
Sehwan Sharif
Situated on the right bank of River Indus at a distance of 135 km from Hyderabad, Sehwan is an old town of pre-Islamic period. Here are the remains of Kafir-Qila, a fort reported to have been constructed by Alexander the Great. Sehwan is famous for the resting place of the great mystic poet, saint and scholar Shaikh Usman Marvandvi (1117–1274), popularly known as Shahbaz Qalandar whose mausoleum is visited by thousands of the devotees throughout the year. During the Urs celebrations (18th Shahban – the eighth Islamic lunar month), devotees dance rhythmically and with total abandon to the beat of drums (Naqqara Dhamal), finally ending in a spiritual trance.
Sehwan  is a city located in Jamshoro District in theSindh province of Pakistan. Sehwan town is of great antiquity and stands on the west bank of the Indus, 80 miles (130 km) north-west of Hyderabad (which is on the east bank).  It was significant enough during the 8th century to be conquered by Muhammad bin Qasim in 711 CE, and two centuries later by Mahmud of Ghazni. An abortive attempt was made by the Mughal emperorHumayun to capture it on his way to Umarkot but it finally fell to his son Akbar.
Apart from the ruins scattered about its environs, the city is known for its Sufi patron saintHazrat Lal Shahbaz Qalandar who lived here in 13th century CE. The famous mausoleum of Hazrat Shahbaz Qalandar attracts hundreds of thousands of faithful every year.
Another famous place is the inverted city beside the Dargah of Hazrat Lal Shahbaz Qalander, which may be the Debal Bandar of Raja Dahir. Manchar Lake, the largest freshwater lake in Pakistan, is a short distance from Sehwan Sharif.[30] Tourism in sindh  Sehwan Sharif 
Jamshoro
Jamshoro, the site of largest University residential campus in the country, situated about 18 kilometers from Hyderabad on the right bank of River Indus, was a rather desolate hilly track until 1955 when it was selected for the establishment of Sindh University Campus. The site was selected to be a University township away from the humdrum of Hyderabad city which lacked room to meet the ambitious expansion programs of the University.
Interestingly, Jamshoro is virtually the gate-way to the Indus Valley, now world famous for its civilization and rich cultural heritage. The Ranikot Fort is located 40 km. to the north of the campus, in the northward continuation of the same hilly track which become Laki Ranges, merging with the Khirthars northwards. Amri, an important archeological site, lies about 15 km. further north. Sehwan, a well known township lies 25 km. to the north of Amri. Mancher Lake the largest fresh water lake in the region, is situated to the west north west of Sehwan. Travelling about 150 km. north through the Indus plains brings one to the site of Moen-jo-Daro, the most important archeological discovery of the Valley.
The development programs initiated in 1959 have gradually though slowly borne fruit. Though still in progress, over the years about 20 teaching blocks, housing 39 institutes departments and centers have been constructed. Five halls of students residence provide accommodation for about 1800 students. A beautiful pavilion-the Hyder Bux Jatoi Pavilion has been constructed to provide indoor games facility, track for athletics and sports grounds. Fatima Jinnah Gymnasium provides games and sports facility exclusively for girls. The Institute of Sindhology building, depicting the cultural heritage of Sindh, adores the entrance to the campus from the Highway. The imposing central library building, named after Late Allama I. I.Kazi, the first Vice-chancellor of the University at Hyderabad, who conceptualized this campus, serves as a land mark even from a distance.The campus itself has been named as Allama I.I. Kazi Campus as a tribute to the great scholar and visionary.
The residential Colony for the faculty and staff of the University provides on campus residence to about one third of the employees. Plans are in hand to expand the colony and provide accommodation at the campus to 200 more employees.
The tree lined roads and greenery developed at the campus has completely transformed the site. The location of Mehran University of Engineering & Technology, sharing the site with the Sindh University and the Liaquat University of Medicine & Health Sciences complex in the neighborhood, has gone a long way in this transformation to a University township.
The University, because of its easy accessibility, thanks to the construction of Super Highway and Hyderabad Bypass, being about 150 km. from Karachi and 18 km. from Hyderabad, has been able to host a number of International Conferences, Symposia and Seminars on Science & Education and on specialized scientific themes. Intervarsity sports competitions and annual sports meets have become regular features. The museum and various art galleries of the Institute of Sindhology attract a large number of visitors.[31] Tourism in Sindh  Jamshoro 
Gorakh Hill Station
Gorakh Hill is a high altitude (5,688 ft (1,734 meter) plateaus in the province of Sindh facied as a Hill Station. It is located in the Kirthar Mountains 93 km north west of Dadu city or aproximatly 500 Kilometers from Karachi. Gorakh Hill is spread over 2,500 acres (10 km2)
The Plateau also serves as gateway for the villagers of Khuzdar District, Balochistan, who come over to the village, Wahi Pandi, in Sindh's segment of Kirthar, about a third way downhill from Gorakh Hill Station… for purchasing food and other Utilities.[32] Tourism in sindh Gorakh Hill Station
Tando Adam Khan
Tando Adam is a town in the province of Sindh, Pakistan. The city is also known as Daran Jo Shehar (City of Gates), because it had 8 gates in various places. It was previously under Nawab Shah District (now called as Shaheed Benazir Abad District) until the year 1955 and after that became part of Sanghar District. Tando Adam was discovered by Mir Adam Khan Mari, which is known as "cantonment" for "Tando" in Balochi. Tando Adam is famous for its industries and its agriculture; crops raised nearby involve sugar-cane, wheat, cotton, bananas, and mangoes.
Tando Adam has several historical sites, involving mosques and Hindu temples. The tomb of the poet Shah Abdul Latif Bhitai is situated 16 km (9.9 mi) from Tando Adam. Now Tando Adam owns a medical college name as; 'Suleman Roshan Medical College' at Hyderabad Road near Suleman Roshan Hospital. Tando Adam was once used to be called as; "Paris of Pakistan"[33] Tourism in sindh Tando Adam Khan
Bhit Island
Bhit Island  is the famous smallest neighborhood of Kiamari Town in the city of Karachi located at the province of Sindh, Pakistan. It contains 3 small fishing islands which reside in the centre of the harbor of the Karachi city. The approximated place of these islands is 4 km² and the population is almost 12000. The area is extremely ignored by the regional and the central government due to its separation from the mainland
There are various ethnic and religious groups in the area of Kiamari town involving the Muhajirs, Sindhis, Punjabis, Kashmiris, Seraikis, Pakhtuns,Balochis, Memons, Bohras Ismailis, etc. Over 99 percent of the population is Muslim. The population of Kiamari Town is assumed to be approximately 1 million.
There is another area named as the Bhit Shah situated in the interior part of province of Sindh, Pakistan. Bhit Shah is the town where the tomb of Shah Abdul Latif Bhittai (1689–1752), the honorable saint of Sindh.[34] Tourism in Sindh Bhit Island
Hub Dam Wildlife Sanctuary
Hub Dam is Pakistan's third biggest dam. This dam is located in the northern of Karachi around the Kirthar Nationwide Playground. A huge water storage area tank designed almost 30 years ago on the Hub Stream, in a area of dry flatlands and low stony mountains. Much of the banks is considerably racks and stony, but there are many short coves and small destinations. Vast majority of the tank (in Balochistan) is unprotected; the southern coast and place southern region of the Dam (in Sindh) are secured in the Kirthar Nationwide Playground and Hub Dam Creatures Haven., respectively. The stream established by the dam protects an place of 32 rectangle kilometers and is an suitable place for pets. There is a lot of waterfowl in the pond,both homeowner and migratory. The nearby mountains are the home of Urial, Sind outrageous goat, Chinkara gazelle, Hair, Jackal, Typical fox, Pangolin and several other wildlife and animals.[35]Tourism in sindh  Hub Dam Wildlife Sanctuary
Ranikot Fort
Ranikot Fort (Sindhi: رني ڪوٽ‎) is a historical fort near Sann, Jamshoro District, Sindh, Pakistan. Ranikot Fort is also known as The Great Wall of Sindh and is believed to be the world's largest fort with a circumference of approximately 26 kilometres (16 mi). Since 1993, it has been on the tentative list of UNESCO World Heritage Sites. The original purpose and architects of Ranikot Fort are unknown. Some archaeologists attribute it to Arabs, or possibly built by a Persian noble under the Abbasids by Imran Bin Musa Barmaki who was the Governor of Sindh in 836. Others have suggested a much earlier period of construction attributing to at times the Sassanians Persians and at times to the Greeks. Despite the fact that a prehistoric site of Amri is nearby, there is no trace of any old city inside the fort and the present structure has little evidence of prehistoric origins.[36] Ranikot Fort –  Ranikot Fort