About
Personal life
Talat is married to Dr. Rakhshanda Hussain, a professor of Psychology at
University of Karachi
. They have three children (two daughters and son). Oldest daughter named Tazeen, middle daughter Roohaina, and youngest son Ashar. He is currently faculty member at National Academy of Performing Arts (NAPA) in Karachi and serves as a member of the governing body at the Karachi Arts Council and an ambassador of I Am Karachi. He has also been affiliated with PEMRA (member) and National Book Foundation of Pakistan (ambassador). 
[3]
Talat is married to Dr. Rakhshanda Hussain, a professor
Early Career
Talat Hussain started his career from
PTV
in 1967. His first television play was Arjumand. In 1972, he moved to England, and joined the London Academy of Music and Dramatic Art (LAMDA). Talat Hussain's early roles was in Jimmy Perry and David Croft's It Ain't Half Hot Mum. His roles in It Ain't Half Hot Mum was The Club Proprietor (bartender) in Cabaret Time, The Bar Proprietor in Dont Take the Mickey, The RAF Control Tower Officer in Fight to Jawani alongside Jeffrey Holland and Robin Parkinson. He was also worked for BBC Radio in play Crown Coat.
[4]
Talat Hussain started his career from PTV in 1967
Foreign films and television drama serials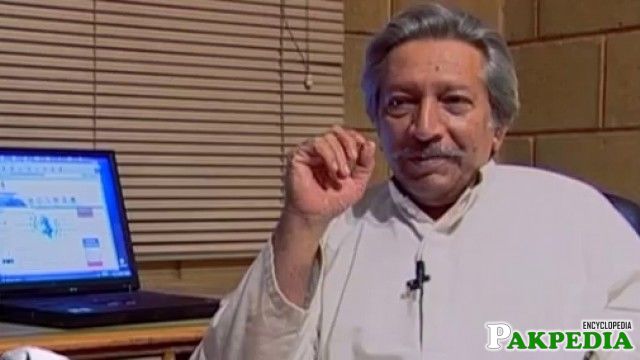 Talat has worked in several foreign films and television drama serials and long plays. He worked in some episodes of Channel Four's television serial Traffik. In 2006, Talat Hussain won the Amanda Award for the Best Supporting Roll category in the Norwegian film Import-eksport. He also starred in Jinnah witch starred Christopher Lee who played Jinnah but Hussain played a refugee. Talat also lends his voice to the person of Jesus in the Urdu dubbed version of the famous movie Jesus.
[5]
Talat has worked in several foreign films and television
Popular Shows
| Shows  |  Chanels |
| --- | --- |
|  Aanso |  PTV |
|  Arjumand |  PTV |
|  Des Perdes |  PTV |
|  Hawaaian |  PTV |
|  Kashkol |  NTM |
|  Perchaiyan |  PTV |
|  Tariq bin Ziad |  PTV |
|  Traffik  |  Channel Four |
|  Typist |  PTV |
Popular Films
| Movie  | Years  |
| --- | --- |
|  Ishara  |  1969 |
|  Jinnah - The Movie |  1998 |
|  Laaj  |  2003 |
|  Kamyabi  |  1984 |
|  Actor in Law |  2016 |
|  Chupan Chupai  |  2017 |
|  Project Ghazi |  2017 |
Stage
Andhera Ujala
Raz o Niaz
Guriya Ghar
Lao tu Qatalnama Mera
Sufaid Khoon
Khalid Ki Khala
Jo Chalay To Jaan Sey Guzar Gayey
Awards
Pride of Performance Award (1982) 
Best Actor Gumnan, National Film Awards (1985)