Shaheed ustad Syed Sibt-e Jaffar Hassan Zaidi was a teacher and a heartfelt soz khwan of Ahl-e Bait a.s. He was a Poet, a Writer, a Teacher and a reciter whose voice had the power to change a person from inside. He facilitated religious and academic education for many children. He facilitated financial assistance to many families within Pakistan. He did a lot more not only for the Shia community but for Pakistan as well. Despite of his great work , a humble man who lead a simple life and embraced martyrdom which was his desire. He often prayed for martyrdom through his poetry. He has achieved what he wished for but Pakistan have lost a great teacher and we will never recover from this great loss. May Allah bless the departed Soul with His eternal mercy and peace. 
| Title | Description |
| --- | --- |
| Personal | |
| Name: | Syed Sibt-e Jaafar Hassan Zaidi |
| In Urdu: | سید سبط جعفر حسن زیدی |
| Famous As: | Ustad Sibt-e Jaffar |
| Nationality: | Pakistani |
| Residence: | Liaqatabad, Karachi |
| Education: | Bachelors in Education (BEd) from Govt. College of Education, Karachi, Masters in Islamic Studies in 1977 from University of Karachi,Masters in Urdu Literature in 1979 from University of Karachi, LLB (Degree in Law) in 1977 from Federal Urdu Law College, Karachi, |
| Religion: | Islam |
| Profession: | Teaching, Lament recitation |
| Website: | http://www.soazkhwani.com/ |
| Awards : | His services in the field of Soazkhwani were admired and recognised by Harvard University and Columbia University of USA |
| Born | |
| Date: | 7 March 1957 |
| Zodiac: | Pisces |
| Place: | Karachi, Sindh ,Pakistan |
| Family | |
| Ethnicity: | Zaidi Syed |
| Spouse: | Sughra Fatima(ustani) |
| Children: | 2 daughters, 1 son |
| Parents: | Molana Syed Ahmad Mian Zaidi (father) |
| Died | |
| Date: | 18 March 2013 |
| Venue: | Liaqatabad, Karachi |
| Cause: | Killing |
| Killed by: | Lashkar-e Jhangvi |
| Rest Place: | Waddi-e Hussain a.s cemetry |
| Grave number: | 8406 |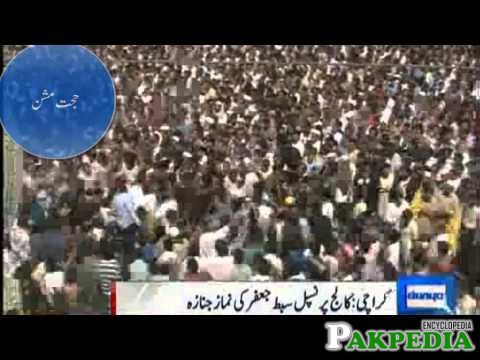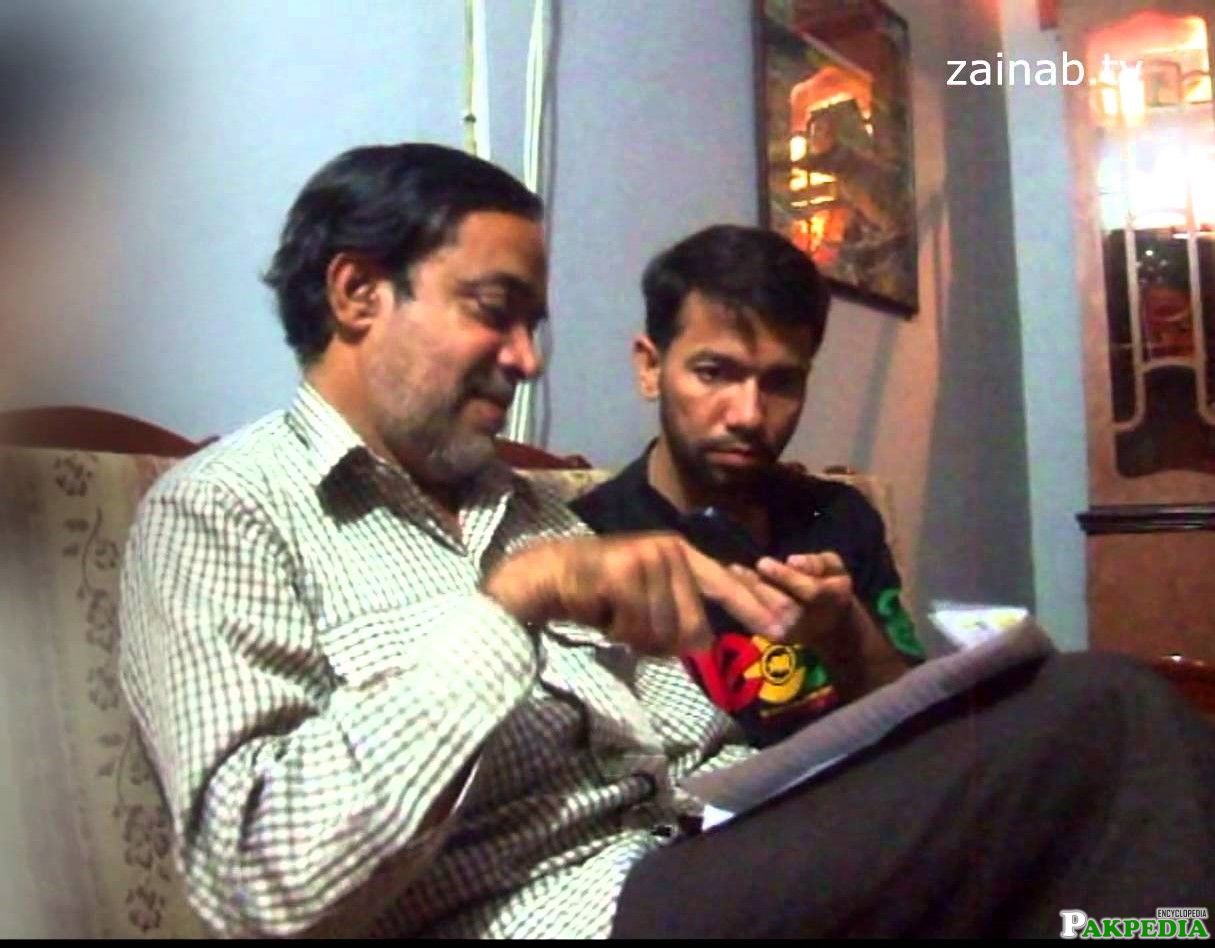 Biography
Early life

Shaheed Ustaad Professor Syed Sibt-e-Jafar Zaidi al- Warsi was born on 7 March 1957 in Karachi, Pakistan. aHis father, Molana Syed Ahmad Mian Zaidi, was a religious scholar. Zaidi passed his matriculation exams from Govt. Boys Secondary School Liaquatabad in 1971. He completed his intermediate education and graduation from Govt. Islamia College in 1975.  
Education
Ustad Sibt-e jaafer zaidi was a multi-talented person. He not only acquired academic education but also carries his religious education with the same pace and diligence.
Academic
Academically, He was the holder of four degrees, that depicts his thirst for knowledge.
Bachelors in Education (BEd) Govt. College of Education, Karachi, Pakistan.
Masters in Islamic Studies in 1977 from University of Karachi, Karachi, Pakistan.
Masters in Urdu Literature in 1979 from University of Karachi, Karachi, Pakistan.
LLB (Degree in Law) in 1977 from Federal Urdu Law College, Karachi, Pakistan.
Religious
Along with his academic education he also received a religious education from Madarsat-ul-Waizeen, Jama-e-Imamia,Nazimabad, Karachi, Pakistan. Molana Syed Zafar Hassan headed the institution. Molana Professor Syed Inayat Hussain Jalalvi and Molana Mohammad Mustafa Jauhari were his teachers. His batch was the first and last batch of graduate Waizeen Course conducted by Jamia-e-Imamia. After that it is now been reopen after a long time closure. [1] Early life and education  
Professional Career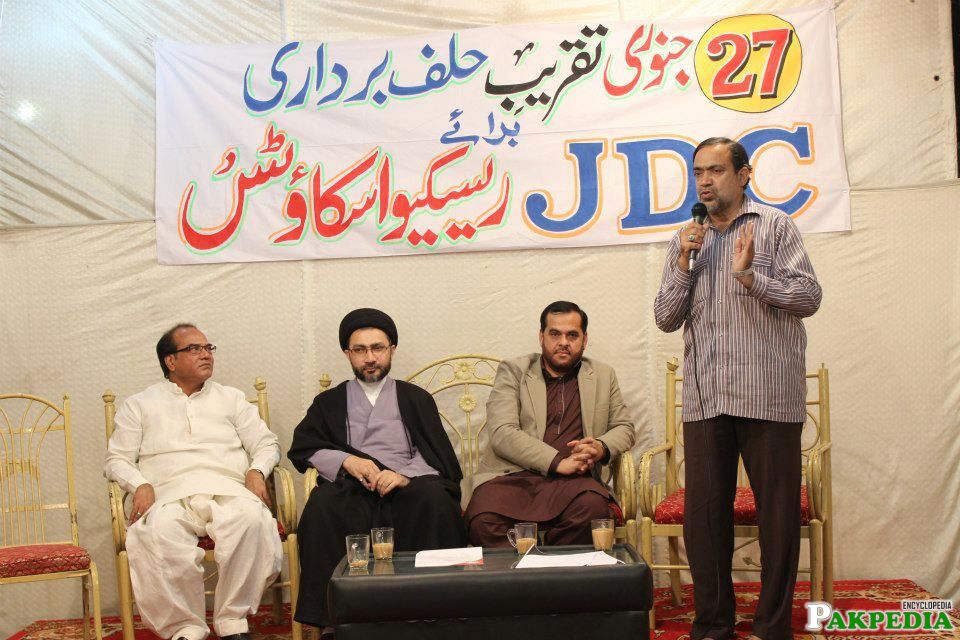 He worked as a lawyer with Syed Saghir Hussain Jaffari Advocate & Company from 1977 to 1981. But he left law practice in 1981. Jaffar who came to be known as 'Professor' and 'Ustad' was associated with the profession of teaching for at least 30 years as he taught at various schools and colleges of Karachi. From 1981 onward he taught Islamic Learning, Pakistan Studies as well as Urdu at Government Degree Science College, Liaquatabad, and was serving as a Principal of the institute during his last days. 
Civil Service
After quitting the Law practice, he passed the CSS Examination in 1981. He was then first posted to Government College Latifabad, Hyderabad, Pakistan. Later, from November 1981, he transferred to Govt. Liaquatabad College Degree College where he taught Islamic studies, Pakistan Studies and Urdu Literature. In 2010, he was promoted to principal of the college. [2] professional
Students and Companions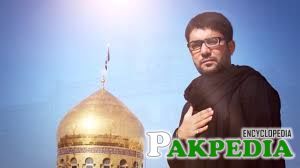 Zaidi had numerous students who he devoted his time to in order to prepare them to become Soazkhwani themselves.
Imtiaz Abbas: Zaidi's most senior student whom he mentioned as his successor, Rizwan Abbas, Kashif Zaidi, Syed Imon Rizvi,Molana S. Fasahat Hussain Zaidi (Yawar Qummi),Urooj Abbas,Rizwan Jafri, Shamim Rizvi, Mohsin Kazmi, Parvez Abidi (UAE), Manzar Kazmi (UAE), Azhar Naqvi, Shayan Haider Naqvi (London), Muhammad Abbas Shuja, Syed Dilawar Abbas Zaidi (Lyari), Asad Zaidi, 
Haji Intikhaab Hussain Jafri, Rizwan Naqvi, Syed Faez Hussain, Syed Ameer Abbas Zaidi, Asif Zaidi (Islamabad), Shahid Raza Zaidi Saqib (Khairpur), Azfar Asad Zaidi, Kumail Hussain Zaidi, Syed Turrab Hussain Zahedy (UAE), Muhammad Raza Jafri , Jafri Bradran (Maymar), Muslim Mahdavi, Dilawar Hussain Zaidi, Syed Asad Hussain Naqvi (Fatowali Syedan), Kumail Abbas, Syed Ali Mehdi Abbas Rizvi, Asim Mirza, Syed Mohammad Ameer Rizvi, Syed Shuja Rizvi, Mir Hassan Mir, Syed Ali Safdar Rizvi, Syed Azmi Abbas Bilgrami. [3] students   
Companions

Syed Hussain Akhtar Zaidi, Syed Shakeel Haider Jafri were the companions of shaheed ustad Zaidi in soz khwani. 
Idaara-e-Tarveej-e-Soaz khwani

  Jaffar was held in high esteem by the entire Shia community for his remarkable art of classical Soz Khwani ,reciting elegy of martyrs and events of Karbala in melody. Inspired by literature and religion, Jaffar took on the legacy of his father and harmonised both which did not only result in him reciting the elegy but also penning them. Feeling that the art, unique to the Shias of the sub-continent, was dying a gradual and painful death, Jaffar decided to set up an institution, Idara-e-Tarveej Soz Khwani. The institution continues to enrol aspiring young individuals who were interested in learning the art. Zaidi founded Idaara-e-Tarveej-e-Soazkhwani (The International Organization for the Promotion of Soazkhwani) which promoted the revival, development and improvement of Soazkhwani. 
Shaheed Foundation Pakistan
Sibte Jaffer Zaidi has always been known as a man with a strong voice who has appealed to support the cause of Shaheed Foundation Pakistan.
JDC Welfare Org
Ustaad Sibte Jaffer Zaidi was one of the founding and active member of Jaffaria Disaster Management Cell (JDC), commonly known as JDC Welfare Organization. [4] organizations
The dauntless man

Sughra Fatima, his bereaved wife, also called Ustaani in reverence, smiled as she recounted of her late husband. "He was not just a teacher or a poet or a Soz Khuwan; he was a human who stood firm in his struggle to cast a change in the society. He was fond of many things, be it art, social science, poetry. In fact, whilst at university he also took part in arranging a 'Gilli-Danda' tournament. But there were some values he strongly believed in which included equality and justice for all. He did not believe in cowering away and kept contributing to the society in some way or the other. 
Arrest in 2001
While speaking of the time the family was informed, in 2001, of his name having appeared on a 'hit list' disclosed by a few militants arrested for carrying out sectarian target killings.She told that "He was a very plain man who had no fear of death,". But the man never thought of leaving Karachi. He travelled to attend recital gatherings but always returned to the city.
Family Persona

A father to two daughters and a son, Jaffar made sure he balanced his family life with all his other commitments. His wife, who knew Jaffar's father as her teacher before knowing him as a father-in-law, relived the time he would always attend parent-teacher meetings and other school events of their children. He was said to have always remembered birthdays. And his love for children, besides his own was such that he would carry sweets with him to give to them, this habit of his earned him another title, the 'toffee walay uncle', Sughra said while speaking of the man's larger than life persona. 
A lively teacher

One of his earliest students, Imtiaz Abbas while speaking of Ustad Jaffar remembered him as a benevolent person, but a teacher who did not believe in teaching strictly to be taken seriously by his students. "I don't remember him scolding us, he would rather sit us down whenever he saw us being wrongful toward another, but would certainly show his disapproval if the habit was repeated."
But yes, he was a man full of life, he said, adding, "When we asked him if he ever got serious, he would quip 'I take matters of jokes very seriously'," Abbas laughingly added.
"He had this knack for puns which added life to all discussions but had it not been for him, I would surely be without a direction today," he reminisced. He established schools in many areas including Amrohvi Colony and Tando Adam. He used to say that he felt inner satisfaction in educating and training children of poor areas. [5] family  
Emblem of modesty and simplicity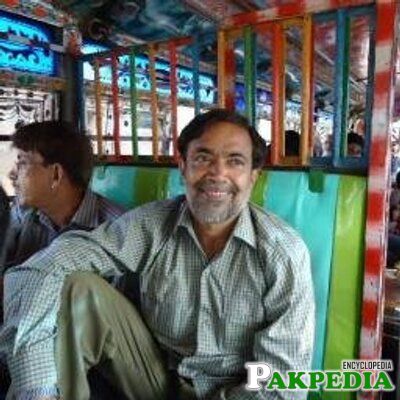 Prof Kanhaiya Lal Nagpaal, a close aide of Ustad Jaffar, he spoke "He was special in every sense of the word. He was unique, in his honesty, in his truthfulness and in his service to people." People take extreme measure to accumulate wealth but Jaffar was completely the opposite, he remarked. He would leave his own work for the sake of happiness of others and never accepted anything, neither monetary or in any other form, whenever he was invited for his recitals, he added.
Alluding to an incident imprinted in his memory, Nagpaal recounted, "His previous motorbike was old and many a times he would stay behind for his vehicle would give up on the way. I told him that my travelling was far less so he should take my bike instead and after a lot of canvassing he agreed only to buy me a new one later. It was the same bike that stayed with him till his last breath,".
"He did a lot for everyone and we can never repay him. He possessed a mind and a heart not possessed by many. He was one of a kind!" Nagpaal fell silent as he let himself be consumed with the memories of his beloved friend. Ustad carries a Nokia 3310 handset for communication. 
Books
His contributions to the education sector of this country also included books on Pakistan Studies and Sociology. Books he penned down are:
Pakistan Studies for Intermediates
Sociology for Bachelors or Degree Classes
Pakistan Studies for Bachelors or Degree Classes – Second Year
Sociology for Bachelors or Degree Classes – Second Year
Nishan-e-Raah
Zaad-e-Raah – Guide for Pilgrims
Muntakhabaat-e-Nazm-o-Nasr – Selection and Collection of his religious poetry
Bastah

Besides the text books and other religious books he wrote, his research on Soazkhwani through a book named "Bastah" (Collection of Traditional Soaz, Salam, Marsiya etc.) got so popular that till now eight editions of Bastah have been published. More than 150 audio and videocassettes and CDs have been released from 1988 till 2013 as a poet and Soazkhwan. 
Association with TV industry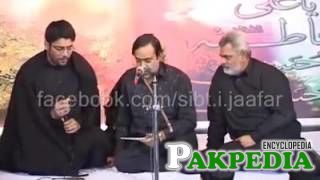 He had been performing on national and international radio and television channels since 1967 as Naatkhwan, Soazkhwan, Composer and Compere. In 1996 he wrote ten special programs with the title of "Lehne Aqeedat" (Urdu: لحن عقیدت) for Pakistan Television Karachi center, which were Telecasted during Moharram. After arrival of private television Channels he wrote ten special programs on the same topic for ARY channel, which were repeatedly telecasted for several years during the months of Muharram and Rabi-ul-Awwal. He has also been associated with the Hadi television. [7] recognitions  
Affiliations and memberships
Elected Councilor – Karachi University Students Union, Chairman press & Publication Committee and Sports Board 1976–1979.
Member Sindh Professor & Lecturer Association Karachi.
Member Karachi Bar Association 1980–1983.
Publication Secretary Anjuman e Soazkhwanaan-e-Karachi, Acting general secretary and Legal advisor 1980–1990.
Life Member of Arts Council of Pakistan Karachi since 1990.
President Anjuman-e-Mohammadi Qadeem 1992 – 1994.
Founder member & Advisor of Bazm-e-Ghareeb Nawaz and Tehreek-e-Muhibaan-e-Awleeyaa Pakistan.
President Anjuman e Wazifa e Sadaat e Momineen Pakistan 2005 – 2008.
International Recognition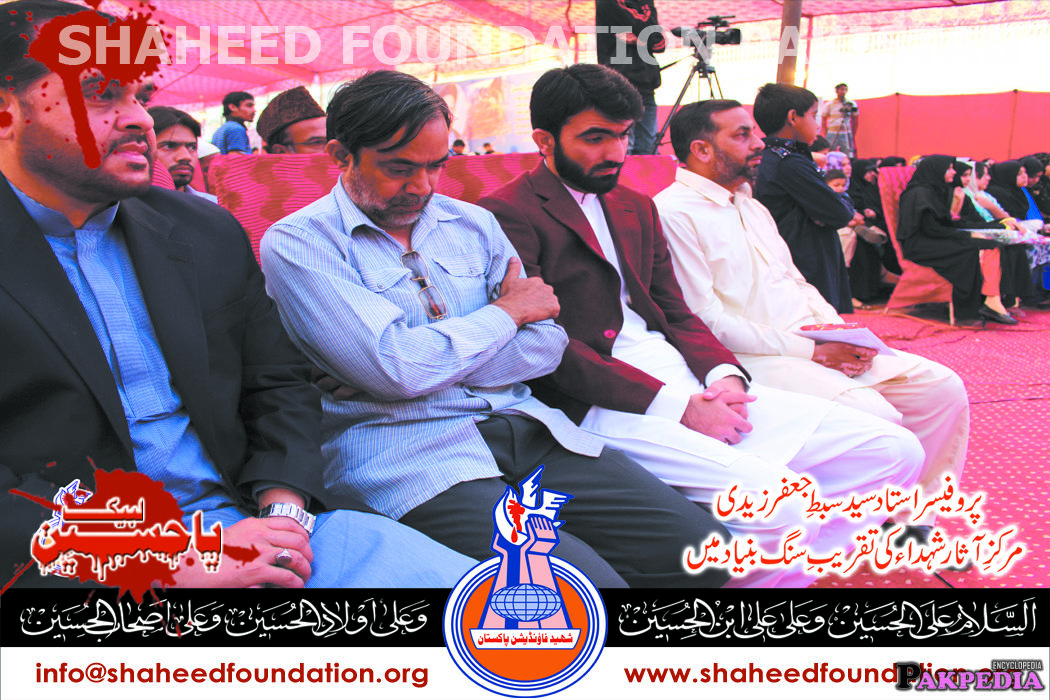 Professor Richard Wolf of Harvard University and Professor Amy Bard of Columbia University acquired the help of Ustaad during their research on music and vocal arts of Sub-continent. His students Syed Imon Rizvi and Syed Awais Rizvi also went to Harvard University and performed Soazkhwani in a live religious and educational concert at Paine Music Hall, Harvard University. He was Instructor of Traditional and Classical SOAZKHWANI, founded International Idaara-e-Tarveej-e-Soazkhwani (I.T.S) and his services in the field of Soazkhwani were admired and recognised by Harvard University and Columbia University of USA. 
Assassination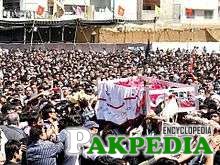 A few days before his murder, one of the residents in the area was also killed in a targeted attack, and soon after his burial a rumour that Ustad had also been shot, started doing the rounds. "But we were to earn the relief of knowing he was alive that day," said by wife of shaheed ustad  as she went on to recount the day the world was robbed off a gentle human being.
The news eventually came true some weeks later. The family sat in shock and horror watching the television as the national media dashed to give coverage to Jaffar's death. The headline stated"Prominent educationist and the principal of Government Degree College, Qasimabad, Prof Sibte Jafar, was shot dead in a targeted attack in Liaquatabad by a banned terrorist organization Laskar-e Jhangvi(formerly sipah-e sahaba). Ustad Jafar, had left the college on his motorcycle in the afternoon when two assailants on a motorcycle fired a volley of bullets at him near Arshee Chowk. The injured was taken to Abbasi Shaheed Hospital (ASH), where he succumbed to his injuries. The victim suffered four 9mm bullets in the upper torso". On 3 April 2013, Karachi police arrested two suspects, Sheikh Muhammad Athar and Muhammad Shahid, both of whom confessed to killing Zaidi. [8] assasination  
Funeral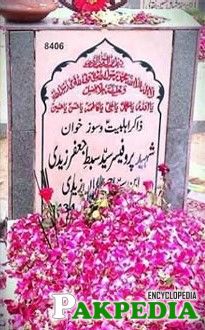 Zaidi's funeral prayer was offered at Amroha ground Sadat Colony Block 20 Federal Area and thousands of people attended his funeral procession along with the funeral prayers, which was one of the largest funeral prayer in the history of Karachi. He was buried in the Wadi-e-Hussain a.s Cemetery. His grave number is 8406.