Syed Nehal Hashmi is a politician and lawyer by profession, he is a Senator and General Secretary of PML-N Sindh and is also an Ex-advisor to Mian Muhammad Nawaz Sharif. On Feb 2018 Supreme court has ordered  1 month prison of him in case of threatening the investigators of Nawaz Sharif .
| Title | Description |
| --- | --- |
| Personal | |
| Name: | Syed Nehal Hashmi |
| In Urdu: | سید نہال ہاشمی |
| Famous As: | Politician |
| Nationality: | Pakistani |
| Residence: | Karachi |
| Education: | He did LLB and C.A too |
| Religion: | Islam |
| Profession: | He is a Pakistani Politician and Lawyer too |
| Website: | https://twitter.com/mnehalhashmi |
| Born | |
| Date: | 28 January 1960 |
| Place: | East Pakistan |
| Family | |
| Parents: | Sadruddin Hashmi |
| Career | |
| Political Party: | Pakistan Muslim League |
| Serve As: | Senate of Pakistan |
| Time Period : | 2015 – present |
| Assumed Office: | March 2015 |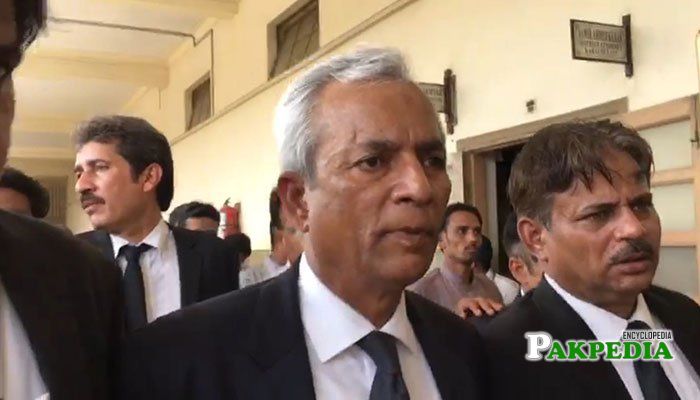 Biography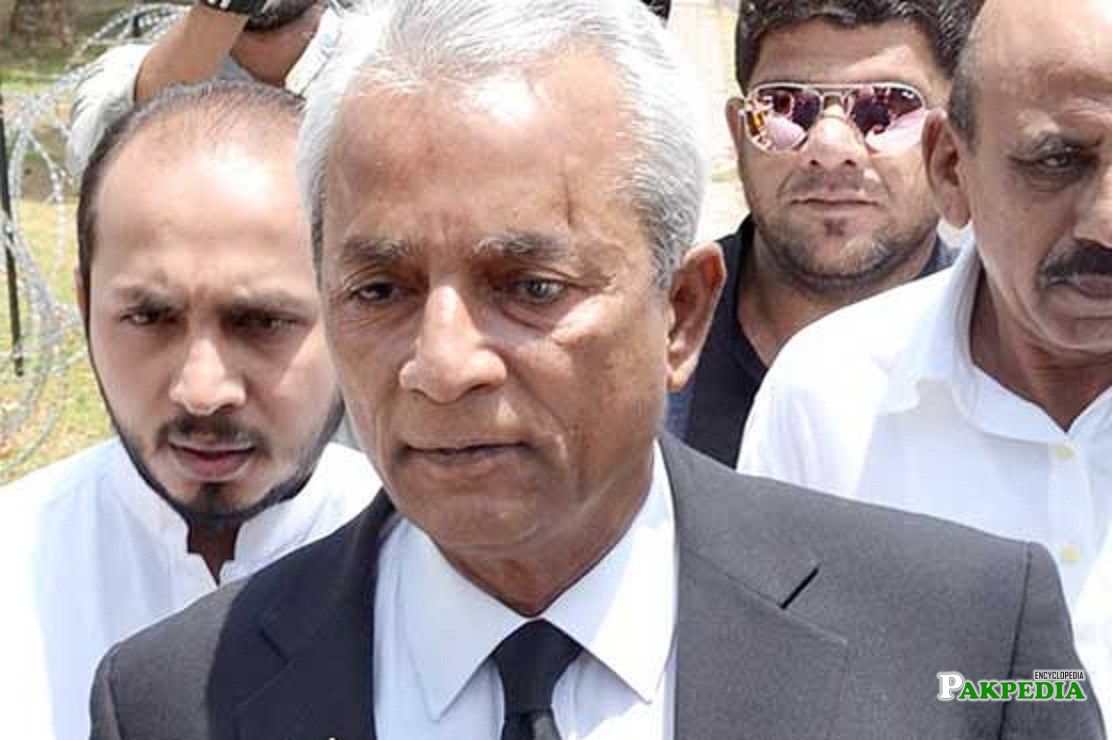 He was born in 1956. He was very naughty in his childhood and fond of playing, and was moderate in education. His father was the General Manager of "American Life Insurance Co." in East Pakistan, and very well-off economically. In 1971, at the time of partition, he was about 15 years old. At his teenage he wanted to be a big football athlete in Pakistan team, but gradually things had been changed and then he wanted himself to be in Pakistan Army or be a Lawyer. Political affiliation being held in his family before freedom. His father, Sadruddin Hashmi, was a politician and the General Secretary of People's Democratic Party(PDP), in East Pakistan, and indeed, Nehal got inspiration from his father to become a politician. After the fall of East Pakistan, his family migrated to Karachi. [1] Biography Biography  
Education
He studied at Cadet College. During his school life he had some association with Islami Jamiat-e Talaba in East Pakistan. After the fall of East Pakistan, his family migrated to Karachi. In Karachi, he started studying seriously. He did Intermediate, BA, then LLB. He was the President of the union at college. Then he attempted MA(regular), MA(private), and CA simultaneously, and succeeded. He joined PSO as "Assistant Sales Officer", during his education, and after completing LLB, he left that service and started practicing LAW and had a successful practice.
Career
Nehal Hashmi is a well known lawyer in Pakistan. He is also a politician and  Member Central Working Committee PML-N in Karachi. In February 2012, Nawaz Sharif, the president of the Pakistan  made him the President of the PML-N Karachi Division. He joined PSO as "Assistant Sales Officer",  He worked in social sector, with senator Javed Jabbar, and founded an NGO. He also developed a Human rights organization, and first ever Computer Institute in Karachi central jail for youths. He was also the president of all Pakistan youth league. In 1993 he joined PML(N) as a worker, after got inspired by Nawaz Sharif, and also knowing the fact that this is the party which  has the credit of making Pakistan, and had people from all the provinces in Pakistan. After some time, he was elevated as the Joint secretary, Karachi division in PML-N. In 1998, he was nominated by Nawaz Sharif, to represent the human rights conference at United Nations, he was the deputy leader of the delegation. In 1999, he was sent again for the same, as he performed well in his previous visit. He is one of the three persons, who went two time consecutively, to the United Nations, two of them were Zulfiqar Ali Bhutto and Sharif Uddin Pirzada. He was also nominated as Advisor of the human rights law justice, by Nawaz Sharif.
Threatening Nawaz Sharifs Investigator

On 31st May 2017 a video of Syed Nehal Hashmi got viral which showed him lashing out at those investigating Prime Minister's Nawaz Sharif Family. Chief Justice of Pakistan Mian Saqib Nisar also took suo motu notice of Hashmi's remarks and summoned him in person  to appear before the bench implementing its Panama Papers verdict,  In the video, the senator had warned that those conducting the investigation will be "taken to task" for grilling the premier's family. His remarks were apparently made in reference to a Supreme Court-sanctioned investigation into the Sharif family's business dealings abroad. But later he clarified that i was speaking to party workers at a Youm-i-Takbeer gathering on May 28," "I expressed my own opinions at the gathering. If the prime minister asks about the speech, I will explain this to him," he added. [2] Threatening nawaz sharif investigator   
Disqualification and One month Jail
The Supreme Court ordered on 1st Feb 2018 a one-month imprisonment sentence and Rs50,000 fine as it convicted Pakistan Muslim League-Nawaz Senator Nehal Hashmi for contempt of court.  The court also ruled that Hashmi stands disqualified from holding public office for a period of five years according to Article 63(1)(g) of the Constitution.  Following the order, Hashmi was taken into custody by police officials present in court and shifted to the Secretariat Police Station from where he'll be taken to Adiala Jail, Rawalpindi.  He will be in prison for 1 month in case of threatening the judges of Supreme court for disqualifying PM Nawaz sharif . [3] One month jail
Release from Adiala Jail
Pakistan Muslim League-Nawaz (PML-N) leader Nehal Hashmi on Wednesday 28 Feb 2018 released from Adiala prison after completing a one-month sentence handed to him by the Supreme Court (SC) in a contempt of court case, ARY News reported.Speaking to media outside the jail, the PML-N leader said that he is not afraid of "conspirators" as they can only send him to prison or kill him but cannot stop him from working under their leader Nawaz Sharif.[4]  Release from Adiala Jail "I am not ashamed, why should I be ashamed, a thief should be ashamed of himself, he who uses his position for (personal or political) interests should be ashamed of himself… I am a proud Pakistani and will continue my struggle for making Pakistan a country Quaid-e-Azam, Allama Iqbal and my forefathers dreamed of," said Hashmi who was welcomed by party men and supporters outside the prison.
Ask Forgiveness From SC
Pakistan Muslim League-Nawaz (PML-N) leader Nehal Hashmi asked the Supreme Court on Monday 26th March 2018 for forgiveness in a contempt of court case against him. As the hearing went under way today, where Hashmi's indictment was expected, the three-member bench headed by Chief Justice of Pakistan Justice Saqib Nisar played the video clip of the PML-N leader's latest controversial remarks against the judiciary. In response to Hashmi's plea for forgiveness, the chief justice remarked, "how can you appeal for leniency," adding that if he was in Hashmi's place, he would have drowned in shame. The court then summoned bar representatives to give their input, to which lawyers' leader Rasheed A Rizvi said the legal fraternity is ashamed. The hearing was then adjourned until tomorrow. [5] Ask forgiveness from SC
Apology Accepted By SC
The Supreme Court (SC) on Tuesday 27th March 2018 accepted former senator and Pakistan Muslim League-Nawaz (PML-N) leader Nehal Hashmi's unconditional apology to the court for passing unwarranted remarks after his release from Adiala jail. The representatives of the bar council requested the top court to drop the charges, on which, the three-member bench headed by Chief Justice of Pakistan (CJP) Mian Saqib Nisar, asked Hashmi to submit an unconditional apology today himself. Later, in view of the apology, the bench will drop the proceedings. However, the CJP said that discharging contempt case against Hashmi isn't a 'license' for others to utter unwarranted and disrespectful remarks against the courts. [6] Apology accepted by SC