Syed Mohammad Ahsan stand on the Right side of Picture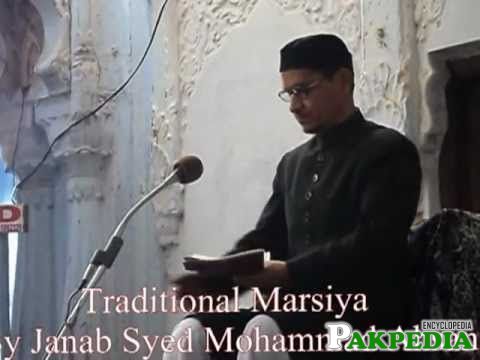 Traditional Marasiya by Syed Mohammad Ahsan
Syed Mohammad Ahsan latest Photo
Syed Mohammad Ahsan is a great man
Syed Mohammad Ahsan going Salute
Detail
Mini Bio
Vice-Admiral Syed Mohammad Ahsan HQA, SPk, DSO, was a senior three-star admiral who was the 4th Chief of Naval Staff of
Pakistan Navy
from October 20, 1966 to August 31, 1969. A naval intelligence officer by profession, Vice-Admiral Ahsan was integral to the establishment and expansion of the capabilities of Naval Intelligence and the elite Naval Special Service Group, and took initiatives to modernize the navy. As director-general of Naval Intelligence, Vice-Admiral S.M.
[2]
 Mini Bio -  Mini Bio 
After Independence
He was ADC to the Viceroy of India (1946-1947) and after Independence became ADC to the Governor General of Pakistan. He became Rear Admiral in 1962, Commander-in-Chief of the Pakistan Navy in 1966 and Vice Admiral in 1967. Muhammad Ahsan served as a Naval Attach' in the Pakistan Embassy, Washington (1955-1956) and chairman of the East Pakistan Inland Waterways Transport Authority in 1964. He also served as Deputy Chief and Chief Planning Officer of army of SEATO, Bangkok. On 26 March 1969, Ahsan was appointed one of the Martial Law Administrators following the promulgation of martial law by the Chief of Army Staff General Aga Mohammad
Yahya Khan
, and a member of the Advisory Council of the President.
[3]
 After Independence 
Appointed Governor of East Pakistan
Vice Admiral Ahsan was appointed Governor of East
Pakistan
and took oath of office on 1 September 1969. During his governorship the parliamentary elections, both national and provincial, were held on 7 and 17 December 1970 respectively in which Awami League achieved overwhelming majority in both the elections. Yahya government's refusal to handover power to the wining Awami League and postpondment of the National Assembly session on 1 March 1971 led to series of statements, strikes and mass movement. In such an atmosphere of uncertainty and chaos President Yahya Khan appointed the martial law administrators as governors of their respective provinces, and as such Governor Ahsan was replaced by Sahebjada Yaqub Khan on 1 March 1971.
[4]
 Appointed Governor 
1970 General Elections
In 1970, he oversaw the electoral process to held the nationwide parliamentary elections held in the country in a charged atmosphere. Under his rule, the law and order had been improved and it was projected that Awami League led by Sheikh Mujibur Rahman would claim the supermajority in the provincial assembly that would allow them to form the national government in
Islamabad
. The Awami League secured ~39.2% of the seats in the Parliament as opposed to the Pakistan Peoples Party (PPP) led by Zulfikar Ali Bhutto who ended up with 18.6% of the seats – all from West Pakistan. Zulfikar Bhutto refused to negotiate the six points when President Yahya met with Sheikh Mujibur Rahman and put more stress on the situation after telling his party workers not to visit Dhaka.:xxx About the postpone of the power ceremony, Kamal Hossain reportedly notified Admiral Ahsan of "danger" of delaying the power transition.
[5]
 1970 General Elections 
In February 1971
In February 1971, he supervised the military deployments in East that were already preparing to conduct a military operation to curb the movement. He became aware of Yahya administration's decision of taking military actions despite his staff officer Lieutenant-General Yaqub Khan's recommendations.Disheartened and isolated by his colleagues, Admiral Ahsan returned to East Pakistan to pick up his personal belongings and tried getting in telephoned with President Yahya without success. On March 7, 1971, Admiral Ahsan resigned in protest and immediately requested to be posted back Navy NHQ in
Karachi
, Pakistan. At the Dhaka International Airport, he was asked by Bengali journalists about how it felt to be back in a land where he had once wielded authority.
[6]
 In February 1971