Syed Ali Shah Geelani is a Kashmiri separatist Hurriyat leader.Syed Ali Shah Geelani is a prominent political leader from Jammu and Kashmir.He has part as the chairman of All Parties Hurriyat Conference, a conglomerate of separatist parties in Jammu and Kashmir.He favours the conditional accession of Kashmir to Pakistan.Before, he had formed a party by the name Tehreek-e-Hurriyat, but after, he left his party and became a member of Jamaat-e-Islami Jammu and Kashmir.
| Title | Description |
| --- | --- |
| Personal | |
| Name: | Syed Ali Shah Geelani |
| In Urdu: | سید علی شاہ گیلانی |
| Famous As: | Hurriyat Leader |
| Education: | Punjab University Lahore Punjab, Province Oriental College Lahore Punjab Province |
| Religion: | Islam |
| Illness: | Renal Cancer |
| Books: | 'Roodad-e-Qafas', 'Kralagund se Pakistan tak','Safar-e-Mehmood Main Zikar-e-Mazloom' |
| Born | |
| Date: | 29 September 1929 |
| Place: | Bandipora, Jammu and Kashmir, Jammu and Kashmir (Princely State) |
| Family | |
| Children: | Tow Sons and Five Daughters |
| Career | |
| Political Party: | Tehreek-e-Hurriyat |
| Member of : | Jamaat-e-Islami Jammu and Kashmir |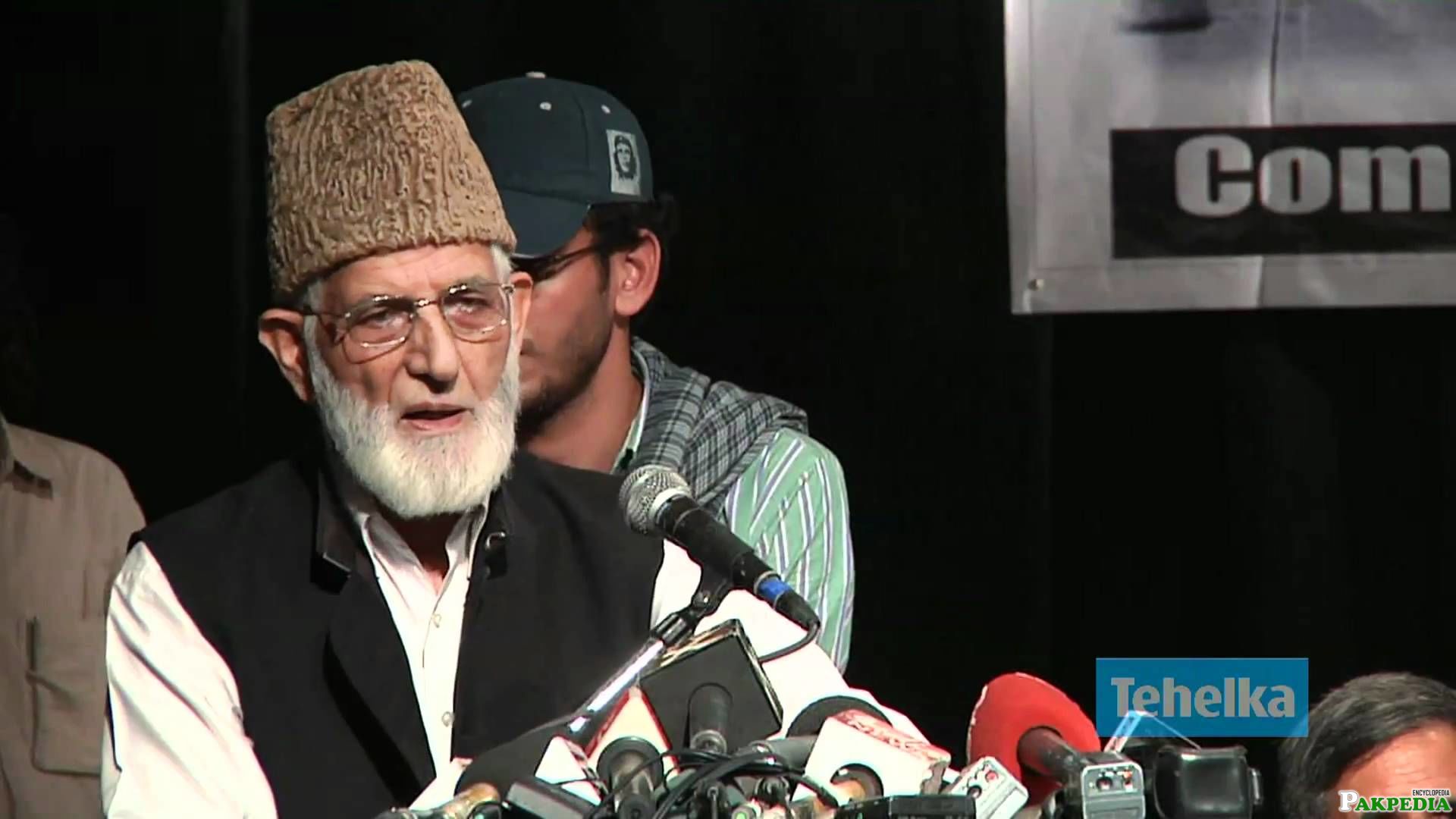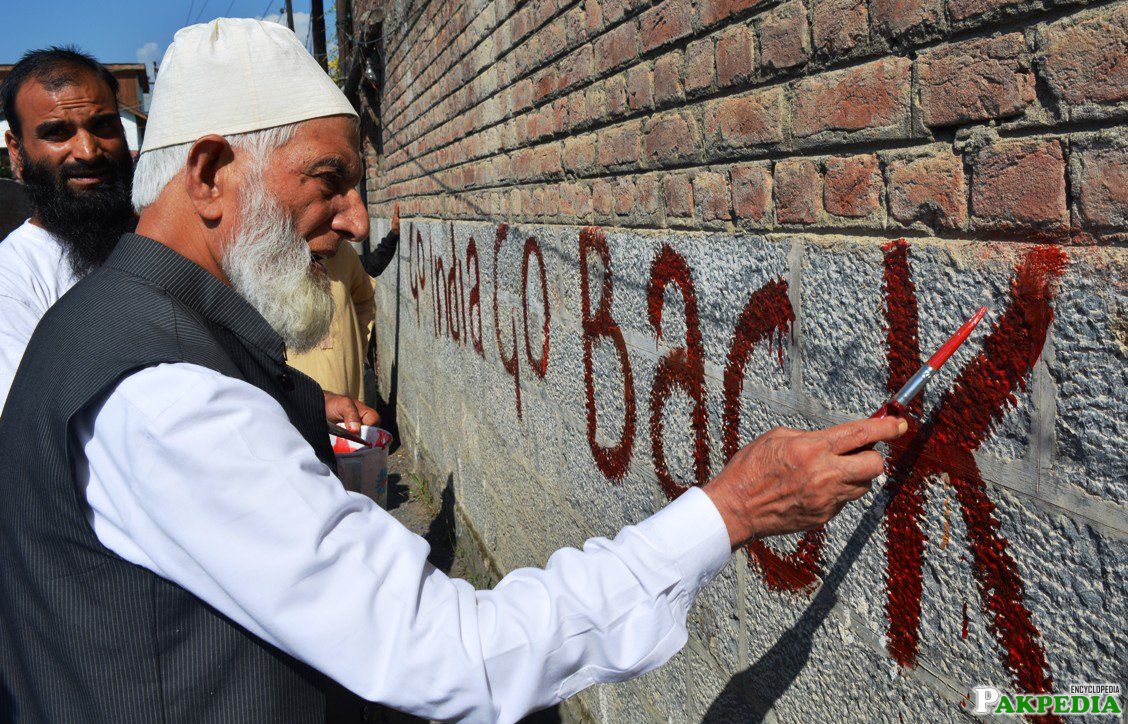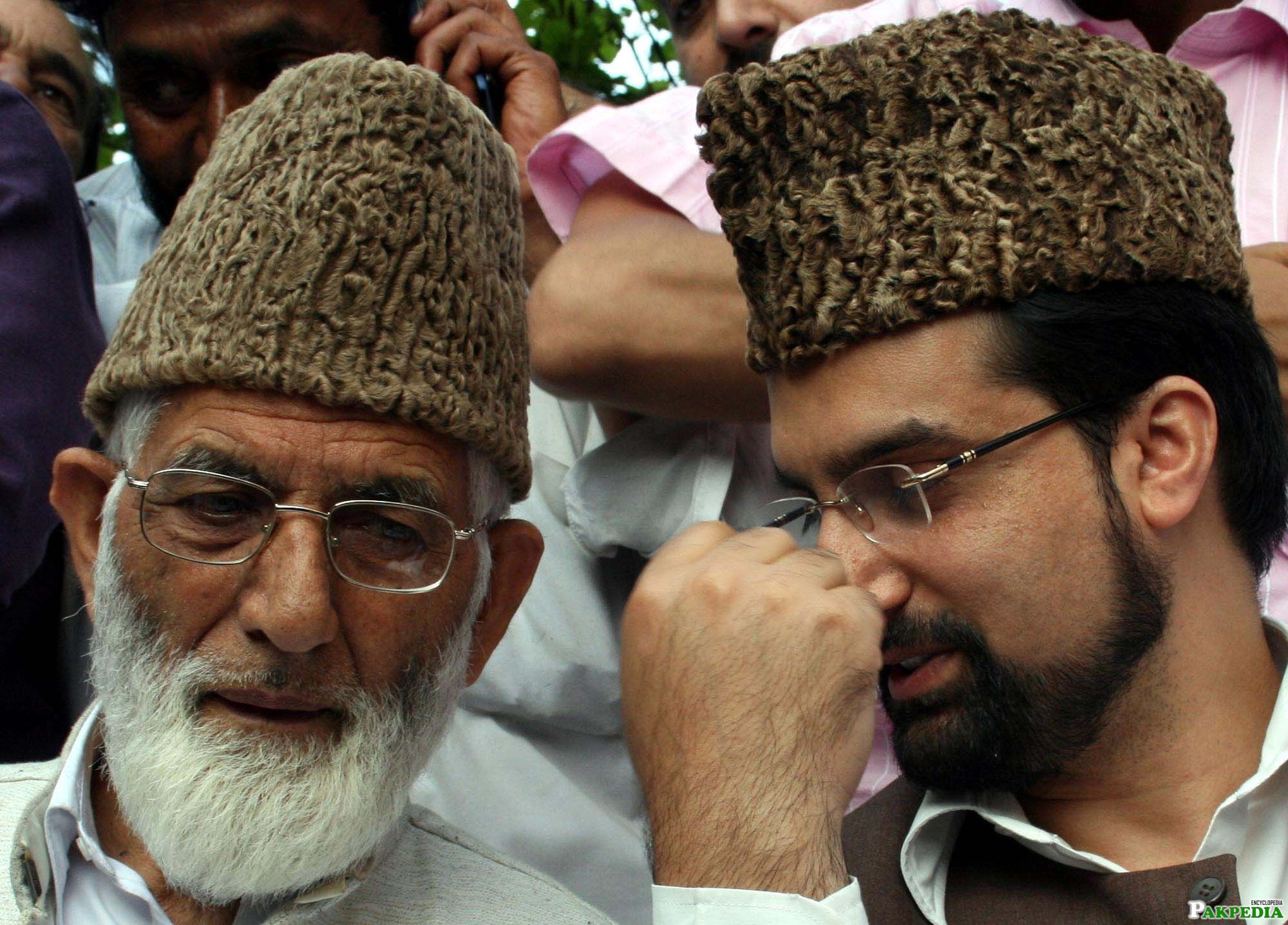 bEarly life and Educationb

Syed Geelani was born in the town of Sopore, which is located in the district of Baramulla, Jammu and Kashmir. After his preliminary education in Sopore, he went on to graduate from the Oriental College in Lahore.[1]  Early life and Education 
bChildern and Member of Groupsb
He has two sons named Naseem and Nayeem, and five daughters.His second son, Zahoor, lives in New Delhi. Izhaar, his grandson, is a crew member of a private airliner in India, while his daughter Farhat is a teacher in Jeddah. His other grandchildren are studying in leading schools of India. His cousin Ghulam Nabi Fall is presently in London.[2] Family He traditionally enjoyed a good amount of support in Kashmir, but off late, the numbers have been dwindling. Today he is the Chairman of Separetist Group Tahreek Huriyat and a member of Jammati Islamia.[3]  Childern and Member of Groups 
bPolitical Activitiesb
Geelani has been viewed as a key separatist leader in Kashmir.Omar Abdullah, former Chief Minister of Jammu and Kashmir, has blamed Geelani for the rise in militancy and bloodshed in Kashmir, while Omar's father and former Union Minister Farooq Abdullah has urged Geelani to follow a path which would "save Kashmiri people from further destruction".In October 2013 he was re-elected for the fourth time to serve three-year term as the chairman of Hurriyat Conference (G), a faction of the All Parties Hurriyat Conference, which split up in 2003.He founded the Tehreek-e-Hurriyat party, to which he was separately reelected as chairman for a three-year term in September 2013.Geelani has called for numerous general strikes or shutdowns, in response to the deaths of unnamed suspected militants, local militants and death of civilians in Kashmir.
bAnnual Meetingb
Syed Ali Shah Geelani received the invitation to participate in the annual meeting of the "foreign ministers" of "member states" of the Organisation of Islamic Cooperation (OIC) and the "Kashmir contact group" to be held in New York from September 27, 2015.
bDeath of Burhan Muzaffar Wanib
After the death of Burhan Muzaffar Wani and the ongoing 2016 Kashmir Unrest that lasted for five consecutive months, to restore normalcy in Kashmir, Geelani sent a letter to United Nations listing six Confidence Building measures (CBMS).[4]  Political Activities 
bLiteratureb

Syed Geelani has been an aficionado of Jihad, Muslim history and Islamic poetry for most of his life. He has been influenced from the writings of Nasim Hijazi, Allama Iqbal and Maulana Maududi.He has authored more than thirty books and booklets about various topics in Urdu, which include the current separatist movement, his experience in jail, and his political beliefs. 
bBooksb
His books Roodad-e-Qafas, and 'Kralagund se Pakistan tak'. In his book, Safar-e-Mehmood Main Zikar-e-Mazloom, Geelani states that Islam is the inspiration in their struggle against "oppressive Indian troops"In 2007 during Geelani's treatment in delhi he authored a book "ROHIDEEN KA SHANASA… IQBAL" and in 2008 he wrote second volume of the same book. "Geelani's Safar-e-Mehmood Main Zikar-e-Mazloom released". [5]  Literature 
bElectoral Politicsb
Geelani had appealed to people of Kashmir to boycott the 2014 Jammu and Kashmir Legislative Assembly elections completely, not accepting the proposals for self-rule or autonomy that had been offered by the People's Democratic Party and the then ruling National Conference.But despite of repeated boycott appeals, 2014 assembly election recorded record voter's turnout of more than 65% which was highest in 25 years of history .After record voting percentage in Kashmir, Geelani, along with other separatists, were criticised by biased Indian media for misleading people of Kashmir and for not representing true sentiments of Kashmiri people.[6] Electoral Politics
bIllnessb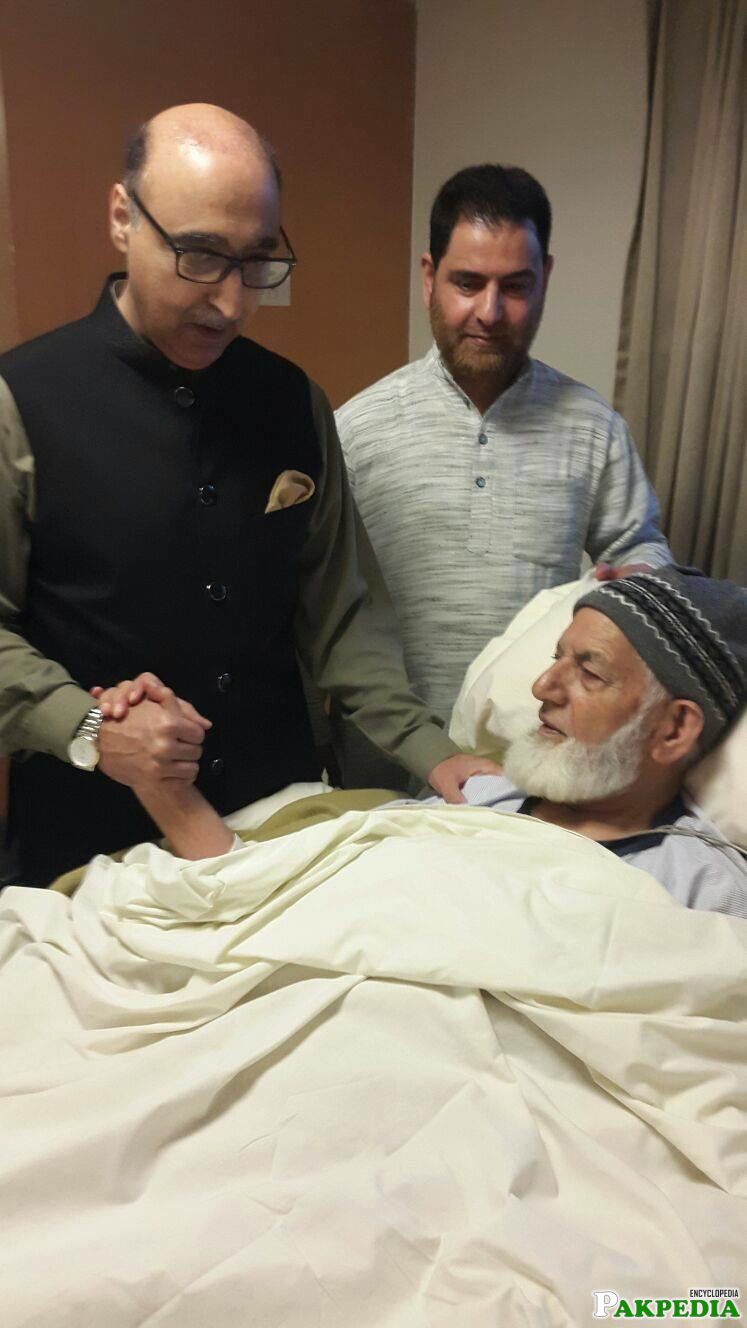 Geelani has been diagnosed with renal cancer, and has been recommended by doctors to go overseas for treatment. After Prime Minister Manmohan Singh intervened, Indian government agencies returned Geelani's passport to his son.His passport was seized in 1981 due to accusations of "anti-India" activities, and with the exception of his Hajj pilgrimage in 2006, he has not been allowed to leave India.
bDoctors Discoveredb
During a regular check-up doctors discovered that Geelani's "only kidney has developed malignancy".An infection forced doctors, four years ago, to remove his left kidney. Although the cancer was in its early stages, it was life threatening, and he needed to have surgery. Following the advice of his doctors at Apollo Hospital, Geelani was set to travel to either the UK or the USA for specialized treatment.
bRequest For a Visab
However his request for a visa was turned down by the Americans, and as his health deteriorated he went to Mumbai for surgery. Doctors at the Tata Memorial Hospital successfully performed surgery on his kidney.The reason given by the U.S. for turning down Geelani's request for a visa was, that he has" failed to renounce violence". This decision was declared a violation of his human rights by his supporters and family.[7]  Illness 
bDeath Rumourb
On March 12 2014, rumors of Geelani's death, spread by edits to his Wikipedia entry, "a particular Hindi news channel", and pages on Facebook led the government of Kashmir to suspend internet and phone service, according to some sources.However, the then Chief Minister Omar Abdullah said that the failures had nothing to do with Geelani's health and were due to a snapped power line as well as an optical fibre cut due to heavy snowfall, which left most of the valley without power. The cuts in Internet service, hours after a statement by Hurriyat that Geelani would be flown to New Delhi for medical treatment, were blamed for spreading the rumours.[8]  Death Rumour 
bKashmirb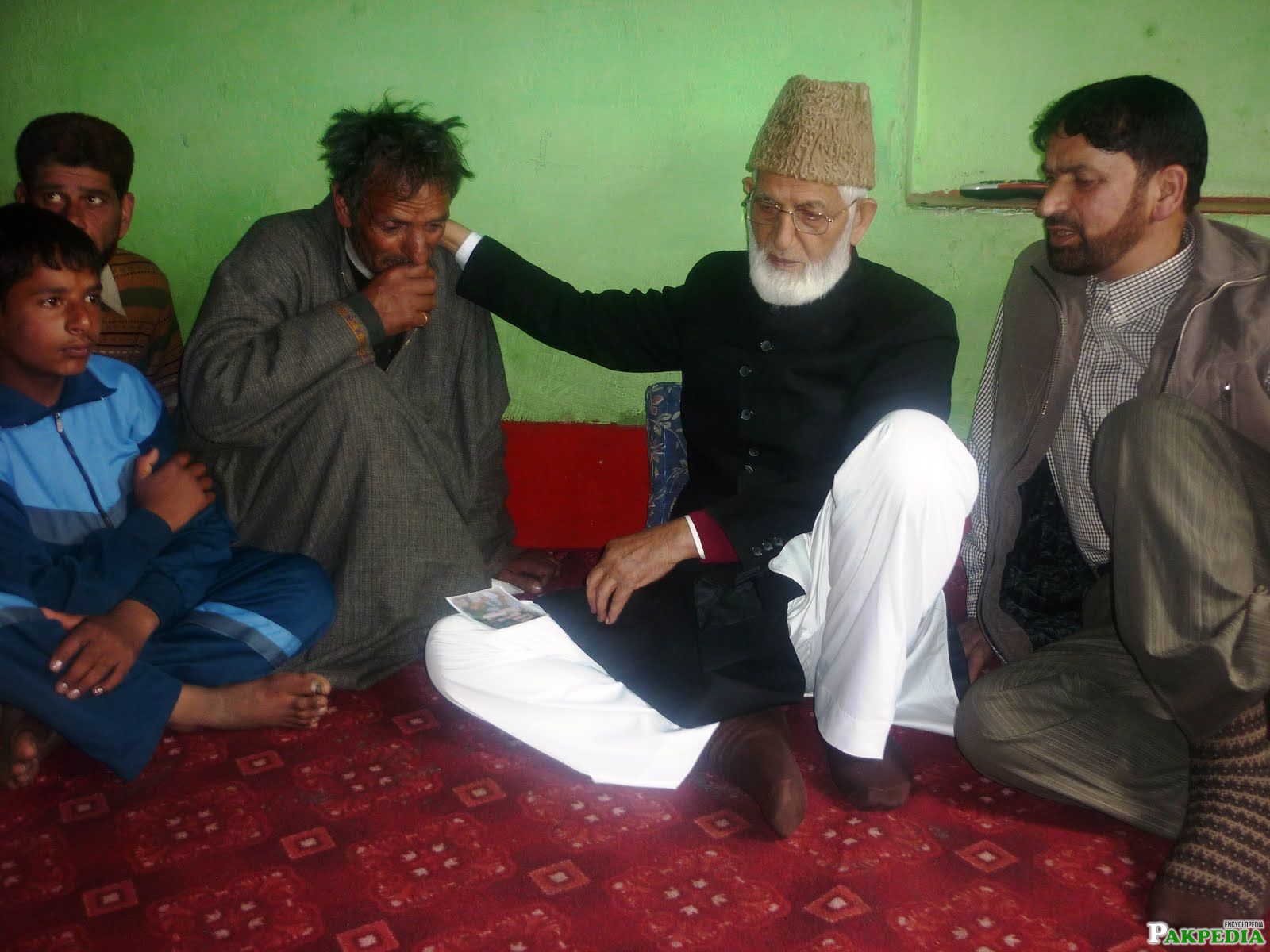 Geelani says that Kashmir must have the right of self-determination, but specifically advocates the position of union with Pakistan. He has been seen as close to the Pakistani government, but has criticised the country's policies. He was particularly critical of the Kargil episode, saying that while Pakistan had been supporting "the indigenous struggle of the people of Jammu and Kashmir, morally, diplomatically and politically, this does not mean Pakistan can take a decision on our behalf"
bGeelani Supportb
Geelani would only support a dialogue process aimed at resolving Kashmir issue in accordance with the wishes and aspirations of the people of the state. But he belies dialogue between India and Pakistan starts under diplomatic compulsions, it is nothing but just a time delaying tactics. He is of the opinion that Kashmirs are not enemies of India or hold any grudge against its inhabitants. We are desirous of a strong India and Pakistan and it is only possible when Kashmir issue is resolved to pave the way for peace, prosperity and development in the region.
bKashmiri Peopleb
He said, "Kashmir is not any border dispute between India and Pakistan which they can solve by bilateral understandings. It is the issue concerning future of 15 million people. The Hurriyat is not in principle against a dialogue process but without involvement of Kashmiri people, such a process has proved meaningless in the past. We don't have any expectations of it being fruitful in future too." He further stated, "India should immediately and unconditionally release political prisoners, and withdraw cases against youth, which are pending in the courts for the past 20 years".[9] Kashmir
bSeparatism and Relations with Pakistanb

Geelani has been repeatedly criticised by Indian authorities for inciting violence in the region and working as offshoot of Pakistan. Geelani says openly that he is not Indian. By travelling on the Indian passport is a compulsion of every Kashmiri as Kashmir is an Internationally accepted Disputed region between India and Pakistan are his words when applying for Indian Passport. "We are Pakistani; Pakistan is ours," he said in a big gathering of his supporters.
bSheikh Mustafa Kamalb
Sheikh Mustafa Kamal, a senior leader of Jammu & Kashmir National Conference and son of Sheikh Abdullah criticised Geelani for working on "dictations" given by Pakistan. He accused Geelani of being "a double agent" on "the payroll of Pakistan's ISI".
bAbdul Basit Met Geelani b
Pakistan also openly supported Geelani, the three-member delegation from Pakistan High Commission led by Abdul Basit met Geelani at his Malviya Nagar residence in March 2015, Pakistan High Commissioner Abdul Basit assured Geelani of complete support conveying that the country's stand on Kashmir remains unchanged despite regime change in New Delhi. Basit also invited Geelani for Pakistan Day function on March 23. Pakistan High Commission in New Delhi, ritually invites pro-separatist leadership of Jammu and Kashmir.[10] Separatism and Relations with Pakistan