Pak Suzuki Motor Company Limited is a subsidiary of Suzuki Motor Corporation Japan, one of the most prominent automobile manufacturers in the world.
Pak Suzuki is the largest automotive company in Pakistan employing a diversified workforce. Our most valued asset is our employees. We provide a challenging and conducive working environment with tremendous growth opportunities. We believe in continuous development of our employees through trainings. Our employees½ continuous efforts and hard work has made us the market leader in Pakistan[1] Pak Suzuki is the –  largest automotive company in Pakistan
| Title | Description |
| --- | --- |
| Details | |
| Type: | Public |
| Traded As: | KSE: PSMC |
| Industry: | Automotive |
| Founded: | 1983 |
| Headquarter: | Karachi, Pakistan |
| Address: | DSU-13, Pakistan Steel Industrial Estate, Bin Qasim, Karachi |
| SMS: | 0336-PSUZUKI(7789854) |
| Phone: | +92-21-34723551-58 |
| Fax: | +92-21-34723521-23 |
| Product: | Suzuki Automobiles |
| Revenue: | ₨84.548 billion (US$810 million) (2015) |
| Net income: | ₨5.842 billion (US$56 million) (2015) |
| MOTTO: | Way of Life |
| Parent: | Suzuki Motor Corporation Pakistan Automobile Corporation Limited |
| Suzuki cars: | most famous of all vehicles in Pakistan |
| Popular Suzuki Models: | Suzuki Mehran, Cultus, Bolan and Swift |
| Suzuki Cars Sales: | TOTAL SALE .(12626) |
| Suzuki Mehran : | most successful model of Suzuki |
| Baleno since: | 2004 |
About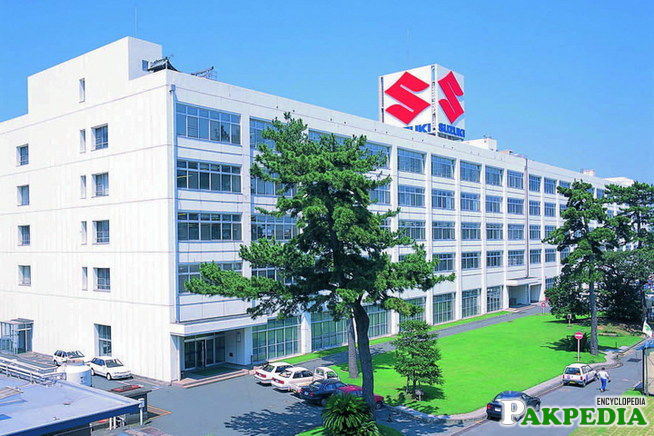 History
Suzuki cars are one of the most famous of all vehicles in Pakistan due to their high quality as well as affordability. This Japanese manufacturer has been introducing automobiles in the country for a very long time. Therefore, Suzuki is a brand which has a lot of reliability associated with it in the country. Suzuki Pakistan is a name which builds a strong bond between the consumers in this country and the famous Japanese manufacturer. From adorable hatchbacks to classy sedans, you have a wide variety of vehicles available on the market. Moreover, many public transport vans running in the country are also manufactured by the same company. This is because Suzuki car prices in Pakistan are extremely affordable. That is why people mostly prefer this brand.[2] Suzuki cars are one –  the most famous of all vehicles in Pakistan
Suzuki Overview
Suzuki is a Japanese multinational cooperation headquartered in Minami-ku, Japan. The automaker specializes in manufacturing 4×4 vehicles, motorcycles, ATV's, sedans, hatchbacks, wheelchairs and a variety of other small internal combustion engine. Suzuki vehicles can be seen in almost every country in the world particularly in the Asian continent. The image of Suzuki cars tends to be different in every market.[3] Suzuki is a Japanese –  multinational cooperation
Performance and Technology in Suzuki vehicles
Euro 2 is what Suzuki cars tend to have. Although Euro 2 is not technology but a standard, however, the aim is to reduce carbon emission. There is no rocket science found in Suzuki cars, and they are pretty simple to operate. Suzuki Swift can be nominated for the list of good performance although the chances of winning are few.  Suzuki Hybrid cars are not present in Pakistan as the market doesn't accept Suzuki with something above Mehran, Bolan and Suzuki.[4] Euro 2 is what –  Suzuki cars tend to have
Suzuki Car Prices in Pakistan
There are plenty of different Suzuki dealers in Pakistan, and almost each, and everyone offers the same price for brand new cars. Suzuki dealers can be found in every corner of Pakistan, from Karachi to Quetta; you name the place, and the seller is present. There are two variants of Suzuki Cultus ranged from 1,094,000-1,169,000. Suzuki Bolan, widely known as Carry Dabba has two editions starting from 671,000 till 700,000. Suzuki APV GLX costs 2,418,000 where GLX (CNG) costs 2,294,000. Suzuki Jimmy, compact beast, cost 2,293,000. Suzuki Swift ranges from 1,221,000-1,433,000. Suzuki Mehran starts from 630,000 till 753,000. Suzuki car price in Pakistan 2016 has increased if you compare it to Suzuki car price in Pakistan 2015. Suzuki car finance in Pakistan is commonly offered by banks and is widely practiced. Suzuki Mehran is the car which is mostly financed as it is mostly the first brand new car for those who previously owned a bike.[5] Car price  – Suzuki Motors 
Popular Suzuki Models in Pakistan
Suzuki cars for sale in Pakistan is tremendously high, the moment you put an ad, and you have a buyer standing however not every vehicle has such great responses. Suzuki Mehran, Cultus, Bolan and Swift are the most popular models. However if you are to select one Suzuki Vehicle, then it surely is Suzuki Mehran.
Availability of Suzuki cars in Pakistan
Suzuki vehicles are readily seen and available in the market. All you need to do is just have some cash and within hours, you'll find the desired vehicle. It is said that Suzuki Mehran is a white cash vehicle where you can cash it the very moment you want. [6] vehicles are readily –  available in the market. Suzuki Dealers are present all around Pakistan ready to give services.
Suzuki Cars for sale in Pakistan
   Suzuki Cars Karachi (3029)
   Suzuki Cars Lahore (2812)
   Suzuki Cars Islamabad (2074)
   Suzuki Cars Rawalpindi (1554)
   Suzuki Cars Peshawar (487)
   Suzuki Cars Multan (486)
   Suzuki Cars Faisalabad (244)
   Suzuki Cars Bahawalpur (222)
   Suzuki Cars Gujranwala (211)
   Suzuki Cars Sialkot (140)
   Suzuki Cars Hyderabad (116)
   Suzuki Cars Abottabad (112)
TOTAL SALE  .(12626)
Suzuki Moddel sale list
   Suzuki Mehran (3389)
   Suzuki Cultus (2572)
   Suzuki Alto (1689)
   Suzuki Bolan (799)
   Suzuki Khyber (714)
   Suzuki Wagon R (535)
   Suzuki Swift (468)
   Suzuki Every (410)
   Suzuki Baleno (373)
   Suzuki Margalla (335)
   Suzuki Liana (264)
   Suzuki FX (215)
Suzuki Mehran
Mehran is one of the most successful model of Suzuki. Its a car that is mostly seen on Pakistan roads. Almost 70 percent of the car is manufactured in Pakistan. Why this car is very popular and su… [7] successful model  –  of  Suzuki Mehran  
Bolan The best Car Suzuki has made so far
I have had a Baleno since 2004. Before this I used to own a Suzuki FX. Given my experience with the FX, the Baleno came as quite a surprise because before purchasing the Baleno I had come to th…
Contact
Karachi Lahore
DSU-13, Pakistan Steel Industrial Estate, Bin Qasim, Karachi – 75000 7-A, Aziz Avenue, Canal Bank Road, Gulberg – 5, Lahore.
+92-21-34723551-58 +92-42-35775456, +92-42-35775457
+92-21-34723521-23 +92-42-35775467
contact@paksuzuki.com.pk regionalofficelahore@paksuzuki.com.pk
Customer Relations Centre
UAN :
021-111-SUZUKI (021-111-789-854)
Call Centre: +92-21-34730333
customercentre@paksuzuki.com.pk
SMS: 0336-PSUZUKI(7789854)
Plot 112-B, 3rd Floor Mallahi Plaza, Opposite Ministry of Defense Production Building, Main Murree Road Rawalpindi.
+92-51-5130229, +92-51-5130230
+92-51-5130231, +92-51-5120657
+92-51-5130232
regionalofficepindi@paksuzuki.com.pk
Office # 402, 4th Floor, United Mall, Abdali Road, Multan
+ 92-61-4586499 , + 92-61-4516491, +92-61-4516489 + 92-61-4581353
regionalofficemultan@paksuzuki.com.pk