The attack began in the morning hours, with about half a dozen gunmen entering the school – and shooting at random, said police officer Javed Khan. Army commandos quickly arrived at the scene and started exchanging fire with the gunmen, he said. Students wearing their green school uniforms could be seen on Pakistani television, fleeing the area.[1]  attack began 
| Title | Description |
| --- | --- |
| Details | |
| Type: | Suicide bombing,spree killing, hostage-taking, school shooting |
| Date: | 16 December 2014 |
| Time: | 10:30 PST – 19:56 PST |
| Location: | The Army Public School, Warsak Road, Peshawar, Khyber Pakhtunkhwa, Pakistan |
| Defenders : | Special Services Group |
| Perpetrators : | Tehrik-i-Taliban Pakistan |
| Non-Fatal Injuries: | 114 |
| Death: | 148 (including 7 attackers) |
| School Children Martyrs: | 132 |
| Motive: | Retaliation Against Operation Zarb-e-Azb |
| Target : | Students and school staff |
| Attentively Listening: | Lecture |
| Gathered in the Large Auditorium: | 18-Year-Old Yasir Iqbal |
| Entered: | Half a Dozen Gunmen |
| Attack Began: | In The Morning |
| Khaula as a : | Flower |
| Youngest Student Name: | Khaula Bibi |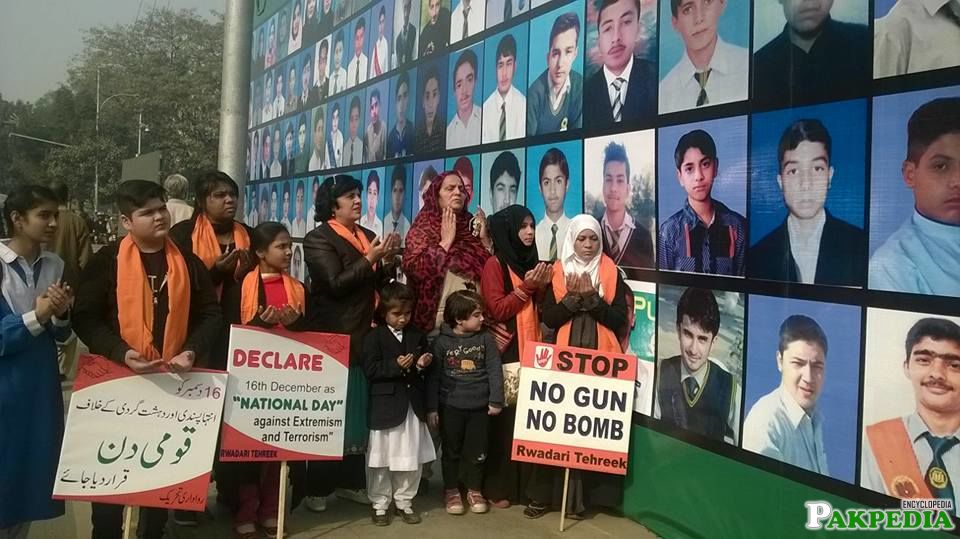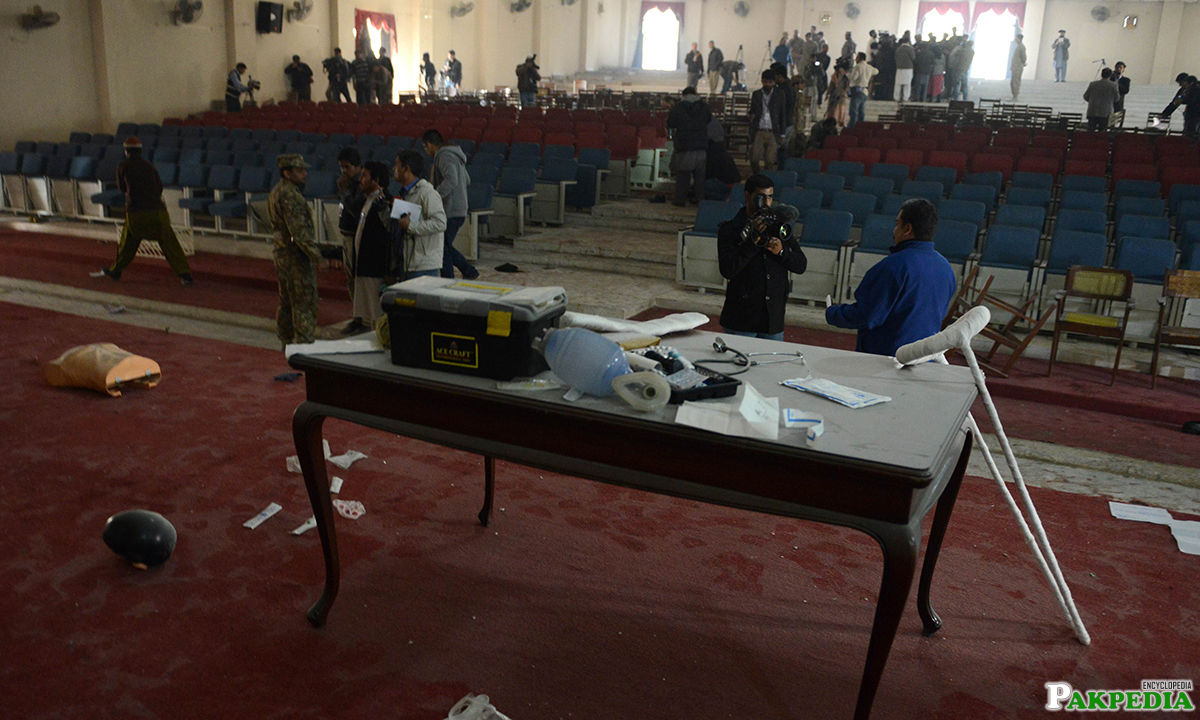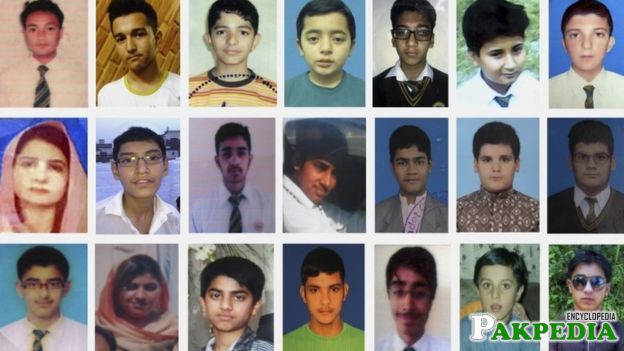 16 December 2014
When the nightmare unfolded, teachers and students of the Army Public School Peshawar had just returned to their classes after recess. Some students, including 18-year-old Yasir Iqbal, gathered in the large auditorium and were attentively listening to a lecture. Others sat at their desks, eyes on the clock instead of the blackboard, silently urging for the hands to move faster for the day to end so they could go home. In grade one, it was six-year-old Khaula's first day of school. She was overjoyed that she had finally joined her siblings instead of staying home. It would be her only day at school.
Khaulas First Day of School
Khaula's would become one of the 144 names—most of them children's—on a long list created by a group of murderers that day at the school. The incomprehensibly high body count combined with the vulnerability of the victims make it the most horrific attack in Pakistan's history. And while this number, 144, is a story unto itself, the 144 stories within it have to be told.
Eighth-Grader Uzair Ali
Eighth-grader Uzair Ali saw the attackers and leapt to shield his friends by lying on top of them. He was killed; shot 13 times, but he managed to save his companions. Fourteen-year-old Fahad Hussain opened a door so his friends could run out. He stayed by the door making sure everyone was evacuated. He was gunned down while doing so. Below are 144 accounts, of courage and sadness of children, women and men whose absence will be forever painful, always remembered.[2]  Eighth-Grader Uzair Ali 
Survivors
Altaf Hussain
Don't fire at me and my children'.
Age: 42
The day of the attack was his 6-year-old daughter Khaula's first day at school.Altaf Hussain had been teaching English at APS for 15 years. The day of the attack was his 6-year-old daughter Khaula's first day at school. They were completing her admission form when the firing started. He handed his daughter over to another teacher. Both were killed soon after.Meanwhile, Hussain ran outside and confronted three armed men. He pointed to his beard and said, "Look at this. Don't fire at me and my children." The assailants responded with bullets and left him there to die.
Despite eight bullets in his body that rendered him immobile, Hussain managed to drag himself inside a room and lock the door behind him. Army personnel showed up a few hours later; he was finally rescued only to be informed that his daughter had been killed.Hussain rejoined APS in May and teaches a different class now. His stamina has suffered greatly, and going to the school is an ordeal for him. But he feels it is necessary to be courageous and show up for the students.
Ahmed Jan
The attack, the return to school
Age: 16 | Class: 10
"Our teachers told us to lie down on the floor…among the rain of bullets, Allah almighty kept me safe, but I lost my brother"For two hours Ahmed and his friends hid inside their classroom, and shielded themselves from the heavy firing outside.News arrived that Ahmed's brother had been seriously injured. Ahmed says the feeling of helplessness sent him into shock. "My brother was not just my brother, he was my best friend," Ahmed says.Outside the school, his father was waiting for the two brothers to exit safely, but only one made it.A month later, Ahmed returned to APS and wanted to leave. The visuals of blood, bodies and injured people haunted him. But he was not willing to give up on his dream to become an engineer, and is slowly re-adjusting to normal life while seeking psychological help for trauma.
Amir Amin
The screams of children
Age: 18 | Class: 2nd year
Amir found a place to hide in the computer lab, but couldn't escape the bullets.When Amir Amin first heard gunshots, he thought it was a routine exercise outside the school.Within the next few seconds, the firing was followed by sounds of children screaming and crying. Amir rushed outside only to be met with a terrible sight: armed men were firing indiscriminately at students, many of whom were his friends.Amir found a place to hide in the computer lab, but couldn't escape the bullets. One hit his leg, and he waited in pain until police officers rescued him. His brother, Ishaq Amin, was killed during the attack."I've lost a flower-like son," says their mother, who fears for Amir and her remaining children's lives.
Kashan Zaheer
A bullet in the leg
Age: 17 | Class: 10
"I wish I had been martyred with my friends".After the third class of the day, Kashan Zaheer and his friends made their way to the auditorium for a lecture on first aid. A few minutes later, the back door burst open and bullets flew in all directions. Kashan realised it was a real attack, and lay down under a chair seeking cover." the militants fired at the rows of chair under which we were hiding. I saw several of my friends get killed or injured," he says.Kashan received a bullet in his leg while running out of the auditorium. He was moved to a private hospital for treatment soon after, but requires additional operations to heal completely. But his mental health continues to suffer. Kashan's mother says he cannot concentrate and study like he used to, and occasionally erupts in anger over small, petty issues. He often tells her he wishes he had been "martyred" with his friends.
Maaz Irfan
'I used a muffler as a bandage'
Age: 16 | Class: 1st year
Ongoing treatment costs have exceeded Rs 3 million.Maaz Irfan was in the auditorium with Kashan, waiting for the first aid lecture to start. He received three bullets in his arm seconds after the militants stormed inside.Once the militants left, Maaz limped over to his classroom, where a younger boy wrapped his muffler around his arm as a bandage. They waited in the room for two hours and placed cupboards by the door to block anyone from coming in.Maaz's treatment costs more than the family can afford. According to his family, the government has provided Rs 1.5 million, while treatment costs have exceeded Rs 3 million. If they do not get him help soon, he could lose his hand permanently.
Malik Hassan Awan
'I have lost nine friends'
Age: 15 | Class: 10
A bullet hit Malik's cap, but he managed to run outside.Malik had just settled down in the school's auditorium when the firing started.Realizing it wasn't an ordinary drill, Malik ran towards the door with his friends. Two of them fell on the way, and three others tried to escape but were killed. A bullet hit Malik's cap but he somehow managed to reach the main gate safely. He immediately hailed a rickshaw and rushed home.Malik says he has recovered mentally, but he is unable to forget the day and his friends. His brother, Usama Tariq, was also killed in the attack. When he hears the sound of firing now, he grows frightened. "I have lost nine friends. I cannot study without pain in my head," he says.
Murtajiz Raza Bangash
Listening to the gunfire for hours
Age: 12 | Class: 7
Everything was covered with blood, dead bodies were scattered around.While the ambush went on outside, Murtajiz and his classmates gathered inside their classroom and shut themselves in. He thought it was a regular drill for senior students, but soon realised it was real firing.For two hours, he had to stay quietly inside with his friends and bear the terrible sounds coming from outside. The firing didn't cease. "I lost my hearing for some time," he says.Murtajiz remembers the army personnel showing up hours after, and being rushed to the hospital where everything was covered with blood, dead bodies scattered around. He has resumed his schooling now, and wants to join the Pakistan Army to fight terrorists when he grows up.
Obaid Sajjid
'All we wanted was to escape'
Age: 16 | Class: 9
"I will continue my studies and become an engineer".Obaid was in the auditorium when the firing began. It started like a drill, but the hall's back door broke and armed men entered the room. "All we wanted to do was escape," he says.Obaid frantically made his way towards the other door and was shot four times – twice in each arm. He fell by the gate and once the attackers moved out, ran to the library to hide. He waited for two hours, unable to help himself or his injured friends.His arms are slowly recovering, and with further treatment, Obaid should be healthy again. It was difficult for him to resume school, not because of his injury, but because several of his friends were martyred on the day. "In the first few days I was worried and afraid," Obain admits, "But now I am completely fine and brave. I will continue my studies and become an engineer."
Syed Ahsan Ali
'We thought they were rubber bullets'
Age: 15 | Class: 10
Returning to school wasn't easy as there were no friends left.When firing started in the auditorium, Syed Ahsan Ali and his friends – like other students – thought it was a routine drill. "We were laughing about it, thinking they must be rubber bullets," he says.As students began falling, Ahsan and his friends sought cover under the chairs. Several of his friends, were killed right there. Once the militants cleared out, teachers gathered the students to rush outside. Ahsan ran to the door, but when one of his friends fell while running, he felt too scared to move.Somehow he made it out alive. "I'm lucky," he says. "At least 40 of my friends were killed by militants."Returning to school wasn't easy since he had no friends left. But the incident brought in him a renewed love for studying; now all he wants to do is become an officer and serve the country.