Shoaib Malik and Sania Mirza
Shoaib Malik looking nice
Shoaib Malik Wedding Picture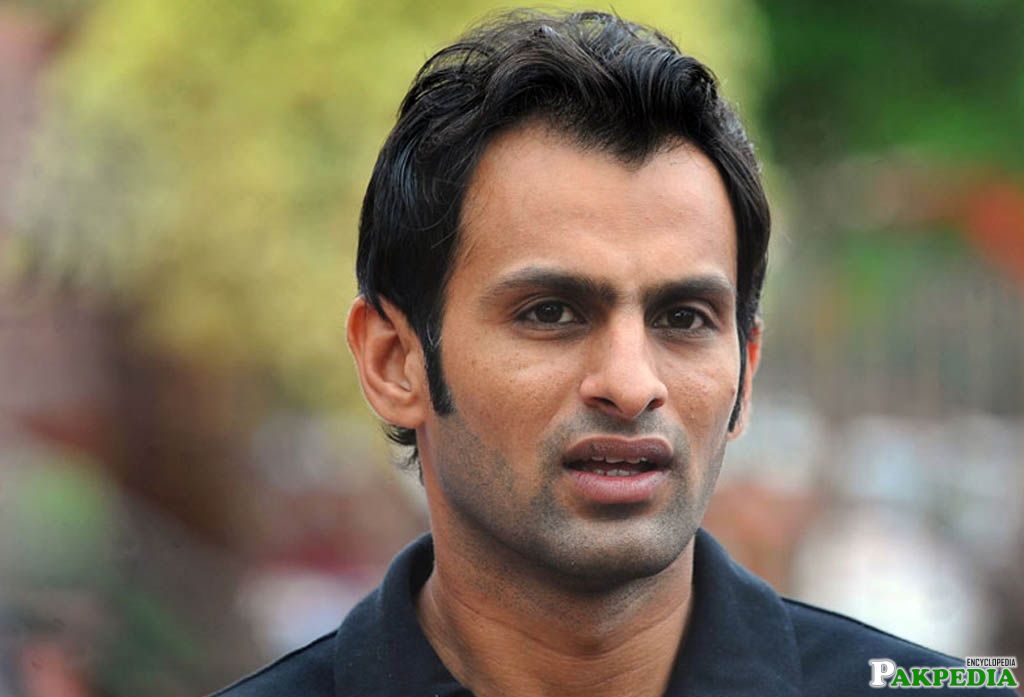 Nice picture of Shoaib Malik
Shoaib Malik in white shirt
Personal life
Former captain of Pakistan cricket team Shoaib Malik and Indian tennis star Sania Mirza finally tied the nuptial knot here on Monday. Sanias mehr was fixed at 6.1 million Indian rupees while her rukhsati will take place on April 15.However, the bridegroom has to wait for getting back his passport. When Sania came out of her home to reach the Taj Krishna Hotel for wedding she was clad in a red saree which was earlier worn by her mother on her own wedding.Media men were trying to make her video footage all along the way to the hotel.On this occasion, Shoaib wore a black sherwani designed by Shantanu and Nikhil. He also wore a traditional Hyderabadi cap on his head.The nikah ceremony was attended by 15 people from the bridegroom while 35 persons were present on the brids side. Chief Qazi of Hyderabad Najmuddin Shaikh performed the nikah and later informed media about the amount of mehr.
[1]
 Personal life 
Career
Early career
Shoaib Malik started his career as an off spinner but evolved into a batsman who can bowl in the years to come. Over the decade that started from 2000, Malik found himself performing various roles including opening, batting at the top order, middle order and even the tail, which made him a man for all situations and an all-rounder in the true sense. His flexibility and ability to adapt to different roles as per team needs made him one of Pakistan's best players, especially in the ODIs. Malik was at his best as a batsman in the 2005-06 period, where he enjoyed tremendous success, especially in the sub continent. He had a few memorable Test performances too, like his match-saving innings against Sri Lanka in 2006, during which he batted for the whole day and finished with an unbeaten.
[2]
Early  career 
In October 2004
  Malik was reported to the International Cricket Council (ICC) for having a "potentially flawed bowling action"; eight months later, his action was cleared. In the intervening period, Malik was used mainly as a batsman. He was also given a one-Test ban by the Pakistan Cricket Board after admitting to deliberately losing a Twenty20 match for the
Sialkot
Stallions against Karachi Zebras to knock Lahore Eagles out of the 2004-05 ABN-AMRO Twenty-20 Cup. The inquiry concluded that the incident "damaged Pakistan's cricketing image and had shown disrespect to the crowd", but that "his actions were not part of any match-fixing with no financial implications, but were an immature attempt to express his disappointment at earlier decisions in the competition that he felt went against his side".
[3]
In October 2004
Pakistan captaincy
Pakistan's coach, Bob Woolmer, was a strong advocate of Malik's case to become captain; in Woolmer's opinion Malik was "the sharpest tactical tack among his group ... a real presence on the field". Former skipper Imran Khan also backed Malik for the role, stating "He appears to have a good cricket brain and could turn out to be a very good choice for Pakistan cricket". Malik was appointed captain on 19 April 2007 by the
Pakistan Cricket Board (PCB)
, his experience considering his relatively young age and consistent performances were cited as other reasons for his appointment.At the age of just 25, he was Pakistan's fourth youngest captain.
[4]
Pakistan captaincy 
In March 2010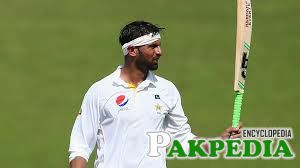 Shoaib Malik was given a one-year ban from the national team by the PCB, who charged him for infighting within the team. It was part of a dramatic cull of players after Pakistan's winless tour of Australia, resulting in the fining or banning of seven players.Two months later Lancashire County Cricket Club approached Malik to play for them during Twenty20 Cup. He agreed, saying "When Lancashire approached me to come and play for them I didn't hesitate in saying yes. I love playing cricket in England and the opportunity to play with a club of Lancashire's reputation was too good to pass up".After Pakistan's disastrous World Cup campaign in 2007, Shoaib Malik became a front runner for the captain's post following Inzamam Ul Haq's retirement. With Younis Khan rejecting the offer, Malik was given the chance to lead Pakistan in both the Test and ODI squads. Malik started well with a 2- 1 ODI series win against Sri Lanka in Abu Dhabi, but things became worse from that point. Over the next two years, Malik and his side slumped to new lows, and much of the blame went the skipper's way. A report by the coach and manager blamed Malik to be a 'loner and an aloof person' who didn't interact much with his teammates. He was stripped from the post, and was replaced with
Younis Khan
. In March, 2010, Malik was handed a one year ban by the PCB for causing infighting within the team in the Australian tour. However, his ban was overturned and he returned to the side in the Asia Cup in June. He was left out again after failing to impress the selectors, and did not play in the World Cup.
[5]
Also about captaincy 
Most Spectacular Performance
His most spectacular performance, however, came against South Africa in 2003-04, when he tonked an unbeaten 82 in 41 balls. This included a 7-ball stretch when he smashed 38 runs. His off-breaks did not always result in wickets, but economy rates below 5 in ODIs and 7 in T20Is make impressive reading.
[6]
Most Spectacular Performance
T20 Experience
His T20 exploits are well documented and he led Pakistan to the finale in the inaugural T20 World Cup in 2007 and was a key member of the T20 World Cup triumph in 2009 in England. Though he was out of favor for the ODIs for a period of 2 years after the Champions Trophy in 2013, it has never been the case in the shortest format. He plays for
Karachi Kings
in the PSL and has also played in the BBL and CPL for Hobart Hurricanes and Barbados Tridents respectively.
[7]
T20 Experience
In 2015-16
In 2015-16 he amassed a career-best 245 against England at Abu Dhabi, announced he would retire after the series, and claimed 2 for 97 and 2 for 25. Then he went on to take 4 for 33 and 3 for 26 in the last Test of his career.
[8]
In 2015-16
As if almost on cue, his limited-overs career took off. In 2015 his 607 ODI runs came at 67.44, while he backed his 219 T20I runs with 7 wickets at 15.28. In 2016 he averaged almost 53 in T20Is, and his spectacular run in both formats seem to continue in 2017.
Interesting fact
Malik married Indian tennis star Sania Mirza in April 2010 after a brief Relationship, which hogged the news headlines all over the world.
Playing style
Malik is regarded as a flexible player. He is capable of hitting big shots but is also capable of rotating the strike with good placement. He has a strike rate of 80.4 runs per 100 balls, which compares favourably to players such as Rahul Dravid and Inzamam ul-Haq. His most brazen display of "power hitting" came in 2003 against South Africa when he scored 82 from 41 balls. As is required of most modern players, he also has displayed good defensive batting at times. With Shoaib Malik Pakistan has become only country to have three batsman in T20I who have scored more than 1,500 runs. These are Umar Akmal,
Mohammad Hafeez
and Shoaib Malik.
Domestic Cricket
Shoaib Malik is captain of the Sialkot Stallions. He has led them to a record 8 domestic T20 titles with the most recent coming on 18 May 2015.
Pakistan Super League 2016
Shoaib Malik was appointed the captain of the Karachi kings in the first PSL tournament. His team under his captaincy won only two matches in the whole tournament which also effected his own performance. Pakistan allrounder Shoaib Malik has stepped down as captain of Karachi Kings for the remainder of the Pakistan Super League. Ravi Bopara has been named as his successor. Malik told the
Karachi
 management that he was not able to focus on his cricket due to the captaincy duties, adding that he was happy to sit out as long as the team was winning. "End of the day the team is suffering. Hence I decided not to lead the team in the rest of the matches (this season). It is possible that I can concentrate more on my batting, bowling, fielding instead of handling so many things," Malik said. "I was struggling to focus on my own game. I'm hoping we put up a good show tomorrow and for the rest of the tournament." Malik pointed out that it was not the first time a stand-in captain had lead a team in the PSL. "Perhaps the team can get better. Maybe if someone else takes the (captaincy) responsibility then Karachi Kings could start winning. We have seen in the PSL that if a player has not played some matches then the team has started winning." Malik has scored 157 runs in eight matches, at an average of 26.16 and a strike rate of 113.76. Malik led Karachi to two group stage wins in eight games and qualified for the playoffs having finished in fourth place, ahead of
Lahore Qalandars
on a better head-to-head record. Bopara is currently second on both the run-scoring and wicket-taking charts. In eight matches, he has scored 292 runs at an average of 58.40 and a strike rate of 137, behind only Umar Akmal's competition tally of 335 runs. With the ball, Bopara has taken 11 wickets at an economy rate of 6.57.
[9]
 Pakistan Super League 2016