Shoaib Akhtar
Shoaib Akhtar
Shoaib Akhtar
Shoaib Akhtar's Photo
Shoaib Akhtar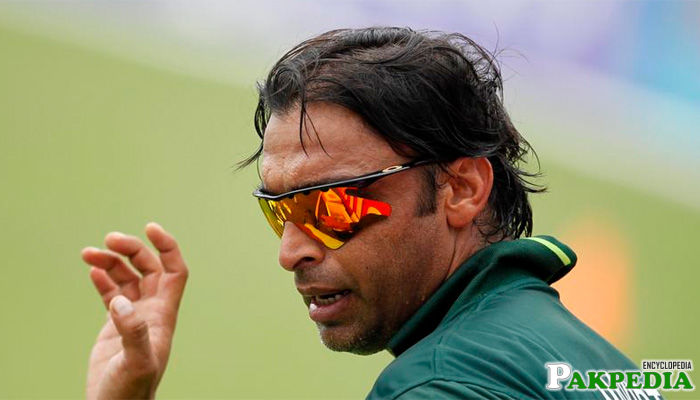 Shoaib Akhtar
Shoaib Akhtar
Shoaib Akhtar Cricketers is famous for Cricket Pakistani celebrity. Born on 13 August 1975
Shoaib Akhtar is a former Pakistani right arm fast bowler in cricket, who is regarded as the fastest bowler in the history of cricket. He set an official world record by achieving the fastest delivery, when he clocked in at 161.3 km/h (100.2 mph) in his bowling speed, twice at a cricket match against England. His ability to bowl fast yorkers and quick bouncers have made him one of the best fast bowlers in cricket. However, he has been involved in several controversies during his career, often accused of not being a team player. Akhtar was sent home during the Test match series in Australia in 2005 for alleged poor attitude. A year later, he was embroiled in a drug scandal after testing positive to a banned substance. However, the ban imposed on him was lifted on court appeal. In September 2007, Akhtar was banned for an indefinite period for his fight with Pakistan team mate and fast bowler Mohammad Asif. On 1 April 2008, Akhtar was banned for five years for publicly criticizing the Pakistan Cricket Board. In October 2008, the Lahore High Court in Pakistan suspended the five year ban and Akhtar was selected in the 15-man squad for the Twenty20 Quadrangular Tournament in Canada. Pakistani judge, Rana Bhagwandas stated once that, Akhtar is a legend of Pakistan cricket. He retired from international cricket after the 2011 World Cup.
[1]
Cricketers is famous for Cricket
Early years
Akhtar was born at Morgah, a small town near Rawalpindi, Punjab in Pakistan. His father was a plant operator in Attock Oil Refinery, Morgah. Akhtar started his studies at Elliott High School, Morgah and then took admission in the Asghar Mall College, Rawalpindi.
Career
International career
Akhtar's run of impressive performances started in the 1990s. In 1999, during a pre-World Cup series against India, he rose to prominence. It was followed by outstanding bowling performances in Sharjah and later in 1999 Cricket World Cup. His most significant performance was in India in 1999 when he captured eight wickets in the Asian Test championship match at Calcutta – including the wickets of Indian batsman Sachin Tendulkar and Rahul Dravid off successive deliveries. This was Akhtar's first encounter with Sachin Tendulkar, in which Akthar bowled him off the first delivery he delivered to the batsman. In 2002, he was selected for the Pakistan team against Australia and achieved success. However he performed poorly during the 2003 Cricket World Cup and after the tournament he was dropped from the Pakistan squad. He was selected back into the Pakistan squad in the 2004 Test match series against New Zealand, but struggled in a losing Test series against India in 2004. The series ended with a controversy when he left the field citing an injury leading to suspicions by former Pakistan captain, Inzamam-ul-Haq, about his commitment to the team. As a result, his relationship with
Inzamam-ul-Haq
and former Pakistan coach Bob Woolmer deteriorated. A medical panel was set up by the Pakistan Cricket Board to investigate the nature of his injury, however Pakistan officials dispelled all suspicions.
[2]
International career
In 2005,
Akhtar
regained his reputation as a fast bowler for his side. Playing in a three Test home series against England, he made a series of impressive bowling performances. His effective use of slower deliveries proved to be unplayable by the English batsmen. Akhtar emerged as the highest wicket taker of the series with seventeen wickets. His comeback was also remarkable as prior to his return, he had been criticized from all corners-such as by the Worcestershire chairman John Elliot for his celebrity attitude and lack of commitment to team. His performance was also acknowledged by the English captain Michael Vaughan, who remarked "I thought he (Shoaib) was a big difference between the two teams". He is also known as the only bowler ever to break the 100 mph barrier in cricket bowling history, with a delivery of 100.2 mph, and this delivery at stands as the fastest recorded to date.
Struggle for form and consistent injuries 20072009
On 29 October 2007, Akhtar made his return to cricket, from his 13 match ban and performed well, taking 4 wickets for 43 runs against South Africa in the fifth and deciding One Day International series in
Lahore
in Pakistan. Subsequently, he was included in the 16 man Pakistan squad for the 2007 tour of India, which he completed successfully without further incident and injury.
Rehabilitation and final years 20102011
Akhtar made a return to international cricket albeit in the shorter format of the game. In May 2010,
PCB
 named him in a list of 35 probables for the Asia Cup. On 15 June 2010, Akhtar made his return, taking 3 wickets for 28 runs in the first match of the Asia Cup against Sri Lanka. He narrowly missed out a spot in the 2010 ICC World Twenty20 in place of the injured Umar Gul. In July 2010, he was selected for the Twenty20 series against Australia but the selectors decided not to play him in the Test squad so that he would not get injured. He was subsequently selected for the ODI and Twenty20 series against England in September 2010. Akhtar returned to the national side representing the country against England in the Twenty20 International. He bowled an impressive spell and returned with figures of 2 wickets for 23 runs. He continued to bowl well in the ODI series in the absence of regular fast-bowlers, Mohammad Asif and Mohammad Amir, who were suspended by the International Cricket Council amid allegations of Spot-fixing. Despite his relatively good bowling form, Pakistani coach Waqar Younis insisted that the bowling attack must not become reliant on Akhtar, as he is 35 years of age and fitness troubles continue to affect him. Akhtar was selected for the tour of New Zealand and started his campaign off well with 3 wickets on Boxing Day in the first of two Twenty20 Internationals against New Zealand. Akhtar was selected in Pakistan's 15-man squad to play in the 2011 World Cup hosted by Bangladesh, India, and Sri Lanka in February to March. During the tournament, he announced that he would retire from international cricket at the end of the World Cup.
[3]
Rehabilitation and final years (2010–2011)