Sheikh Rasheed Ahmad Pindi Boy
Sheikh Rasheed Ahmad in Talk Show
Sheikh Rasheed Ahmad in Karachi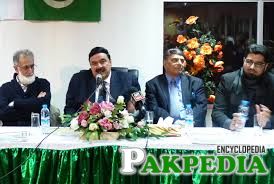 Sheikh Rasheed Ahmad in media
Sheikh Rasheed Ahmad on Speach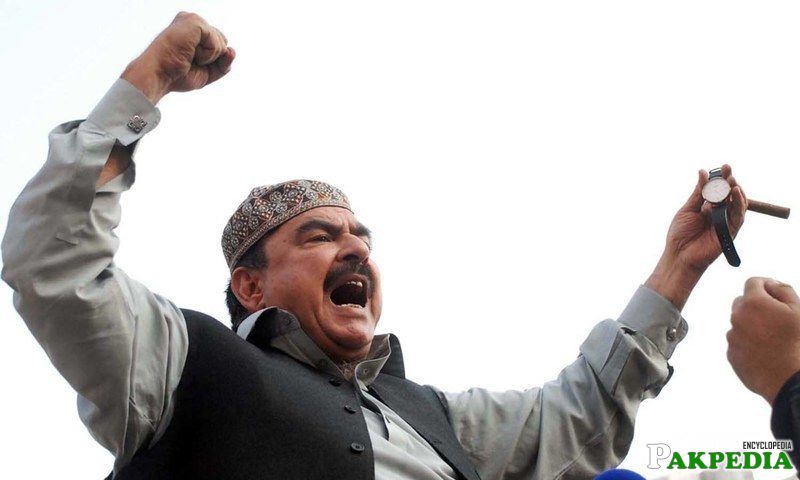 Sheikh Rasheed Ahmad at his Best
About
Early Life
Born in Bhabra Bazaar, Rawalpindi, on November 6, 1950, Sheikh Rashid Ahmad first studied at the Polytechnic College and then at the Gordon College, Rawalpindi. He obtained his MA (Political Science) degree from the
University of the Punjab
in 1982 and then also got Bachelor of Laws degree. He has been very active in student politics throughout his career as a student.
[2]
Sheikh  first studied at - Polytechnic College
 A businessman by profession, Sheikh Rashid Ahmad was first elected to the National Assembly in party-less elections of 1985. He has been elected to the lower house of the Parliament for a record six times and is in the run for seventh term from constituencies. However, it is yet to be seen whether he gets elected to the National Assembly in January 8, 2008 elections or not.
[3]
He has been elected to  -   the lower house
Political Career
During his political career, He has served as federal minister for labour and manpower; information and broadcasting; industries; sports & culture; tourism & investment and railways. He has also served as member of the National Assembly's Standing Committee on Foreign Affairs.
[4]
He has served as   -     federal minister
 Used to be the right-hand man of former Prime Minister Nawaz Sharif, Sheikh Rashid quit Sharif-led Pakistan Muslim League (PML-N) and joined the newly formed PML-Quaid-i-Azam (PML-Q) to get a ministry after 2002 elections. He holds the office of the party's senior vice president.Famous for his public style of politics, he is very popular in his hometown and is known for setting up of a large number of educational institutions in the city. He is one of few politicians who started their political career at grassroots level and rose to prominence.  
[5]
he is very popular in  -   his hometown
In 1985
In 1985, he contested in the election held during Ziaul Haq's regime and won from a seat in Rawalpindi. He continued winning from his hometown on various platforms — of Islami Jamhoori Ittehad (IJI), Pakistan Muslim League – Nawaz (PML-N), Pakistan Muslim League – Quaid (PML-Q) and also as an independent —  until he finally lost in the 2008 general election by a wide margin to a PML-N candidate. 
[6]
He continued winning from  -   his hometown
In February 2010
Over a year after
Musharraf
had stepped down and Rasheed was no longer an elected representative, unknown gunmen opened fire on the politician and his associates, leaving the former federal minister and several others injured. The attack, which was said to be politically motivated, also led to speculation that it was orchestrated by Taliban militants or by elements sympathetic to them.
[7]
Rasheed no longer - elected representative
Lal Haveli Red Fortress
He lives in Lal Haveli (Red Fortress), a tourist destination due to its beautiful, ancient architecture, in the heart of Rawalpindi. Still a bachelor, he is famous for passing a quote during his election speech at Liaqat Bagh where he said: "If one can buy milk from the market, there is no need to own a cow."He has been organising a big public meeting to celebrate the Independence Day of Pakistan on the night between August 13 and 14 at Lal Haveli. A spectacular fireworks show arranged on the occasion is extremely popular among residents of the city and a large number of people turn to watch the show every year. 
[8]
He has  organising -   big public meeting
Winner of NA 62 Rawalpindi
Sheikh Rasheed who is famous for switching the parties, again and again, has recently won the Election poll from Na 62 Rawalpindi with 117719 votes by giving defeat to Pmln leader Danial Chaudhry. Sheikh Rasheed who is famous as a Pindi boy entered into Pakistan Tehreek e Insaf in 2013 and stood by Imran Khan's side. In 2017 he was also chosen for the post of Prime Minister after the resignation of Nawaz Sharif but he couldn't succeed. On 18th August 2018 Imran Khan appointed him as a Minister of Railways.