Sheharyar Zaidi, a well known artist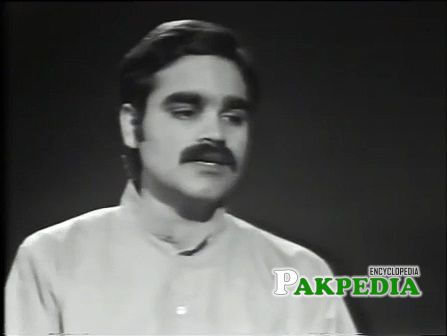 A very old photo of Shehryar Zaidi
Shehryar Zaidi and his wife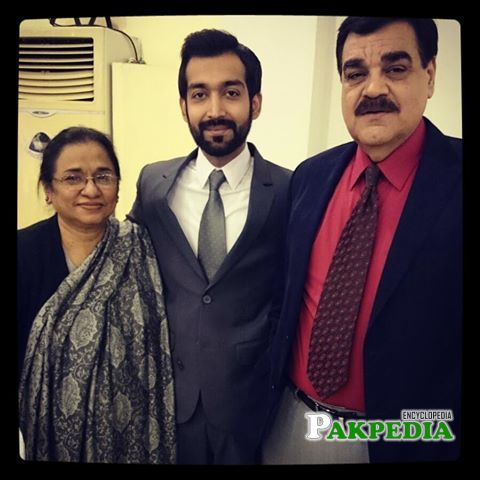 Family photo of Shehryar Zaidi
Shehryar Zaidi is a legend
Detail
Mini Bio
Sheharyar Zaidis family basically belongs to Uttar Pradesh, India and migrated to
Pakistan
after the partition in 1947. Sheharyar has studied from National College of Arts (NCA), Lahore and started his media career as an active singer and actor. His spouse is Nayyara Noor a famous singer, who also studied from National College of Arts Lahore.
[2]
 Mini Bio 
Sheheryars versatility
Sheheryar's versatility has been such that even though he entered show business in his middle age, he never shied away from working in any genre, may it be comedy or serious. Many people remember him for the sweet and supportive father-in-law he played in the drama 'Phir Youn Love Hua', aired on
PTV
in the early 2000s.
[3]
 Sheheryar's versatility 
About Family
Yasmeen Waasti is the sister of Sheharyar Zaidi and was a famous news reader of PTV in 1980s. Mostly Yasmeen Waasti used to read Business News (Tijaarti Khabrain) which were aired on PTV after Khabrnama at 9 pm.
Arjumand Shaheen is the sister of Sheharyar Zaidi and was a famous news reader of PTV in 1980s. Back then Arjumand Shaheen was a well known news reader almost daily reading News in Khabrnama at 9 pm.
[4]
 About Family 
Syed Shahnawaz Zaidi is the brother of Shehryar Zaidi. By profession Syed Shahnawaz Zaidi has served at various positions in the Fine Arts department of Punjab University including the Principle of College of Fine Arts of Punjab University. Syed Shahawaz Zaidi also occasionally acted in few dramas of PTV
Lahore
center in 1980's.
Nayyara Noor is the spouse of Sheharyar Zaidi and a leading singer of our country. Nayyara's family belongs to Assam, India and migrated to Pakistan after partition in 1947. Nayyara is also a graduate of National College of Arts, Lahore. Nayyara started her singing career in 1970's and continued singing till late 1990's. Nayyara provided vocals for many Urdu films mostly working with musicians Robin Ghosh and M. Ashraf. Nayyara was a popular choice for background scores (OST) of dramas in 1980s and 1990s. She is no more active in music and seldom appears on mainstream media.
On TV Channels
Since the introduction of private channels, he has regularly appeared in a number of productions such as 'Faiz Manzil Kay Rozadar' (Hum TV), 'Wafa Kaisi, Kahan Ka Ishq' (Hum TV), 'Chein Aye Na' (Geo TV), 'Amma In Action' (Hum TV), 'Naina' (Indus Vision)', 'Rishtay Mohabbaton Kay' (Hum TV), 'Dolly Ki Ayegi Baraat' (Geo TV), 'Meri Zaat Zarra-e-Benishaan' (Geo TV), 'Khwahish-e-Benaam' (Geo TV), 'Koi Aur Hai' (Geo TV) and 'Mann Se Poocho' (TV One).
[5]
 On TV Channels 
As a singer
In 1970's he regularly appeared as a singer on PTV, like he provided vocals for a famous television program Such Gupp with his spouse Nayyara Noor (a famous singer). Throughout 1980s he actively partnered with Nayyara Noor to release various music albums as well. However he was not active on small screen (television) in the same duration.
[6]
 As an singer 
Memorable Role
It was only after the arrival of private satellite channels in 2000's that he pursued acting and performed few memorable roles like the role of Chaudhary Saab opposite Bushra Ansari in famous "Kis Ki Aayegi Baraat" series.
[7]
 Memorable Role 
Dramas
Choti Si Zindagi
Sehra Main Safar
Meri Zaat Zarra-e-Benishan
Malaal
Vasl
Neeyat
Meri Unsuni Kahani
Nanhi
Mere Hamrahi
Bikhra Mera Naseeb
Manjali
Tum Se Mil Kay
Main Bushra
Meri Behan Meri Dewrani
Mannchalay(guest appearance)
Arranged Marriage
Azar Ki Ayegi Baraat
Dolly Ki Ayegi Baraat
Takkay Ki Ayegi Baraat
Annie Ki Ayegi Baraat
Teri Berukhi
Mera Yaqeen
Dusri Bivi
Pyaray Afzal
Nikah
Chaar Chand
Mann Mayal
Chaandni Raatain
Kankar